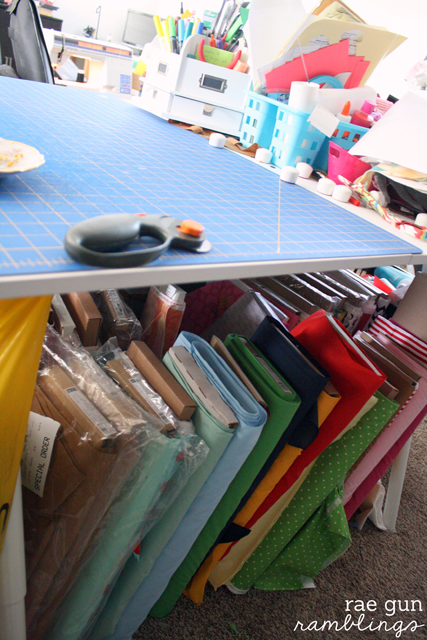 My name is Marissa and I am a fabric hoarder. It's true, I have a crazy amount of fabric. You know I just went on the wonderful Fabric Weekend in La with so many of my wonderful sewing blogger friends and while there Bev from Flamingo Toes and I decided we needed to get our tushes in gear and actually make stuff for ourselves with our fabric. We were hanging out with these girls all wearing things they'd made and it was awesome.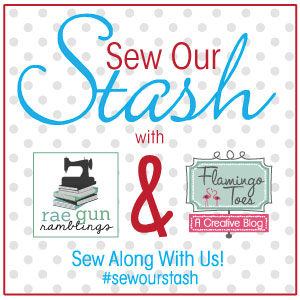 So to keep each other accountable and because we suspect that you probably have the same problem, we're challenging ourselves to "Sew Our Stash". At the end of each month we'll be showing off what we sewed up. If you are a fellow fabric addict you are welcome to join along. If you post about it I'd love you to leave a link to your post in the comments of the Sew Our Stash posts so I can stop by and see your creations. And for those of you who aren't bloggers don't fret we'll be hashtagging on instagram, facebook, and twitter so join in by using #sewourstash.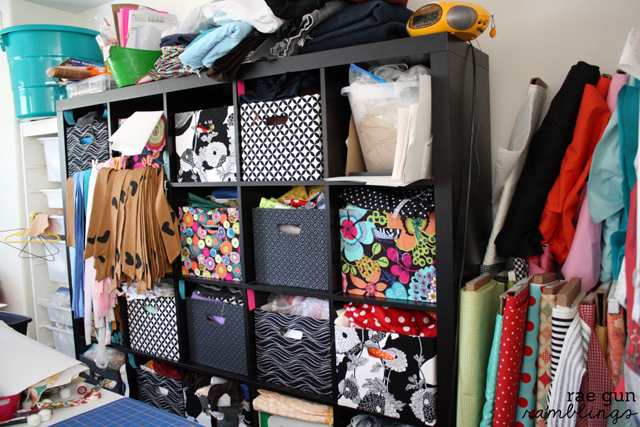 And in case you didn't believe me about my fabric collecting problem I have a wee bit of photographic evidence I'd like to share. Neat freaks be warned the following images may be disturbing. Yes that is a 5X5 Ikea Expedit shelf all filled with fabric save for 2 slots that have patterns and three bolts tall stacks of fabric next too it.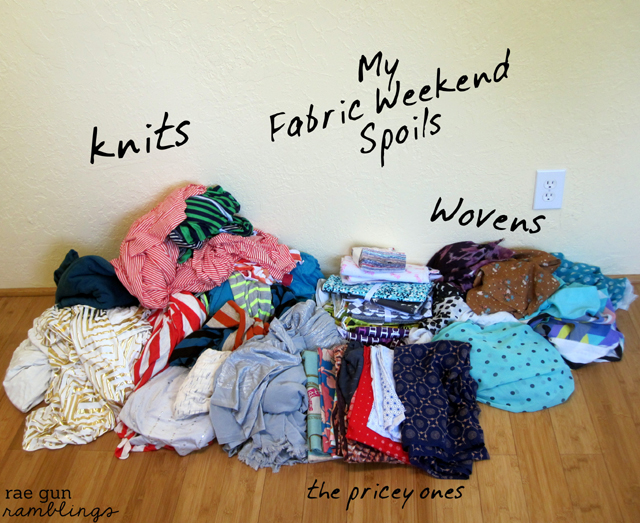 This is what I pulled out of my suitcases, umm today, that I acquired at Fabric Weekend 2013. If you don't quite get the scale that filled two full size suitcases. All my roommates took the time to nicely fold their goodies but I figured it's all gotta be washed anyways so I just shoved it all in.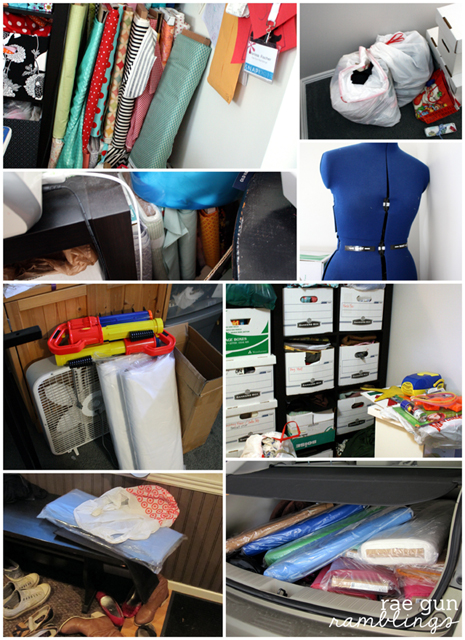 And finally I decided to walk around my house and take pictures of all the various places that my fabric resides. Now it is true that I do have a sewing business and a lot of this is for that but there's also a bunch that I bought before my Etsy days and fabrics that I wouldn't use for the baby clothes. Here are the spots where you can find fabric in my house: the whole back wall of my work room pretty much floor to ceiling, under my cutting table (as pictured up top), two big garbage bags in the basement, along the side of my workroom behind my 2nd sewing station, behind the dress forms, more stray bolts in the basement, yes another expedit full in the basement, on the bench right by my front door, and yeah in my trunk. Seriously this is how things are today it's madness. Just keeping it real.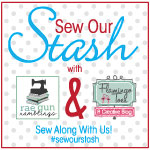 <div align="center"><a href="http://www.raegunramblings.com" title="Rae Gun Ramblings" target="_blank"><img src="http://www.raegunramblings.com/wp-content/uploads/2013/05/sewourstash150.jpg" alt="Rae Gun Ramblings" style="border:none;" /></a></div>
So it is clear that I need this challenge. We'd love for you to play along if you want to feel free to grab a button and spread the word. If you share any pictures of you sewing your stash on the interweb be sure to take them with #sewourstash Come on you know you've got fabric that is destined for awesomeness! Be sure to check back in the last Thursday of every month for our Sew Our Stash show and tell