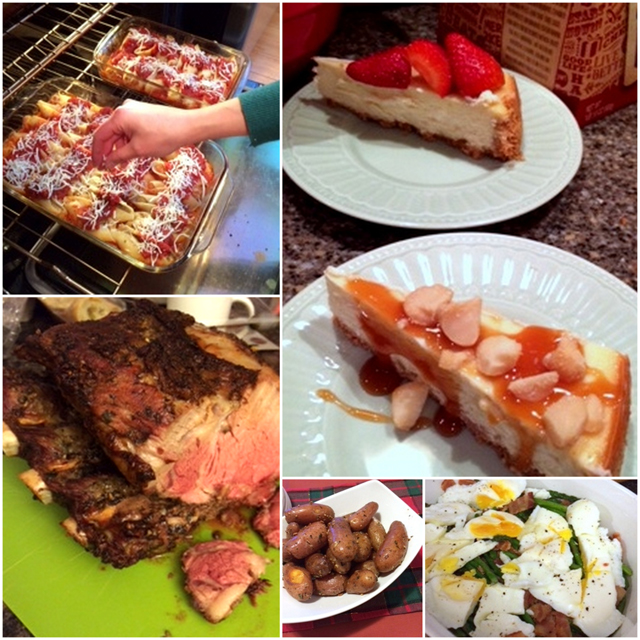 I'm pretending that I have a normal job and am on vacation like everyone else. That's okay right? We had a lot of yummy food over this last week. And I have to say it's the first time we've had great holiday meals but didn't go away feeling gorged which was so nice. We had Stuffed Shells on New Years Eve with both sides of the family (I'll share the recipe soon) and my sister's fantastic Prime Rib on Christmas. We lucked out too because we all agreed that this year was her best yet! She also made a delicious blue cheese sauce to go with it and I brought my favorite asparagus with bacon and poached eggs. We finished off the meals with
cheesecake
on Christmas Eve and mousse and cheesecake on Christmas (I'll have to share my mom's mousse recipe it's so yummy). My only regret is that I let my mom keep the leftover cheesecake, total mistake! I'm realizing that Toasty is going to be here pretty soon and I'm getting a bit nervous. I'm trying to check a few things off my lists of things to do including make some freezer meals. I'm thinking of making at least one dish that I can double or triple to freeze each week.
If you have any favorite freezer meals please let me know!
What's for dinner this week...
Day
Main Meal
Goals (Veggies and Fish)
Saturday
Eat Out
Veggies: Carrots, Spinach Fish: fish, crab
Sunday
Soup
Monday
 ?
Tuesday
Roasted Chicken and Cauliflower with Cheese Sauce
Wednesday
Shepherd's Pie
Thursday
Seafood Mac and Cheese
Friday
Sweet Potato and Kielbasa Hash
Let's connect! You can also find me hanging out here.