I make a super good lasagna. It's a fact. It's rich and flavorful and cheesy and a mouthful of comfort food in every bite.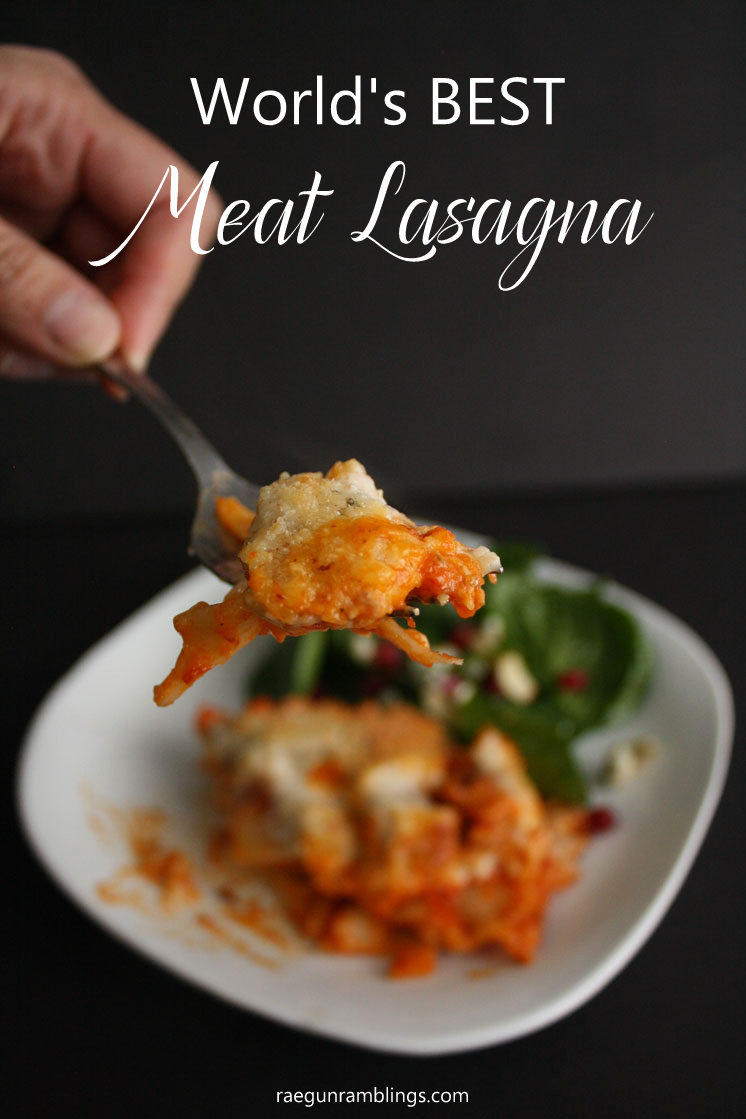 A few weeks ago when I made it last my sister announced that she just going to stop ordering lasagna and just make me make it whenever she feels the pull. So this is for her. "I'm not your kitchen slave make your own lasagna ;)"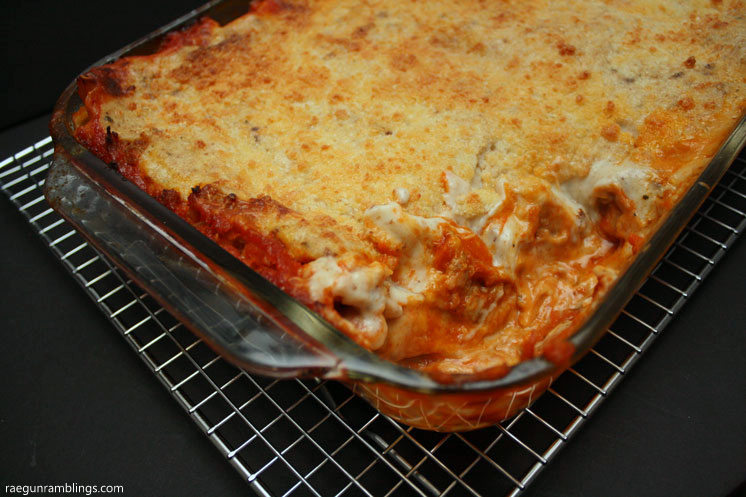 Okay I'll probably keep making her lasagna because like with all of her food luring the second she says "you know what sounds good" my brain is like "yes we NEEEEED that…NOW." So this is for the rest of you that can't psychologically manipulate me into making you lasagna.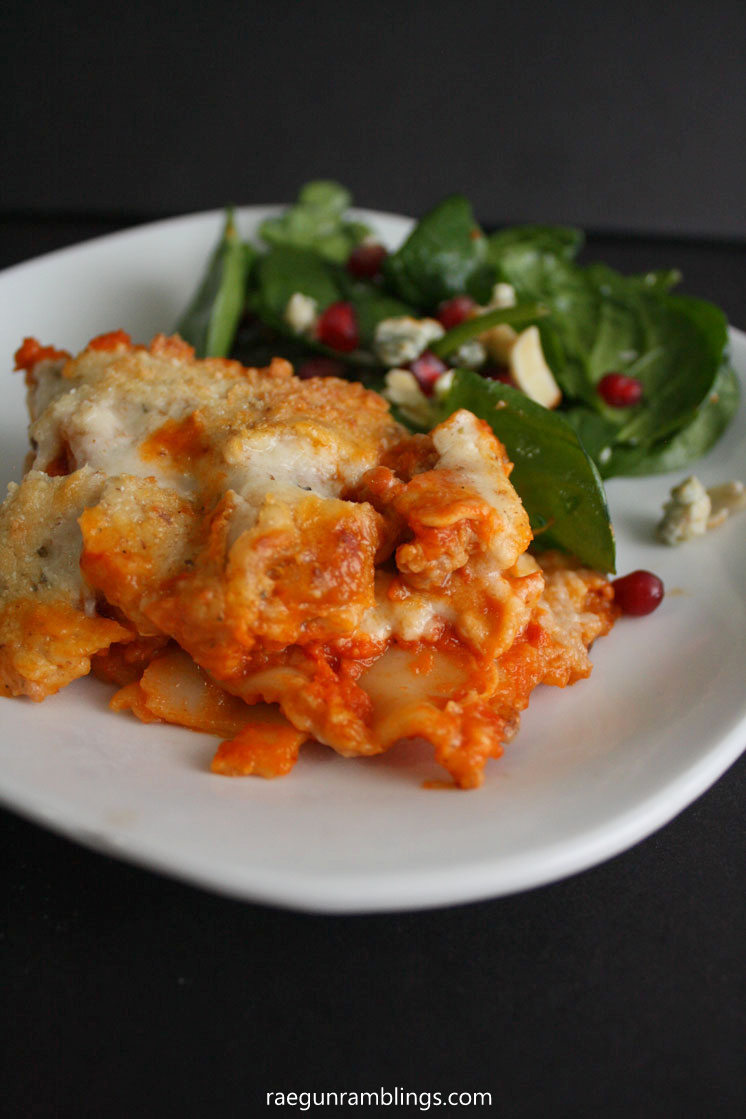 Best Meat Lasagna Recipe
Makes enough to fill a 9×13 inch pan.
Ingredients
8-10 Lasagna noodles cooked (or not if you use no boil noodles)
6 C Marinara Sauce (your favorite homemade or store bought about 1 C per layer)
1 lbs Mild Italian Sausage
1/2 C Mozzarella
4 C Bachemel Sauce (recipe below)

4 TBS Butter
5 TBS Flour
4 C Milk
1/2 C Parmesan Cheese
onion powder (about 1/2 tsp) adjust to taste
nutmeg (about 1/8 tsp) adjust to taste
garlic salt (1-2 tsp) adjust to taste
pepper (about 1/8 tsp) adjust to taste
Italian seasoning (about 1 TBS) adjust to taste

1/2 C Parmesan Cheese (this is in addition to the bachemel)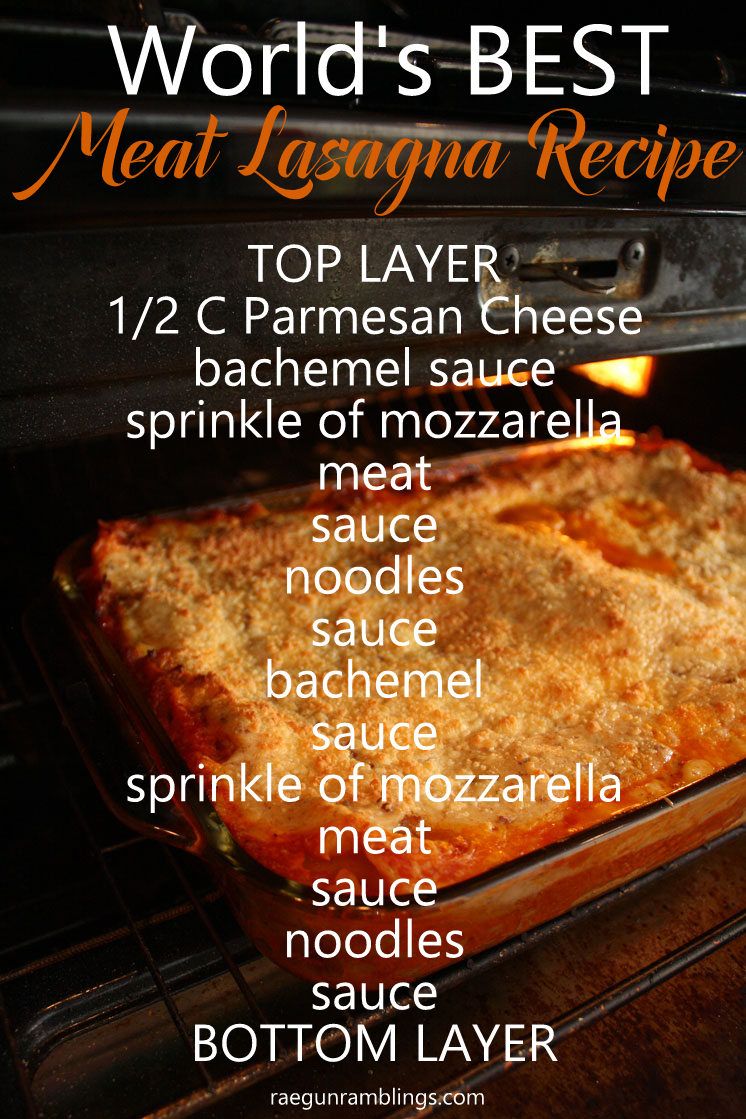 Directions
Cook pasta if needed.
Brown sausage and drown excess drippings.
Make Bachemel sauce by melting butter in a large pan over medium high heat.
Mix in flour and cook for a minute stirring.
Turn heat down to medium low and whisk in milk slowly making sure to incorporate and minimize any flour lumps.
Add in cheese and seasoning. Start conservatively with the seasonings and add until it suits your taste.
Cook until thick enough that it will hold it's shape when you swipe some off a spoon dipped into the sauce.
Set aside.
Assemble the lasagna as pictured above.
Bake at 450 F for 30-45 minutes.
Broil to brown the top if desired.
Let rest for at least 10 minutes before serving if you want it to set. We're always too impatience and just eat it right away.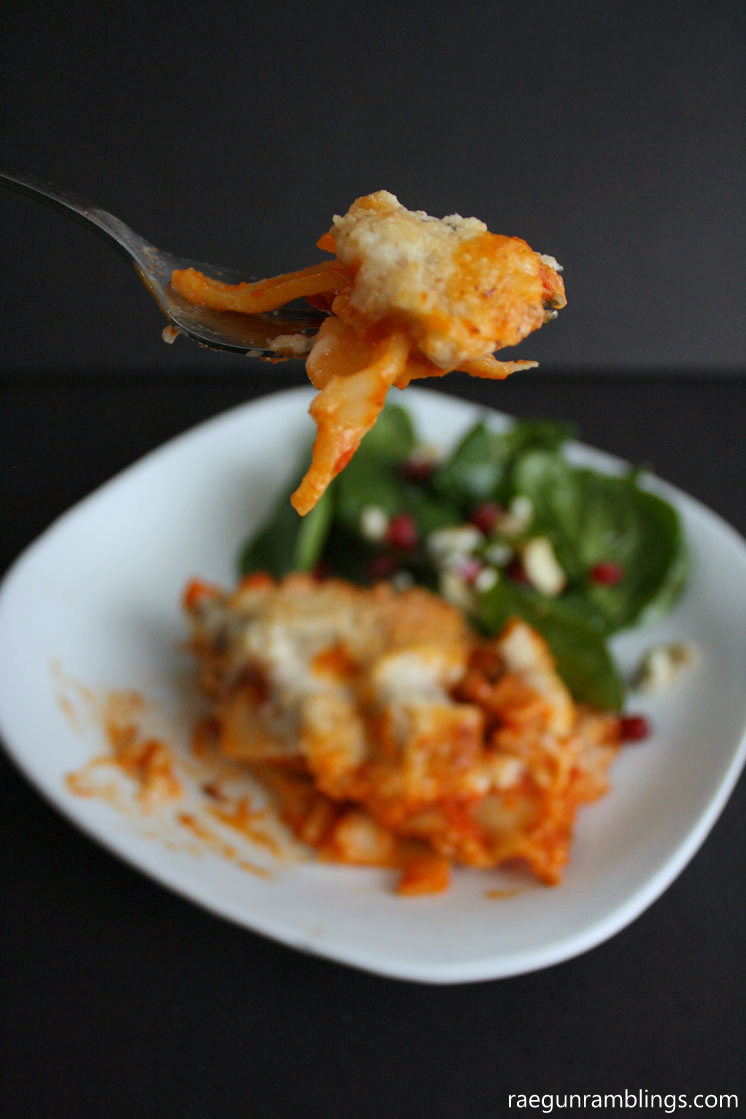 Aww shoot just writing this up has given me the "I need lasagna" bug again. Luckily I have a small dish of it in the freezer from last time I made this. A half of this recipe is perfect for a small family. If you want use two 8×8 pans and freeze one for later. I love those aluminum pans that you can bake in and toss when you're done.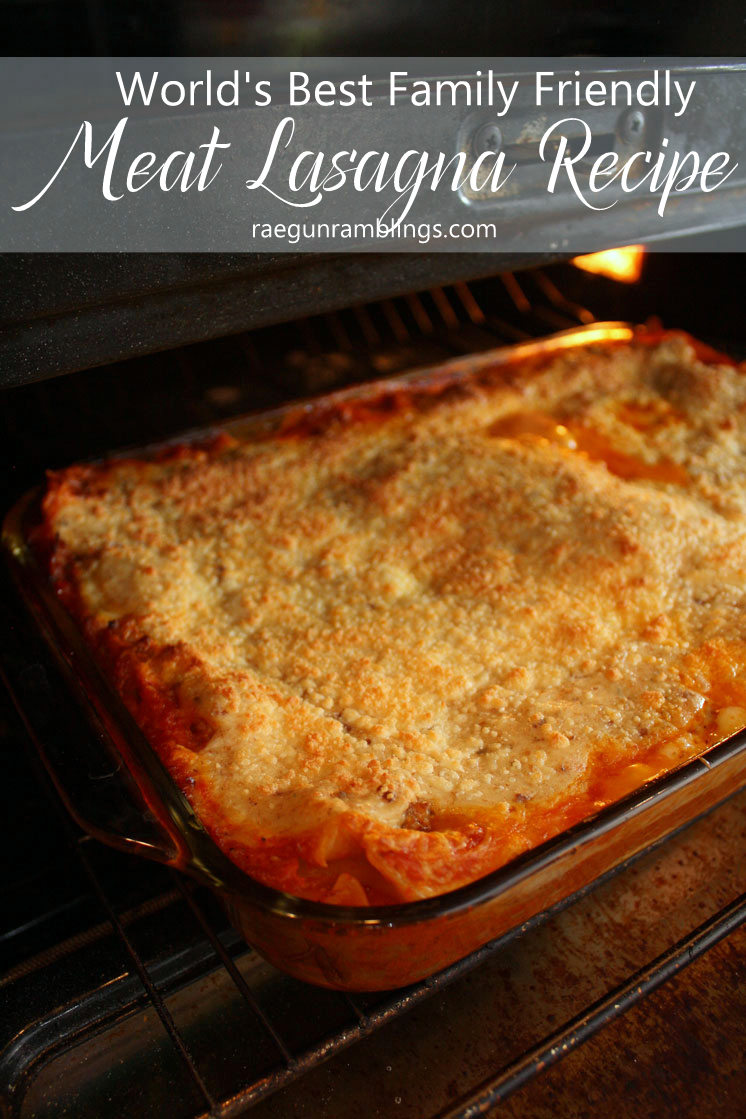 I hope you give it try it is one of our family's all time favorite recipes. It really is so good.

You might also like these: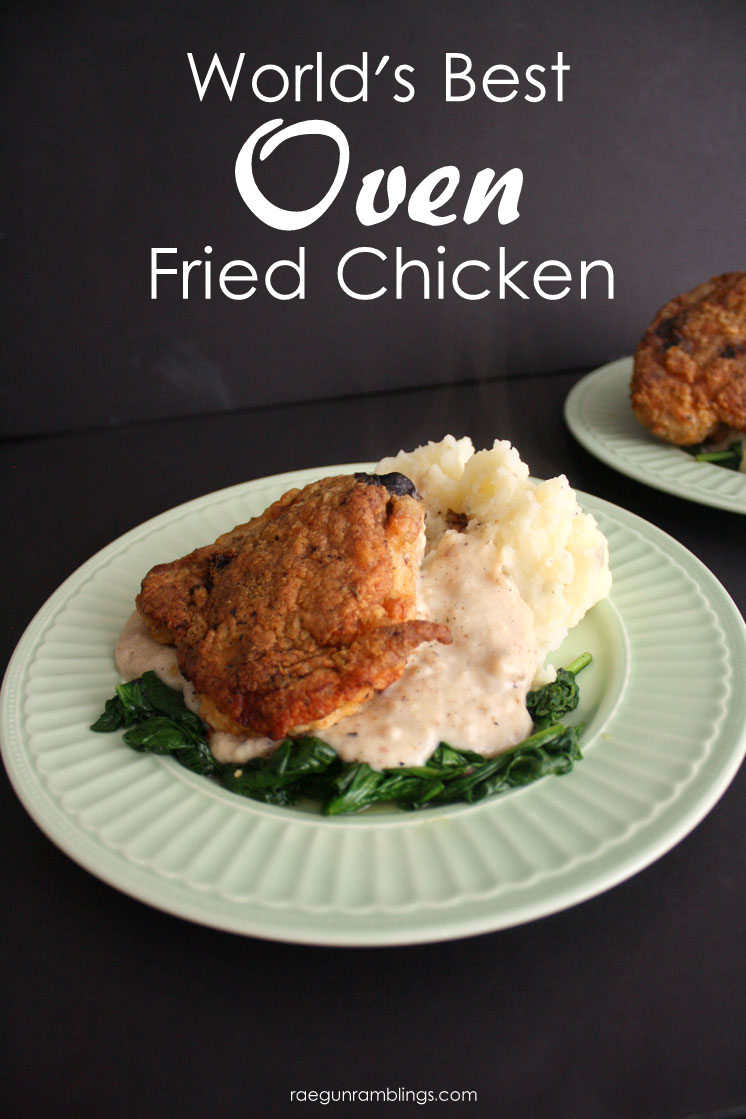 Oven Fried Chicken Recipe – Tastes like fried chicken but only uses a little bit of butter!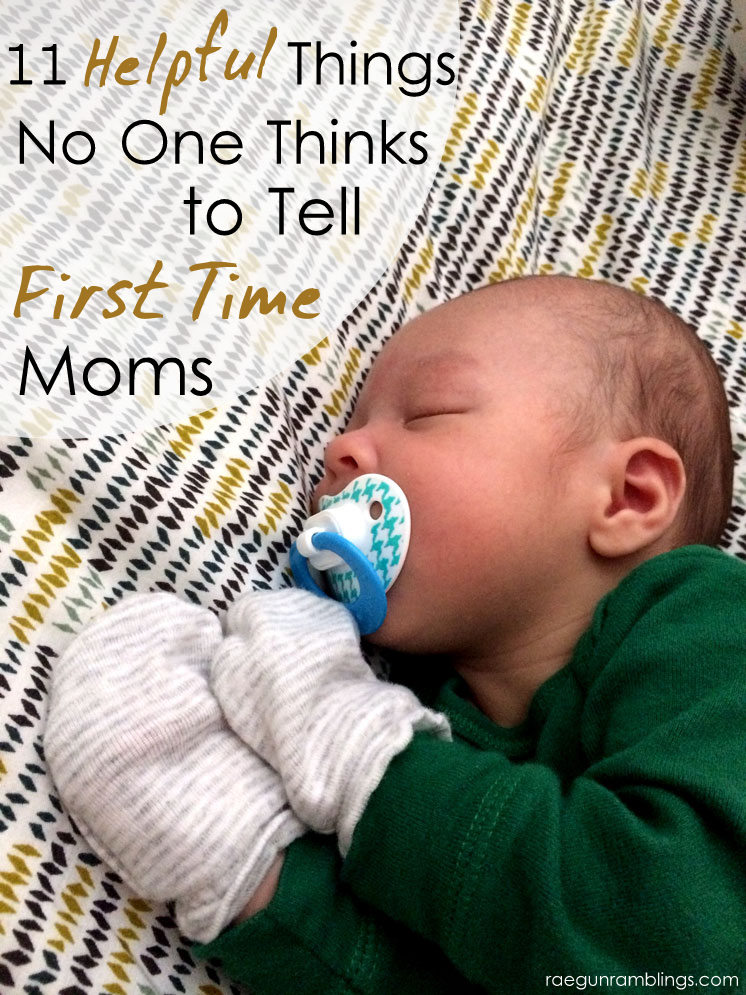 A must read list of tips for new moms that people forget to tell you. Share it with your prego friends.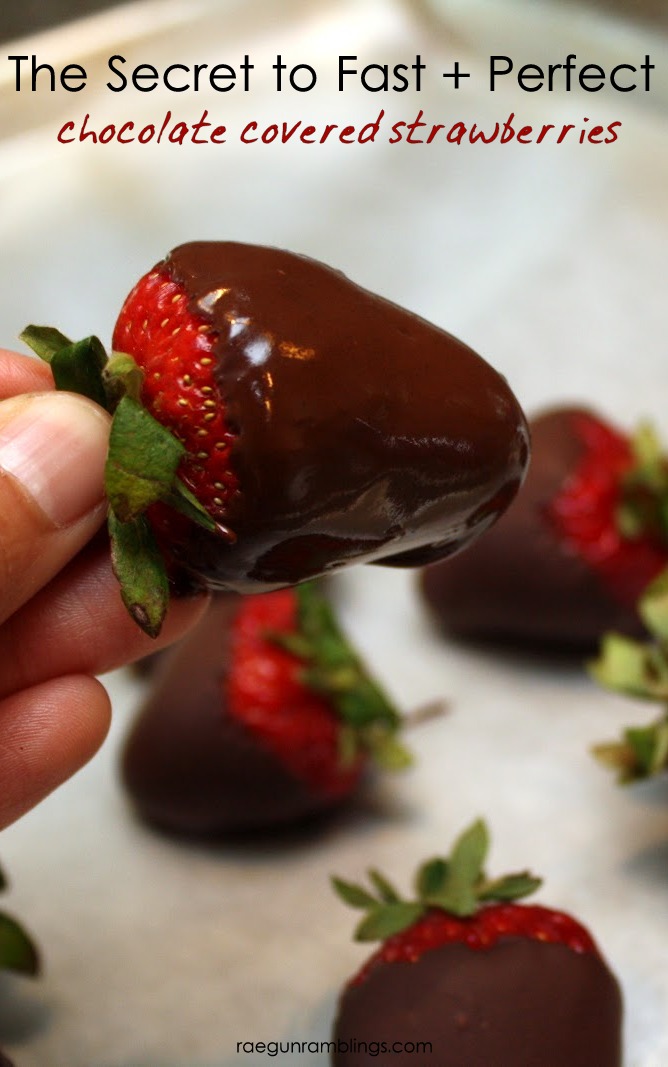 How to make perfect chocolate covered strawberries every time.
Let's connect! You can also find me hanging out here.