Happy Thanksgiving. I hope you have some fun plans if you celebrate. We'll be spending it with our whole family, both sides! I'm excited for some yummy food and then good times. Every year after the meal we pull out the adds and make a weekend shopping plan. I don't even know what I want to look for this year but being a night owl I can't resit the shopping since so many stores are open late. There are so many days in the year that it's midnight and I just wish that I could go shopping so I am all about that, you know AFTER family time, or in most cases as an extension of family time since my sister and mom usually head out with me too.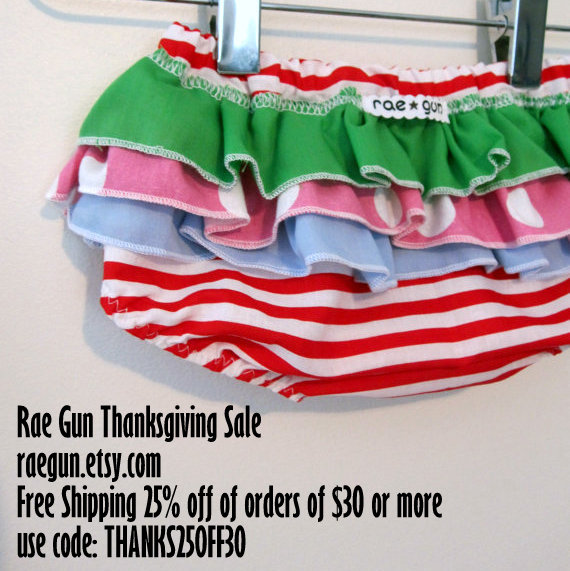 Just a quick reminder if you missed my post from Monday, my Holiday Sale is already in full swing. All my listings are set for free shipping (to an location) and I'm offering a 25% off code for orders of just $30 or more. I figured that was easier than randomly changing the specials all weekend like I normally do! Easy for me and then you get whatever it is you really want on sale. This is generally my one sale of the year so it's a great time to stock up for baby shows, birthdays, or even Halloween.
And if you missed my HUGE giveaway you might want to check it out. I'm giving away a years worth of Rae Gun baby clothes over on Instagram :)
Any ways Happy Thanksgiving. I hope you know that you are part of what I'm thankful for. I love doing this blog and your comments, emails , and support just make my day. It's so fun to see that you liked something enough to pin it or share it but more than that I love the friendships that that blog has given me with people who I most likely won't meet in person. Love you guys!
Let's connect! You can also find me hanging out here.