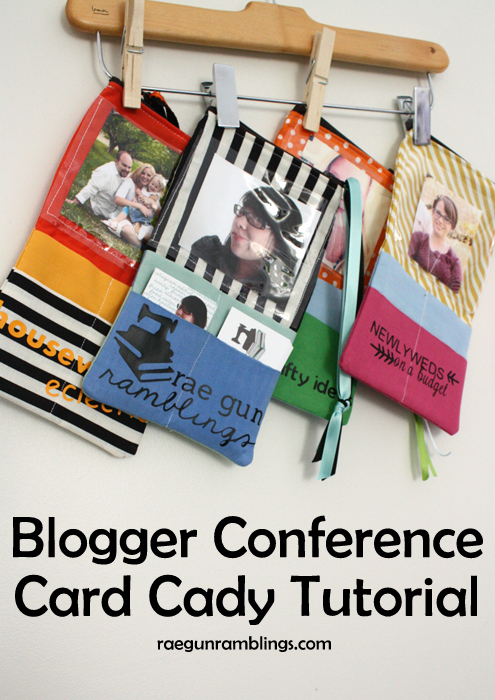 I'm so excited to be going to SNAP! in just a few days. Okay if I'm honest I'm pretty nervous about juggling the baby and the conference but really I LOVE this conference and I'm so excited to see old blogging friends that don't live around and meet new ones. One thing that goes hand in hand with blogger events is business cards. When bloggers get together there will be business cards exchanged and it gets to be a pain to dig in your bag to get the cards out or put the ones you collect in so I've made these fun blogger business card cases for a few of my friends and myself.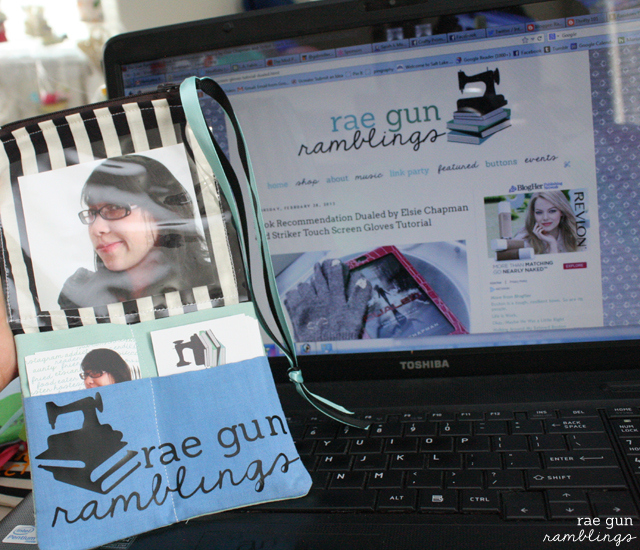 I use the color schemes of our blogs and have a nice big clear pocket for a picture. It's funny because you walk around with all these bloggers but you're used to seeing their little picture and a lot of times you're not sure if it's the same person so I like to have my profile picture that I use every where in the pocket so it helps people recognize me better.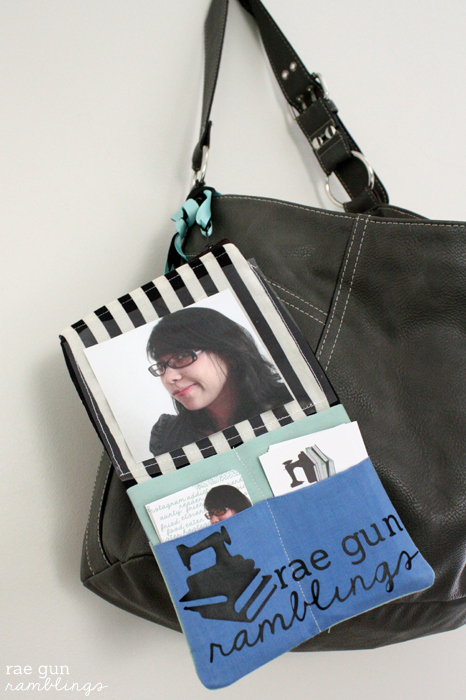 There are 8 outer pockets that are business card sized. When I'm out networking or meeting new bloggers in bulk I have my cards in one pocket and put the cards I receive in another. And of course I put our blog names on them too. But the biggest thing is that these little bags work great. Also some bloggers are overachievers and like to have funky shaped cards or give swag out with their cards so I have a nice big pocket that I can throw those in there. I also like to keep a few pens there and when I had bookmarks I stored them there. (I'm so bummed I didn't have time to update my bookmarks this year, guys newborns are serious time suckers!).   I've considered selling these, you know like custom making them for bloggers but until I get that going here is a tutorial for my blogger business card cases. If you would like me to make a custom one for you feel free to email me about a quote.
What You Need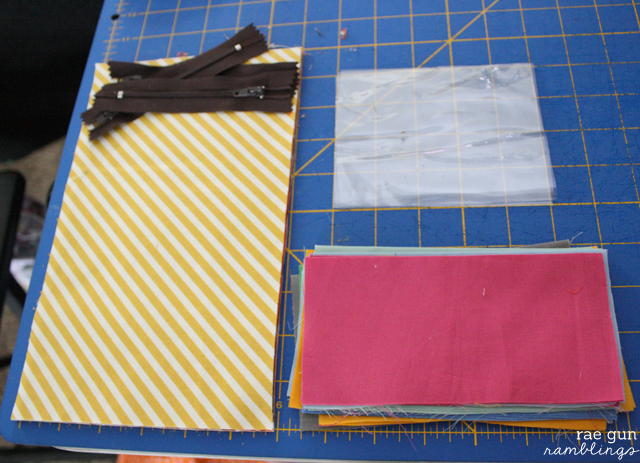 2 pieces outer main fabric 6×10 inches
2 back pocket pieces 6×6 inches
2 front pocket pieces 6×6 inches
Small zipper
Ribbon for hang strap
Heat Transfer vinyl
Clear plastic (like they use on picnic tables) 5 x 4 inches
How to make a blogger business card case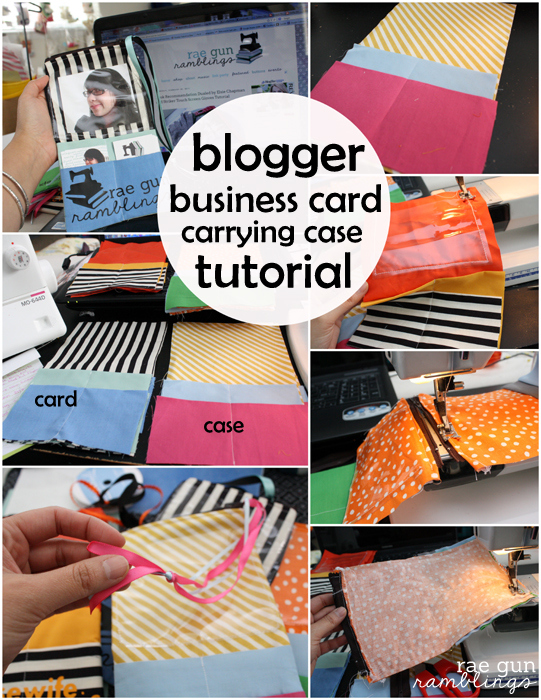 Fold and iron your pocket pieces in half.
Position them on your main fabric pieces.
Sew a straight line down the middle of the pocket pieces.
Sew your clear plastic piece around the two side and bottom edges.
Next fold under the top edge of the main fabric and sew it to your zipper.
Then with the zipper in the open position and the fabric right sides together sew around the 3 edges of the bag making sure to catch the main fabric and the pocket fabric.
Now right side out the bag.
Loop a few long pieces of ribbon through the pull of your zipper. You want the ribbon to be long enough that you can loop it through the side of your purse so that your bag can hang there.
Then make yourself a heat transfer of your blog name/logo/whatever you want. You can do this a cutting machine like the Cricut Explore. If you've never worked with heat transfer vinyl it's fantastic and I have a whole tutorial on how to use heat transfer vinyl that you'll want to check out. And iron it on!
Hang from whatever bag you'll be taking and get read to exchange a lot of cards.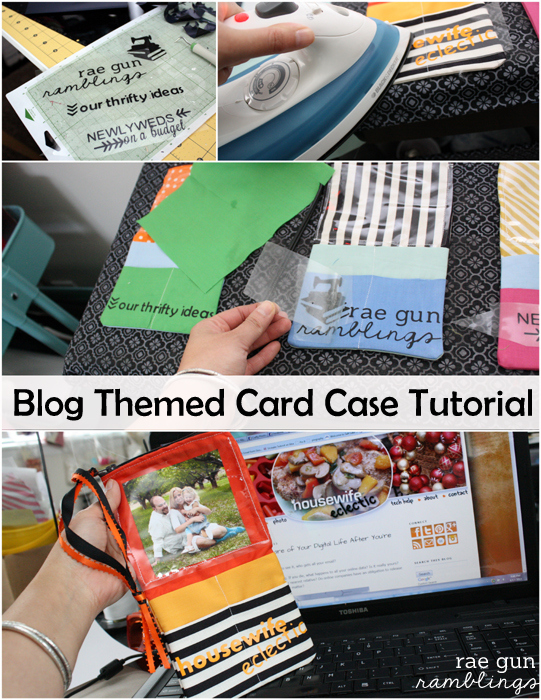 If you'll be at SNAP! leave me a comment so I can try to find you. I'll probably be all sleep deprived and delirious so if you see me please please come say hi!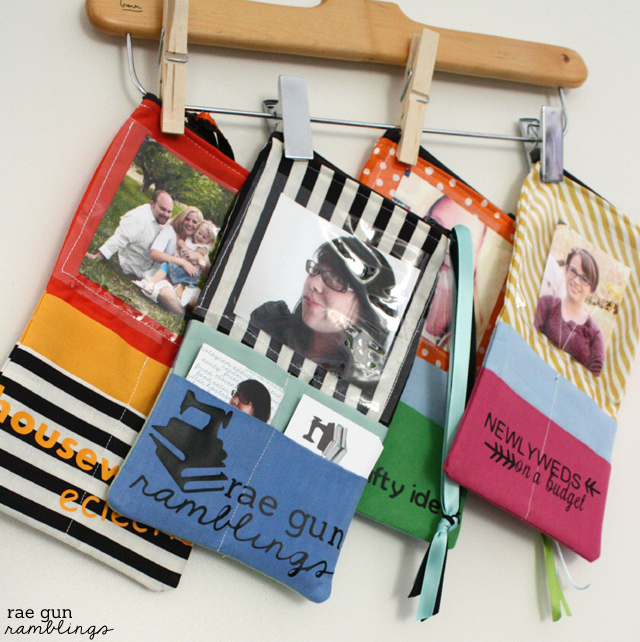 Let's connect! You can also find me hanging out here.