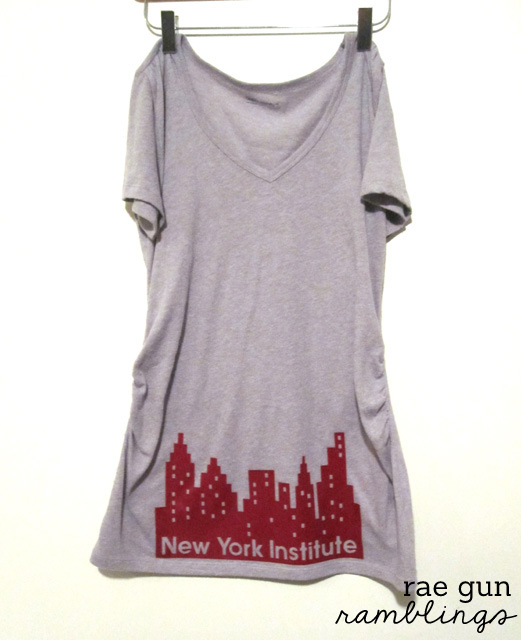 So we, a handful of the local book club members, watched City of Bones last night. It was fun but there were quite a few changes. In short if you were to list out the super super key plot points like say top 5, they were all there, but how they came about didn't really stick to the book. I'll go more into my thoughts at the end just in case there's someone who doesn't want to know any real details going into the movie. But over all I thought it was fun I thought the main three actors did a good job even though I went in kind of wary of them. But I did miss the humor that Cassandra Clare is known for. This was very much an action flick.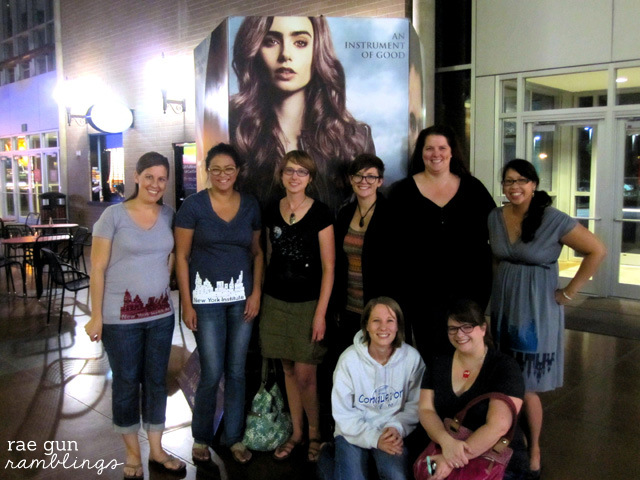 But you know that I do love a book movie and I can't help but make myself and my friends bookish wearables and goodies like my ahem Parabatai bags I shared earlier this week. So for this movie I made myself a dress that I really like but I don't have good pictures yet so I'll have to share that later. But, I also helped a few friends make some shirts. We liked the idea of doing a New York Institute shirt. If you're thinking that I'm addicted to iron-on vinyl well you'd be right. I mean I do like the freezer paper painting technique, but the vinyl is so much quicker, cleaner and to be honest harder to mess up. So today I'm sharing my New York Institute shirt tutorial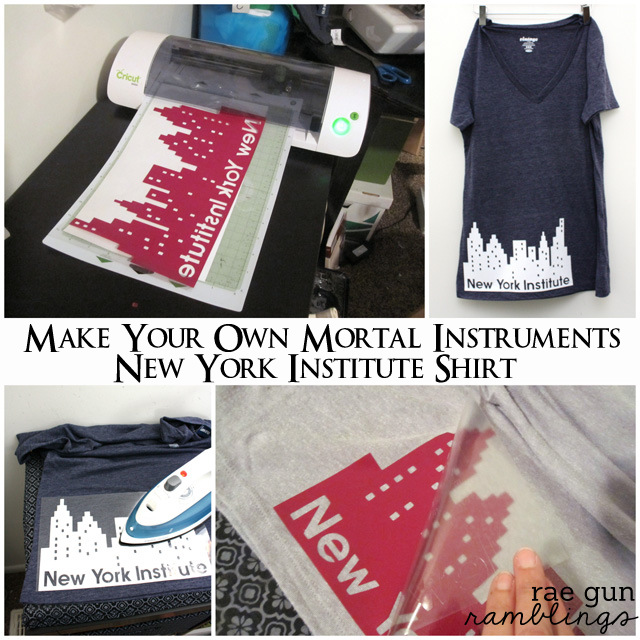 To Make Your Own New York Institute Shirt You'll need
Shirt
Iron-on Vinyl
Cutting Machine like a Cricut (or a lot of patience with an exacto knife)
Scrap Fabric or thin town to put in between when ironing
Start by finding a New York sky scape design. I just typed in "new york" into the Cricut Craft room and found an image I liked from the "Going Places" cartridge. Then I added the text "New York Institute" the font I used is Font 2 on "Nate's ABC's" cartridge. Then I stretched everything to a size I liked (about 7×11) Make sure that you mirror image the text and cut out on the vinyl setting remembering to put the vinyl side up and the plastic side down on your cutting mat. Then peel off all the negative space of the vinyl. Position it on your shirt and iron down. For my prego friend's we centered it and for my sister's we put it off center. Once it seems sealed peel away the plastic. I like to then put a think fabric on top of the vinyl and press it a little more. Wear your shirt with pride or give it to your favorite shadowhunter!

Now My Thoughts on the City of Bones Movies
So I'm not going to give any book spoilers but I'm going to assume you've read the book. If you don't want to know about specific things from the movie I suggest you not read the following. I will talk about things that were left out, changed, and stayed true to the book.
First off I liked book one but there were somethings that bugged me about it. But the more I read of the series and other books of Cassandra Clares the more I feel in love with the Shadowhunter world and all her characters. This was a movie I was really looking forward to.
The actors: Like I mentioned the main three did a surprisingly good job. I'm not going to lie I was a little grossed out by the casting at first but I do think they fit Clary, Jace, and Simon. The only thing was that the boys weren't half as funny as they are in the book. But I think this was more an issue of writing as opposed to acting. The other actors were a bit weird to me. Izzy and Magnus had no personality and Magnus is one of my favorite characters. In the books he's SO funny, almost everything out of his mouth is laced with humor. I missed that in the movie.In the movie he's more of a model than anything else. And Valentine was kinda over the the top. The demons were gross and to me totally fit. I thought Joslyn was great and she totally looked like she could be Clary's mom. And I'm still wondering why they went with "fake red" for Clary and her mom's hair color ummm bizarre.
I enjoyed the movie for sure. But it was definitely a cheesefest. I expect things to be changed in movie interpretations but this was a bit more change than I had anticipated. If the Harry Potter movies are in the end of getting it right and Beautiful Creatures is on the end of a crazy amount of changes this was somewhere in between. I would put it in between the old Percy Jackson movie and the newest one. Hows that for the book geekiest comparison ever?
I will absolutely be watching the rest (you know if they make more) and enjoying them but I will definitely have lower expectations. The saddest part to me was that Cassandra Clare writes such funny books and that was not a funny movie. There were really really long and necessary fight scenes with very little character development or banter. I just could have been better on a lot of levels.
Some noteworthy changes: This section's gonna be pretty specific and possibly spoiler-y I wouldn't read unless you've read all the books/don't mind knowing stuff
The Story: It followed and then it didn't follow. Like Simon has a run in with the vampires but he didn't get turned into a rat. There is a portal but it's umm in the Institute what??? And speaking of all the fighting and Clary's mom are also at the Institute. That's a bit weird. There was the garden scene which was lovely like the book. There was Magnus' party and the City of Bones but those were really fast. There was no boat, no Idris, no fight training, no Taki's restaurant come to think of it the settings were very minimal. They had almost everything happen at the Institute.
And unfortunately there are some major spoilers from book 2 and 3. Like the whole Clary/Jace storyline that's just out there as a lie. They don't know but the audience does. So there's none of that "but I don't believe in incest but I want them together" turmoil that us readers had to endure. Also  Jace does not recognize Valentine as his dad apparently his mind was wiped. And you know about Luke.
Of course there were plenty of other changes but those were the ones that really kinda bugged me. I get that things change (and need to) in movie adaptations but you know I'm gonna notice.
So that's what I thought. If you want to continue this conversation, join the book club over on goodreads on the City of Bones Movie Board where we are sharing our reactions to the movie let's try not to get too spoiler crazy in the comments here and if you think your comment might be spoiler-y maybe note that at the beginning. And if you haven't started the series they are so fun i definitely encourage you to pick up City of Bones.
Let's connect! You can also find me hanging out here.