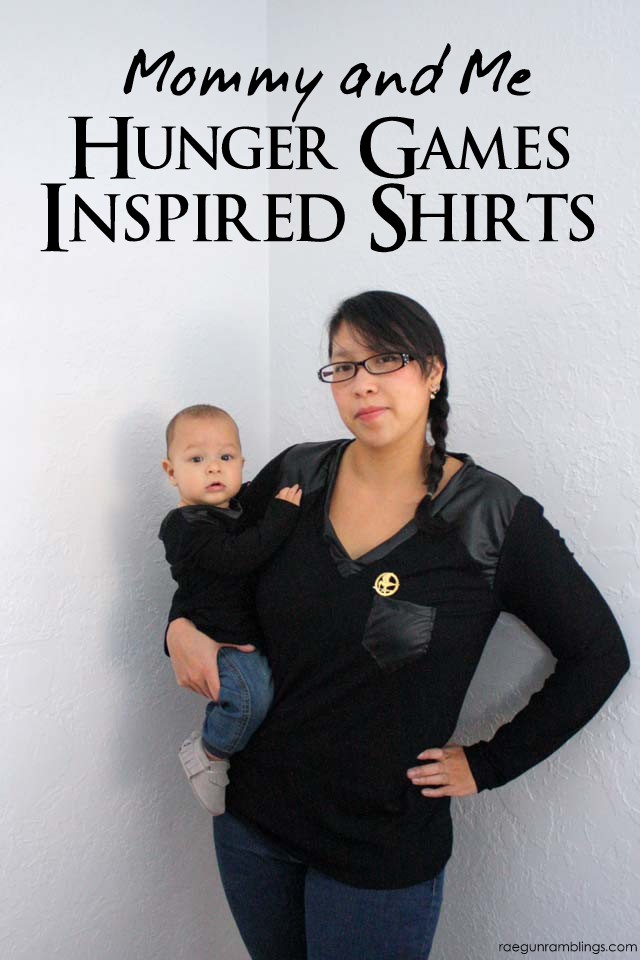 Oh yes I did. Yup I made Mommy and Me Hunger Games inspired shirts for me and Teddy.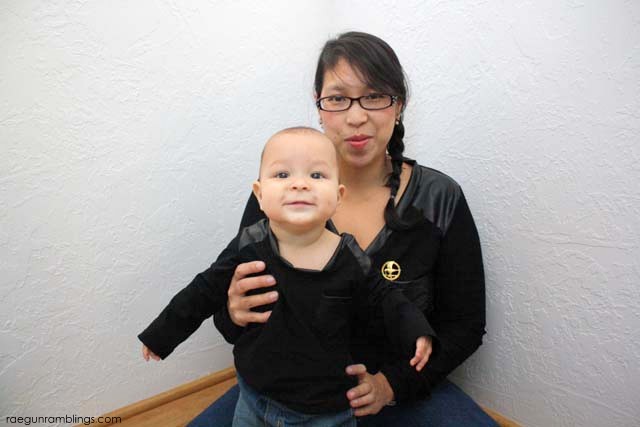 But I totally blame it on Stacey of Boy Oh Boy Oh Boy Crafts. She's having this awesome Mom of Boys Match with Me series and I just had to.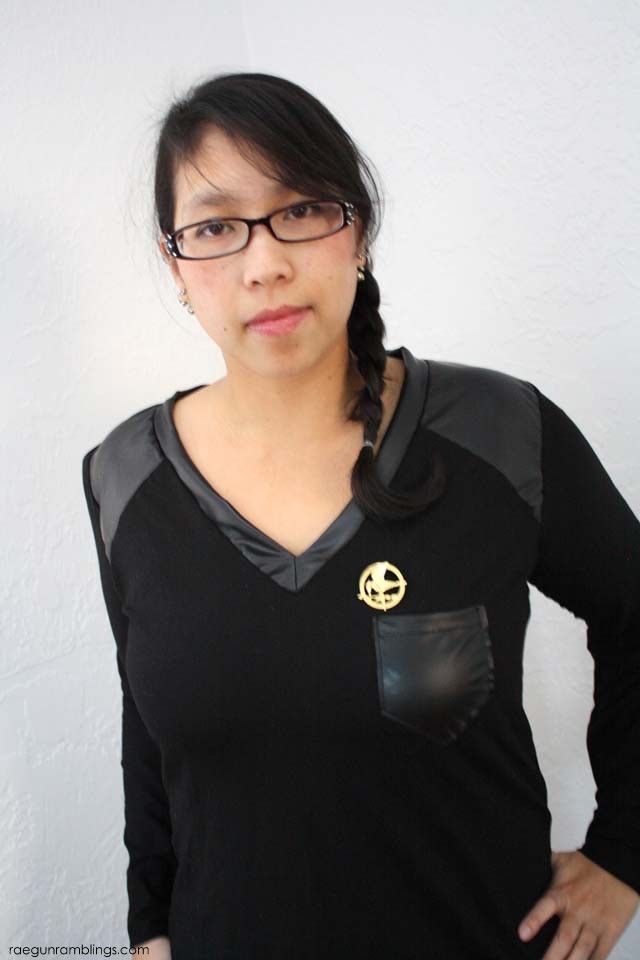 I am actually pleasantly surprised at how my shirt came out! I used The Hey June Union St. Pattern and just altered a few things to add faux leather detailing that screamed Hunger Games to me.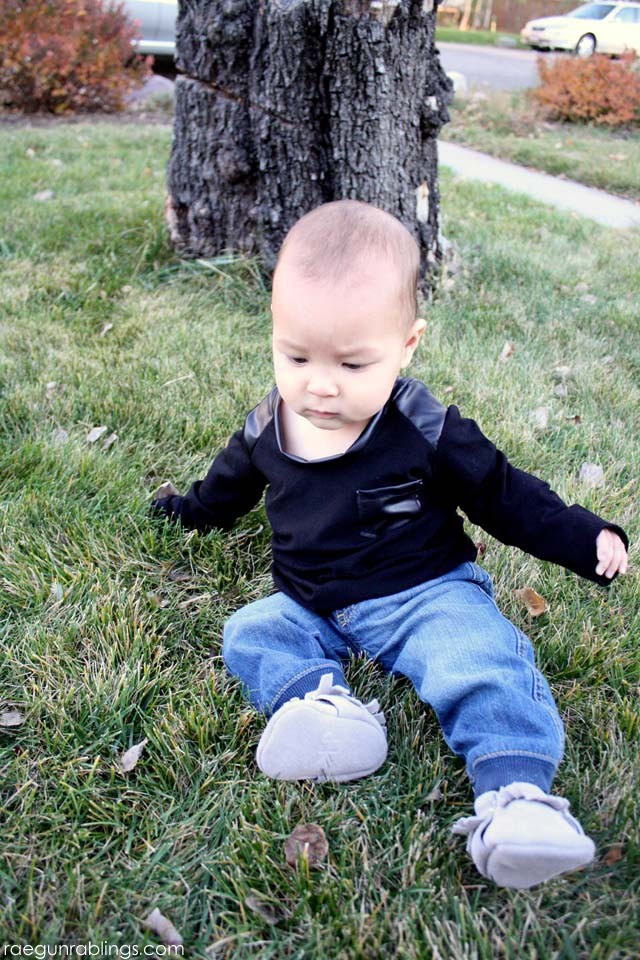 Teddy's shirt on the other hand… well let's just say that I did his first and when the binding was too short and I got impatient unpicking it I ripped it and that ended up ripping some of the front…well yeah so that's why the neckline is SO huge. But when you're baby has been sick for the last 4 days and your post is due you just go with the flow.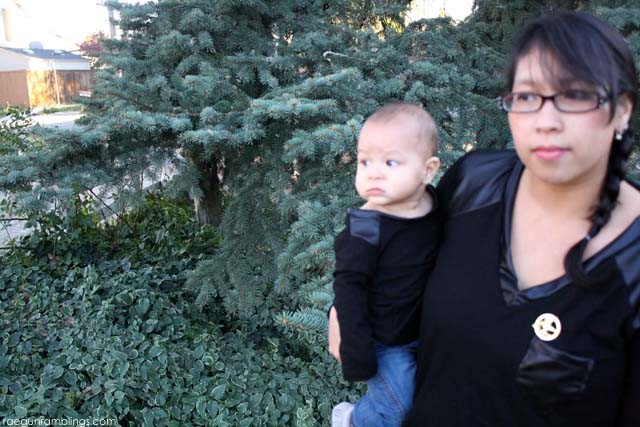 But let me just say screwing up on a mini sized thing is so much better, it made it so I totally knew what to pay attention to and how to tweak things so my shirt came together very quickly and with only one last adjustment.
If you want to make your own Hunger Games shirt it's actually very easy.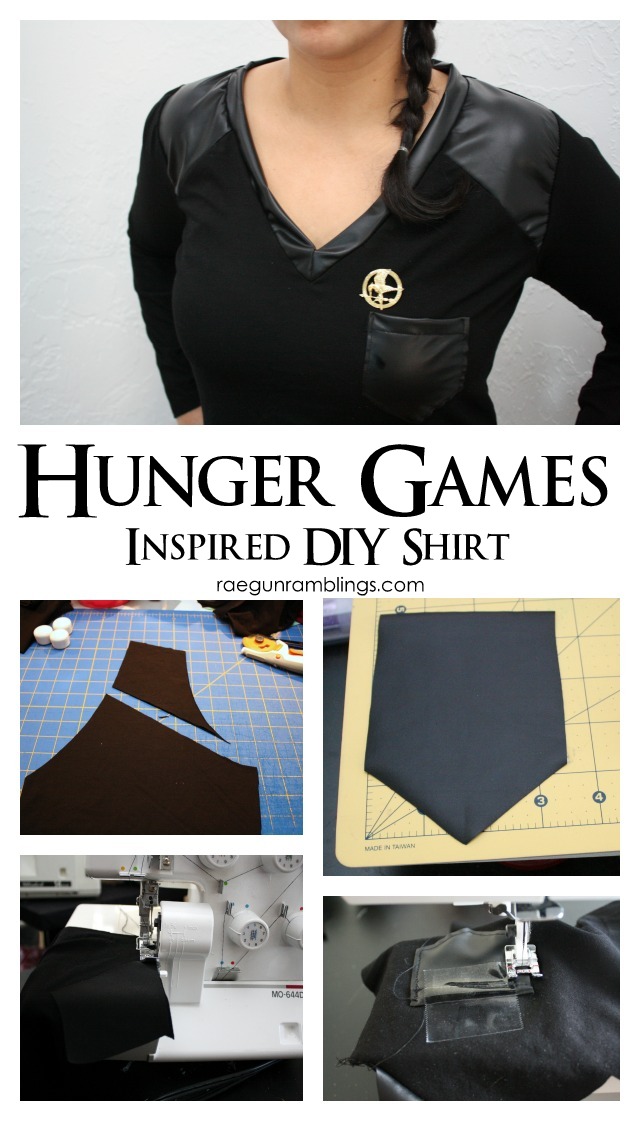 What You Need
Knit Fabric
Shirt Pattern I like this one for women and this is what I used as the base for Teddy's
Packaging tape
What to Do
Cut your pieces out of the regular knit according to the pattern.
Cut a diagonal line from the collar to the bottom of the armhole on the front piece while it is folded in half.
Use that top little piece as your pattern and cut two mirror pieces out of your faux leather making sure to ad about 1/2 inch along the bottom for a seam allowance.
Cut your pocket shape out of the faux leather.
Sew the front bodice pieces back together. With right sides together match up the bottom edge of your faux leather piece with the cut edge of the bodice and sew together. Now you should have a piece that looks like the front bodice piece before you sliced it.
Sew your pocket onto the front. I draped the fabric over me and found a position I liked it to hit and then using packaging tape I taped it to the bodice front. I did this since I didn't want little holes from using pins.
I stretched and rubbed the edges of my faux leather and decided it wouldn't be unraveling so I just topstitched around the pockets, easy peasy.
Next just continue putting the shirt together according to your pattern's directions.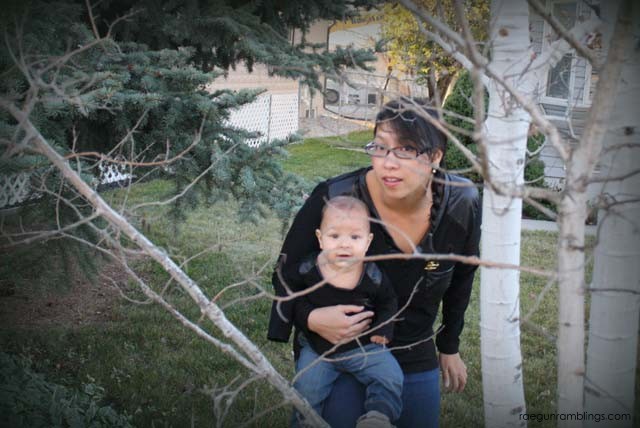 Finally throw on a Mockingjay pin, dress your baby up and go out in the front yard umm I mean woods of Panem and don't let any of the other tributes kill you. Make sure you hop over to check out all the other Mommy and me looks this week at Boy Oh Boy Oh Boy and tune in later today to see who else posted in the Happy Hunger Games series today!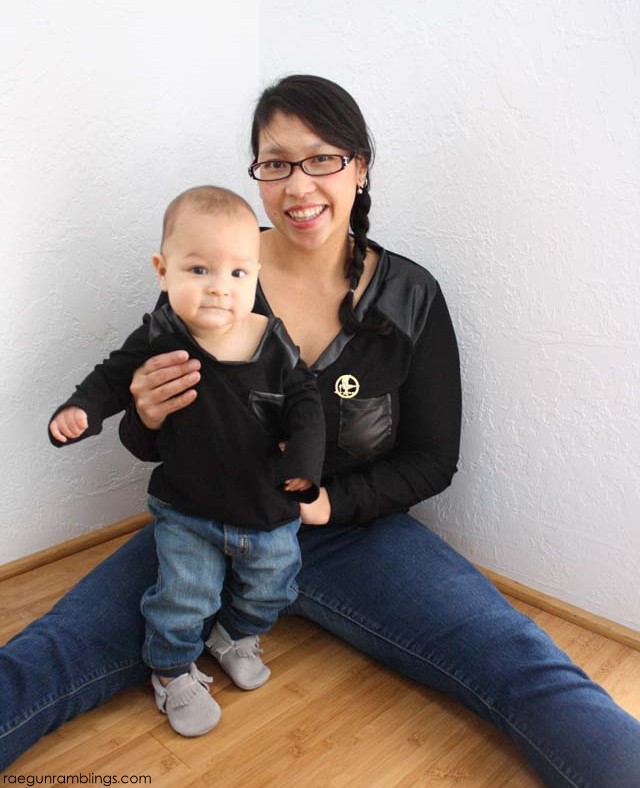 Let's connect! You can also find me hanging out here.