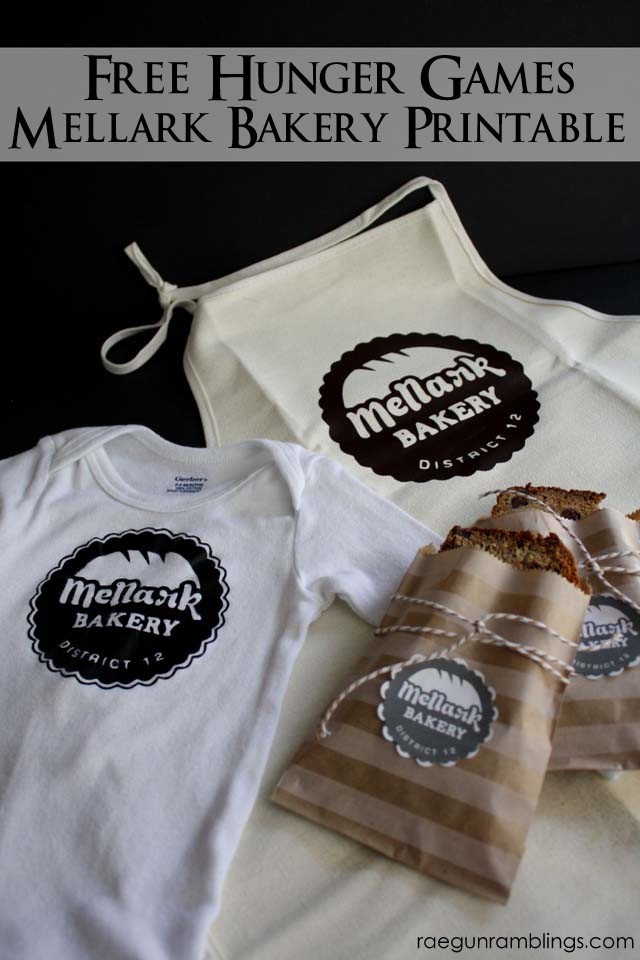 I'm so excited to share a few awesome Hunger Games projects that I made from Heidi of Digknity's Mellark Bakery design. I love the design so so much, it's so perfect. And luckily for you she has graciously allowed me to share it here so you can make your own awesome creations (see below for more details). I made Teddy a little onesie with the design on it which you might remember from my baby book round up post a few weeks back, I definitely will be making myself one soon!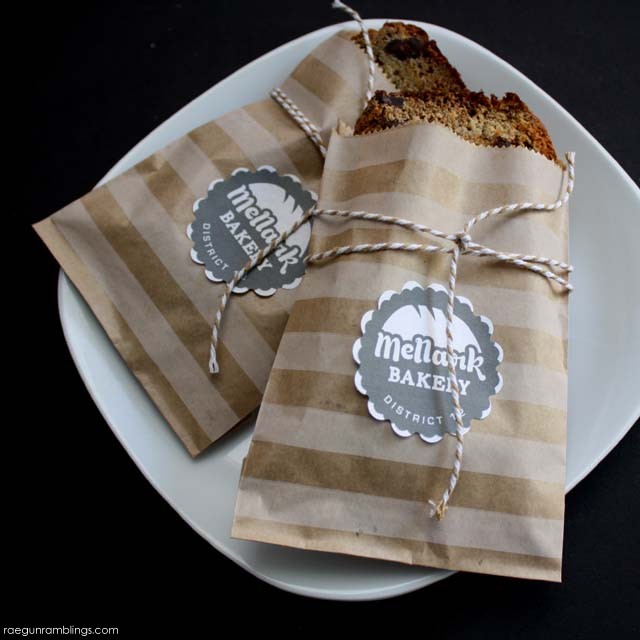 You could also use the design to make treat tags like I did for my Chocolate Chip Banana bread. I tried to print it directly on my cute treat bags but my printer wasn't cooperating. If I had time I would have run out to get some clear shipping labels. I have dreams of printing some paper to wrap around fresh loaves of homemade bread, wouldn't that be fun.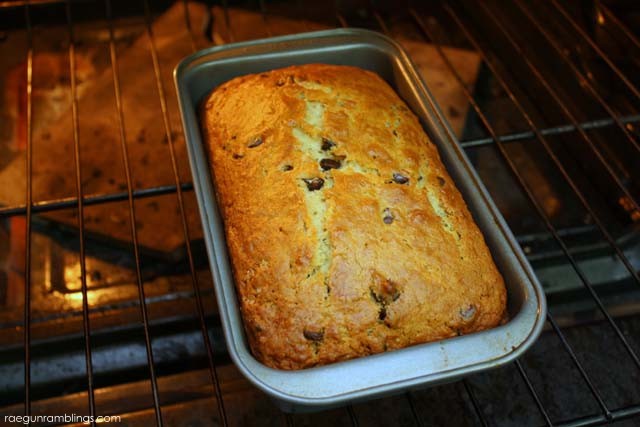 Mrs. Mellark's Banana Bread Recipe
3/4 C Sugar
1/2 C Butter
1 C Mashed bananas
1/2 C Sour Cream
2 Eggs
2 C All purpose flour
1 tsp Baking soda
1/2 tsp salt
3/4 C chocolate chips
1/2 C Chopped nuts (optional)
Preheat the oven to 350F. Cream the sugar and butter. Mix in the banana, sour cream, eggs, flour, baking soda and salt. Stir in the chocolate chips and nuts if you are using them. Pour into baking dish and bake until a toothpick comes out clean about 60 minutes.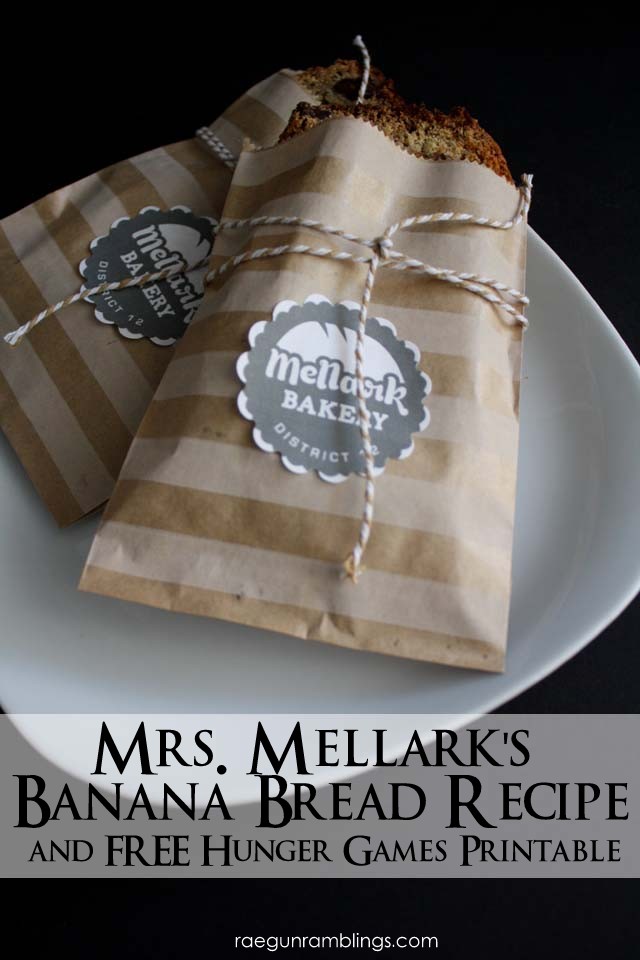 I love how versatile the design is. You could print it up as is, throw it in a frame and give it to your favorite Hunger Game fan. Or if you are like me and can't leave any plain tote back or tee shirt unembellished you can use it as a stencil for freezer paper stenciling or if you have a cutting machine as a design for iron-on vinyl.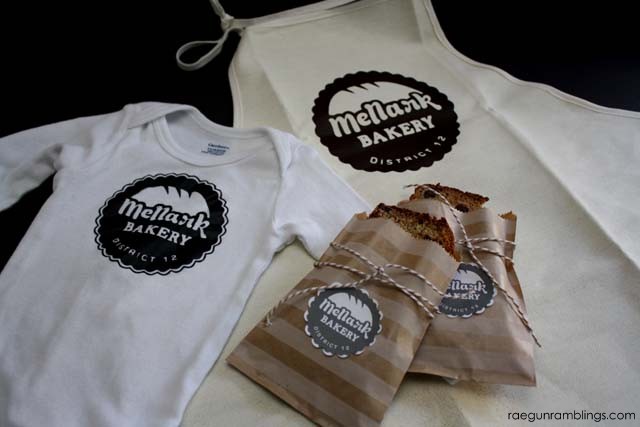 The apron I made came together SUPER fast. I bought one of those premade blank ones from the craft store and then I just cut some iron-on vinyl out on my Cricut and slapped it on. If you've never used iron-on vinyl I'm kind of an addict and I have a post all about how to use iron-on vinyl. Really it's great stuff!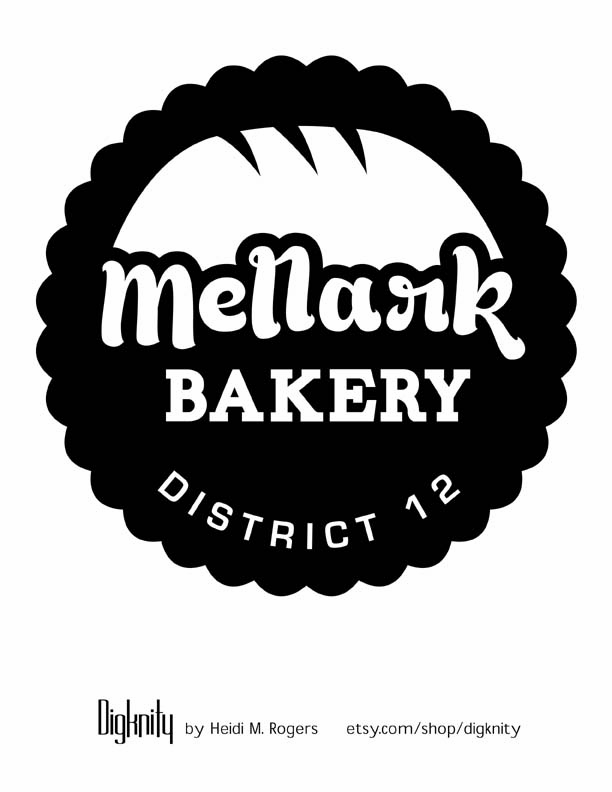 Click here to download the full resolution version. Please note the design is intended for personal (non-commercial use only). Also please do not repost it anywhere.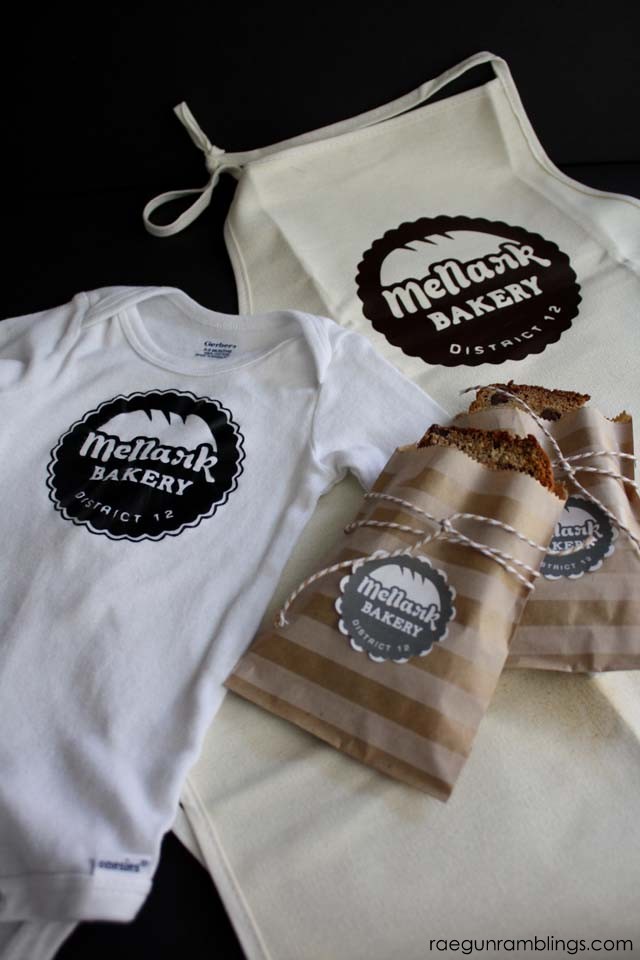 I'm giving this apron away as a part of the giveaway. It has a little discoloration on it but I like to imagine that that's just the wear and tear of long hard hours in the bakery (but really it's brand new). Also don't forget to go check out the rest of Heidi's awesome designs in her Etsy Shop!
Let's connect! You can also find me hanging out here.