Love Harry Potter and a relaxing bath? Well these DIY Expecto Patronum bath bomb are just what the doctor ordered!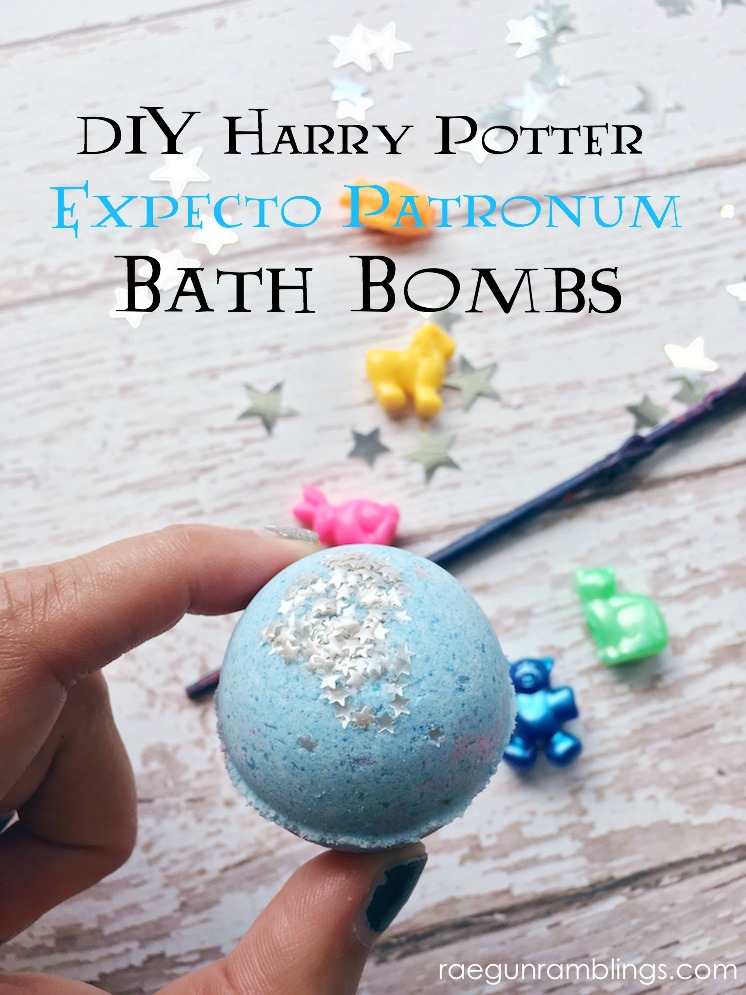 I'm a Lush addict but the price tag on the fancy bath fizzles umm no thanks. So I finally decided to make my own and of course I couldn't do just any old bath bombs I had to do Harry Potter ones. I made three versions in all but these first ones are supposed to represent the Expecto Patronum spell.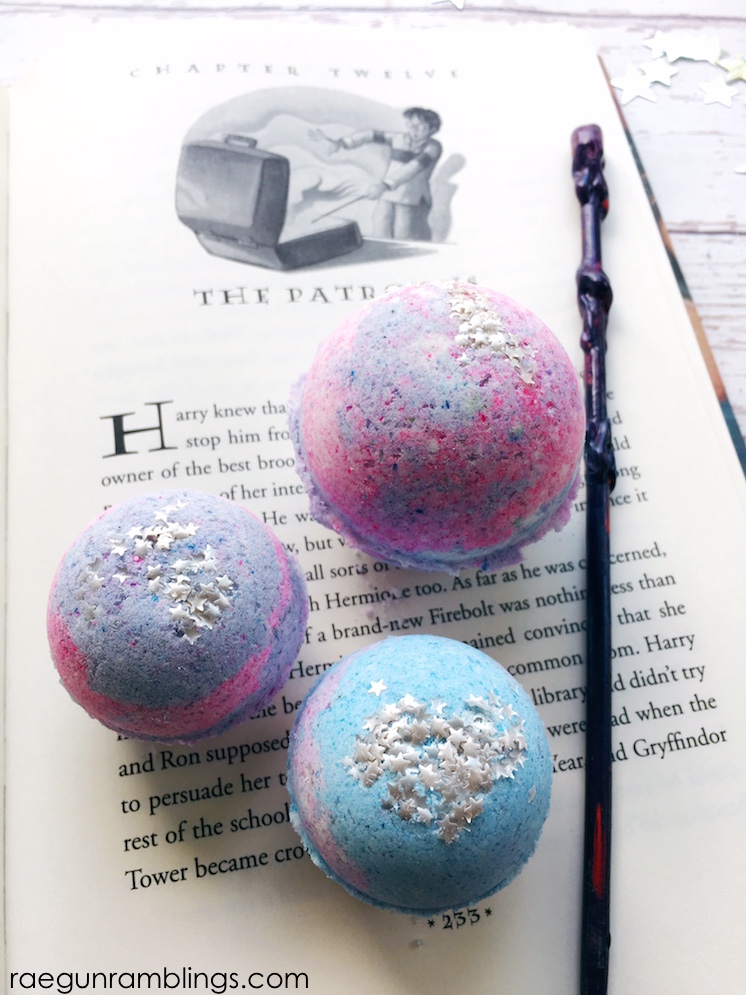 In the books and movies this charm is used for protection. Your patronus  appears in an animal form and can help fight off various dangers. A witch or wizard doesn't get to pick their patronus it just is.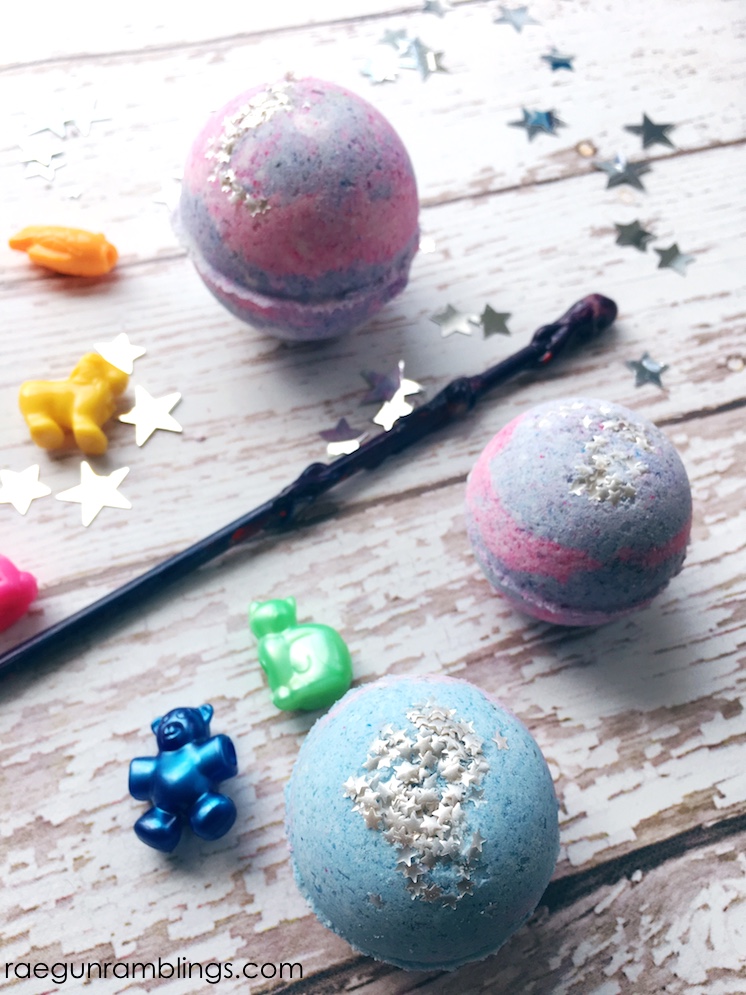 So when you place this star covered bath bomb in the tub it glitters and fizzes with power and reveals a hidden animal bead signifying your patronus. FUN right!?
How to Make a Harry Potter Patronus Bath Bombs
1). Combine Wet Ingredients
3/4 tsp water
2tsp essential oil
2 1/2 tsp coconut oil, melted
2). Combine Dry Ingredients
Note: I combined the colorings after I mixed the other ingredients but I think it would work better to add it to the wet ingredients but I was noncommittal on colors before ;)
3). SLOWLY add the wet ingredients to the dry. Drop by drop. And mix. Mixing with hands works better. Divide up and color as desired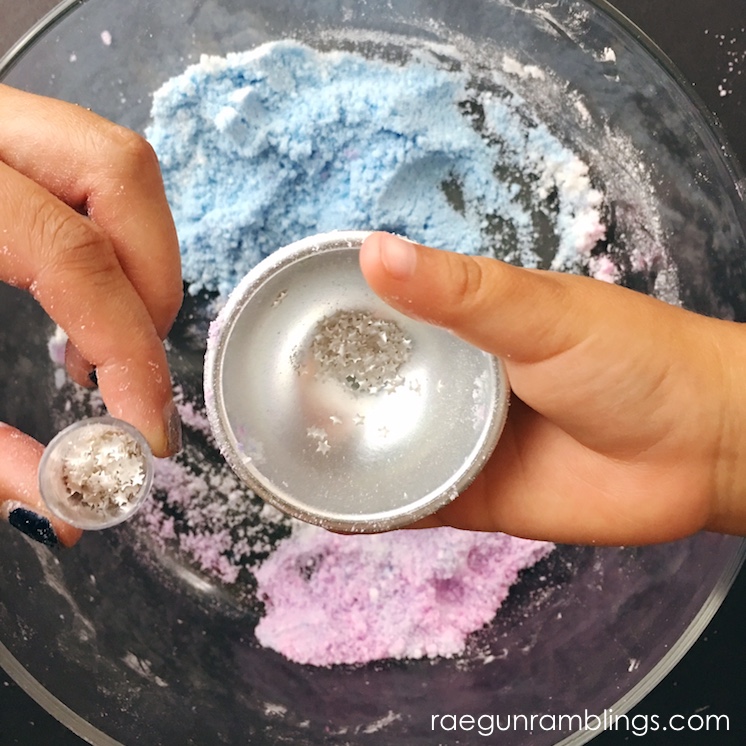 4). Place a small amount of edible stars into one half of the bath bomb mold.
5). Fill mold. Press to pack down and fill more so it's mounding over the top. Place a small animal figurine, bead or other "patronus" onto the mound. Just make sure the patronus is big enough if won't go down the drain.
6). Fill the other half of the mold so it is packed and overflowing. Smoosh together and twist so that the excess presses out through the center. Press time. If you have extra molds let it sit in the mold to dry for a few minutes or until fully dry. If you don't have extras then carefully remove the bath bomb and repeat the steps until you use up your mixture. I find that when I take time to color and change the designs by my very last bath bomb it's dry and has a hard time holding but the rest until then do great.

Are you loving this year's Happy Harry Potter series as much as I am? Don't forget about the giveaway!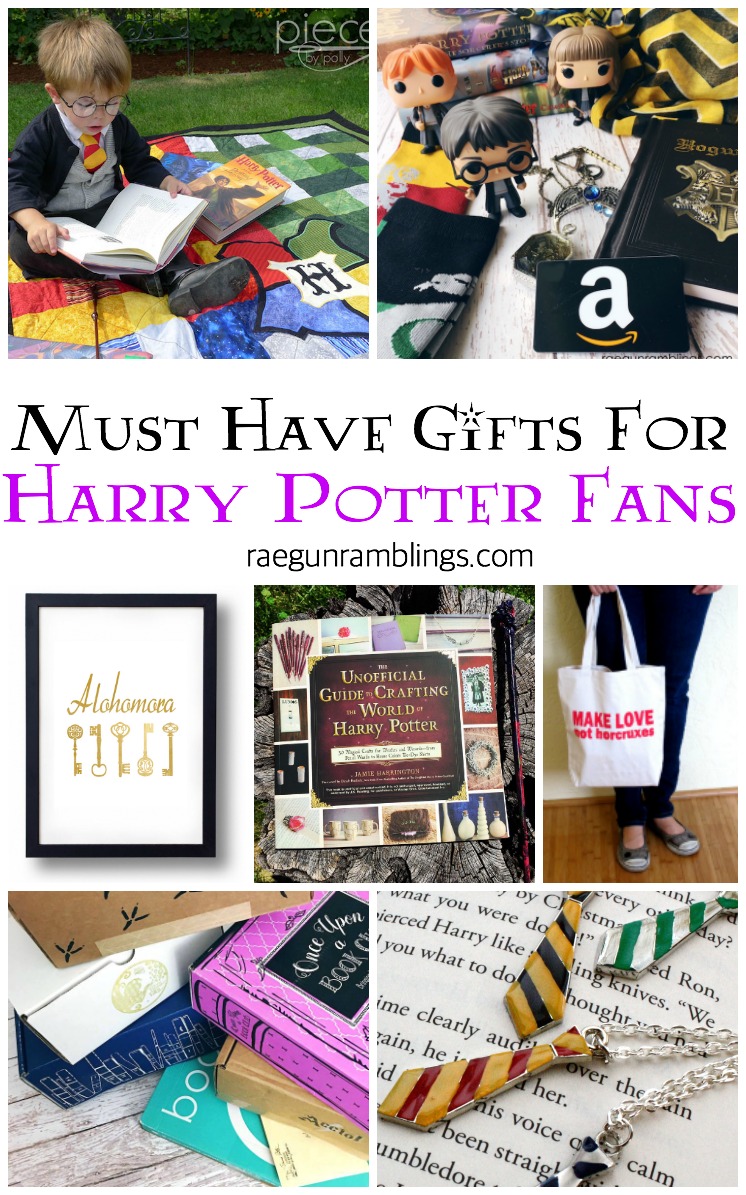 Enter to win this amazing prize pack by using the widget below or click here if the widget isn't loading. Make sure to check back as new ways to enter will be added throughout the series!
a Rafflecopter giveaway

This year's Happy Harry Potter giveaway winner will give a fun package including:
Want More? See hundreds of Harry Potter recipes, craft ideas and more from years of the series and more!