Make fun Christmas Elf Spaghetti and tons of other wonderful Christmas ideas!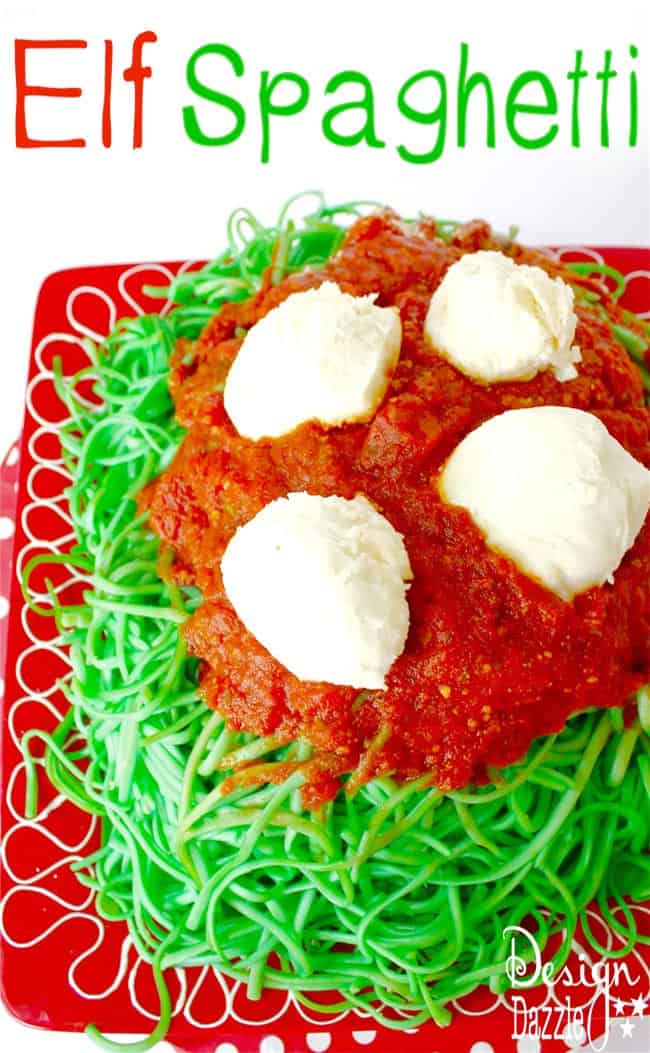 Did you know that Santa's elves have a favorite dinner? Elf spaghetti is what they always choose to eat on Christmas Eve. It's so easy just add some green food coloring to the pasta, top with your favorite tomato sauce and finish with fresh mozzarella "snowballs".
You may have seen Design Dazzle's 5th annual Christmas Wonderful series is in full swing! We've had some fabulous Christmas ideas from some talented bloggers and we're not done yet…the fun continues through the middle of December! Over the years we've shared almost 200 blog posts with hundreds and hundreds of ideas.
We thought it would be fun to have a great big link party to celebrate this magical Christmas season because we know YOU have some awesome ideas to share too! Simply link up your project below, which will show up on all of the 25+ blogs participating.
Design Dazzle | Simply Designing | Made From Pinterest | Mommy Crusader | kiki comin | Frog Prince Paperie | Clean and Scentsible | Paisley Petal Events | Ginger Snap Crafts | Apples 4 Bookworms | Artzy Creations | Not Just a Mommy | The Scrap Shoppe | Confetti Sunshine | Snap | Suzy's Sitcom | My Daylights | Tips From A Typical Mom | Holy Craft | Sweeten Your Day | Pink Cake Plate | Raegun Ramblings | a girl and a gluegun | Live To Be Inspired | Polka Dot Poplars | hoopla palooza |