I admitted to Cody my trainer that I was discouraged with the last two weeks of good eating, solid exercising and the scale not moving. He tried to assure me that it was absolutely nothing to worry about since I had logged everything and I was on top of things. So I'm trying not to let it bug me but it's hard you know.
Last night at pub quiz the kitchen was having a hard night so they took a LONG time to get everyone's food out. Hubby and I usually split 1 order of chicken and fries but to compensate for the delay they piled on the fries and gave an extra piece of chicken and we were both starving by the time it arrived so… That being said with all that salt I'm feeling a little better about being THE SAME WEIGHT yet another week since I'm sure without that I would probably be down. But really I want to see it go down next week bad.
Weight:
1/13/2011 148.0
1/20/2011 148.0
I'm 5'5 but have a small frame
(I think I'm going for 135 and we'll see from there)
Nutrition Breakdown:
(click on the image to enlarge)
ave. cal: 1610 based on 5 day average. I think my batteries are going since the date changed on my little machine and I didn't realize it until I had entered some so the days are mixed up but the numbers should be right.
Exercise:
H strength
F Yoga 60 min class Bike 20 min 4 mi
S bike 47 min 8 mi
S off
M Swim 60 min
T Strength and Conditioning Class
W Bike 60 min 10.6
Linking up at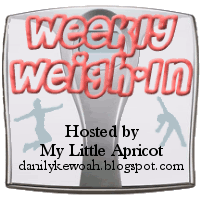 (dani doesn't have the blog hop up so I set one up)