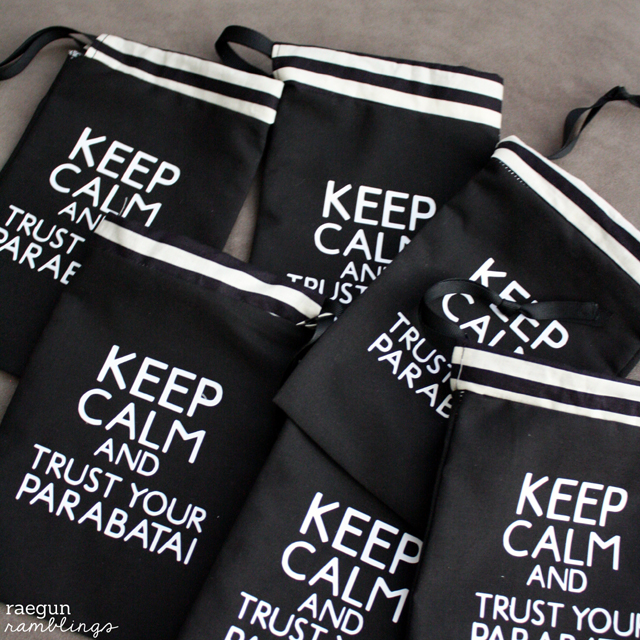 Oh my gosh it's finally here! I feel like I have been waiting for ages for the City of Bones movies to come out. The Mortal Instruments, the book series which The City of Bones is a part of is one of my favorites. I just adore Cassandra Clare's writing. They are so fun full of magic, action, and wonderful characters. I watched as speculations went out about who would be casts for the different parts and I've played the teaser trailer and then each subsequent trailer over and over with geeky anticipation. And now this week I finally get to see one of my favorite book worlds come to life on the big screen.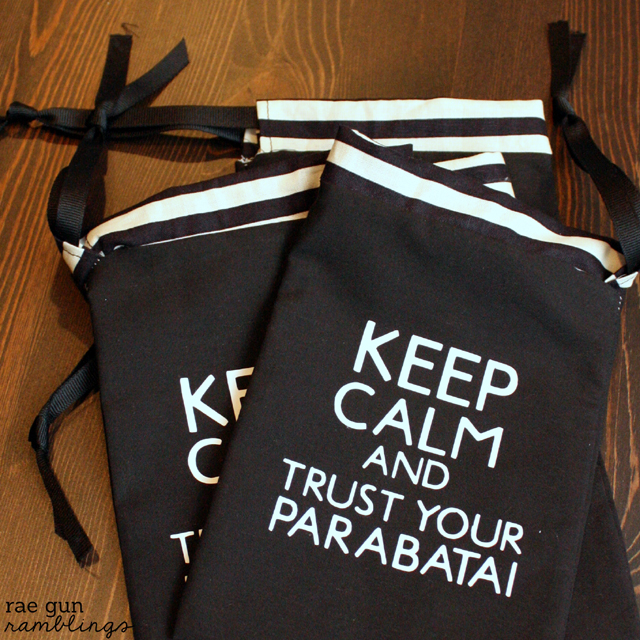 To celebrate I've got a fun Keep Calm and Trust Your Parabatai Bag Tutorial. I actually made these for the local Book Club members when we did our big debrief of Clockwork Princess the final book on The Mortal Instruments spin off/prequel series The Infernal Devices. In the Shadowhunter world in which these books take place shadowhunters fight all kinds of evils and some partner up in a sworn covenant with a partner which is called their Parabatai. These Parabatai relationships are as serious as marriages and as close as siblings.
Keep Calm and Trust Your Parabatai Bag Tutorial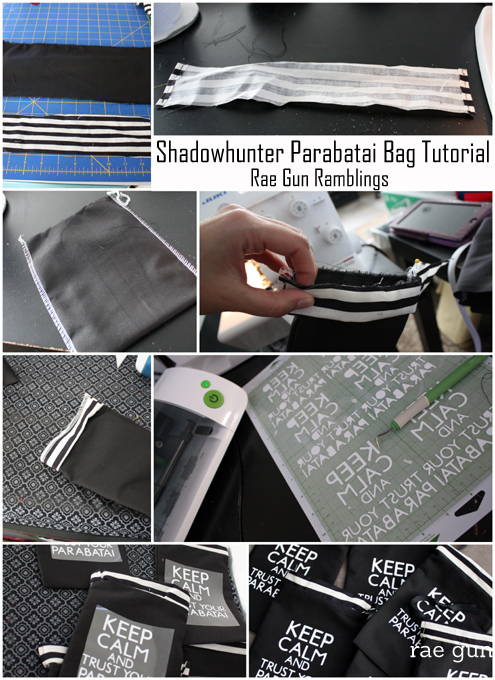 What You Need
Fabric
Iron-on Vinyl
Cutting Machine like a Cricut
Ribbon
Start by sewing folding the main fabric in half and sewing both sides.
Then finish the ends of the the casing by folding a small bit under on each short size and stitching a line.
Fold the casing fabric in half lengthwise so the nice side of the fabric is facing out. Pin the raw edge to the raw edge of the right side of the pouch and sew together.
Fold the casing up and you have the basic pouch. Just string in some ribbon and tie a knot.
To make the iron on I used Cricut craft room. I picked a basic font (just the basic cricut craft room one called Sans Serif) and I typed out my message paying attention to size it so that it would fit on my pouch. Then I flipped it so it was the mirror image. I laid some iron on vinyl onto my cutting mat plastic side down (vinyl side up) and I cut on the vinyl setting.
After I peeled away all the negative pieces of vinyl I laid my saying on the pouch and I iron it on by holding the iron for a few seconds in each spot and repeating until the vinyl became bonded to the fabric.
I hope you like it! And if you don't have your own Cricut or you don't want to go through the work of making your own I do sell these Parabatai bags as well as other bookish fan goods in my Etsy shop. I hope you'll join us in sharing our thoughts on the movie and other book things in the Rae Gun Ramblings online book club we'd love to have you.