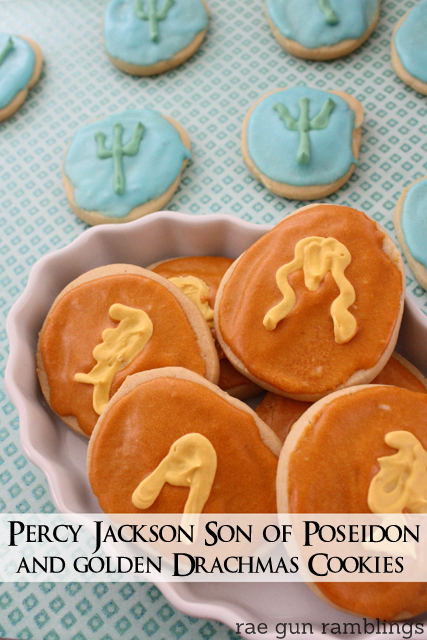 So I just got home from watching Percy Jackson Sea of Monsters with a few of the local girls from the book club. It's a while since I've mentioned the book club so if you don't know I run an online book club on goodreads open to anyone anywhere and we talk books. But those of us who are local try to get together to watch the movies that have been made from books so it's a lot of fun.
Well like I always do I wanted to bring a little book/movie themed treat so I decided to make some Percy Jackson Cookies. In the books the kids always have to use golden drachma coins to call for help or get taxi rides and in honor of Percy and Tyson, sons of Poseidon I made some Poseidon cookies.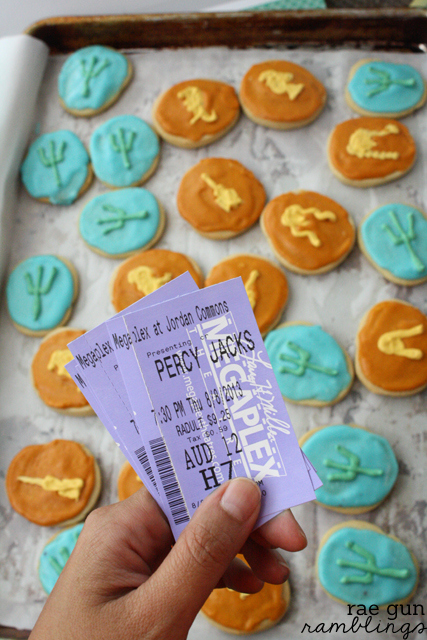 Now I know these cookies would never win a cuteness award when compared to all the awesomeness that is out there in the world of cookie decorating but I think the yumminess and geekiness of them should compensate ;) Plus they are totally doable for the average person.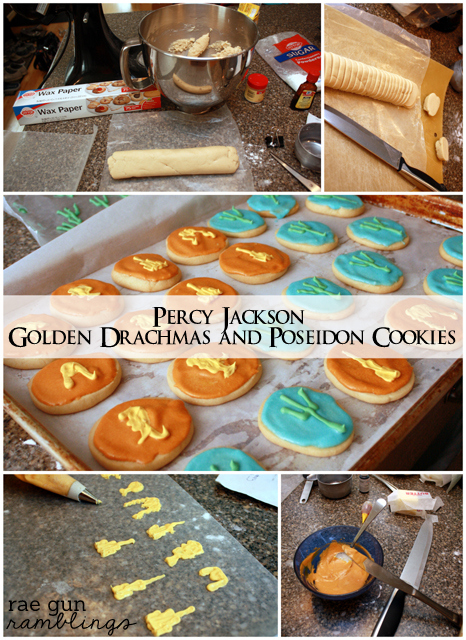 My Favorite Sugar Cookie Recipe
 1 1/2 cups powdered shugar
1 cup butter
1 egg
1 tsp vanilla
1/2 tsp almond extract
2 1/2 cups flour
1 tsp baking soda
1 tsp cream of tartar
Mix flour, baking soda and cream of tartar in a small mixing bow. Cream sugar, butter, egg, vanilla, almond extract together. Add dry ingredients and mix well. Divide dough into two logs between wax paper; refigerate at least 1-2 hours. Slice dough into disks. Bake at 375 F for 7-8 minutes.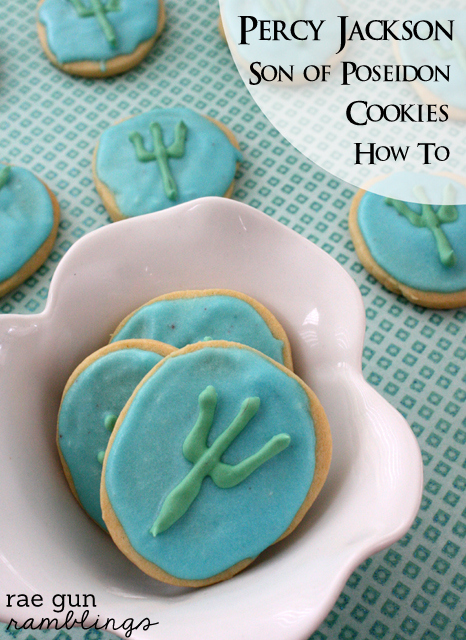 Basic Royal Icing Recipe
1/5 lbs powdered sugar
1 TBS meringue powder or 2 egg whites
water
Mix on low with 2 TBS water. For thicker mix well to thin it out add more water. You'll want it pretty firm for these cookies. Divide and dye the icing. Using a small round tip draw faces and Poseidon tridents onto the wax paper and allow to dry completely. Mine took about an hour.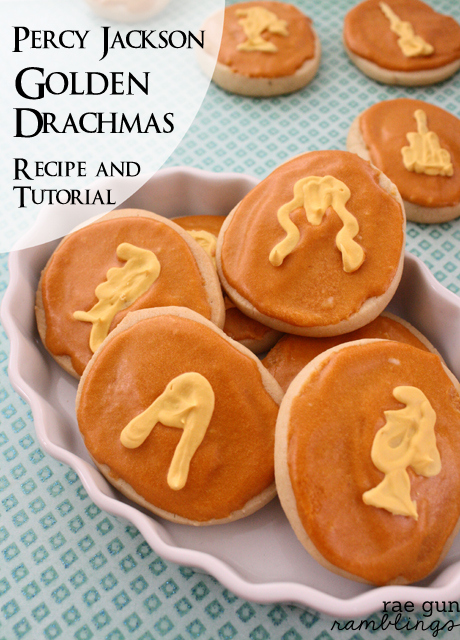 The Yummiest Cookie Icing
You could frost the whole cookie in royal icing but I love the flavor of this recipe so I decided to do that and just make the little symbols out of royal icing.
1 lb. powdered sugar
1/4 tsp salt
1/4 cup milk
1 tsp vanilla
1/3 c butter
Beat all ingredients (add a couple drops of water to thin). Divide and color with food coloring. Spread onto cooled cookies and carefully remove the royal icing symbols by bending the wax paper away once they are fully dry and place them on the icing while still wet.