The following post is apart of Jo-Ann Fabric and Craft stores Celebrate the Season campaign. I received compensation for this post but all opinions are 100% my own and I'm excited to share! #spookyspaces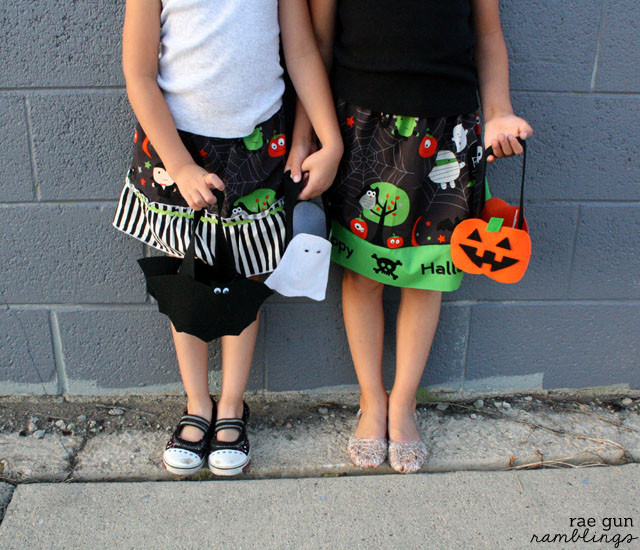 To say that I'm busy would be an understatement. This time of year is flat out crazy for me. If you follow me on Instagram you have seen a peek into my craziness. But I wanted to do a fun Halloween craft since usually I just have to watch everyone else part take in the festivities. Little did I know that the nieces would go gaga over this project.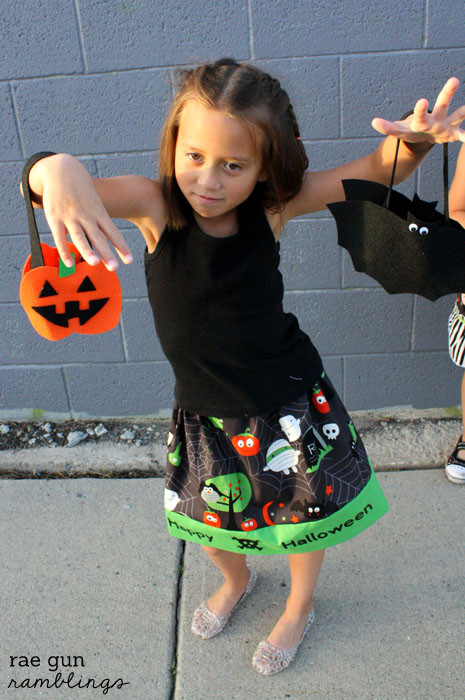 When I showed up with these simple goodie bags and special Halloween Skirts they were so smitten. My favorite part though is that they took just a few minutes to make and can be put together from really basic and inexpensive craft supplies that you can find at your favorite Jo-Ann Fabric and Craft store.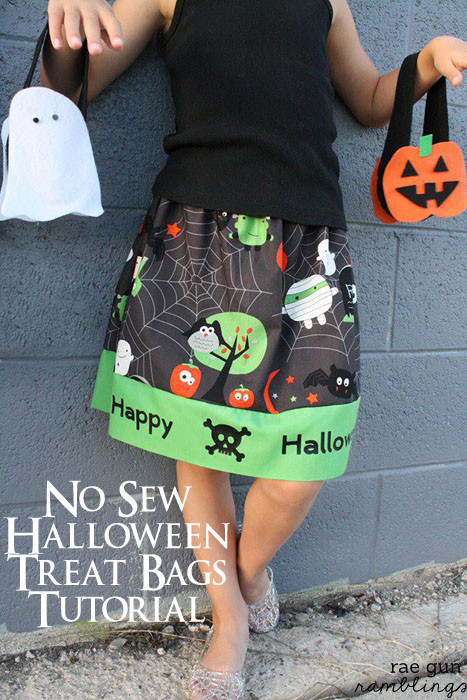 No Sew Halloween Treat Bags Tutorial
felt
googly eyes
glue (I used my glue gun)
Start by drawing your images. I made really basic shapes on scrap paper and then traced it onto the felt with a fabric marker. And the ghost was so basic that I just free handed that with scissors.
Glue on the eyes and the face pieces.
You want to cut strips of fabric that will be the body of the treat bag. Mine were 3 inches by 25 inches but you'll want to base it on the size of your design pieces. It should be long enough to extend as a handle when positioned with your design pieces. Then overlap and glue the ends of each piece together to form a circle.
Then with glue draw a U shape on the WRONG/inside side of your front design piece. Curve the strap circle so that it aligns with the glue and attaches. I like to use hot glue because it's quick drying and strong.
Now draw a line of glue on the edge of the strap piece just enough to attach the back piece. Attach the back piece.
If you want a slimmer handle like I did fold it in have and with an angled cut slice off a little of the handle making sure not to cut the front or back piece.
Fill with treats and hand to your favorite spooky friend!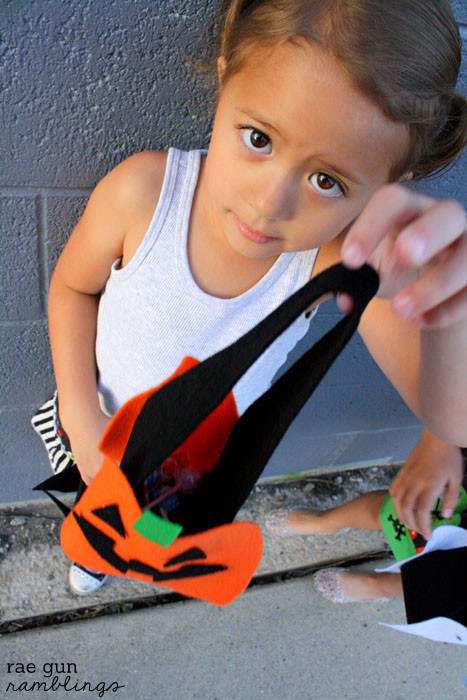 I can see them being really fun to put all kinds of treats, candy like we did, caramel apples, or even cupcakes. And really I was not joking when I said that the girls loved these bags!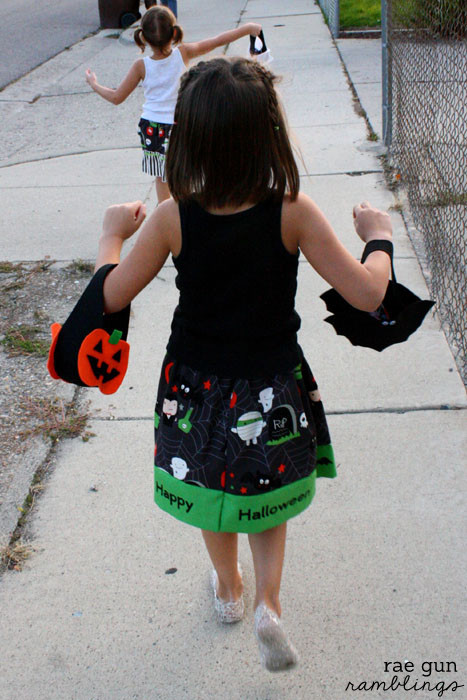 If you're looking for costume tips don't forget to check out my super gigantic list of tips, tricks, and inspiration for making awesome Halloween costumes without losing your mind!
And learn how to make your own easy Halloween skirts!
Let's connect! You can also find me hanging out here.