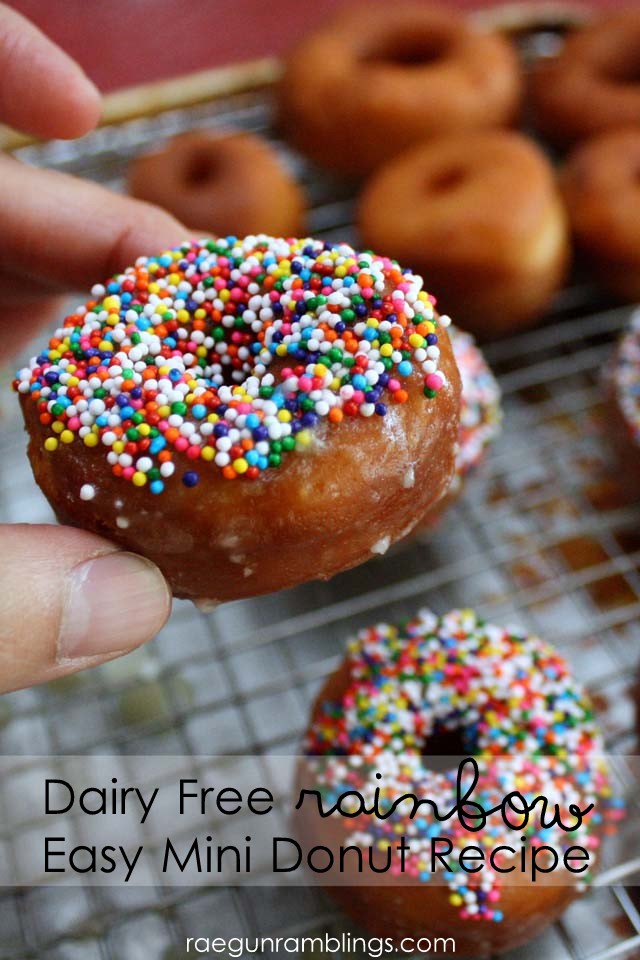 I've been CRAVING donuts. We had kind of gotten into a donut routine when Teddy was in the tum. You see there are two delicious donut shops right by my doctor's office and when you're stuck going to the doctor's in those last weeks of pregnancy you deserve donuts for surviving the wait. I mean really I get that babies come on their own timeline but some times the wait for those appointments was ridiculous. The problem is that after I conditioned my body to need the delicious fried goodness Teddy's body decided it didn't love dairy and wouldn't you know dairy is in most donuts.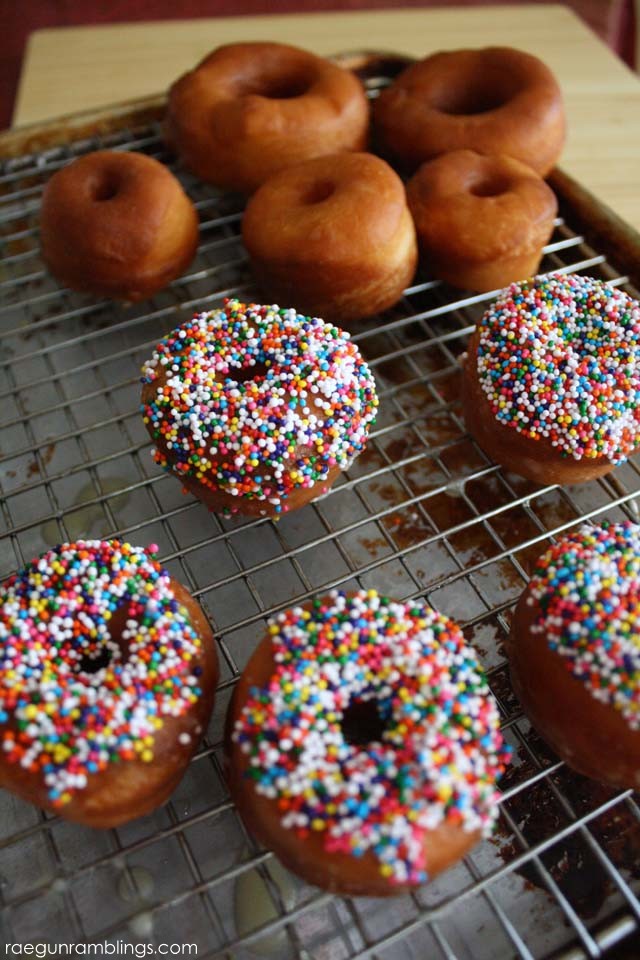 So after calling all around time both in bakeries and grocery stores, checking every label I came across I realized the only way to satisfy my craving would be to make some. And can I just say I wish that I hadn't been so freaking lazy because it turns out that donuts are really easy to make! Here's my recipe I hope it helps out those of you who can't do dairy (and you can easily make them vegan with this recipe). But for everyone else these donuts are super yummy they don't taste "special diet" or "healthy" if you know what I mean. My husband was chowing these down like a crazy boy.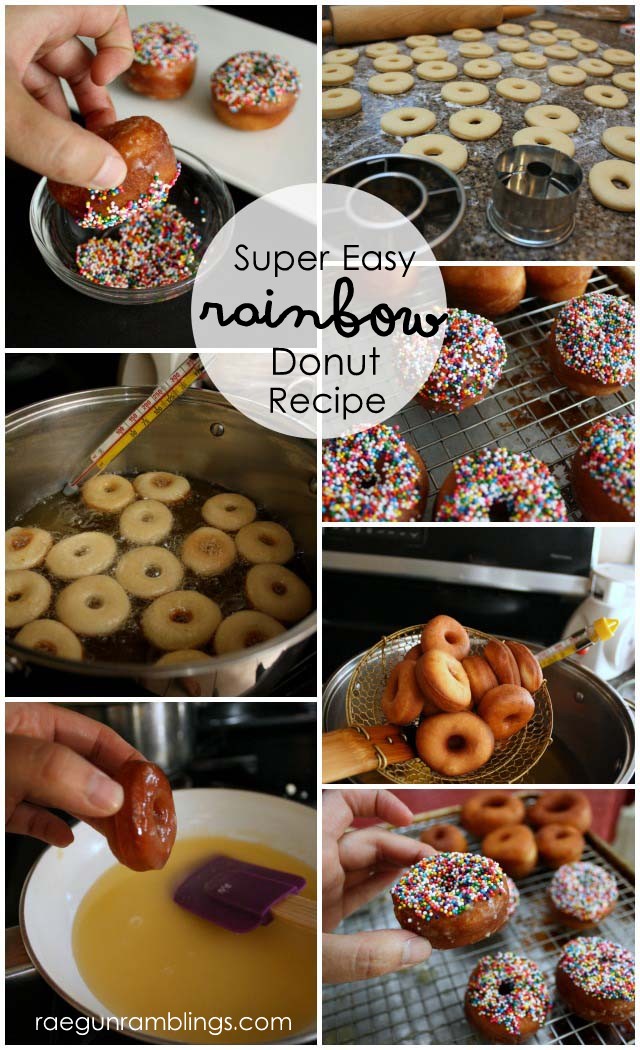 Dairy Free Donut Recipe
2 1/4 tsp yeast (or 1 packet)
2 TBS warm water
3/4 C lukewarm rice milk (or other milk substitute or milk if you don't have a dietary restriction)
1/4 C sugar
1/2 tsp salt
1 egg (or if you want to make it vegan 1 egg substitute like Ener-G)
3 tsp shortening
2 1/2 C AP flour
Oil for frying
In a large bowl proof the yeast by sprinkling over warm water and letting sit for 5 minutes or more. Yeast should be foamy. If it's not foamy your yeast might be too old or your water might have been too hot and killed them.
Add rice milk, sugar, salt, egg, shortening, and 1.5 C flour. Mix on low. Slowly add in flour 1/2 a cup at a time until your dough starts to pull away from the sides of the mixing bowl. Knead for a few more minutes.
Turn dough out spray the bowl with spray oil and put the dough back in the bowl covered to rise. Set in a warm place until it doubles in size. You can speed up the rising process by sticking it in the oven with the light on and a bowl of warm water and the oven door closed (but not on).
Next turn the dough out onto a floured surface. For mini donuts roll the dough to about 1/4 inch thickness. For regular donuts use 1/2 inch thickness. Then cut with a donut cutter like this one.
Heat oil to 300 F and fry donuts flipping to get both sides golden. Pay attention they will fry up fast!
While they are still warm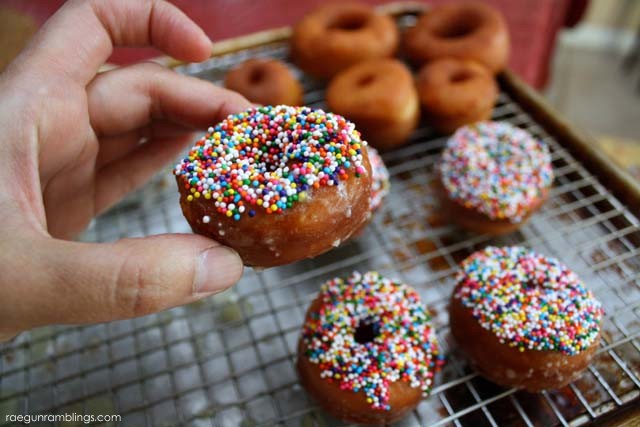 Glaze Recipe
2 TBS Earth Balance (or butter if you don't have a dietary restriction)
1 C powdered sugar
3/4 tsp vanilla
Sprinkles (note that most sprinkles are NOT vegan. If you want to make them vegan try these sprinkles)
Melt earth balance over low heat.
Stir in powdered sugar and vanilla.
While the donuts are still warm dip in the glaze. I like to dip both sides. The donut dough is not very sweet you need the glaze to get a good flavor.
Top with sprinkles or other decorations.
Want even more donut goodness? Some of my blog friends and I have joined forces to share 10 amazing mini donut recipes! Enjoy :) Make sure you check out the other 9 fabulous donut recipes participating in the hop today. Just click on the picture or title below to grab the recipe.
Rook No 17 – Mallow Krispy donuts
Our Thrifty Ideas –  Cinnamon Roll donuts
Dessert Now Dinner Later –  Boston Cream donuts
Housewife Eclectic – Powdered donuts
Rae Gun Ramblings – Dairy Free donuts
Tastes Better from Scratch – Sour Cream Old Fashioned donuts
Snap Creativity – Pina Colada donuts
Messes to Memories –  Chocolate Caramel Cake donuts
One Sweet Appetite – Maple Bacon donuts
Over The Big Moon – Sweet Waffle donuts

Let's connect! You can also find me hanging out here.