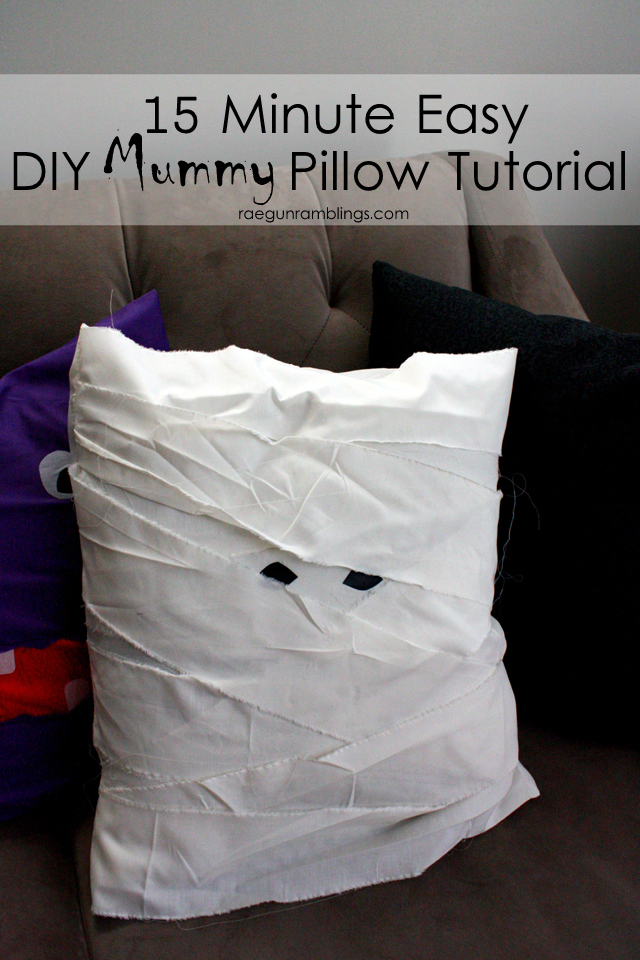 Do you decorate for Halloween? It's my absolute favorite holiday. Usually all my sewing energy is thrown into Halloween costumes but I thought it would be fun to make a few festive pillow cases. These are so easy to make since they are based on of my easy 10 minute pillow case tutorial. I love a good quickie project and both the Monster Pillow and Mummy Pillow are super easy, inexpensive, and quick to make.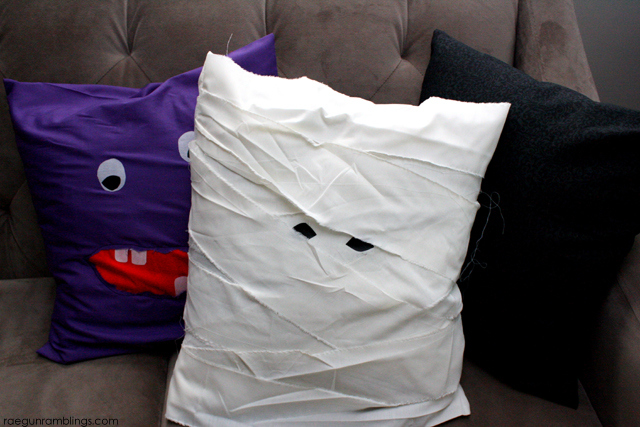 What You Need for the Mummy Pillow Case
1 Yard Off White Woven (not knit) Fabric
1 small scrap of Iron-on Vinyl (or you can use black felt and a glue gun)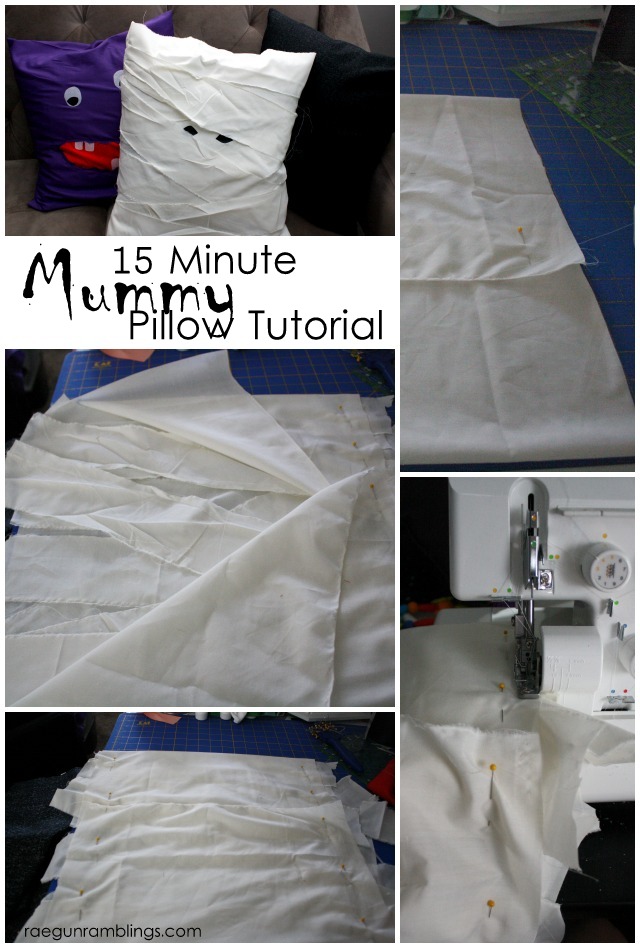 What to do
I'll be giving measurements to make a pillowcase to fit a 16-17 inch square pillow but you can easily adjust the measurements to fit a different size. To see how to figure out how much fabric you need or to make a very basic pillowcase see my quick envelop pillowcase tutorial.
Cut your fabric to 17 inches by 38 inches. Fold in thirds so that you have a 17X17 square and then flaps that overlap. If you can't picture this see this post. Iron the folds to give you a guide when placing your strips of fabric.
Finish both short edges of fabric by folding under and making a narrow hem.
Next tear a few strips of fabric by snipping the edge and then tearing. Woven fabric will tear on grain, that is straight along the line of fabric. I use about 3 strips and each one was about 4 x 44 inches.
Cut and lay the strips across the middle square portion of the large fabric and pin into place.
Fold the flaps over and pin enclosing the scraps.
Sew down the edges catching all the layers of fabric.
Turn right side out.
Cut eyes out of the black vinyl and iron on. If you've never used iron-on vinyl it's one of my favorite craft supplies and I have post all about how to use iron-on vinyl you can check out. If you don't want to buy black vinyl you can just cut eyes out of black felt and use a hot glue gun to glue them on.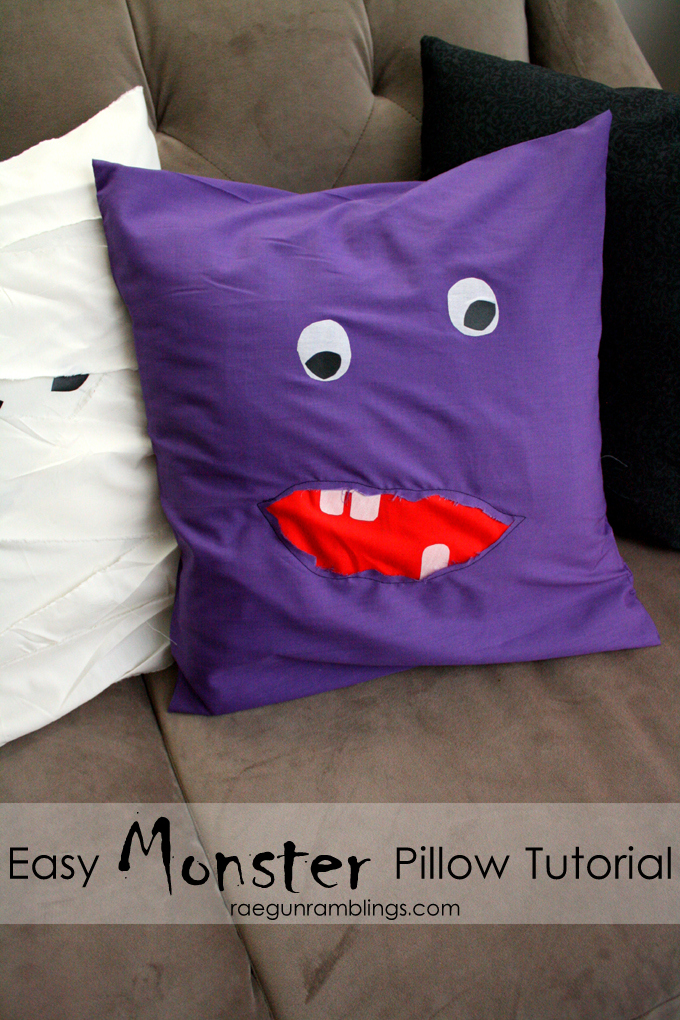 Stuff your pillow in and you're good to go! I am also sharing how to make this cute Monster Pillow Case Tutorial over at See Vanessa Craft  today as a part of her 30 Crafty Days of Halloween series.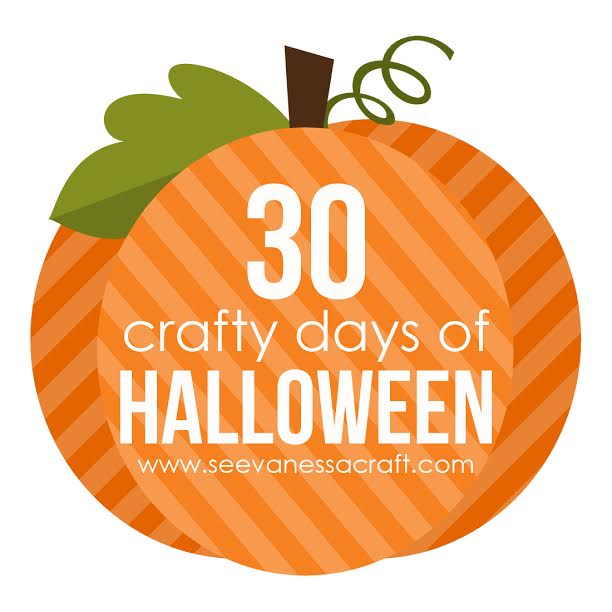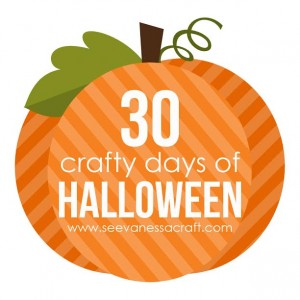 Hop over and make sure you check out all the other awesome projects what you are there!

Let's connect! You can also find me hanging out here.