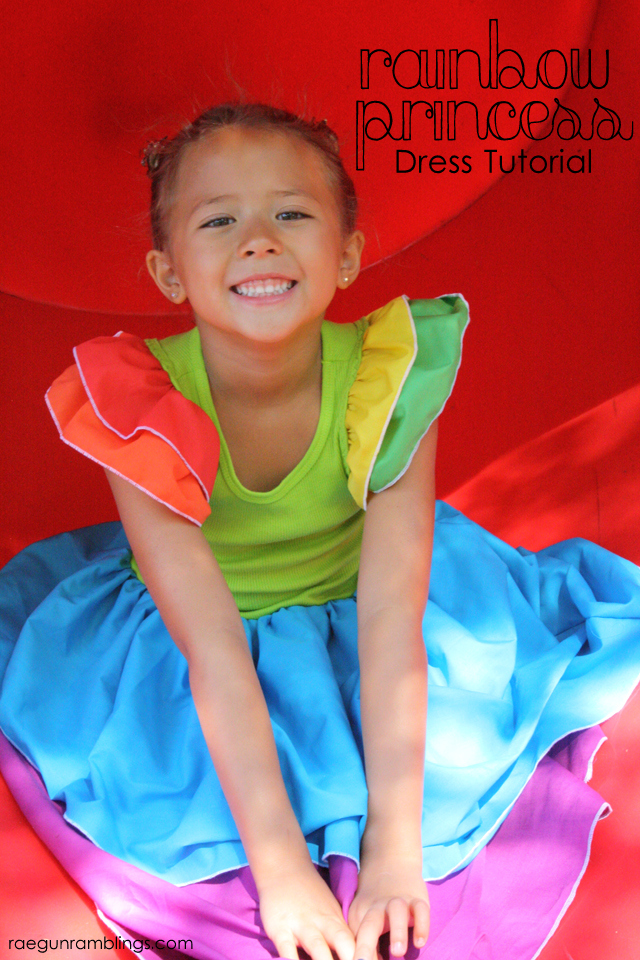 I am a big fan up upcycled shirt dresses. I've shared my own adult version as well as one for the kids. But today I'm sharing a remix for a rainbow princess version. What I love about these dresses is that they are SO fast and easy and this little tweak is just a couple more steps and just a few more minutes. So worth it.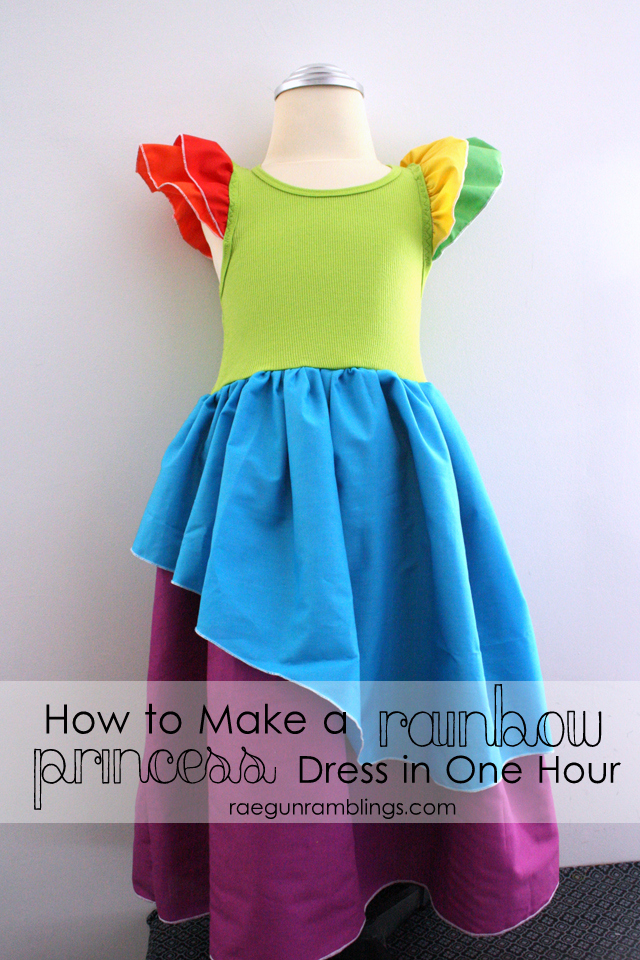 I made this Rainbow Princess dress for L's birthday. It was actually a surprise party. Funny enough she wanted a surprise party. Now just think for a second how reridiculoust is to give throw a 6 year old a surprise party. In a family where we love talking and planning birthday parties for months. Ha, it was a bit comical but in the end she was totally surprised and had a blast. It was so fun.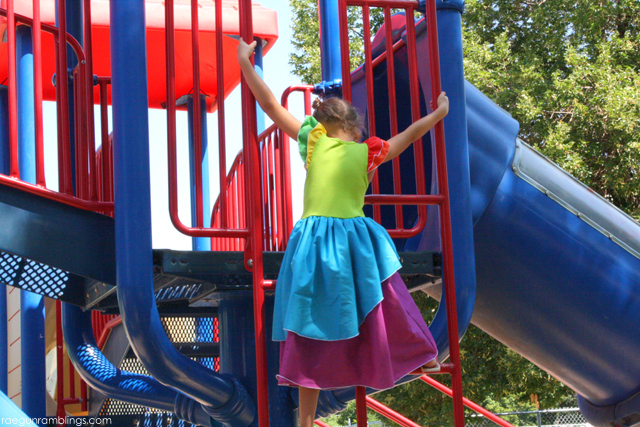 I think this dress would be a great costume base, I can see a Chiquita Banana version or just throw a crown on top and use the right colors fabric and it could be so many different sorts of princesses. In fact you could use my Snow White Sleeve tutorial a navy tank top and yellow for the skirt and have a super easy  snow white!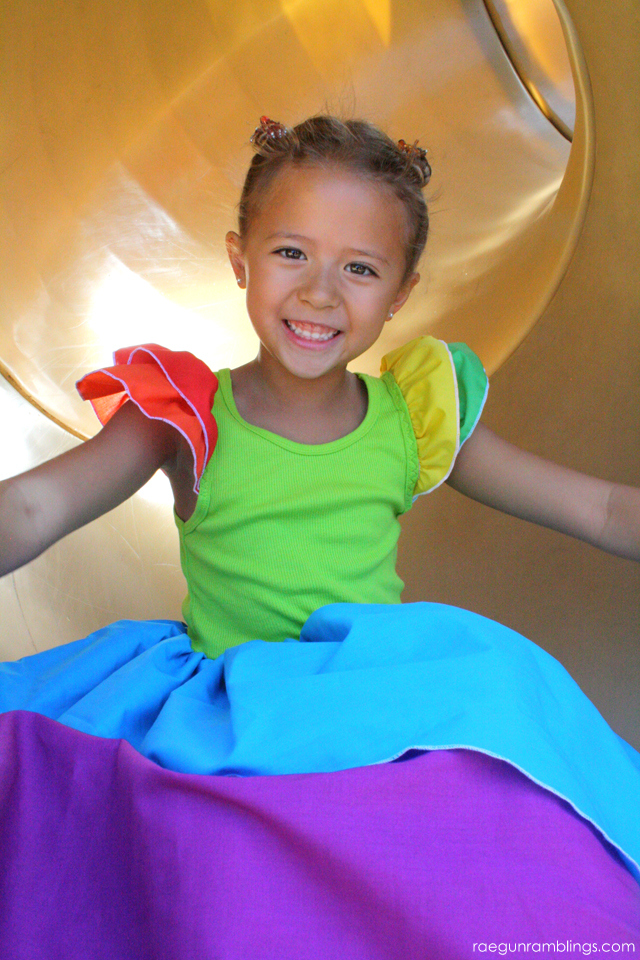 What You Need
Tank Top
Fabric for sleeves (about 5X10 inches for each color)
1 Yard Top Skirt Fabric (My skirt length is 22 inches so 1 yard works if your need it longer than your fabric folded in half get 2 yards)
1 Yard Bottom (same as above)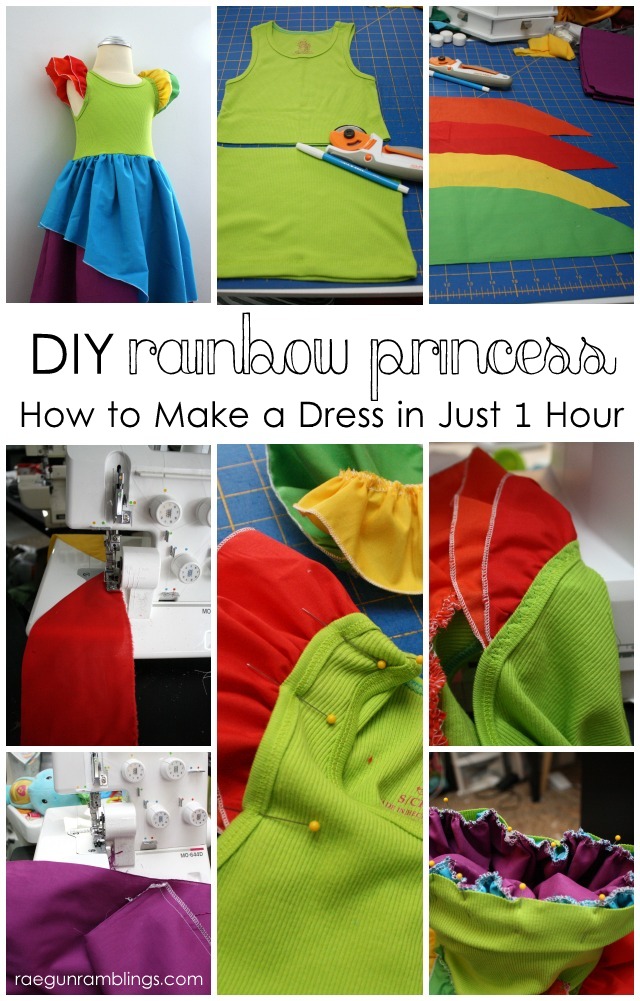 What to Do
Measure how long you want the bodice to be and then add 1 inch for sewing and cut your tank top to that length.
Cut your self some sleeve pieces. Mine are 10 inches long and then I curve one side. I wanted two layers of sleeves so I have the width on the two layer more shallow than the bottom ones.
Finish the straight edge of the sleeve pieces. I did this by doing a rolled hem on my serger but you can just do a narrow hem.
Gather the sleeves along the curved edge. I like to layer the two sleeve pieces and then gather them up as if they are one piece.
Next using a stitch that can give a a little, like a 3-step zig zag sew the sleeves onto the tank top.
To make the skirt measure how long you want it and trim the fabric to that length. Mine is 22 inches so I just cut along the fold for how the fabric came on the bolt. So for each skirt layer I have two 1 yard by 22 inch pieces.
Sew the short ends together.
For the top skirt cut the bottom edge off in an angle. Lay it over the bottom piece and see if you want to cut any more.
Hem the skirt. I used a serger to do a rolled edge but you can use any hem you prefer.
Now layer the two skirt pieces on top of each other and finish the edges with either an overlock stitch or zig zag.
Treat both layers as one and gather the skirt. This is my favorite gathering technique.
With right sides together pin the skirt to the bodice and sew to attach.
Turn right side out and you're good to go!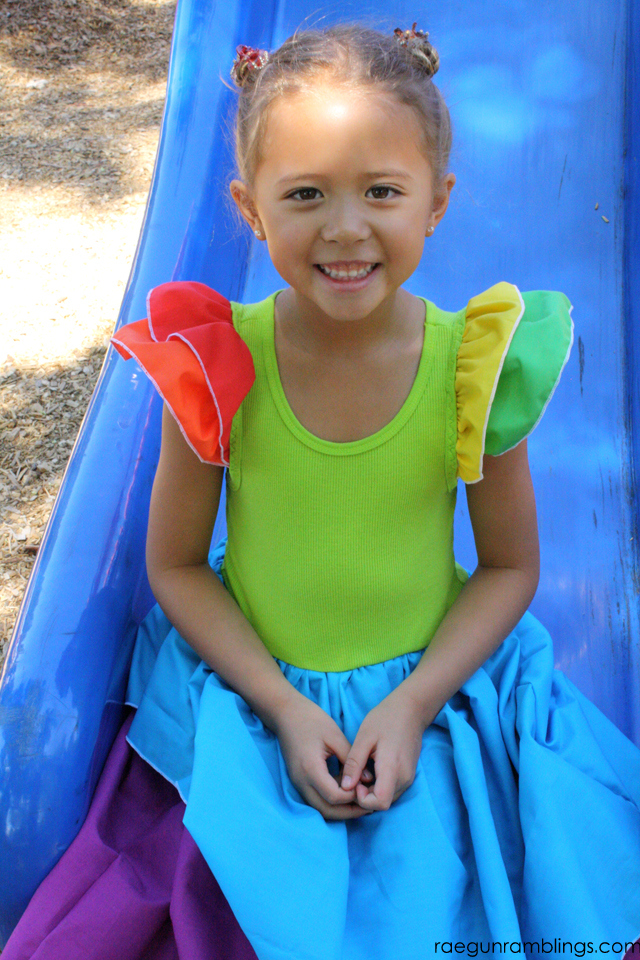 I really love how this turned out. I think it's one of my favorite dresses that I have made for L and it's just a bonus that it's also one of the easiest!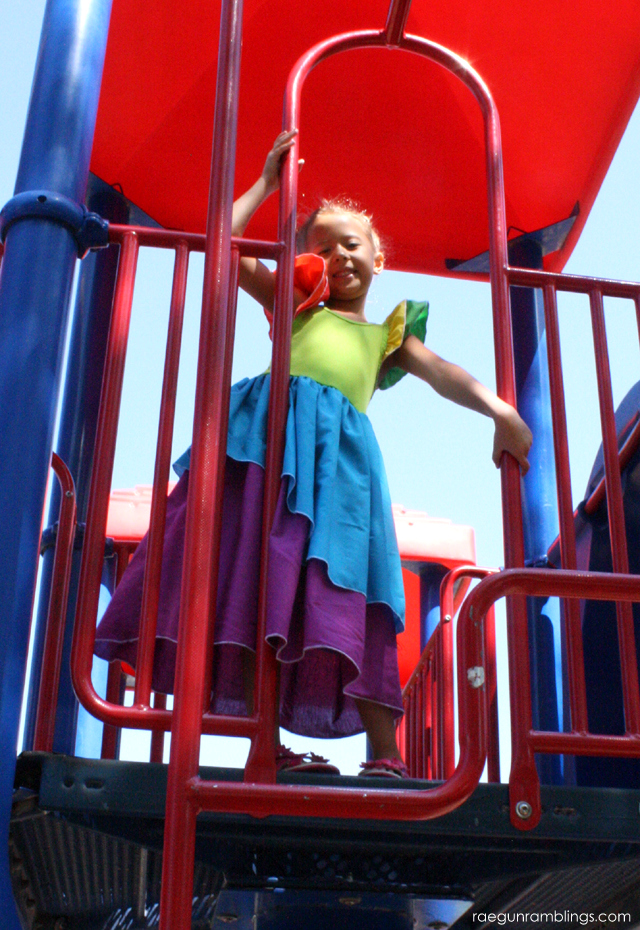 I kinda want to make myself one :)

Let's connect! You can also find me hanging out here.