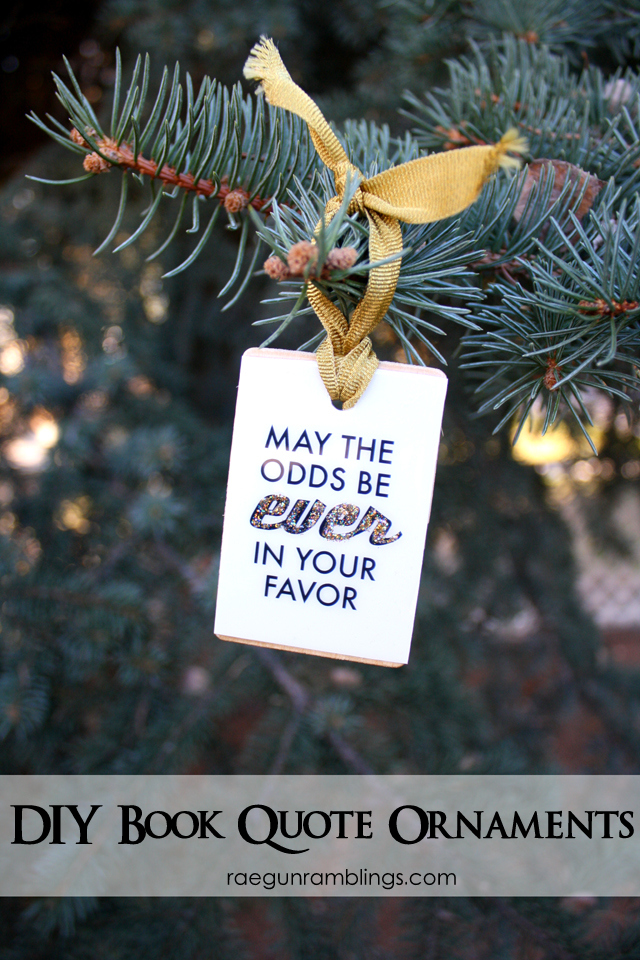 Book lovers need Christmas ornaments too! But even if you're not a book nerd you can use today's tutorial to make any photograph or printable into a cute and easy Christmas ornament! I made both Harry Potter and Hunger Games ones. We are in the middle of my Happy Hunger Games series after all :)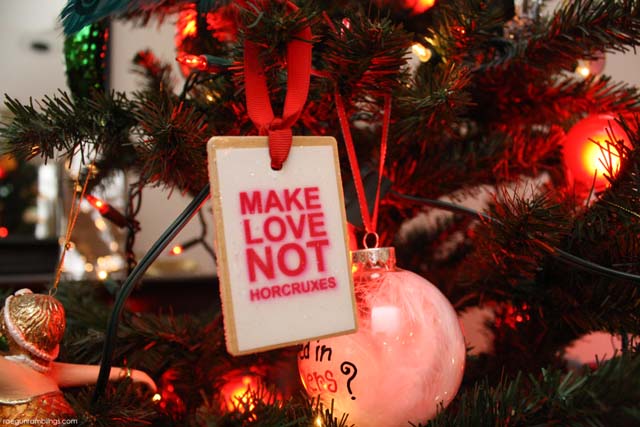 And as a bonus I've got another free Hunger Games printable from Heidi of Digknity. I used it to make the Hunger Games ornament but you can easily use it to make other awesome crafts or just print one up and throw it in a frame for your favorite Tribute! For the Horcrux one I just typed it up (they match the Potter shirts and book bags that I sell in my shop).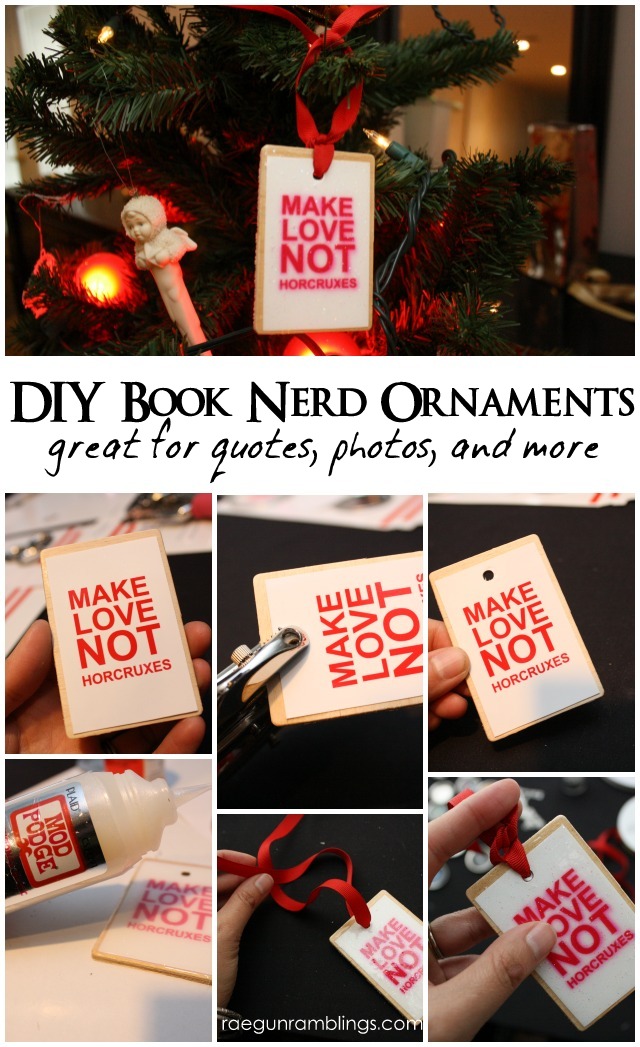 To make the ornament you need
3X2 wood shapes
Wallet sized prints (you only need one per ornament or two if you want to do front and back)
Dimensional magic (I used glitter dimensional magic on the horcrux ornament and I used gold for the "ever" on the Hunger Games one and then the traditional kind for the rest of the ornament)
Basic glue
Ribbon
Something to cut holes (I used a cropidile but you can also use a drill and a hole punch)
Glue your print to your wood piece.
Punch a hole  (if you are using a drill I would hole punch the print and drill the hole before gluing them together)
If you want to accent a letter like I did on the "Ever" do that now. And let dry.
Next cover with a thin even coat of dimensional magic all around. If there are bubbles use a dry pin or your finger to pop them or move them off the edge of the board.
String in your ribbon, tie and hang it on your tree!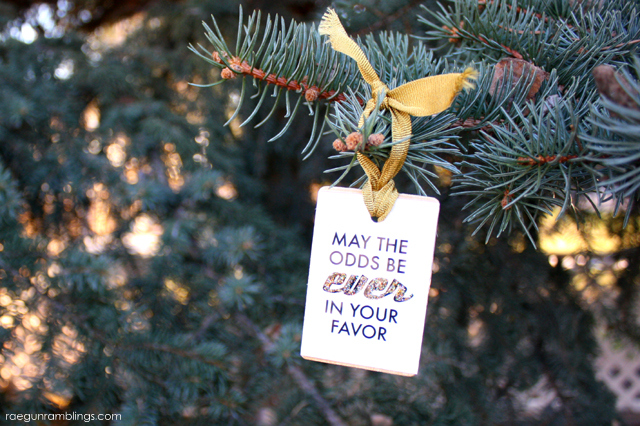 If you want to make Hunger Games ones you can use this printable that Heidi is providing for us for FREE personal (non-commercial use). To get a full resolution copy click here! And don't forget to visit her Etsy shop to see all her awesome designs.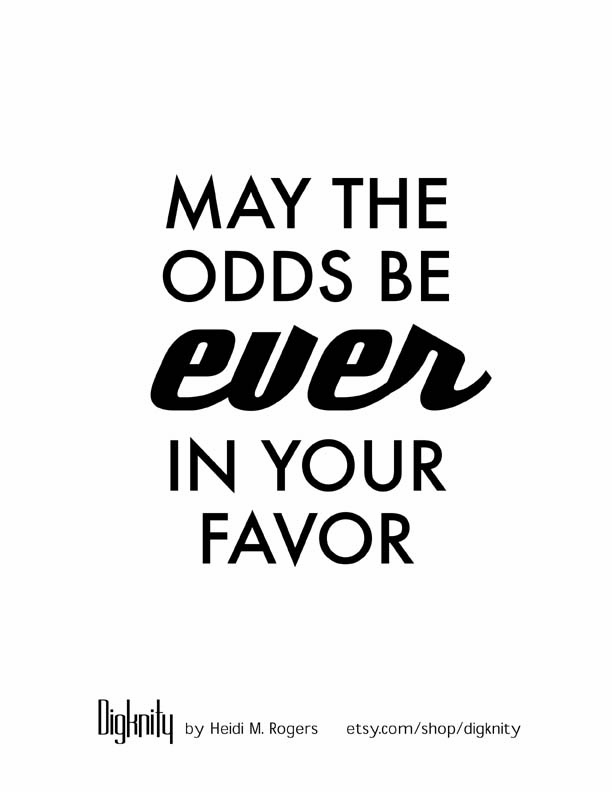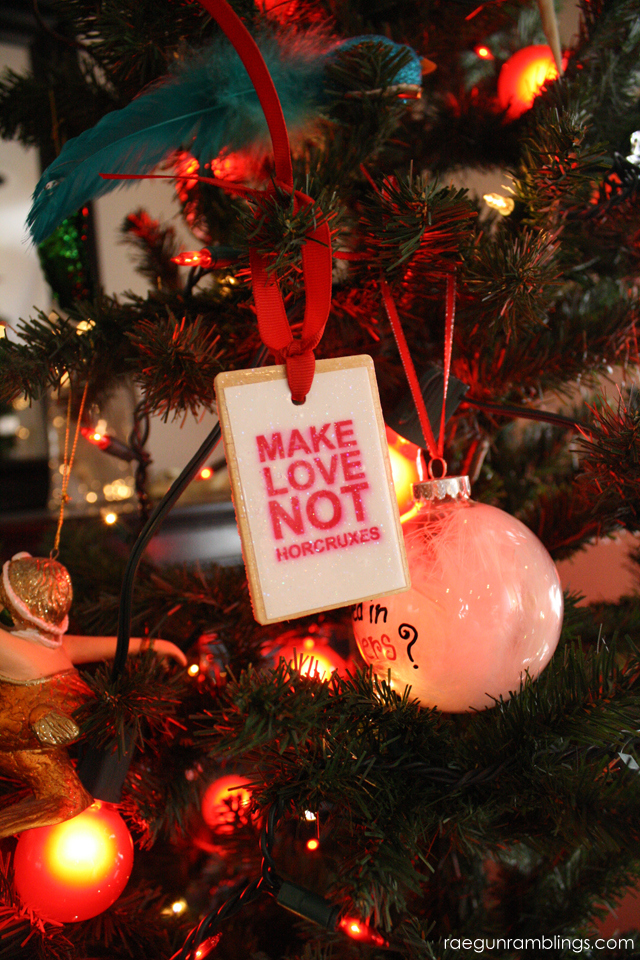 And for extra fun I've teamed up with a bunch of other bloggers to bring you a TON of great ideas for trimming your tree!
Have you started decorating for the Holidays?  We've got over 35 of your favorite bloggers have together to sharing their fun and festive ideas.  From Ornaments to Tree Skirts,  you are sure to be inspired by all of these amazing homemade ideas to Trim the Tree! 

1. Advent Calendar Pocket 2. Polymer Clay Poinsettia 3. Yarn Wrapped Ornament  4.  Vintage Green Paper Ornament 5. Trim the Tree Garland 6. Ribbon Stuffed Ornaments 7.  Wooden Star Ornament 8. Melted Snowman Ornament 9. Felt Christmas Tree 10.  Santa Star Ornament
1. Vintage Map Ornament 2. Yarn Joy Ornament 3.  Embossed Wood Bird Ornament 4. Snow Man Wood Slice Ornament 5. Christmas Garland 6. Tree Skirt for under $20 7.  Star Painted Ornament 8. Neon Christmas Tree Topper 9. Wooden Spool Christmas Tree
1. Gingerbread Cookie Ornament 2.  Wood Etched Cork Garland 3. Bow Christmas Tree Garland 4. Travel Map Ornaments 5. Homemade Glitter Ornaments 6. Felt Candy Ornaments 7. Make Love Ornament 8. How to Decorate your Tree like a Pro 9.  Joy Ornament 10. Glitter Pinecone Ornament
1. Scented Gingerbread Ornament 2. Diy Tree Skirt 3. Pinecone Decorative Tree 4.  Wood Slice Ornament 5. Wood Slice Child Silhouette Ornament 6. Tips for Decorating the Christmas Tree 7. Mason Jar Lid Ornament 8. Gold Basket Weave Ornament 9. Rustic Christmas Tree Garland 10. Starfish Christmas Ornaments

Let's connect! You can also find me hanging out here.