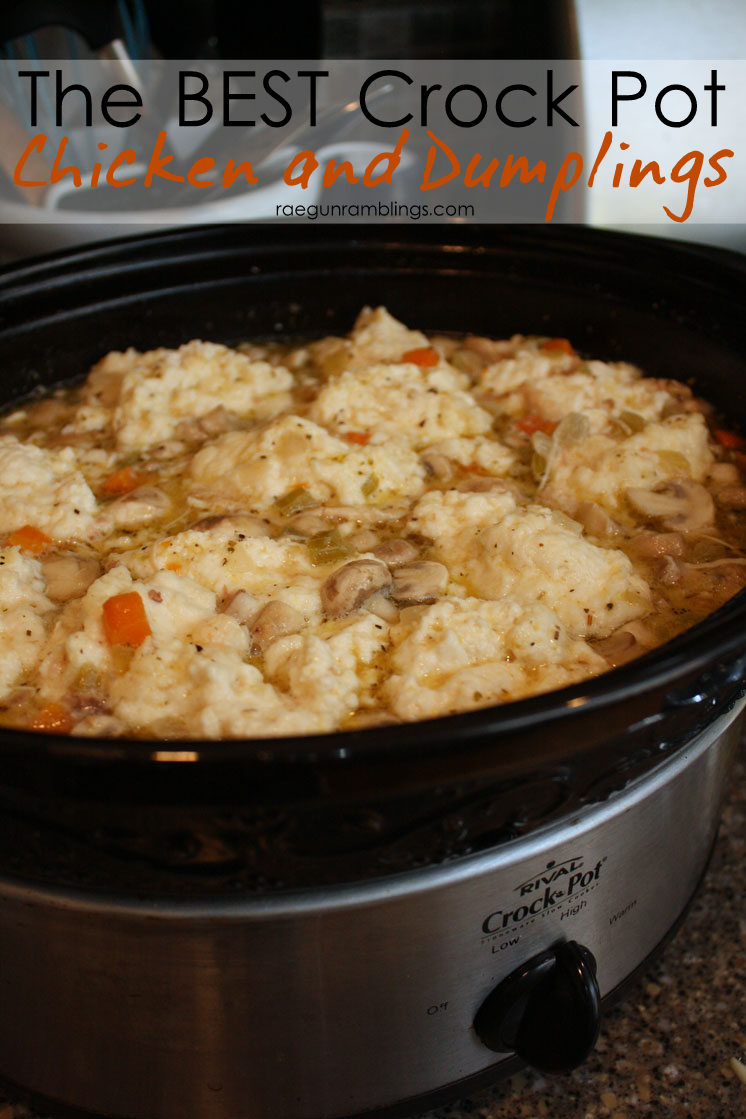 There's nothing better than coming home to a house smelling delicious with a crock pot full of yummy food waiting for you after a busy Fall day. This crock pot chicken and dumplings recipe is one of my new favorites. I've feed it too the whole family and not only did they all gobble it up but my sister was begging for a repeat the very next week.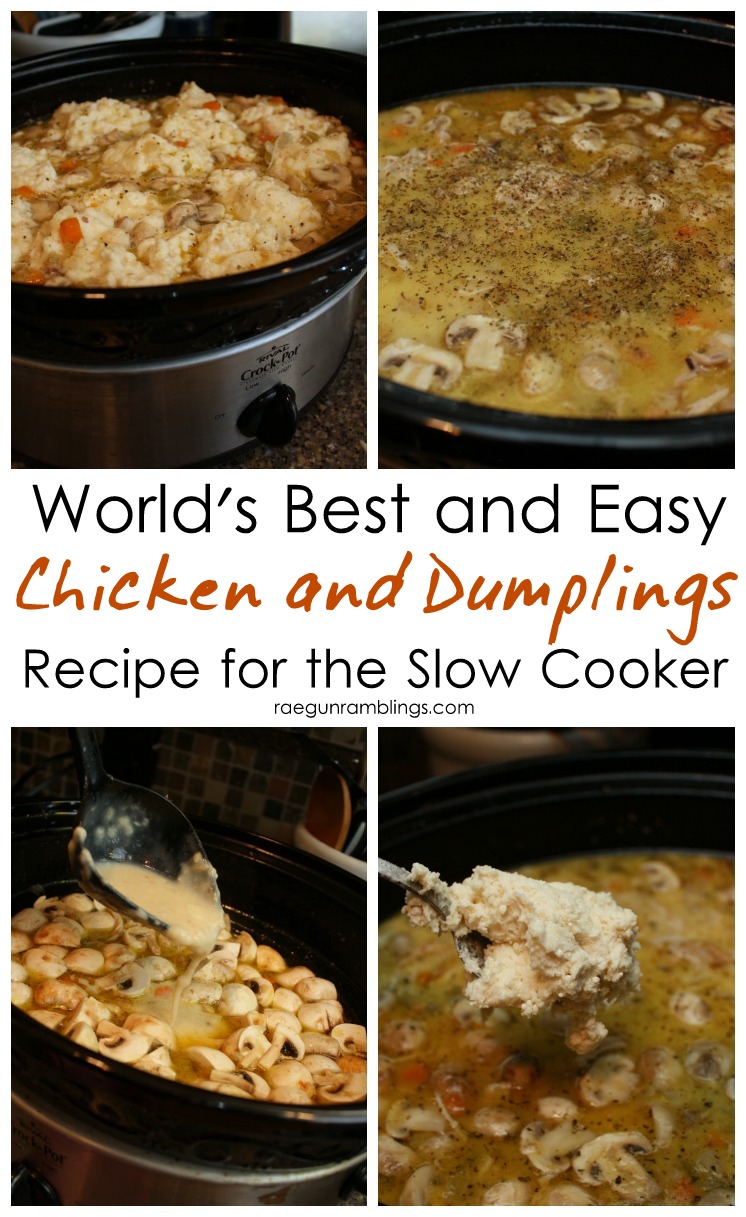 Ingredients
1 TBS Butter (optional)
6 C Chicken Broth
3 Stalks Celery, chopped
3 Carrots, chopped
1/2 Onion, chopped
4 Chicken Thighs (I use skin on bone on but you can substitute any chicken really)
8 oz Mushrooms (optional), quartered
3 TBS Butter
4 TBS Flour
2 C Milk
Salt and Pepper to taste
2 C Bisquick
2/3 C Milk
1 tsp Italian seasoning
Directions
You can definitely just dump the first group of ingredients in the crock pot but since you are already going to make a cream sauce to stir in later I like to take the extra 5 minutes to brown the chicken and veggies. I don't cook them through just get a bit of color on them by first browning the chicken skin side down in 1 TBS of butter. I remove those to the the crock pot once browned just a few minutes. And toss the onion, celery, and carrots in the pan and brown for a minute or two.
Add the first batch of ingredients into the crock pot and cook on high for 4-6 hours. I leave the dirty pan covered to use later.
1/2- 1 hour before eating if you used bone on chicken remove the bones. I keep the skin but you can discard that if you want. I don't bother shredding the chicken since it breaks apart fast jut by stirring in the rest of the ingredients and I prefer to have some bigger pieces of chicken.
Add in your quartered mushrooms if using.
Next make your cream sauce. Start by making the roux by melting your butter and cooking your flour in the butter. Stir in the milk to form a cream sauce and season to your family's taste.
Stir into the crock pot. Taste and add any more seasoning you might want.
Finally make your dumplings by mixing the bisquick, Italian seasoning and remaining milk together. Spoon onto the top of your crock pot mixture and cover for another 2o-90 minutes. 20 minutes should be plenty of time for it to cook through but I've left it as long as 90 minutes and they were fine (although I do prefer the shorter cooking time myself).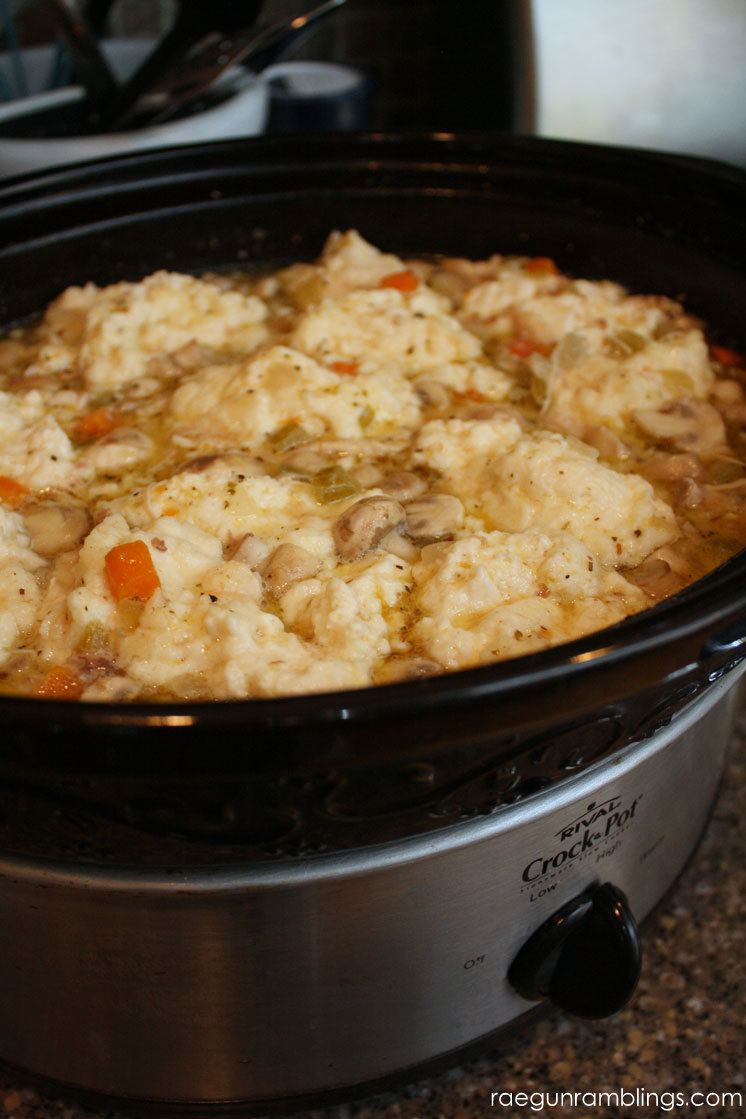 This is the best comfort food. So yummy and flavorful. I hope your family loves it as much as mine does!

Let's connect! You can also find me hanging out here.