My family begs me to make Chex Mix all the time so I decided to make a festive Easter version because the only way to make this recipe better is to add in the yummiest candy of all Cadbury Mini Eggs!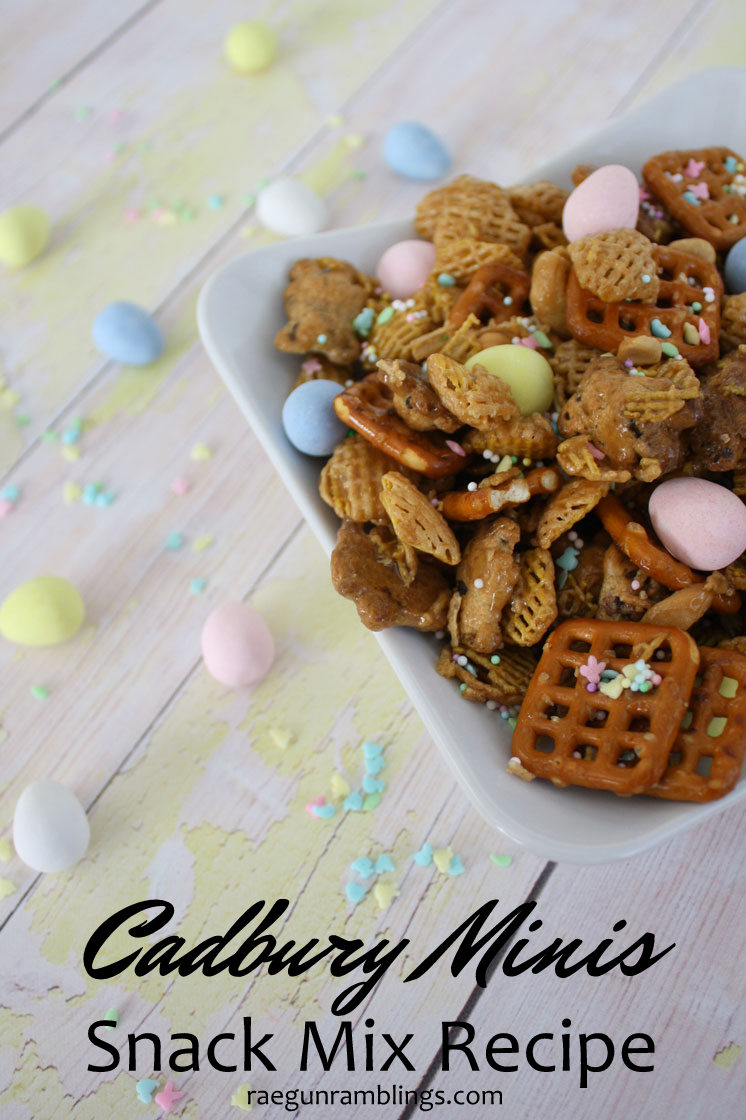 Even though the appearance of those first purple packages of Cadbury Mini Eggs don't seem quite as magical with you know them now having Christmas colored ones and putting Easter out right after the new  year you can't deny the deliciousness is still just as strong.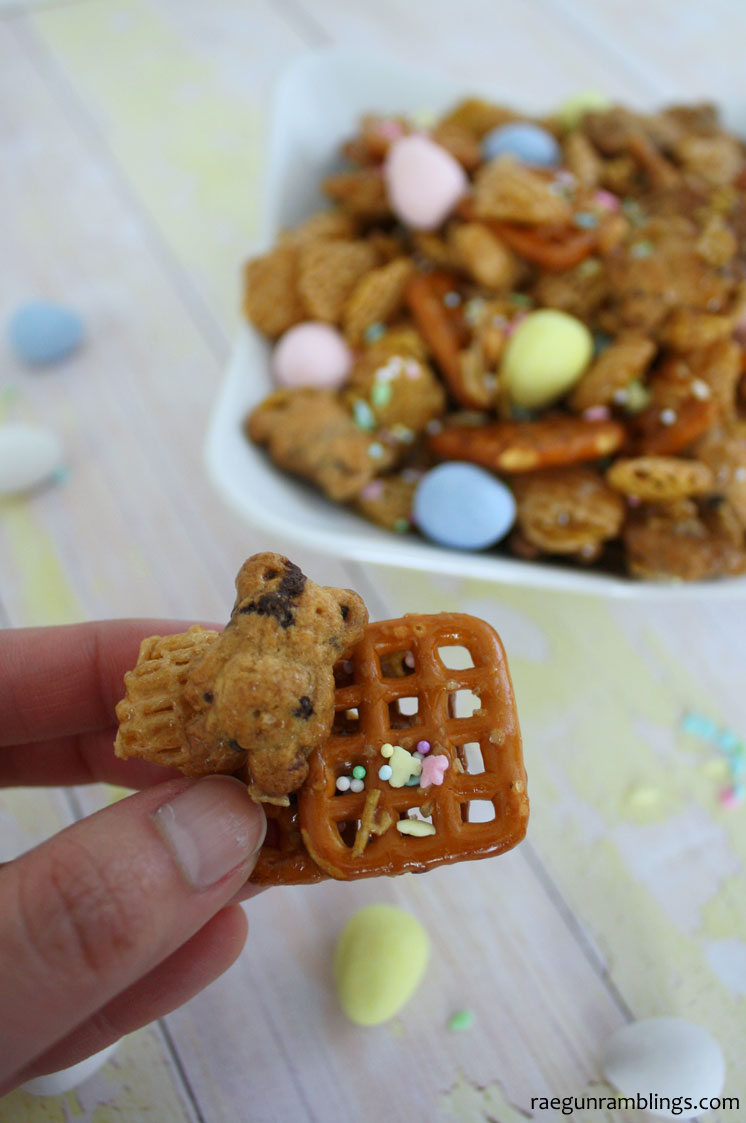 Today I'm sharing an easy and fast Easter Cadbury Egg Snack Mix recipe. The base of the recipe is from my family's favorite chex mix recipe but I've changed a few things and added some Easter flair including those delicious mini eggs to make things a little more festive!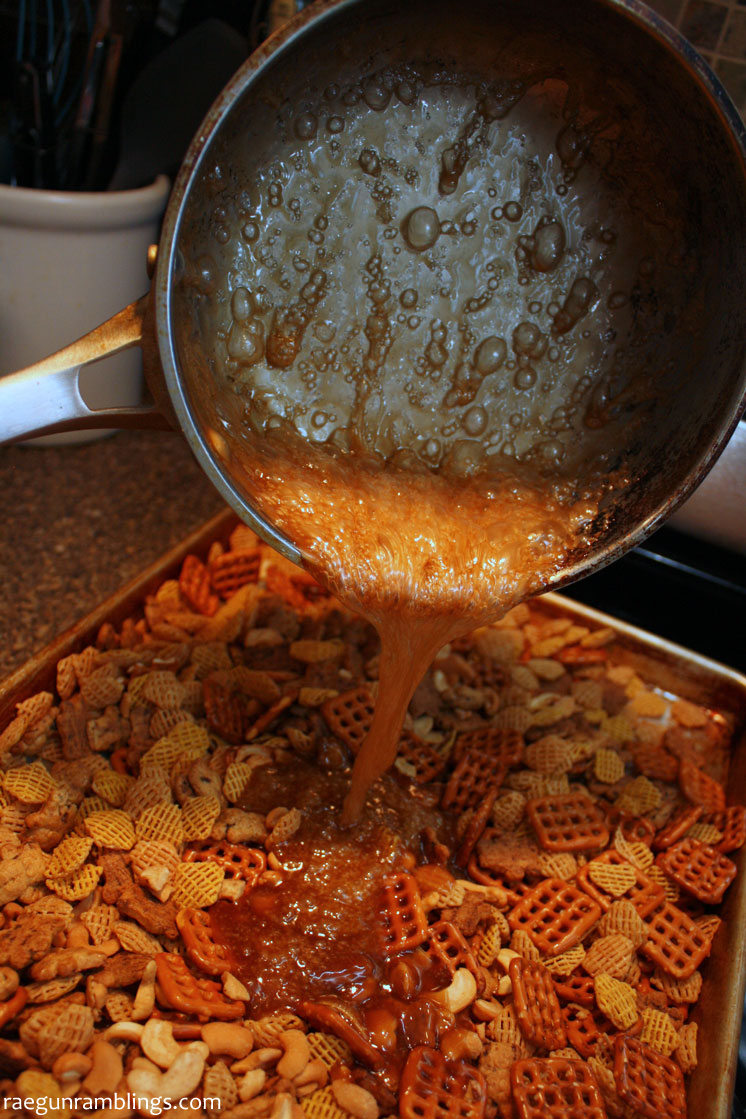 Ingredients
4 cups Corn Chex or Crispix
2 cups Pretzels
3 cups Honey Teddy Grahams
1/2 cup cashew pieces (optional)
Cooking Spray
3/4 cup firmly packed light brown sugar
6 TBS light corn syrup (Karos)
3 TBS butter
1 tsp vanilla extract
1/4 tsp salt
Directions
Preheat oven to 250 F
Combine first 4 ingredient on a jelly roll pan (I like these because the lip keeps the stuff from falling off when you stir). I found it was easier too leave it mounded (not spread out) for the next step.
Combine brown sugar, corn syrup, and butter in a small saucepan; cook over medium heat 2 minutes or until sugar and butter melt, stirring constantly. You don't want to cook it so long that it thickens because then it's harder to coat all the pieces. Remove from heat; stir in vanilla and salt. Immediately pour syrup mixture evenly over cereal mixture, tossing quickly to coat well.
Bake at 250F for 1 hour, stirring every 15 minutes.
Have your sprinkles open and ready when you pull the cookie sheet out as the mix cools fast. Sprinkle generously then spread warm snack mix in a single layer on wax paper to cool.
Break cooled snack mix apart.
When ready to serve or gift add in remaining ingredients.
Store in an airtight container.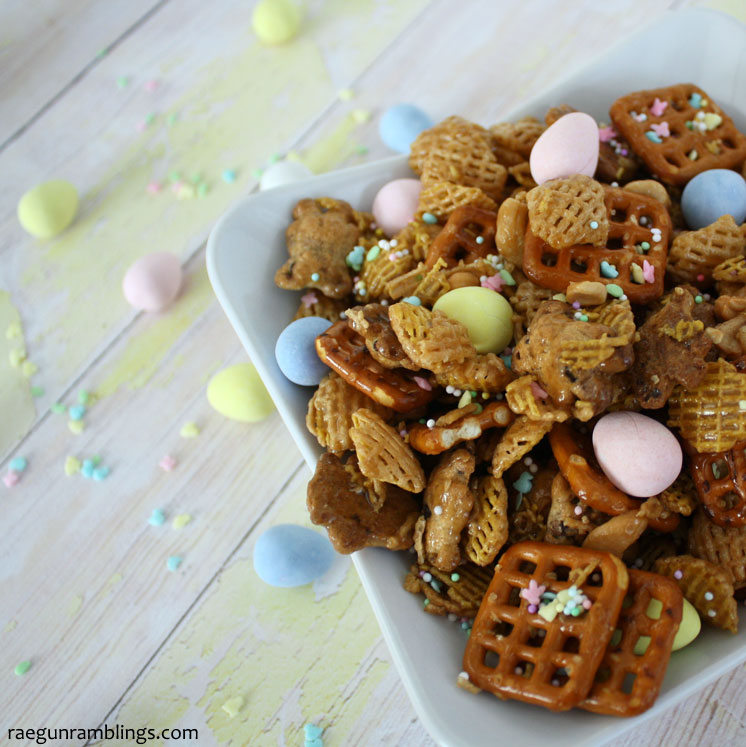 Be warned this mix will go fast. If I'm making it for a party or road trip I usually double the recipe because people goggle it up.

Let's connect! You can also find me hanging out here.