What is better than joining two loves? Bath Bombs and Harry Potter are huge in our family. Last year we made Expecto Patronum bath bombs that revealed the user's patrons and frankly make the kids (and if we're honest adults) giddy. This time I'm doing good old Hogwarts House Bath Bombs.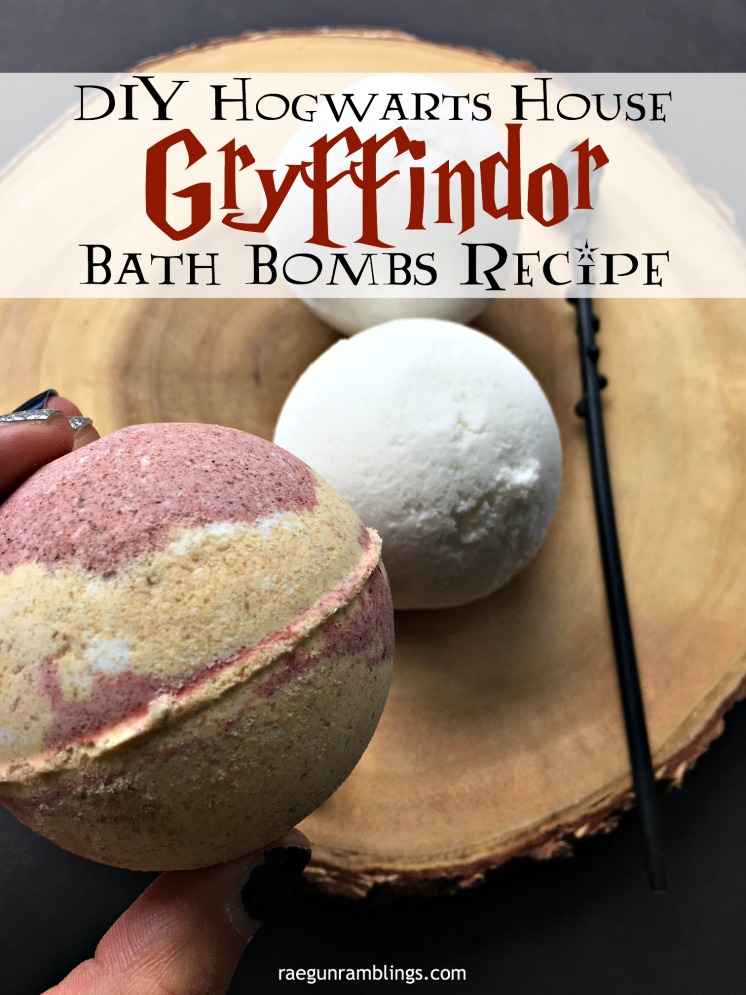 Can anyone say GO Gryffindor!? And of course you can show your Ravenclaw, Slytherin and Hufflepuff pride too by swapping colors in my easy recipe tutorial.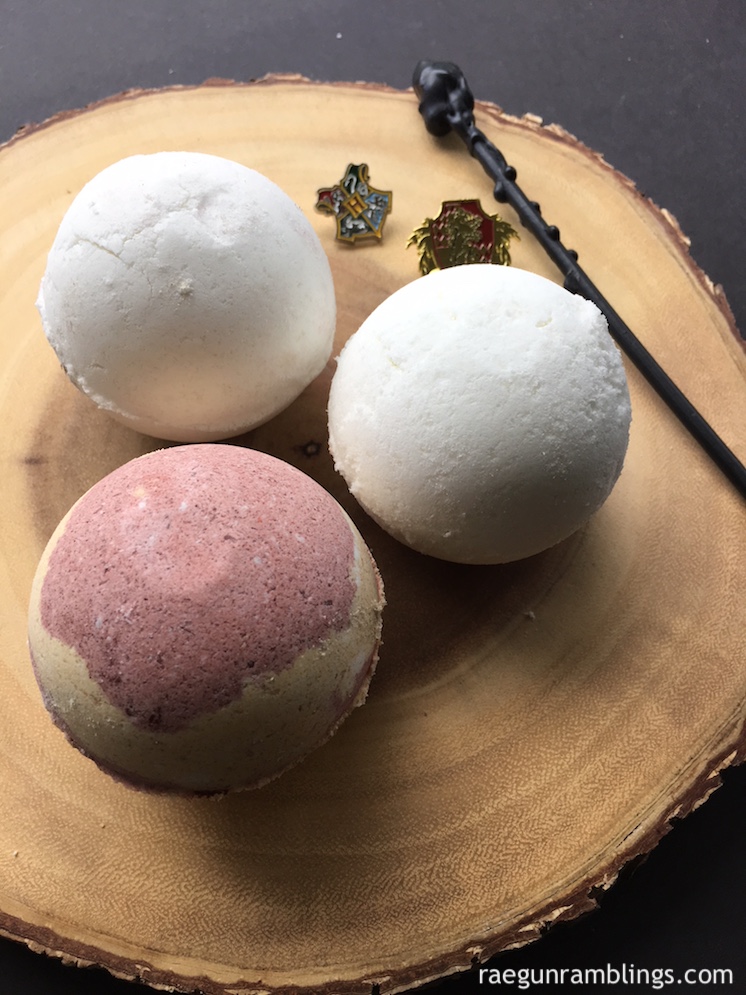 How to Make a Harry Potter House Bath Bombs
Wet Ingredients
3/4 tsp water
2tsp essential oil
2 1/2 tsp coconut oil, melted
Dry Ingredients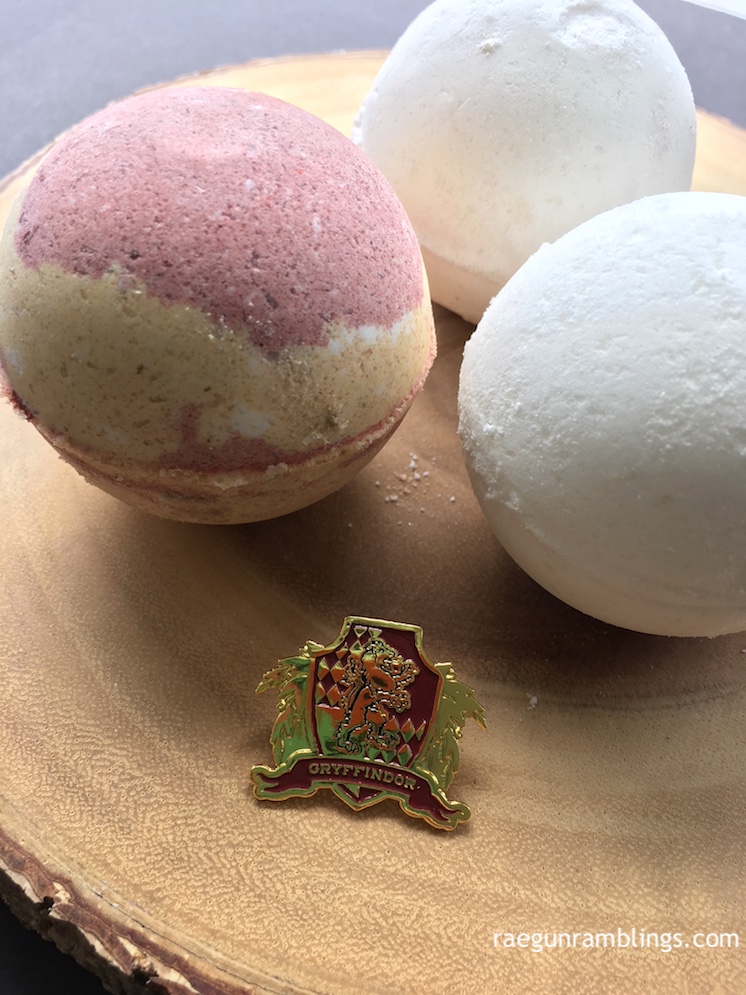 See process pictures of how to make basic bath bombs on my Patronus Bath bomb post or watch the vi.
Combine Wet Ingredients
Combine Dry Ingredients
SLOWLY add the wet ingredients to the dry. Drop by drop. And mix. Mixing with hands works better. Divide up and color (you want about a 1 to 1 ratio for Hogwarts House bath bombs so for Gryffindor do half the mixture yellow and half red (if you're doing more than one house in one batch you can split it even further).
Place a small amount of gold (or first color) and then some of the red (or second color) and repeat to fill the mold. Press to pack down and fill more so it's mounding over the top.
Fill the other half of the mold so it is packed and overflowing. Smoosh together and twist so that the excess presses out through the center. Press time. If you have extra molds let it sit in the mold to dry for a few minutes or until fully dry. If you don't have extras then carefully remove the bath bomb and repeat the steps until you use up your mixture. If using the same molds work fast so your mixture doesn't dry too much before you can mold it.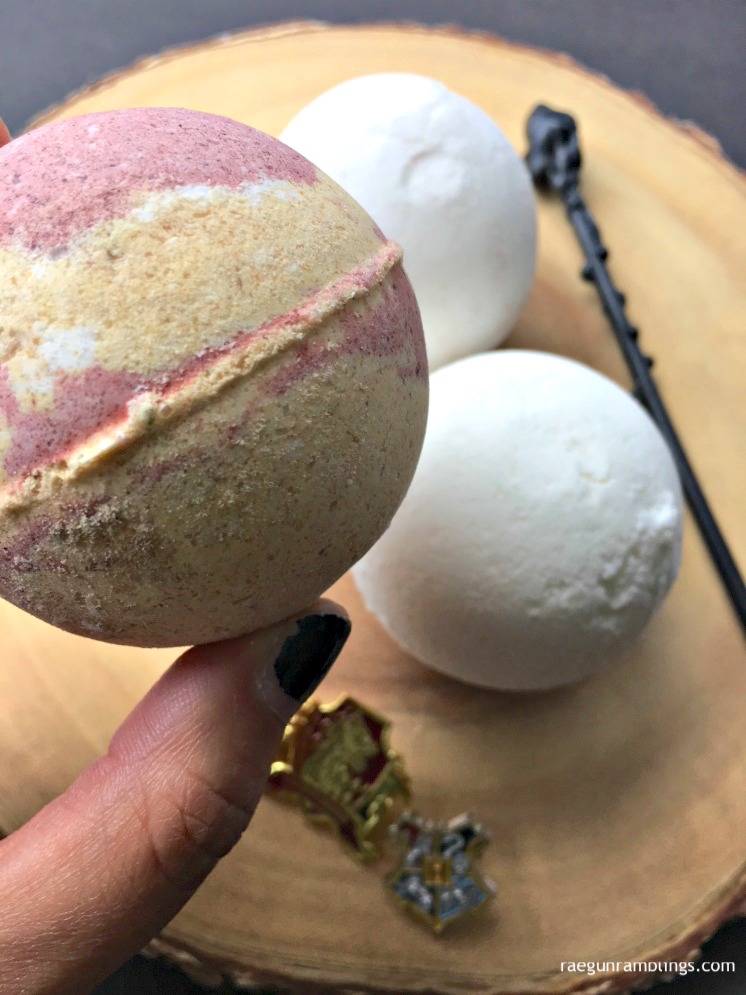 So easy right!? These make amazing gifts for all your Harry Potter loving booknerd friends. And as a bonus the kids LOOOOOVE making these!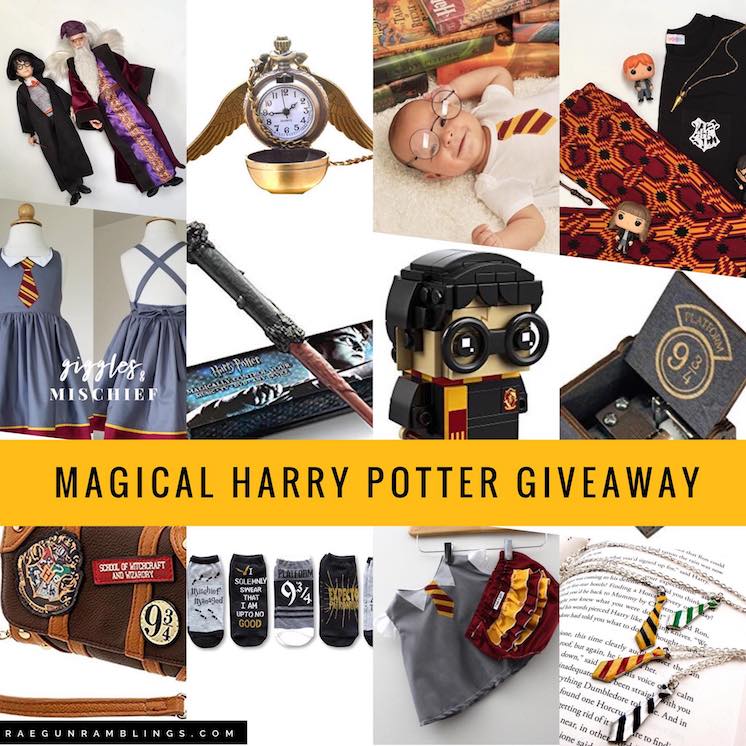 Don't forget to enter the giveaway, even if you've already entered you can get another entry every day for pinning a different post! One lucky winner will receive all the amazing things below! ENTER by using the widget below (or clicking here).
And be sure to check out all the Harry Potter projects from past years and find all the new Happy Harry Potter creations from this year here, the post is updated daily!
$50 Amazon gift card perfect for picking out your own awesome Harry Potter swag or stocking up on craft supplies to make your own inspired by the great tutorials from the series!
$50 Shop credit to spend on LuLaRoe with RaeGunRoe who will be having a special Harry Potter inspired event during the series!
One Harry Potter Baby Costume or House Tie Necklace from RaeGun perfect for Halloween, or sporting to a vacation to the Wizarding world, or just for any old Tuesday!
One Nerdifore from Giggles and Mischief (put to a $40) she makes the cutest Harry Potter inspired dresses for big girls as well as My Little Pony, Super Hero and other awesomely geeky options.
Dumbledore and Harry Potter action figures!
Other surprise Harry Potter swag!