Hello Rae Gun Ramblings readers! My name is Mallory and I blog over at Classy Clutter!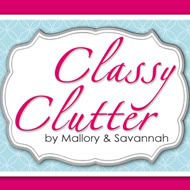 I am so excited to be sharing my Hunger Games t-shirt tutorial with you today! This is super duper simple and fun! I can't WAIT to wear it to the midnight showing! Couldn't be more excited if I tried! :)
You will need:
a white (or light colored) t-shirt (I got a white v-neck from Target)
iron on transfer paper (I got mine at Office Max)
a color printer
iron
scissors
rhinestones or embellishments (optional)
First, I made this image on in Photoshop, you can download it by right-clicking and saving it to your computer. Easy right? If you'll be using it for a t-shirt transfer like I did, you'll want to save the mirrored image.
You could even print off the image and frame it for your Hunger Games party!
Next, you'll load your transfer paper into the printer. I loaded mine face down so that my printer would print it on the right side. Be sure to check your printer as it may be different.
Then, we print!
PS… Make sure you print the MIRRORED IMAGE so that it is facing the right way when you iron it on. I made this mistake the first time and wasted a sheet of paper and some precious printer ink. ;)
Then, cut around the image about 1/4-1/2″ around the colored part of the image.
Flip it over and iron it onto your t-shirt according to your Iron-on Transfer paper instructions. Instructions may vary depending on your brand of transfer paper.
Let the paper cool and peel off the backing very slowly. Make sure its cooled off so it adheres really well.
Ta-da!
I wanted to jazz mine up a bit and since I'm obsessed with rhinestones, I added some gold rhinestones to my shirt! I just glued them right on. Use E-6000 for best results.
Let your glue dry and try it on! Easy right?? What do you think!? I think I'll throw a cute cardigan over it for the premiere just in case it gets chilly!
You can also check out my Twilight t-shirt tutorial on my blog, Classy Clutter.
Thanks Marissa for having me today! I hope you all like the t-shirt! Head over to
Classy Clutter
for more fun projects! Let me know you stopped by from Rae Gun Ramblings!
Hope you all enjoy Hunger Games! I can't wait!