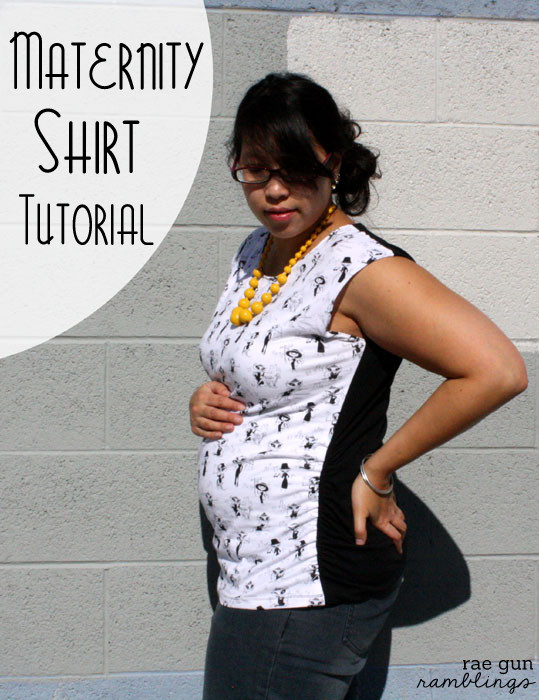 I'm just going to warn you, next week's Sew Our Stash post really runs the risk of being filled with 50 of these Casual Lady maternity-ized shirts. I'm just a tiny bit in love with this Go To Patterns top. Even with a few minor alterations to make it "getting fat" friendly this thing came together in less than an hour and that includes the cutting time. First, if you sew or might some day want to learn to sew I highly highly recommend this shirt pattern. It's fast, flattering, and fits great. Second I'm going to show you a quick and easy maternity shirt tutorial but how about a little more random pregnant girl counting before that?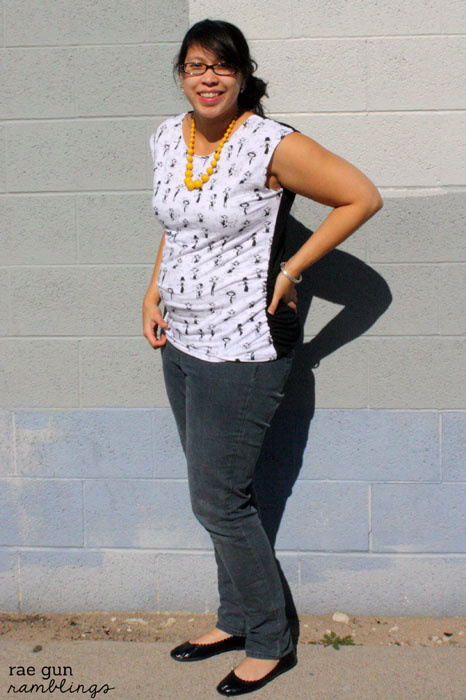 Third, I went to the mall today to try and find some maternity clothes and boy were the options BORING and expensive. I mean seriously I am so glad that I know how to sew or else I'd be really depressed right now.
Fourth, I may have purchased this awesome Parisian Kitty fabric back when little L was just in my sister's tummy. She recently turned ahem 5. Yeah I'm kind of a fabric hoarder and it just takes me a minute to figure out what I want to do with it. I still have a wee little onesie cut out somewhere around here obviously it won't fit L any more.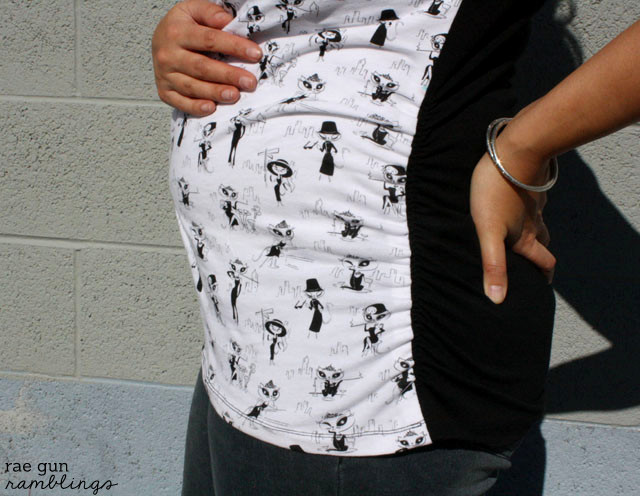 Fifth, for those of you who care about the whole prego thingy. Here are a few updates. I'm 21 weeks. I can definitely feel some baby kicking action. It's weird and startling. I still hate water. I feel huge and I'm only half way oh my goodness! Last week I started to feel like my body was just weird. Moving is more awkward. I actually have to put effort into changing positions. Have I mentioned it's all weird? The gender reveal will be the end of next week. We've been trying to talk about names nothing too promising, we still have very different tastes. No cravings but I go from not hungry to totally starving in seconds.
Sixth, I'm a bit in love with the two tone shirt thing. I see many more in my future.
The Casual Lady Maternity Shirt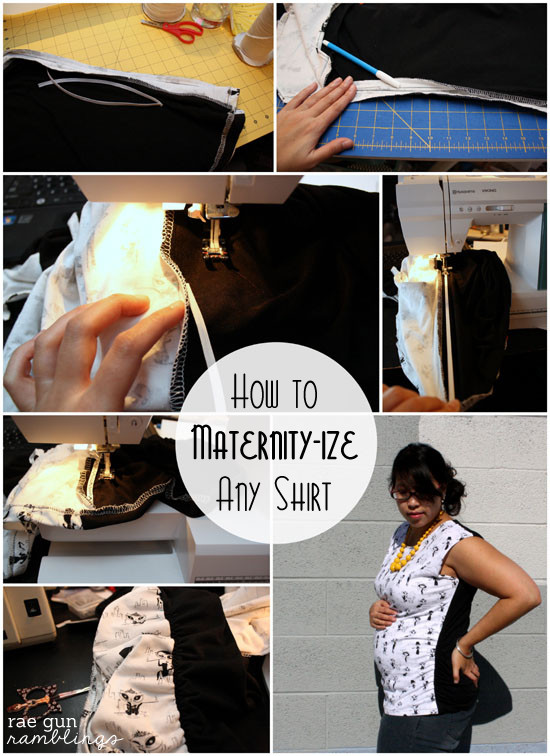 The Casual Lady shirt pattern comes in both a top and a dress length and it's really very easy to tweak to make it prego friendly. The way I did it can just as easily be applied to other shirt patterns or even longer store bought shirts.
On the Casual Lady pattern there is a line to lengthen or shorten the pattern. I added 6 inches. If you're using a different pattern you'd probably want to lengthen around your natural waist (skinniest part). If you're starting with a ready made top skip down to step 3.
Follow the pattern's instructions so you have a finished top.
Now try on your shirt and with a disappearing marker mark the side seam around the top of your belly or about the bottom of your ribcage.
Lay the shirt inside out and mark the same spot on the other side. I just mark one side in step 3 since I want the ruching to be even.
Cut two pieces of 1/4 inch elastic 9 inches long. The part of the of shirt that I attached it to was about 13 inches. I normally wear M to L shirts if that helps.
On the inside of the shirt position your elastic one one side of the seam. I decided to do the back since the stitching would be less obvious on the black. I think either side would work. Make sure your seam allowance is out of your way.
With a zig zag stitch sew down the elastic WHILE STRETCHING it. You want it stretched to right above the hem of the shirt making sure to back stitch at the beginning and the end.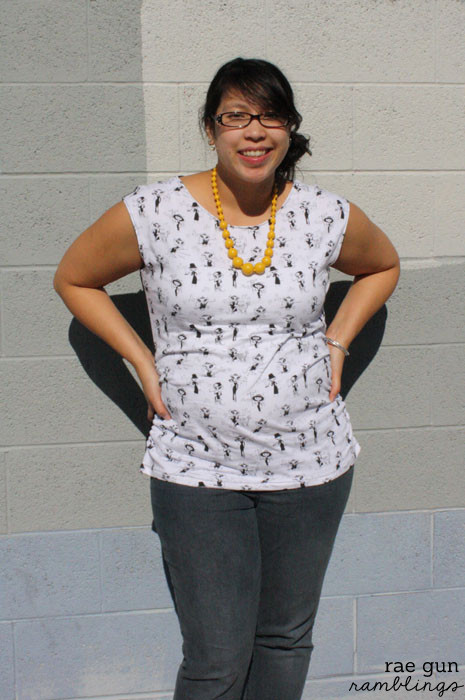 So there you go. How to maternity-ize your Casual Lady pattern. Go To Patterns is running a sale all week long now too if you're interested. Use the code KCW10 to get 10% off your order. Or spend $30 and use code KCW20 to get 20% off your order. To see more versions of the Casual Lady top check out The Train to Crazy and visit the Go To Patterns Shop.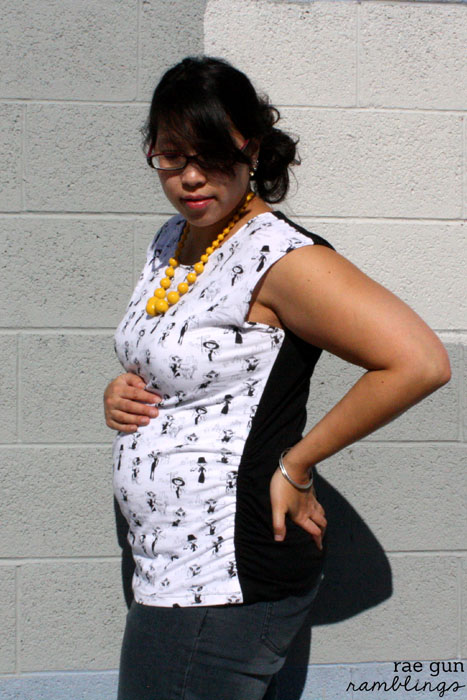 Let's connect! You can also find me hanging out here.