This post was written as a apart of a Blue Print Social campaign for Plaid Crafts. All ideas and opinions are 100% mine and I'm excited to share them with you!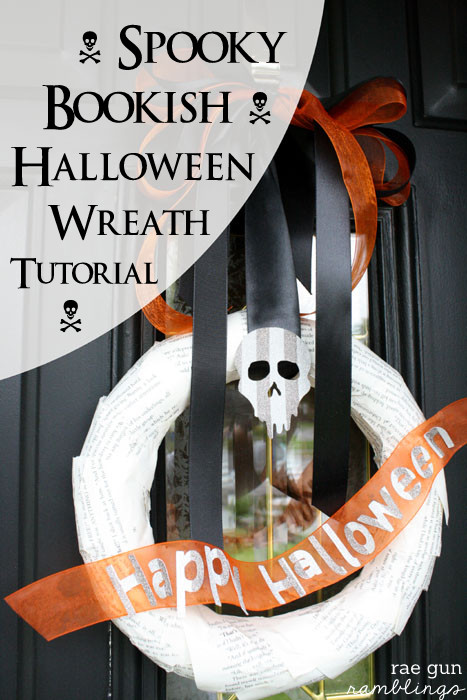 I'm deep in in the piles of Halloween orders with my Etsy shop but I couldn't resist making a super quick and easy Halloween Wreath. Seriously there are way too many cute things being spread all over facebook and pinterest. It's peer pressure I tell you. But with my crazy schedule these days it needed to be a project that could come together fast and could handle some weather since my storm door is a little ahem broken at the moment. Luckily Mod Podge came to the rescue on that front. I've always really liked book page projects so it makes sense that I'd have a spooky bookish Halloween wreath tutorial for you today.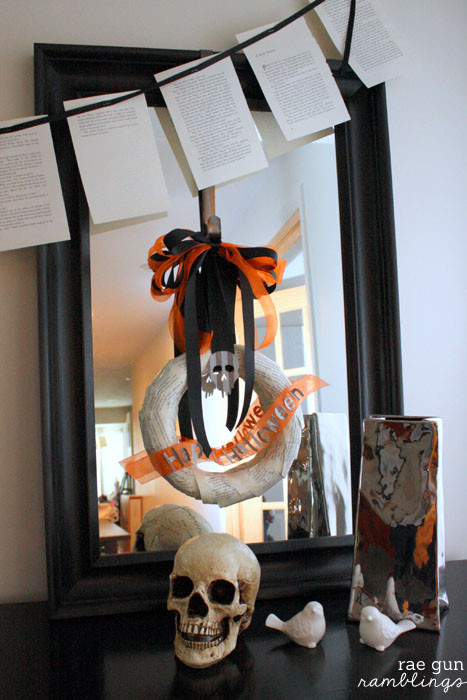 But there's a little problem. Even though I made it to be safe for outside I'm now torn between whether I like it better outside or hanging inside over the mirror on my hutch. What do you think? While you think about that here's my book lover Halloween wreath tutorial.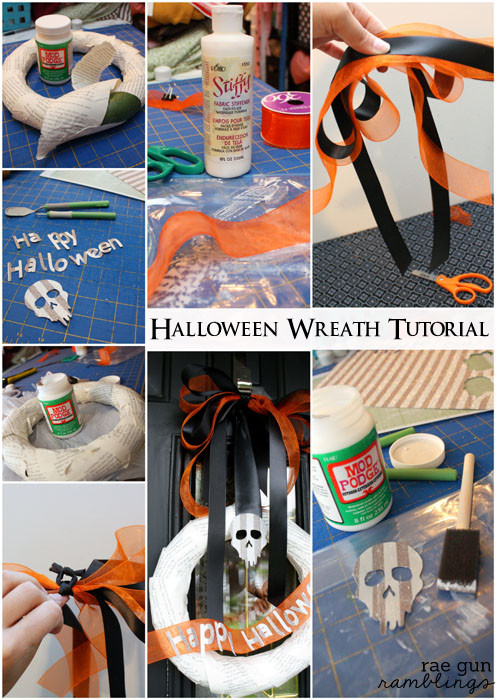 What You Need
Wreath form I used a foam one I found at the dollar store
Mod Podge Outdoor
Brush
Scrapbook Paper/Letters and skull cut out
Ribbon
Book to destroy (I always buy them at the dollar store)
Double Sided Tape
Stiffy (fabric stiffening agent)
Glue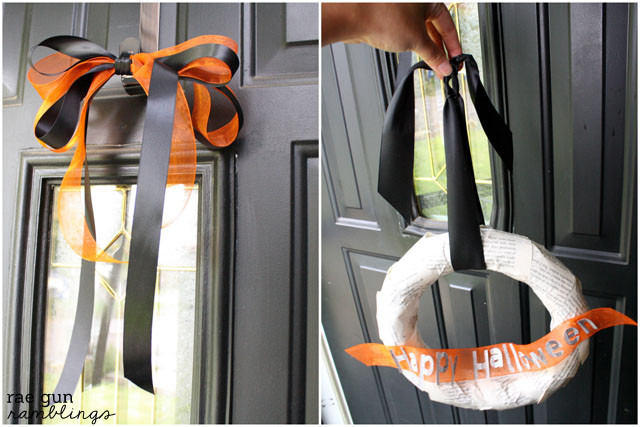 What to Do
Tear some book pages into strips. You can do it smaller if you like that (you can see an example in my book page ornaments) but I wanted it to look more wrapped. I use double sided tape just to hold the pieces in place. Set aside
Measure how long you want your "banner" to go adding some room for ripples. Paint the ribbon with a generous amount of Stiffy. It comes out looking like watery glue. Then position to add some ripples. Allow to dry completely
Cut your scrapbook paper. I did mine on my Cricut. The skull is from the "monster bash" cartridge. You can just as easily use pre-cut letters and images from the store.
Paint your wreath with a generous coat of Outdoor Mod Podge.
Repeat with your letters and skull. Allow to dry completely.
Glue or tape your ribbon in position on your wreath.
Glue the letters in place.
Make your ribbon by folding both colors in a few loops.
Then with a smaller piece of ribbon tie a knot around both loops. Then leaving a little space between tie another knot. This will be how you slide the ribbon onto the wreath hook
Look your hanging piece of ribbon and tie two knots like you did for the bow and then a third to secure the outer knot.
Hang the wreath and top with the bow.
With a piece of double sided tape or some glue attach the skull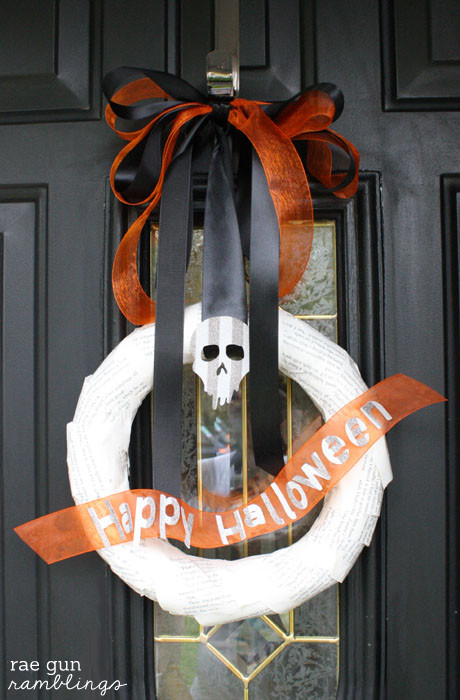 Besides the time you need to let it dry this was really quick to put together. I did all the wet stuff one night before I went to bed and then finished it in the morning. But back to the real question do you like it better on my door or on the mirror?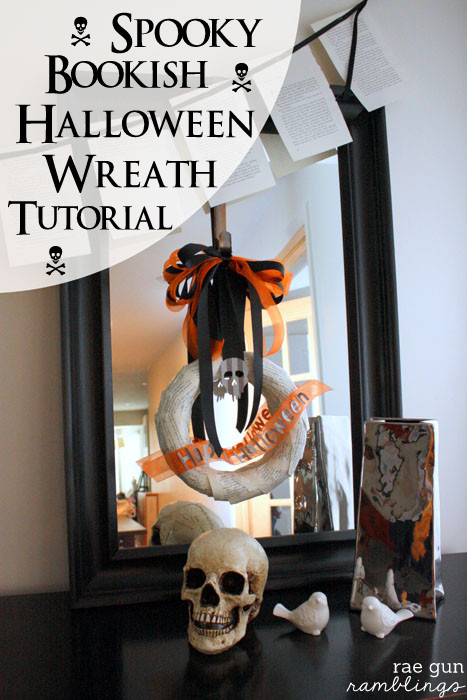 Thanks so much to Plaid for the great Mod Podge and Stiffy to try out. Get ideas from fellow crafters on Plaid's Facebook Page and follow Plaid for inspiration on Pinterest. And to see more awesome outdoor Halloween projects check out these fun posts from my fellow bloggers!
Let's connect! You can also find me hanging out here.