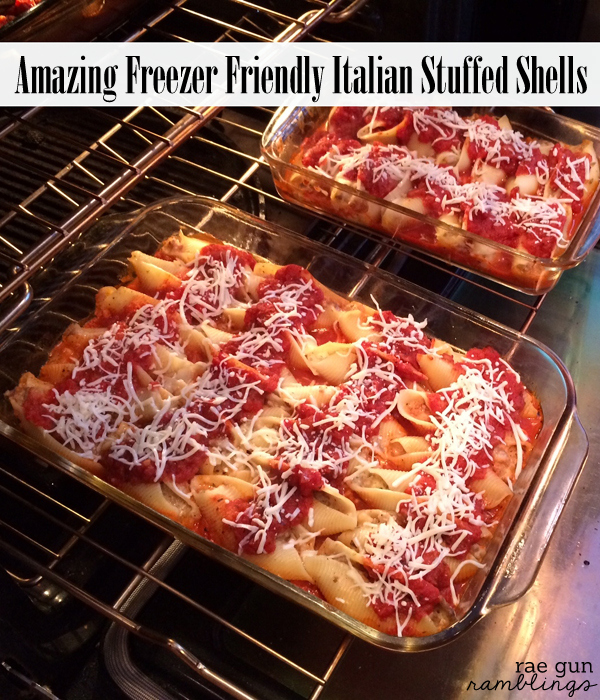 I have loved this freezer friendly Italian stuffed shells recipe for years. The only thing is that it does take some energy and is messy so when I do it I usually save it for a special occasion and/or multiply it so I have a freezer full. This is actually one of my favorite recipes to me it's special but compared to other special foods it's actually not too hard to make. In fact we had it for Christmas this year. I made a triple batch so that I could freeze a few trays for after Toasty is here. I have high hopes of making freezer white chili, creamy enchiladas, and shepherd's pie too before this boy breaks free.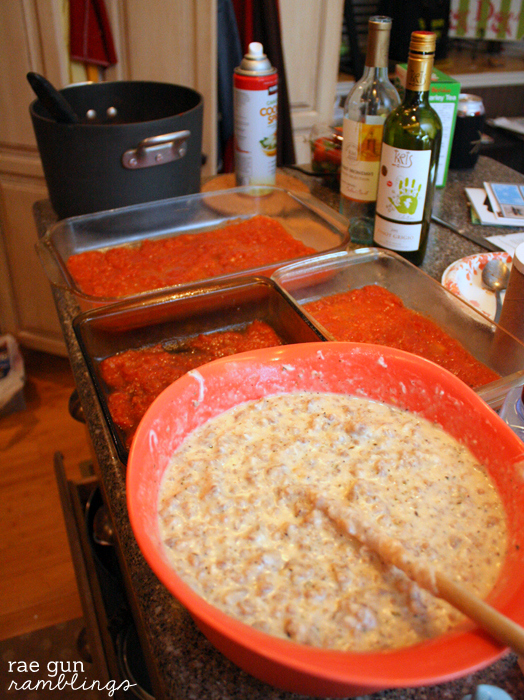 This recipe makes about 30 large stuffed shells. If you have it with some garlic bread and a salad a serving of 4-5 per adult would be a pretty filling meal. I like to cook extra shells since there always are a handful of shells that stick or break apart when cooking.
Italian Stuffed Shells Recipe
30 to 40 large pasta shells cooked
Filling
1 lbs mild Italian sausage
1/2 C white wine (optional)
4 TBS flour
4 TBS butter (if needed)
2 C milk
16 ounces shredded mozzarella (save some for the topping)
1 egg
Sauce
1 large (28 oz) can diced Italian style tomatoes
1/2 onion chopped
1 tsp minced garlic
2 TBS butter
1/2 C white wine (optional)
1 tsp Italian seasoning (or fresh herbs of your choice sage and rosemary are great in this)
Salt and pepper to taste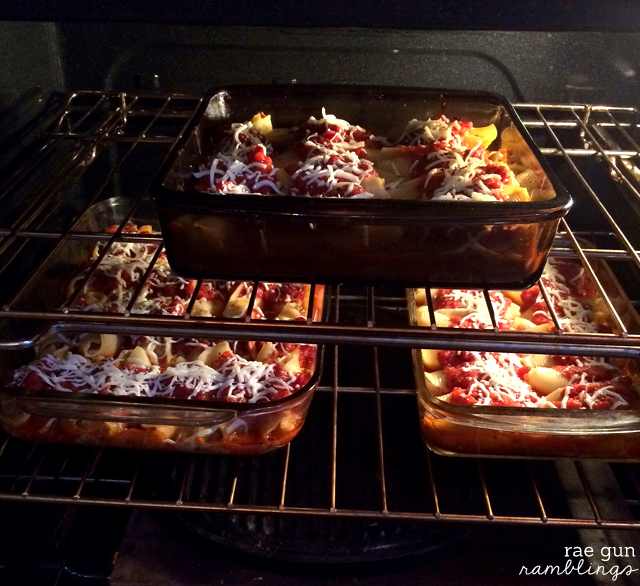 Directions
Make sauce by sauteing onions and garlic in butter.
Add tomatoes, wine, and herbs. Simmer for 15 minutes.
Add salt and pepper to taste.
In a separate pan (I like to use a wok) make the pasta filling. Start by browning the sausage with wine. Remove cooked sausage when wine is mostly cooked down and set aside. If there is a lot of grease drain all but 4 TBS (if there is not that much left use butter).
Add 4 TBS of flour to the oil to make a roux.
Slowly stir in milk to create a cream sauce. Remove from heat and allow to cool for 10 minutes and add sausage back in.
Stir in cheese (reserving some to and add any desired seasoning to taste (ex. onion powder, pepper flakes, herbs, salt and pepper).
Stir in egg (you want to the mixture to be warm but not hot enough to cook scramble the egg).
Boil the pasta and then run it under cold water to stop the cooking.
Put a thin layer of sauce on the bottom of the pan.
Fill the shells and layer in the pan. Top with more sauce and a sprinkling of reserved cheese.
Bake at 400 F for 20 to 30 minutes until heated through. Allow to stand 5 minutes before serving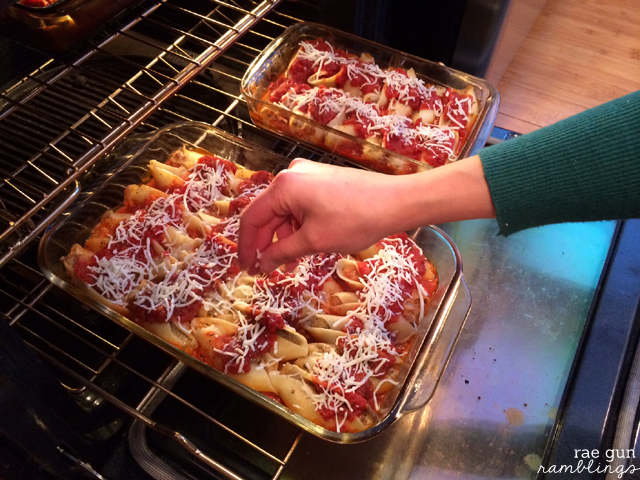 If you want to freeze it do so before baking. You can bake it from frozen which will probably take extra time (30-60 minutes more) or if you think ahead thaw it in the the refrigerator and bake like normal. Nothing besides the egg needs to be cooked so you just want to make sure it's nice and hot inside. Enjoy!
Let's connect! You can also find me hanging out here.