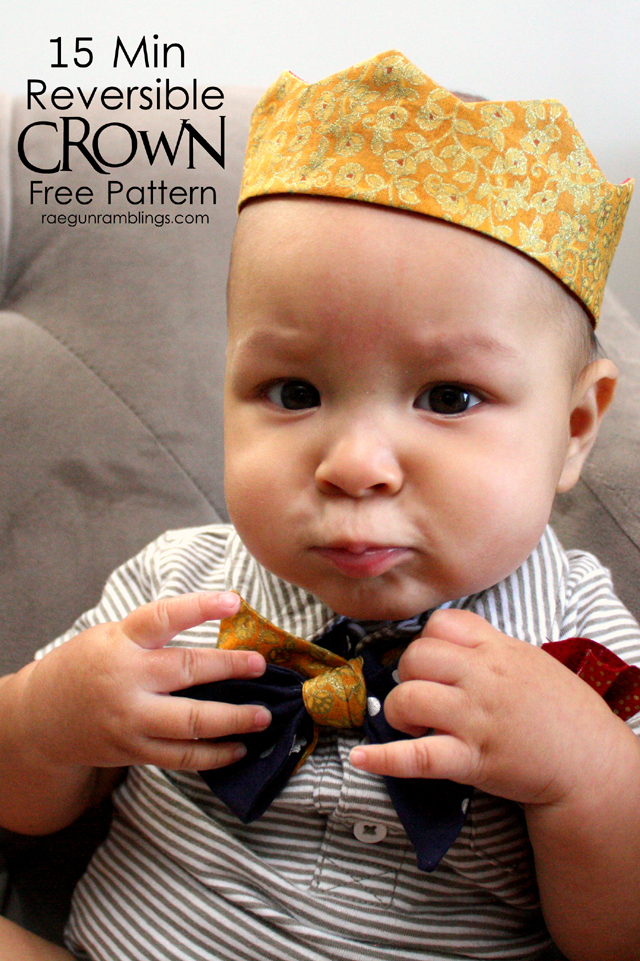 I know a lot of you will be sewing up princess dresses and fairy outfits or maybe even some princely knights and kings over the next couple months so I thought I'd share a super easy 15 Minute Crown Tutorial! This crown is great because it works on wee ones like Teddy but can also be lengthened for adult heads.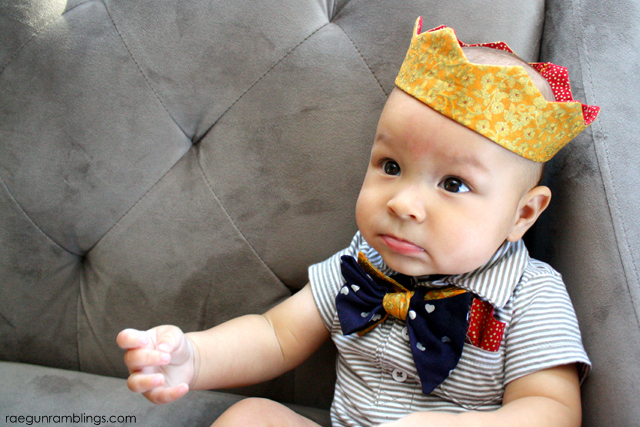 I'm not going to say that there are mommy and me crowns in our house but there might be ;)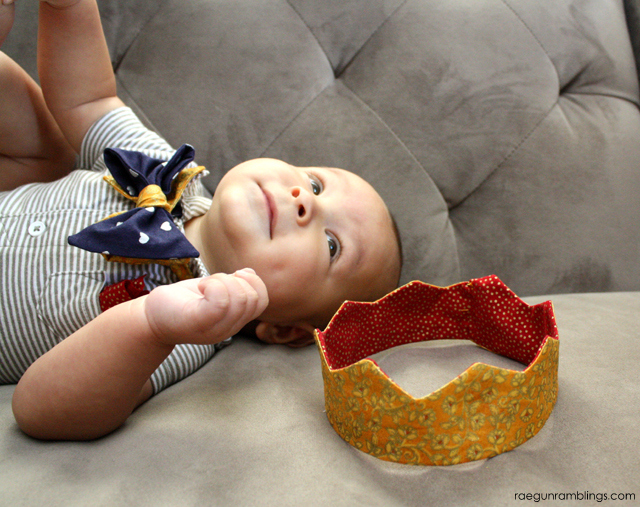 I found some awesome metallic accented quilting fabric that I feel head over heels with at Jo-Ann Fabrics and Crafts. I may have bought the rest of the bolt of the yellow one shh don't tell. But this tutorial can be used with pretty much any fabric but I am a big fan of it with quilting cottons.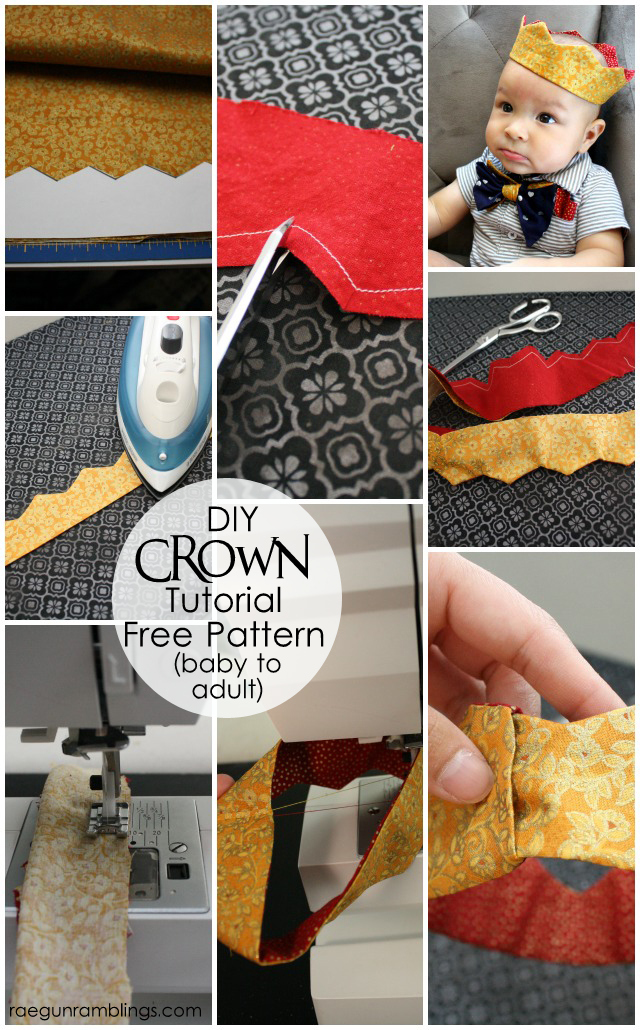 How to Make a Fabric Crown
Crown Pattern (download the free pattern)
Fabric 4 inches wide by the length of the bolt (you'll need fabric for both the front and the back)
Fabric Marker (optional)
I prefer to lay the pattern down and trace it with a fabric marker and then cutting since I think sometimes trying to cut around a pattern for corners can be hard not to cut through. I cut the full length of my fabrics (44 inches) which was enough to make a crown for Teddy and me. But if you are using scraps you just need the length to be 1 inch longer than the circumference of the head  you'll be putting it on.
Once you have both pieces cut. Sew with right sides together along just the pointy edge.
Next snip at each point and corner. You want to snip up to the sewing line but not over. This will make it so that you get nice clean points when you flip it.
Turn right side out and iron. If you need help getting your points out first make sure your snip is good through both layers and up to the sewing line but you can also use a point turner or even a mechanical pencil tip to push out your corner. Iron really well
Fold the fabric back so it's right sides together but DO NOT push back the points and sew down the straight edge.
Then turn the tube that you've made right side out and iron. The pointy edge should still be good to go.
Fold under one edge 1/2 inch and iron and then tuck the raw edge 1/2 inch into the folded edge of the other side to form the crown. If you measured correctly this should fit but you can try it on at this point to double check.
Finally sew down where the fabric is tucked in making sure to catch all 4 layers.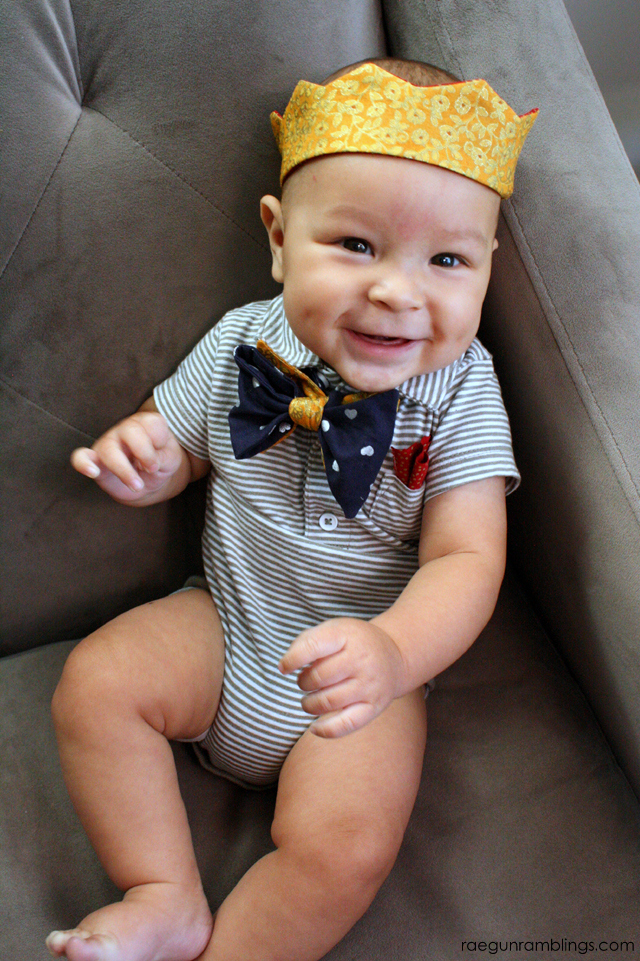 One tip I have if you want to be able to extend the crown in the future as your child grows is to cut the length with 2 inches instead of 1 inch that way when it gets too small you can just unpick that last row of stitches pull the tucked edge out a bit and re-sew.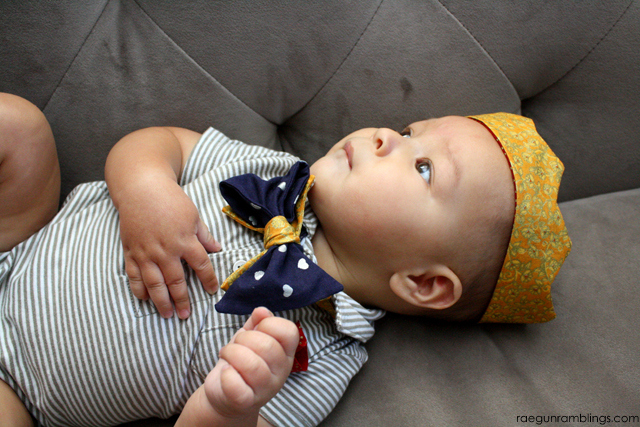 But let's be honest the crown is so easy to make that if you really want another one when the little majesty is bigger you can quickly whip one one!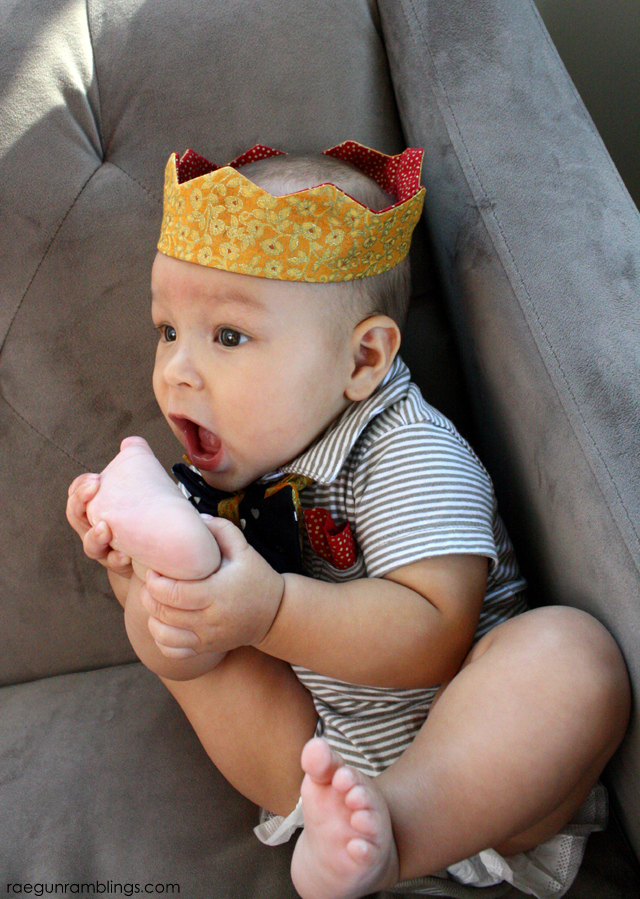 Need something to pair with a crown? I did an awesome round up of some of my favorite Princess Dress Tutorials and Inspiration!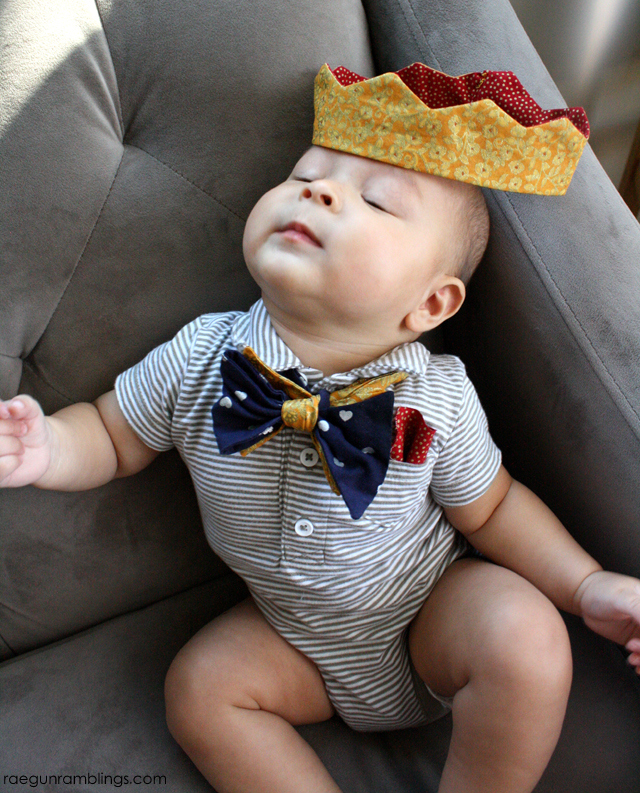 I couldn't resist including some Teddy out takes. He was a crazy face while I was trying to take pictures. But a cute crazy face!

It's National Sewing Month and Jo-Ann Fabrics and Crafts and Pellon has a fun challenge: sew something innovative using quilting fabrics. The Grand Price is $1000 and an awesome prize pack from Pellow! Click here for more info on this Sew Your Style Contest. Also check out everyone else's entries and share your own by using the hashtag #sewyourstyle on social media.
Want some ideas? Every day on the Jo-Ann's Facebook Page they are revealing a new blogger made project. I'm thrilled that I'm the blogger for today! Go visit the page and see who shared what so far!
Thanks so much to Jo-Anns for providing a gift card for me to buy supplies for this post!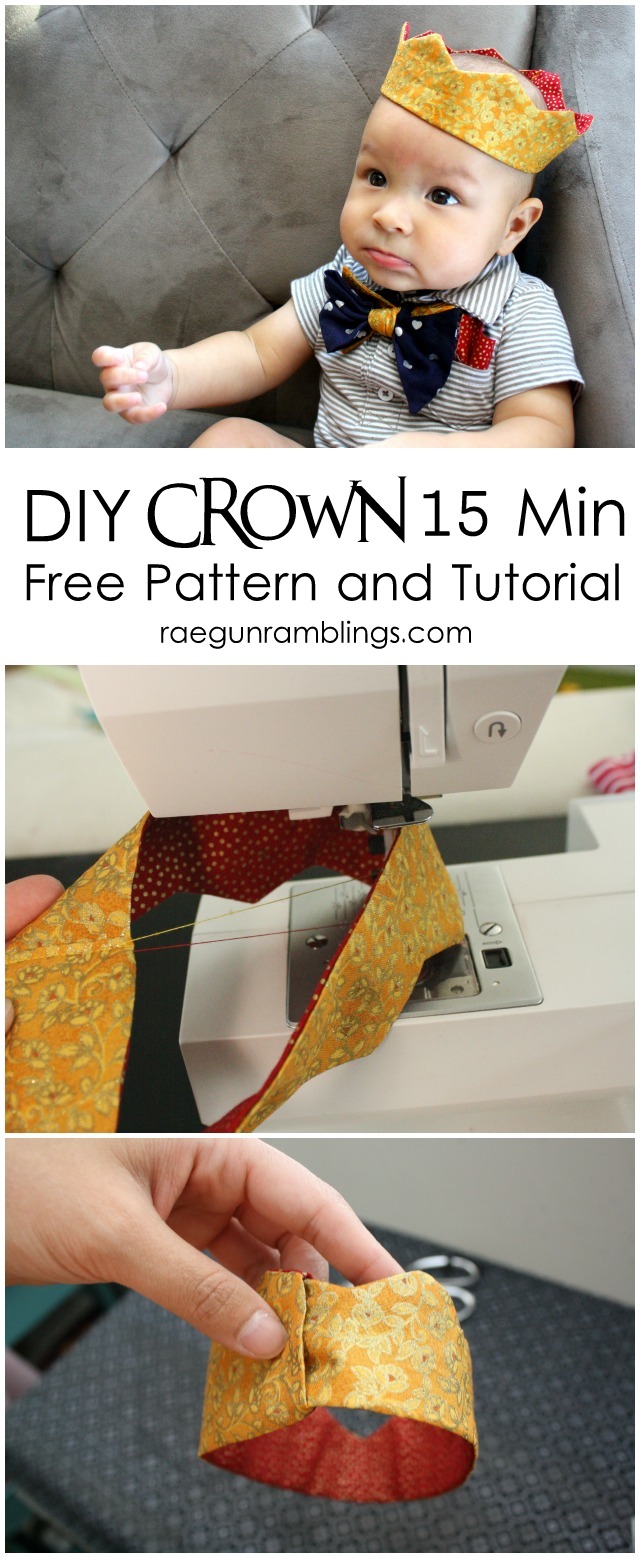 Let's connect! You can also find me hanging out here.