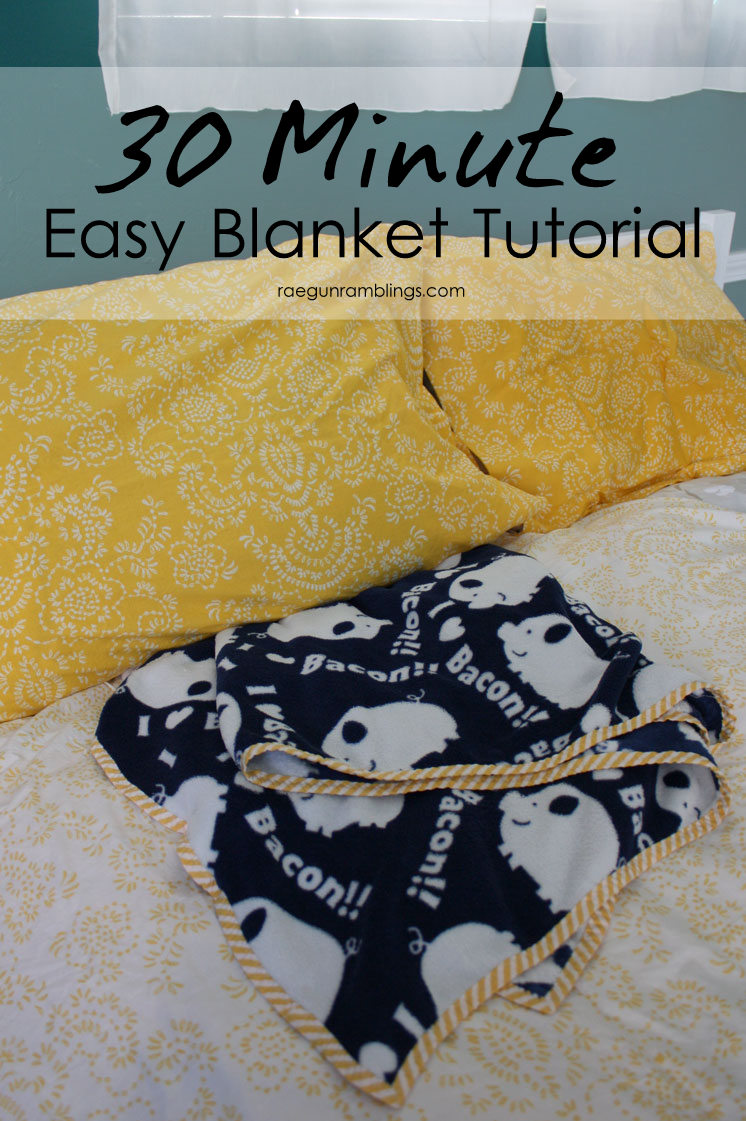 There is something wonderful about a handmade blanket. Today I'm excited to share what I believe is the perfect blanket tutorial. It's fast, it's easy and the result is is a snuggle-able blanket that's wonderfully cozy and just the right level of warmth.
I'm excited to be joining Kimbo from A Girl and A Glue Gun as well as a bunch of other bloggers who will be sharing handmade blanket tutorials as a part of Luke's Love project. To learn how you can get involved donating handmade blankets to help comfort children in need or going through rough things read more about the project see this post.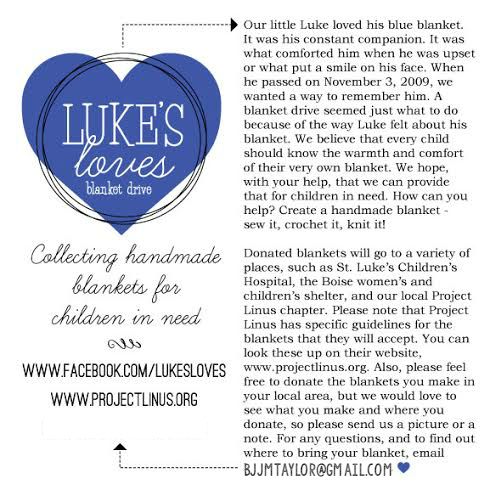 This blanket can be made in any size you like but today I'm sharing a personal sized blanket that I think is great for elementary aged children through adults. Want one that is perfect for sharing? Check out my tutorial for a family sized blanket.

What You Need
1.5 yards Fleece (about 54×60 inches)
6.5 yards Double Bias Tape (or fabric to make bias tape and a bias tape maker)
A word about fabric. Most fleece is about 60 inches don't worry if yours is a little bigger or smaller. It's a snuggly blanket not a tailored bathing suit. I especially like the "snuggle fleece" or "anti-pill fleece" which is just a little extra cuddly and doesn't pill up. If your fabric has a selvage edge just trim that off before you start. You can either round the corners so you don't have to deal with corners or you can tuck the edges under to form a little triangle when you get to the corner. To round the corner just place a bow on the edge as a cutting guide. See how to round the edges in this post.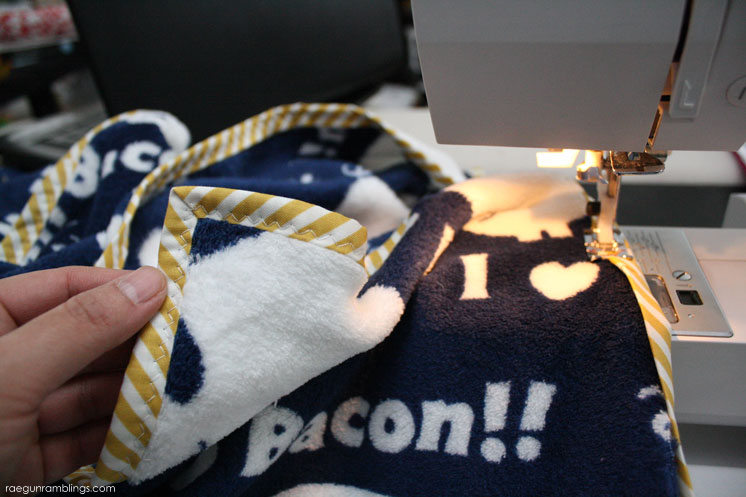 What To Do
If you are making your bias tape do that. I LOVE my bias tape maker. I don't actually cut the fabric on the bias for blankets like this and it works fine. Otherwise sew the short ends of your bias tape together right sides together so you have a long length about 6.5 yards long.
Sandwich your fleece in between your bias tape. Feel free to pin if that's your thing but I just kinda sandwich and hold as I go.
Now zig zag the bias tape down. I like to use a zig zag stitch since it's forgiving if your fabric slips a bit so it catches a wider area but you can really use any stitch you like including fun decorative stiches. You just want to make sure you're catching all three layers (top bias tape fold, fleece, and bottom bias tape fold).
If you cut curves you' just go all the way around. If you have corners fold them under to make the corner triangle and continue sewing on the next side.
When you get to where you started (I like to start on a straight side (NOT a corner or curve) then fold under some of the bias tape and sew a bit over where you started making sure to back stitch.
Super easy right? And these are really our FAVORITE blankets. My husband still snuggles up with our huge Christmas one since it's so cozy (I really need to make a non-holiday one). And my nieces steal my sister's bacon one pictured here all the time.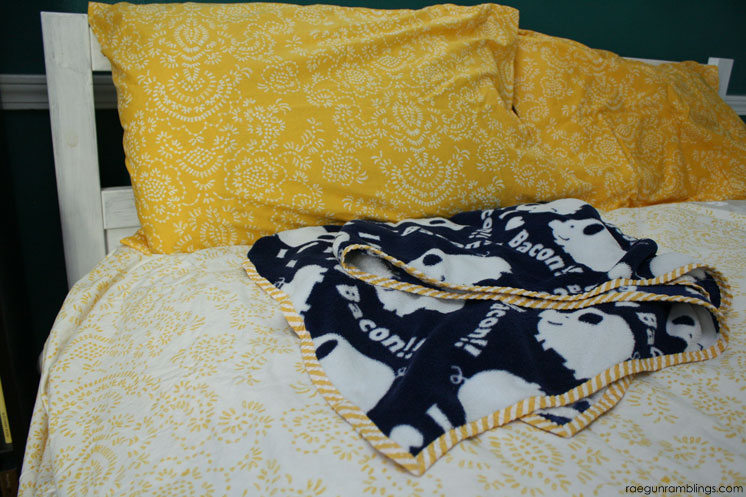 Teddy LOVE the Christmas one too because if you hid under it and look up it's like the decorations are glowing. Some how the single layer of fleece is just the perfect warmth. It's great on it's own magically being warm enough if it's right up against you during most of the year but even when it gets extra cold it's just right for snugglying or layering with other blankets!
Did you or your kids ever have a special blanket?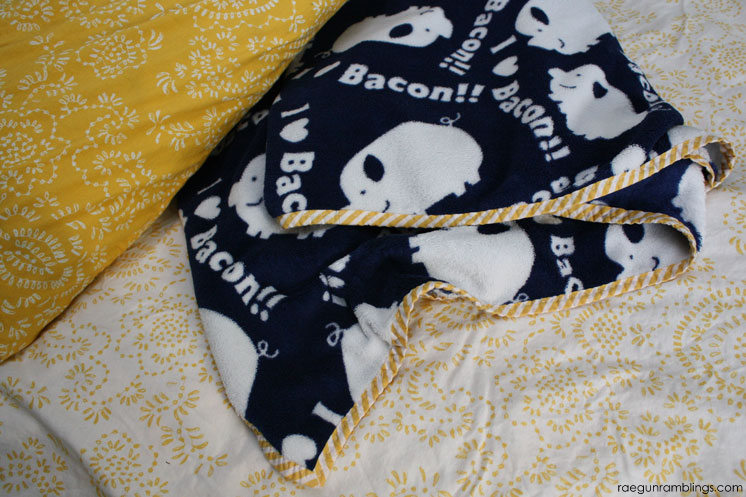 Let's connect! You can also find me hanging out here.