I have wanted to make Harry Potter hooded towels for years. I loved the idea of something like a Quidditch robe towel.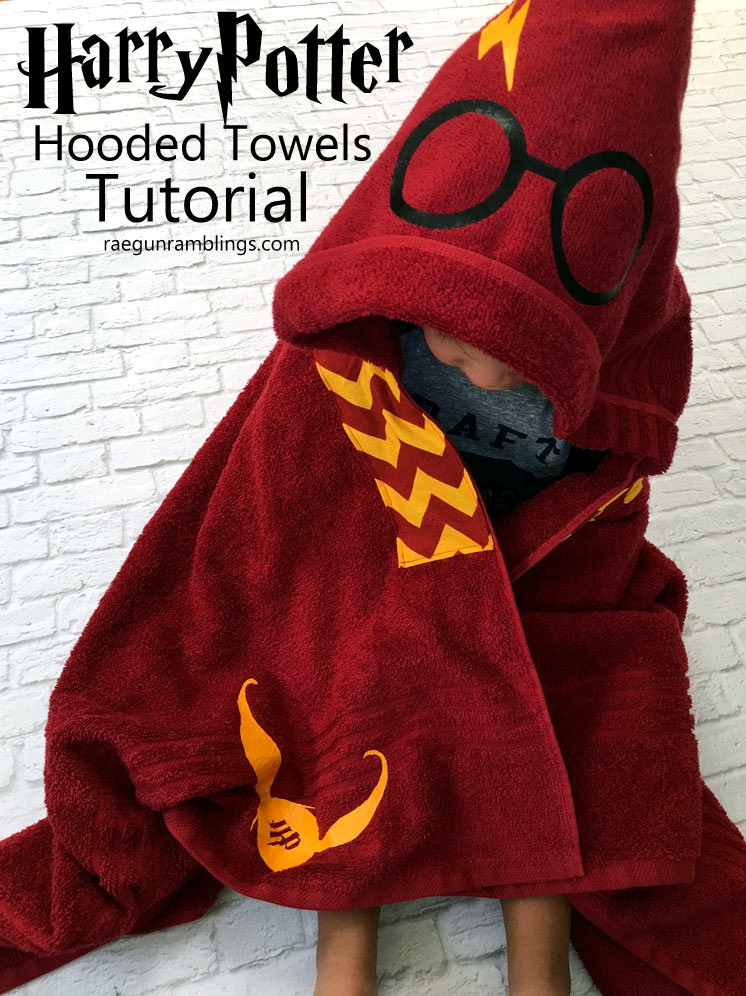 And I'm excited to say I finally did it and they turned out awesome. So here is a tutorial. They are a bit labor intensive so if you're not up to making your own they are available here already made in my shop.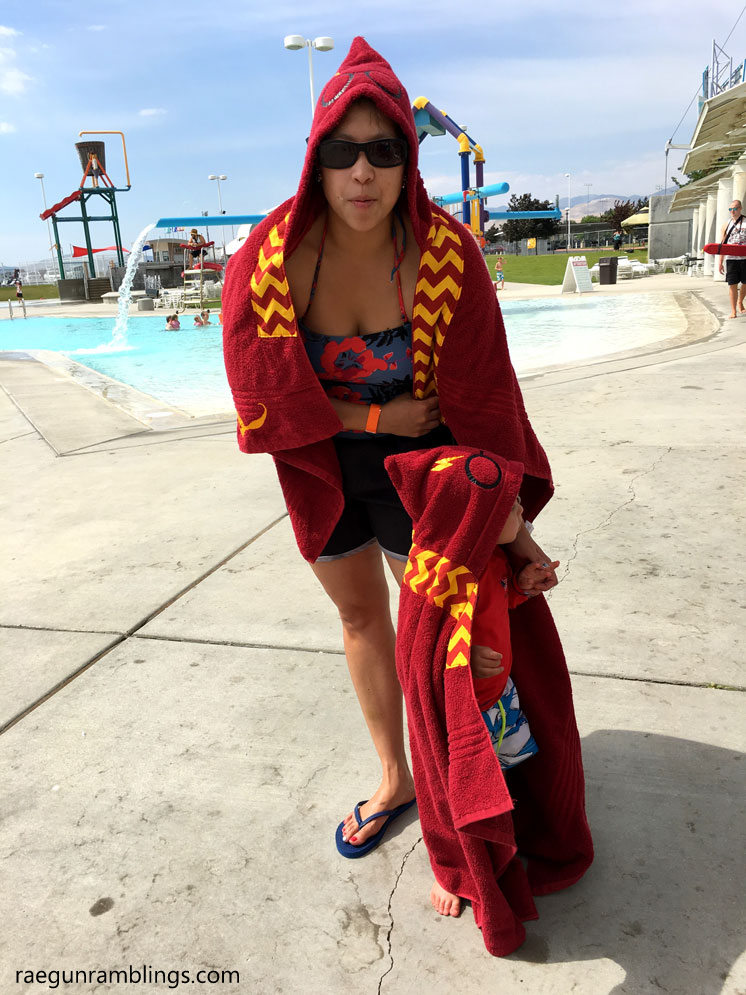 As with all the tutorials on my blog this is provide for person, non-commercial use only. I'm more than happy for you to make these for friends though!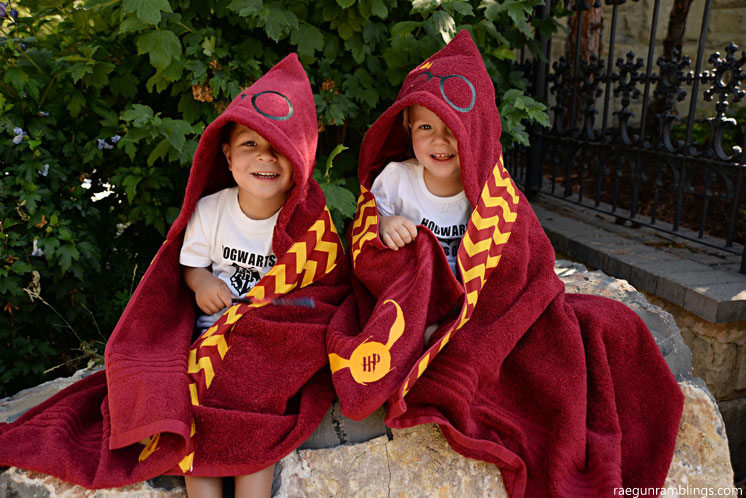 Watch the Step by Step Video Tutorial
What You Need
1 Bath Towel
1 Hand Towel
Iron-on Vinyl in black and yellow
Cutting Machine
4″X44″ Fabric for Scarf (I used Riley Blake Chevrons)
What to Do
Pre-wash your towels and scarf fabric.
Cut out black glasses, a yellow lightening bolt scar, and yellow snitch. I used my Cricut Explore to do this. With the included program you can use any image to make a cutting design. If you don't have a cutting machine you can also just trace your design off of your computer screen or print of your design and cut it out like a stencil.
Iron your towels to remove moisture.
Iron your vinyl onto your towels. See my how to use iron-on vinyl post if you have never used it before.
For the hood fold one long edge over about 1 inch and place your glasses above the folded edge and the the scar above that. Unfold your towel before yo press it. I did this on my heat press with a piece of cardboard underneath but if you use a home iron I recommend doing it on the floor so you have better leverage.
Iron your snitch onto your towel edge.
Fold the long edge on the vinyl side up 1 inch and sew into place. The edge of the towel should be right below the glasses.
Fold in half and cut down to the right depth of the hood. For mine own I had to remove 4 inches. For my kiddo's I removed 4 inches from the depth (opposite edge of the glasses) and then 3 inches from the bottom edge/height (where the neck line would be). I have found that not all hand towels are created equally so you might want to compare the hood of a sweatshirt with your towel to get a good size.
Serge or sew and finish with a zig zag stitch the back edge of your hand towel to form the hood.
Iron the long edges of your scarf under 1/4 inch.
Find the middle of the top edge of your towel and mark with a pin.
Pin the hood to the body towel with the scarf on top. You want the straight side of the hold lined on top of the the body towel and then place the scarf on top of that. I like my scarf to start at the side opposite of the snitch so when it is is on the scarf is uneven and has a "wrapped around the neck" feel to it. Remember to tuck the short edges of the scarf under when you're pinning.
Sew around all the edges of the scarf making sure to catch all layers (scarf, body towel, hood towel).
And now you're done!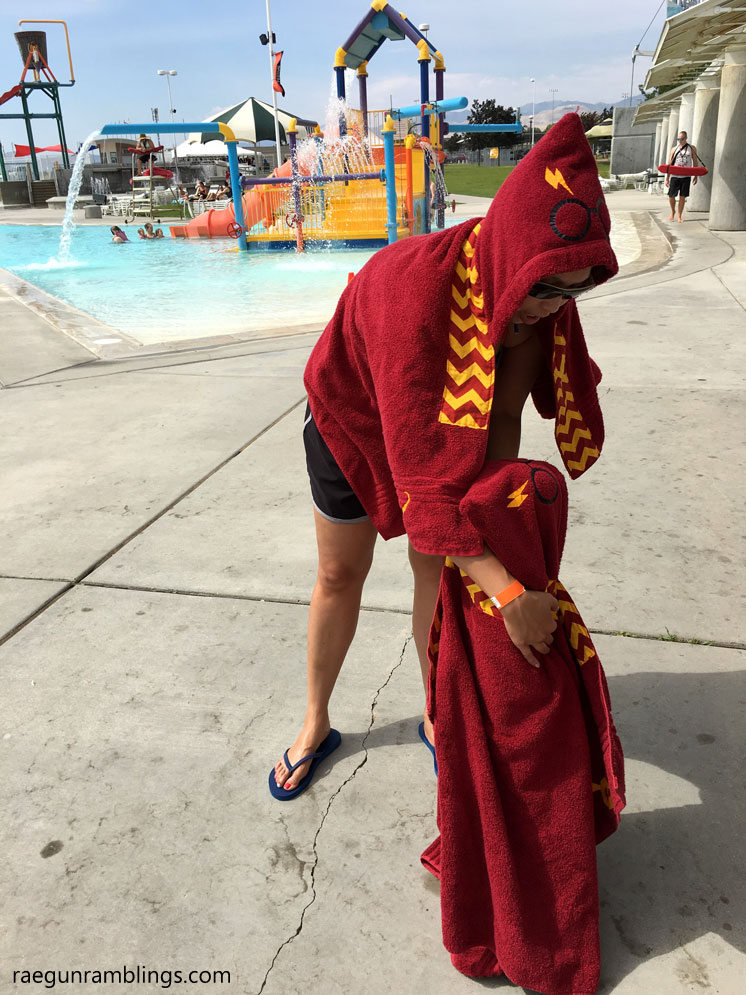 We took them to the pool yesterday and had a blast. It made me so happy to dry off in these Harry Potter towels!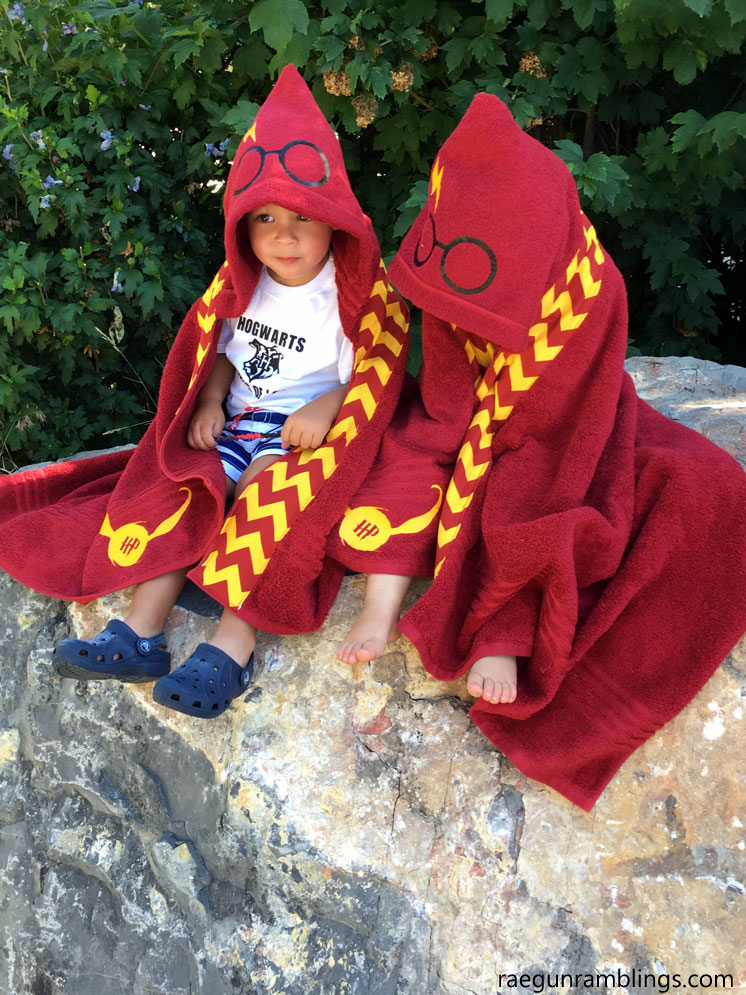 I did wash and dry them and they held up awesomely. The vinyl got a bit wrinkly but you can just iron from the back to flatten it back out if you are worried about that.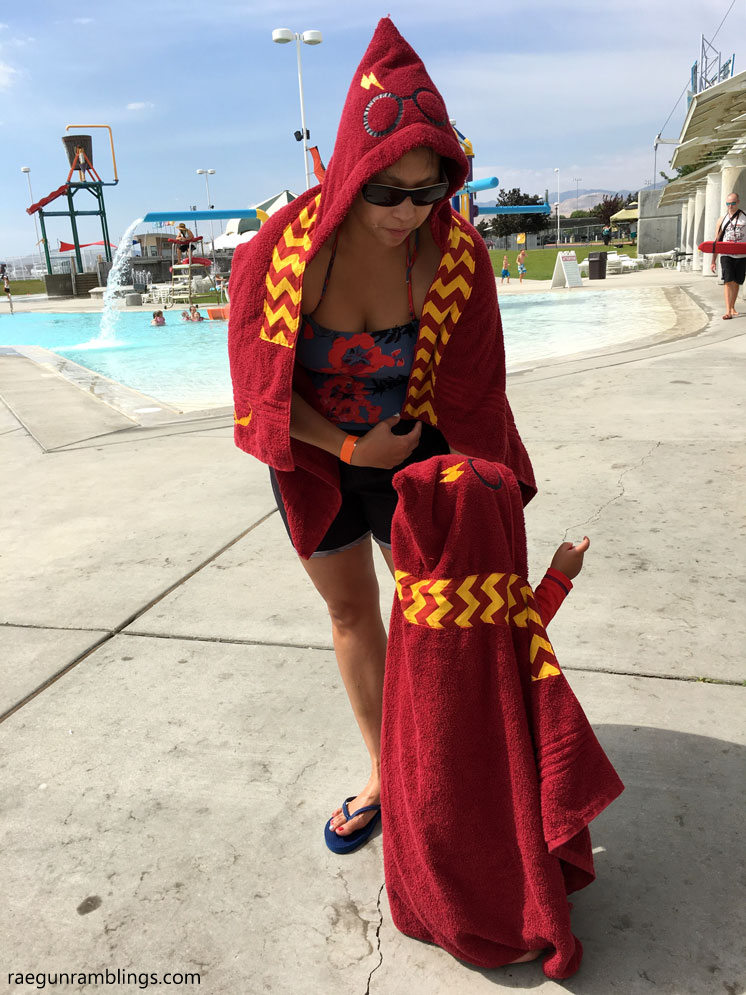 There are just a few days left to enter the HUGE Happy Harry Potter giveaway!