This 5 minute hot pack is awesome for new moms especially to prevent plugged ducts but we also use them for warmth comfort and all the normal injury related times you want a hot pack!
If you had asked me to name a few of the things I would be sure to use after becoming a mom I'd probably have said my DIY Moby Carrier or my Swaddle Blankets or even my Zipper Car Seat Cover.
And it's true I do use those things a lot. But do you know what homemade baby gear I get the most use out of? What I use multiple times a day? My hot packs. Yup it's true.
The funny thing is that these hot packs are probably the easier thing I'll post on my blog. They take less than 5 minutes to make, require pretty much no tools and I can't live without them.
I used large hot pack while I was pregnant to soothe my back aches, and now I use the medium and large ones to help with my ahem plugged ducts. It's sad but true sometimes nursing is a pain in the butt, or ahem the boob.
I use these to help when there is a problem to unplug the duct but also to help prevent them by warming milk up so it flows more easily. TMI? Sorry I know it's such a weird world but I figure it might help some one in the future.
And last but not least I use the small size as a warm (not hot) pack for my baby.
Teddy has had gas issues and putting the warm pack on his tummy or back while I do leg exercises tends to help him feel better and get that gas moving.
So even though I'm allowed a whole whopping 15 minutes for my Craft Lightening post, I've got a 5 Minute Hot Pack Tutorial for you today!
How to Make a Simple Hot Pack
All you need to do is fill a sock about half way full of white rice. Tie the end in a knot or sew across the end and you're good to go. SO easy right?
You can use old socks or pick up some cute ones. If you find the sock you want to use is a bit porous like the pink one I picked up just double it up with a boring old sock that has lost it's mate in the dryer.
How to Use a Homemade Hot Pack
To use the hot packs for adults I like to zap them between 4o to 60 seconds on high. For the baby I do about 20 seconds.
But always make sure to handle these with care as they can get really hot and be sure to test the heat before applying to your body or your baby's body.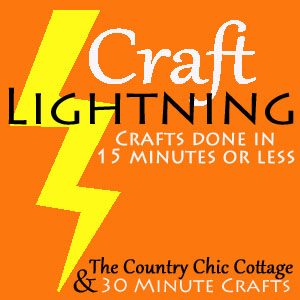 Be sure to check out the other bloggers who are sharing quickie tutorials all week as a part of 30 Minute Crafts and Country Chic Cottage's Craft Lightening!
You also may like these recipes and projects!
These are awesome tips and tricks that seasoned parents seem to forget to share to those expecting. Do your pregnant friends a favor and forward these New Mom (and dad) tips to them!
If you are able to sew this cloth face mask pattern is the best. It fits amazingly and it is super easy and fast to make!
Do you have a Harry Potter fan in your life? Here is a HUGE guide full of Harry Potter Crafts, Recipes, DIYS, Book lists and more!
I keep this 5 Minute Bread Dough recipe made up in my fridge at all times. I use it for regular bread, pizza dough, cinnamon rolls and more. It's so good and versatile!
Tons of information about homemade face masks and how to make the best fitting sewn face mask!
This crock pot chicken and dumplings recipe is the definition of comfort food. Everyone I've feed it too is obsessed!