One of my big health downfalls is munching. My personality needs to snack but sometimes I go overboard in portion or the first thing I try isn't satisfying so I end up having another snack to satisfy the original craving. So annoying I know. I made myself a list of snacks that are both appealing to me (i.e. will be enough) as well as are under 200 calories. If you're a serious calorie counter always be sure to double check the nutritional info on the items you buy since the numbers can vary between brands. Here are some of my favorite healthy snacks (note some are only good options if you stick to the recommended serving size).
Healthy Snacks Under 100 Calories
Savory
String Cheese (I recently discovered Trader Joe's Fresh mozzarella Sticks…SO good)
Baby Carrots
Soft (or hard) Boiled Egg with salt
Sugar Snap Peas (3/4 C is only 35 calories)
Veggies with Yogurt dip (I use 0% greek yogurt to make yummy dips 15 carrots and 1 TBS dip is about 100 cal but other veggies like raw broccoli, cauliflower and snap peas are good too)
1/2 Cup Fat Free Cottage Cheese
14 large Cocktail Shrimp (or 8 large cocktail shrimp with 1 tbs sauce)
Sweet
2-3 Clementines
2 Chocolate Covered Strawberries small to medium
4 Hersey Kisses (I like Cherry Cordial ones)
One See's Truffle
1 Square Ghiradelli Chocolate (I love raspberry filled dark and peppermint bark)
1 Peach
Nature Valley Granola Thins (love the dark chocolate PB ones)
1 half English Muffin with 1 TBS Peanut Butter
1 Cup Berries
1 Cup Grapes (fresh or frozen)
Fat Free Pudding pack
Sugar Free Jell-o
Healthy Snacks Between 100 to 200 Calories
Savory
1 oz Potato Chips (measure it out in a separate bag or buy single serving bags)
15 Pita Chips
25 Cheese-Its
17 pieces mixed nuts
1 slice of Cheese and 5 Slices Salami (one of my recent favs)
Corn on the Cob with a pat of butter
Veggie and hummus or white bean dip
1 slice of Cheese and 6 crackers
55 Goldfish
1 medium Baked Potato with 0% Greek Yogurt
1 1/2 Cup Edamame in Pods with sea salt
15 Tortilla Chips and 2 TBS salsa
3 Cups Popcorn (air popped) and 1 TBS butter
3 Beef Taquitos
Sweet
1 Chocolate Cookie and cup of Milk (I keep a tub of tollhouse dough so I can cook one at a time)
Apple with 1 TBS caramel dip
Fruit or Green Smoothie here are my favorite green smoothie recipes
1 slice Angel Food Cake, 2 TBS fat free Cool Whip and 1/2 Cup Strawberries
Apple and 1 Slice Cheese
Banana (medium) and 1 slice cheese (sounds weird but it's yummy)
Apple Chips (check the portion of the brand you buy)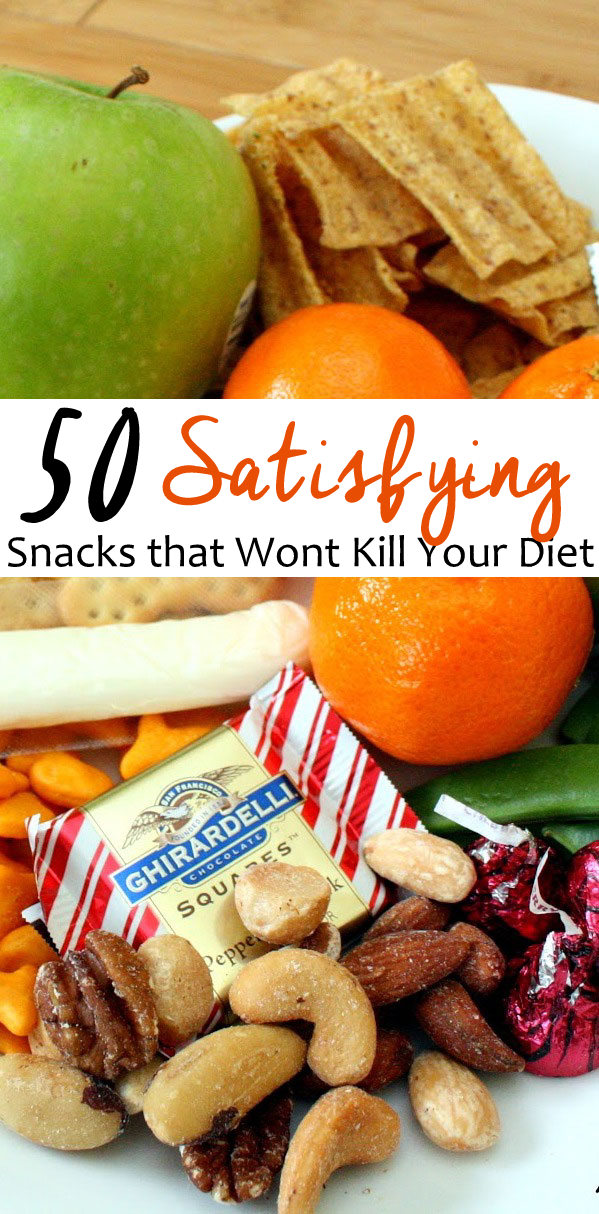 Let's connect! You can also find me hanging out here.