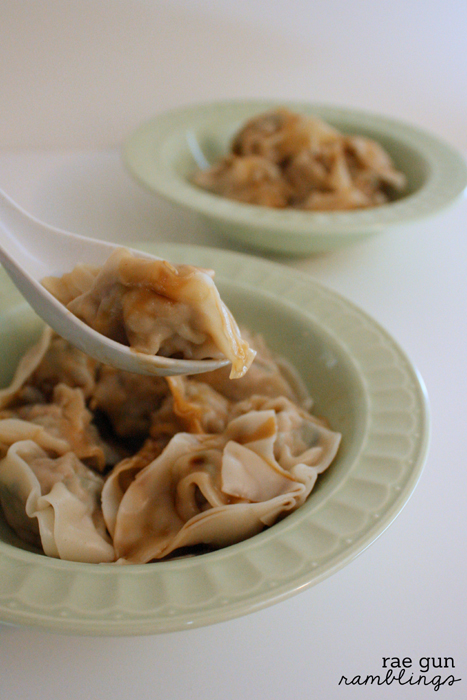 One of the traditions my family has for Christmas is having and making from scratch delicious wontons. Oh so yummy. Since I've moved to Utah I've been making the wontons every Christmas Eve the musicmaker has said, "oh what are these new things, they are so yummy" despite the fact that I've made them for him for the past 4 years. Oh well I guess that means I should make them more often. I just make a bunch up and freeze the leftovers for quick yumminess. In fact I prefer to freeze them all before cooking I find they stay in tack better that way.
Christmas Shrimp and Pork Wontons Recipe

1 small pack frozen chopped spinach (thawed I didn't bother to squeeze out liquid)
1 lbs ground pork
1/3-1/2 lbs Shrimp (raw and chopped)
1/4 tsp garlic powder
1/4 tsp ginger powder
1 tsp salt
1 tsp sesame oil
1 tsp soy sauce
1 egg
salt and pepper to taste
Mix it all up and place a small amount on the wrappers (you can find them in the refrigerated veggie section of most regular markets). I think about 1/2 tsp works but you'll figure it out. Wrap one and boil it and taste it make any adjustments you like. You want the wraper to be translucent and the the wontons to be floating (I think it was about 5 minutes, I'm not sure, think ravioli with a raw filling). Serve it with a little splash of soy sauce on top. And just for you guys I made a video of me foldin these guys because I know it can be tricky.