It's been busy busy around here but just in case you didn't notice I wanted to point out my new outfit! Some of you more observant folk may have noticed my brand new blog design that went up last week. Cindy at Blessed Design Studio did an amazing job. If you're viewing this in a reader today I hope you'll pop over and check out her awesome work. She was wondwerful to work with and really fast. I told her that my blog finally feels like home. I am loving it.
In addition to the prettiness I wanted to point out a few functional bits that I've added. My "Let's Connect" hub over to the right has all my links and online addictions. Now that I'm finally getting a better hang of
Twitter
and
Intagram
I've added links to those accounts as well as all the other places on the interweb that I hang out at :)
And something I've been wanting to do for a long time is add an Events page. My goal is to update this with fun activities that I'll be participating in or just think are plain cool. Most of this will be local (so SLC, UT area) but I'll also post some stuff that you non-locals may be curious about too. One of my tips from my grow your blog guest post last week was to try to connect with other bloggers. I know many of you were wondering how I find the fun meet ups that I often post about so I finally have a place to share the various events I'm planning on going to. I've got a few there now so feel free to check it out. And if you know of an event you think I'd like by all means send me a note!
And finally I've got new buttons to match the new decor. I would love you to update your buttons when you get a chance. Thanks much for visiting I read all your comments and love checking out what you've been up to as well.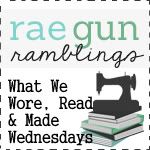 If you don't already, I hope you'll join me at my link parties on Wednesdays. Anything creative, fashiony, bookish, tasty, or helpful is welcome. This weeks party is still open