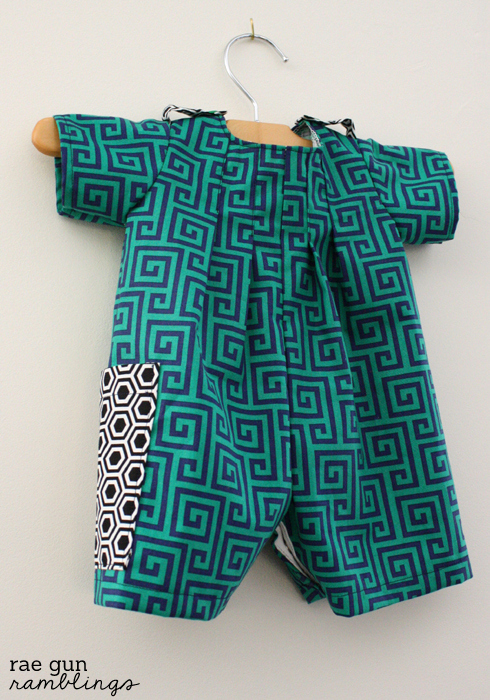 So yup the creature wiggling and and wacking me from the inside is a BOY! Holy moley I know nothing about boys this is definitely going to be an adventure! We did a little gender reveal party with our family and friends that have been with us through all the infertility stuff and for part of it I wanted to make the little guy a couple outfits. More about the party below.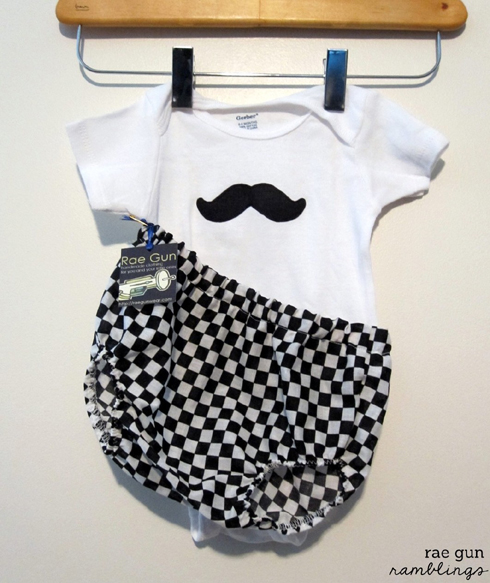 I have a few boy outfits in my shop like this little mustache outfit. But for the most part I'm lost when it comes to boy clothes so if you have any favorite patterns, blogs, or suggestions please send them my way. I would love to make this little guy some cute stuff and so much that I see in the stores for boys is just boring.
How To Make The Jumper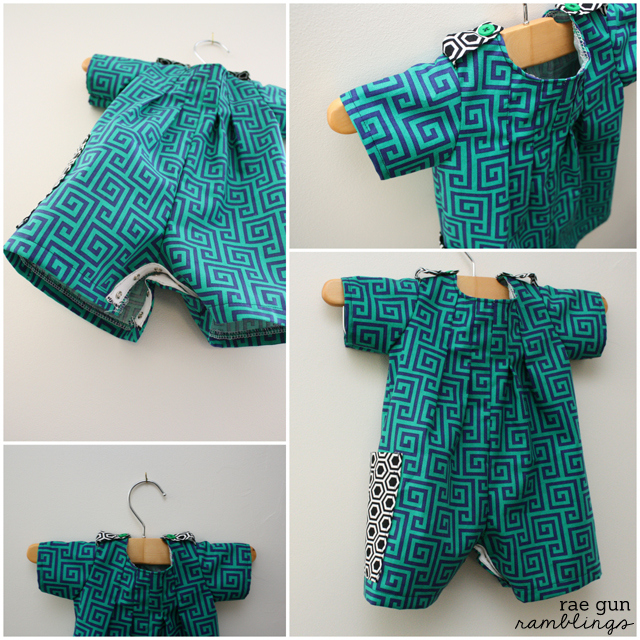 For the reveal I made this little jumper based on a style that I used to sell in my shop. There are plenty of simple baby patterns that you could use to get the same shape but I really love the shoulder detail which is SO easy to do. Basically you make a little strap. I cut my fabric 2 inches by about an inch longer than my shoulder space and then folded the piece in half like you're making a little strap. Sew one short side and one long side. Right side out it and press. And repeat for the other side. Then when it's time to attached the sleeve just sew in the "strap" positioning it so it just is a little longer than the finished edge of the collar if you want it to poof like mine or if you want it to be flat you can make it the same distance or a bit shorter. Sew on a button and you've got a cute little should detail.
The Gender Reveal Party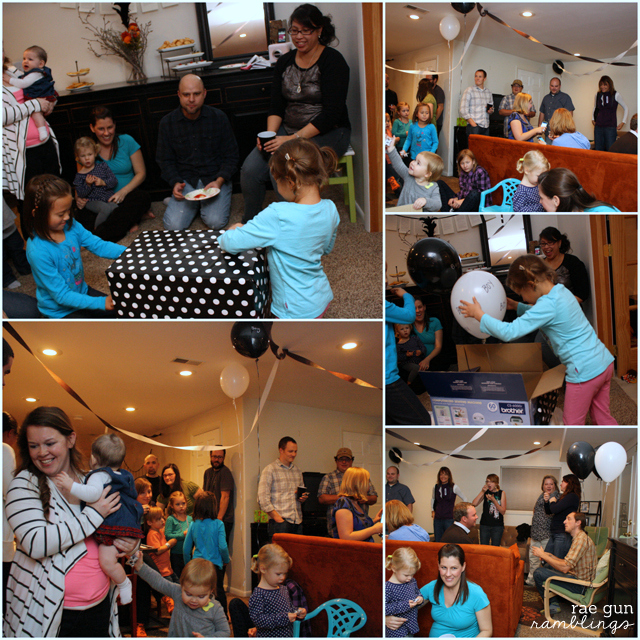 Now I know that not everyone will "get this" which is fine. I've heard some down right nasty things said about gender reveal parties in general. In fact I've already gotten kind of mean/insensitive comments. But I just figure they are either jerks or don't know my story. We worked and tried and tried and were so close to giving up on a baby. It's been a long road and so many people have helped us a long the way. But the unfortunate thing about having  bad news for SO long was that when I finally had good news I was paranoid. I didn't believe it would last so instead of telling friends and family and being excited, most of them were informed and then banned from talking to me about it. I just wasn't ready to be excited. I didn't do anything cute or creative to tell anyone I was pregnant. So I wanted to do something to say thanks for dealing with my nonsense and yay let's be excited. I mentioned that I was thinking of doing a gender reveal party and so many people got excited. Then I was feeling like that was a silly self-centered thing to do so I mentioned that I might not do it and those friends adamantly insisted that I still do one.
Yesterday as we were getting ready for this party that both my husband and I felt totally silly about I had no idea what to expect. I sent the invitations with all kinds of disclaimers "this is a silly thing", "don't feel like you have to come", "no presents", and so on. But then we opened the door in the morning to find my MIL had totally bombed our house with baby excitement. So I thought even if this party is just for our parents that was fine they definitely deserved it.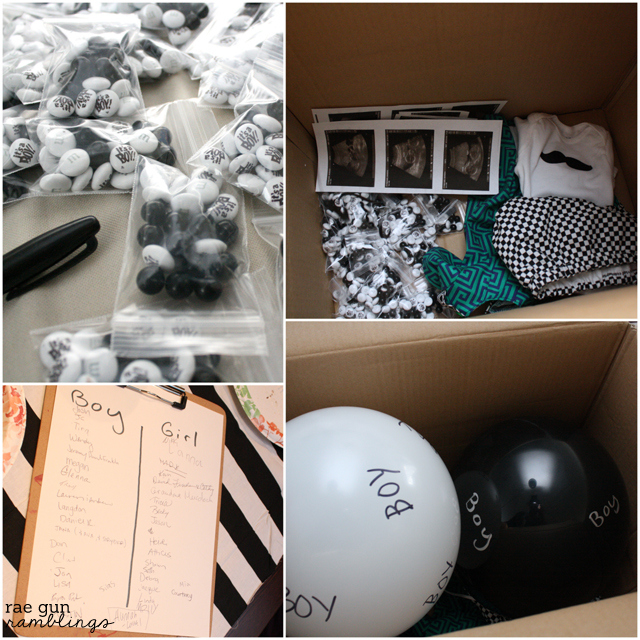 I wrapped up the little jumper, a mustache onesie set, a few copies of our ultrasound pictures, some personalized candy that my mom sent me a gift certificate for, and a couple helium filled balloons with "boy" written all over them. But then we had friends and family show up and show up and show up. It was overwhelming. It was touching. We definitely felt loved that so many people cared about our silly little news. We had people write their guesses and when it was time I had the nieces open up the present with all the goodies in it and we just enjoyed a great time with good friends, family, and food. We are so blessed to have many people excited for this little guy and who love us so much.