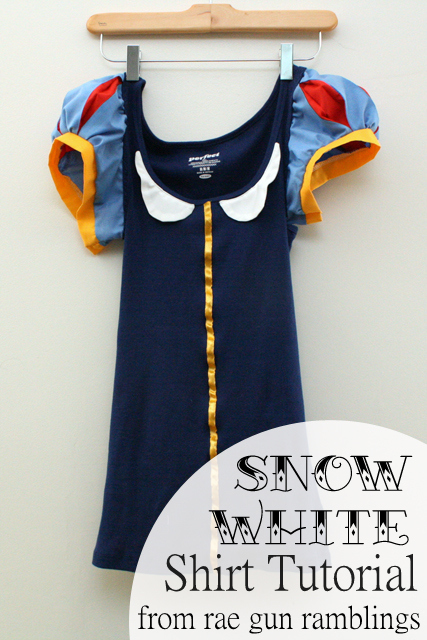 A few weeks ago my whole family went to Disneyland. It was the naughty nieces' first time and I was busy making them princess dresses for each day (yeah I know I didn't have princess dresses when I went to Disneyland as a kid and I only went for one day). But I wanted to make a little something for me so I whipped up this cute upcycled tank Snow White shirt. It came together super quickly and when paired with a yellow knit skirt it was a super comfy fun outfit to wear to Disneyland. I had tons of people asking me about it so that was kinda fun.
Snow White Shirt Tutorial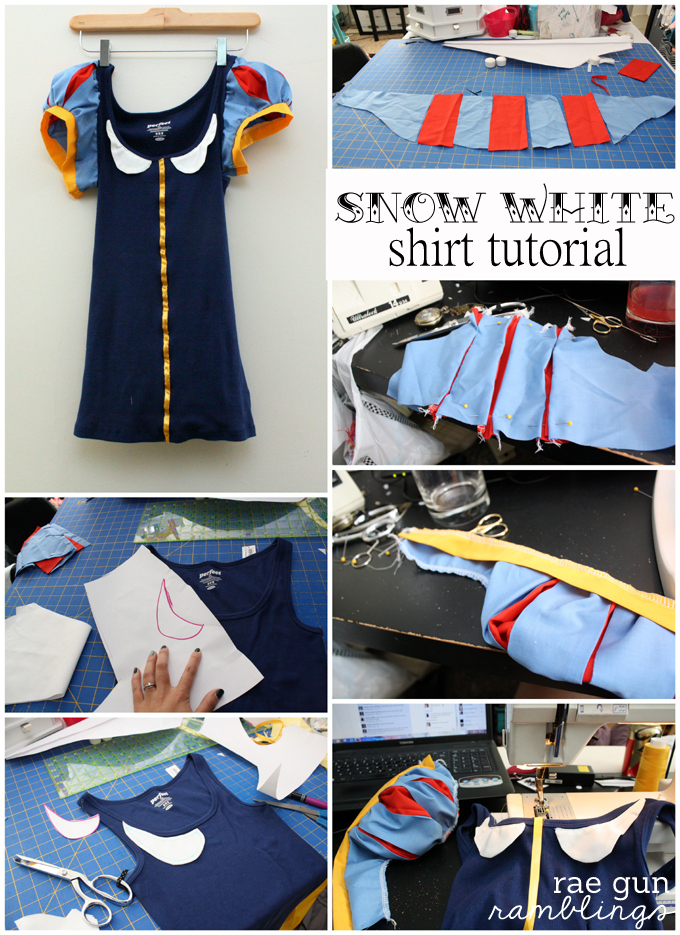 For the Shirt You'll Need:
Navy Tank Top
White fabric (collar)
Red Fabric (Sleeve)
Light Blue Fabric (Sleeve)
Yellow fabric (sleeve)
Yellow Ribbon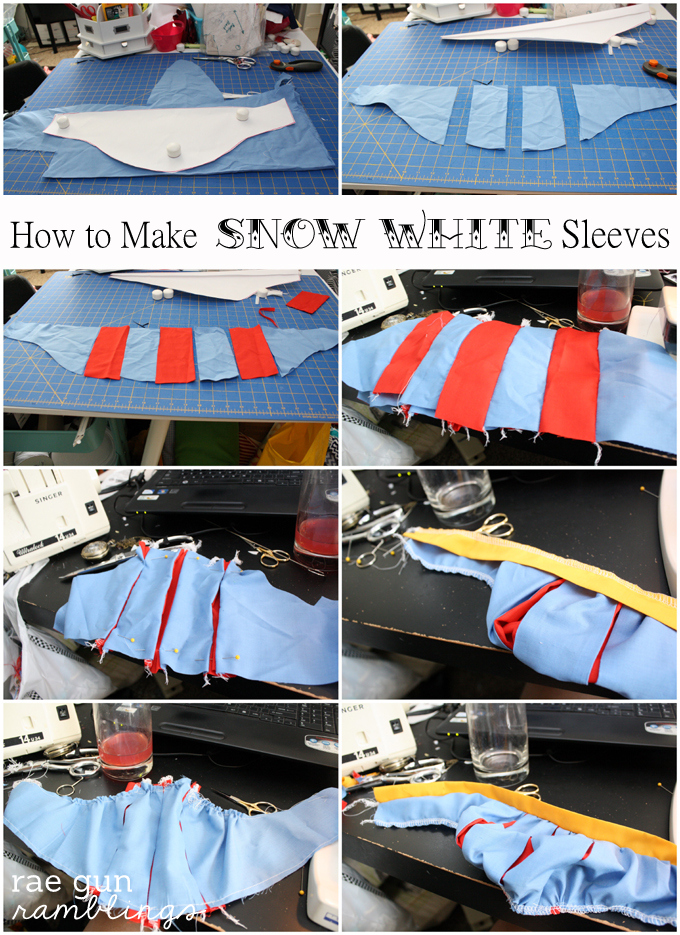 Start off by making the sleeves. If you're finding my description too fast be sure to check out my tutorial on how to make princess sleeves.
I started by making myself a sleeve pattern. Take a sleeve pattern for a poofy sleeve (or just add some space in the middle to make it poofy) .
Slit the sleeve 3 times to make room for the red pleats.
Cut about 2 inch slits for each gap out of red.
Sew the sleeve pieces together.
Pleat the red part back folding each side of the blue on top of the red and pin.
Sew basting stitches along both edges and gather. Fit to the arm hole of the tank and leave a few inches of extra space on each side since the armhole will stretch when you sew it on. Sew or serge finishing the edges of the sleeve.
Iron a strip of yellow fabric long enough to go around your flexed bicep plus a few inches in half and sew/serge the raw edge of the strip to the bottom edge of your sleeve.
Set aside
Next make the collar.
Lay a piece of paper on top of your tank top and sketch a collar. I added 1/2 inch seam allowance but I wish I had made my collar a lot bigger.
cut 4 collar pieces out of white fabric.
Sew two pieces together leaving a small hole along the top edge to turn it right side out. Snip up to the sewing line and then turn the piece right side out and iron. Repeat with the other two pieces
Position your collar pieces on the shirt and sew along the top edge.
Sew the ribbon down the middle of the shirt (I stitched a line on both edges of the ribbon).
Set in your sleeves.
So this part is a tiny bit tricky you can fit the sleeve to the tank and sew the sleeve closed but know that it will stretch so I'd make the sleeve circle a few inches bigger than the tank armhole. I did not do this so my tank had extra space at the arm pit. I just folded it and called it a cooling area.
If I were to do it again I would stay stitch the tank armhole first allowing it to stretch a little since I don't like cramped armholes. Then I'd fit the sleeve to the armhole and then you won't have to worry about the sizes not matching and set in the sleeve how you would on any garment.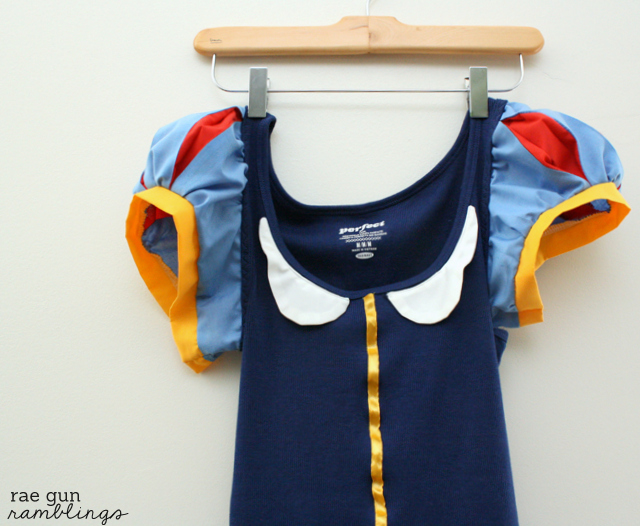 Super fun right? My only regret is that I didn't make one for each day it would have been fun and easy to make Cinderella (just a light blue tank and sheer blue poofy sleeves) or peasant Sleeping beauty which is one of my favorite Disney princess outfits. I think I still might ;)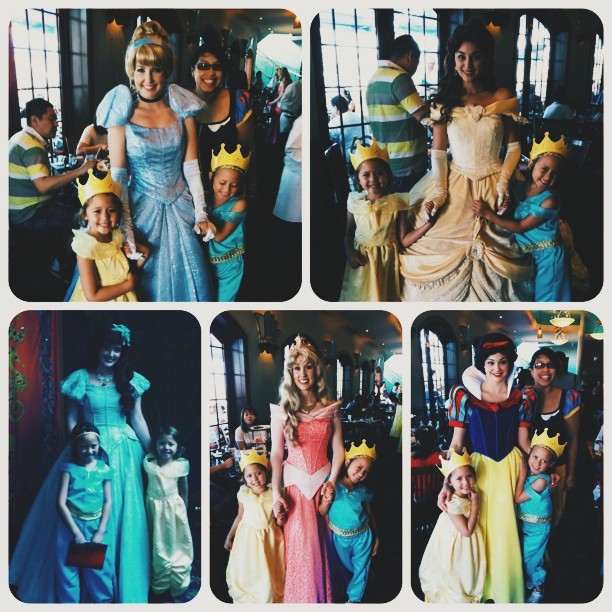 And here are some cute pictures that my sister took of me and the girls in our outfits. That day L wore her Belle Dress and T wore her Jasmine outfit. I'll have tutorials for both their outfits up soon.