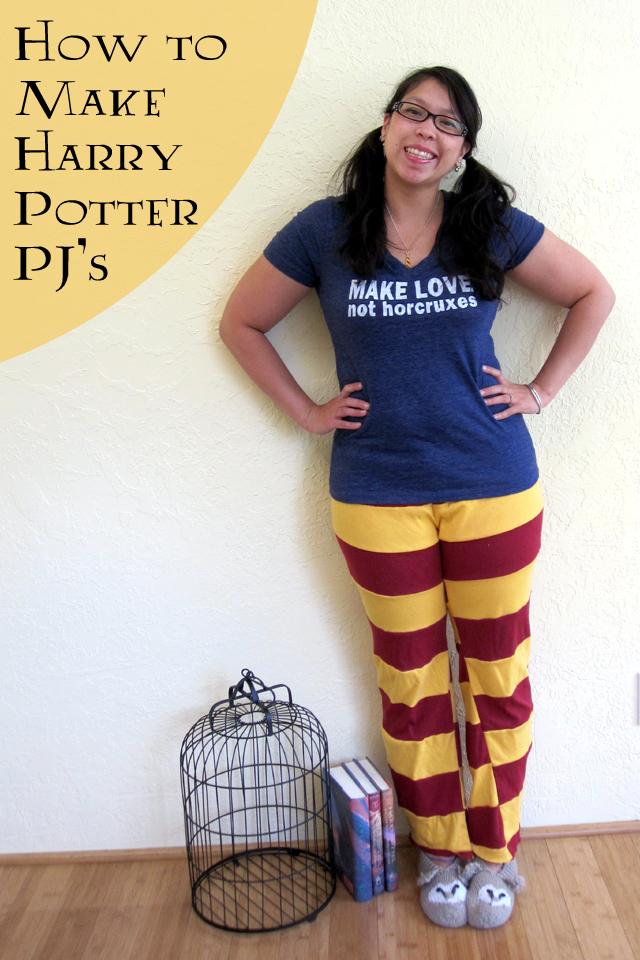 At Snap! they had a handmade pajama party one night and I knew that I wanted to wear some handmade pj's that reflected me. So I decided to go with some Harry Potter pajama pants, my Make Love Not Horcruxes shirt and my Gryffindor Tie Necklace.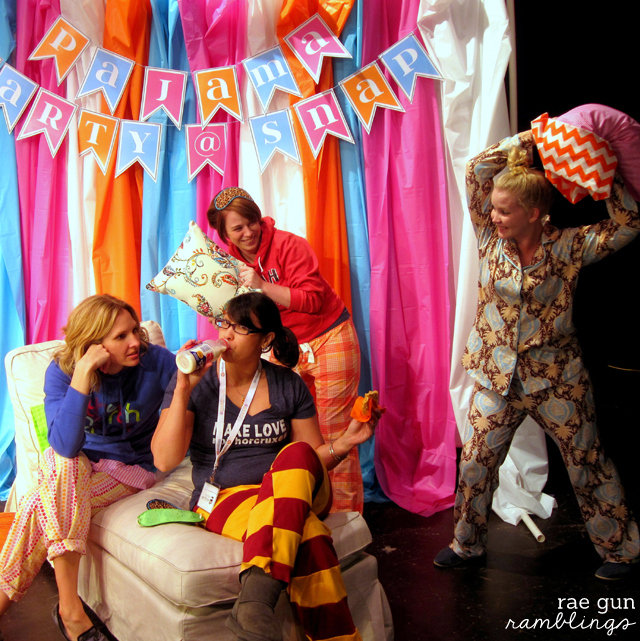 I really love how they turned out. They were really easy so today I'm going to share how to do them yourself.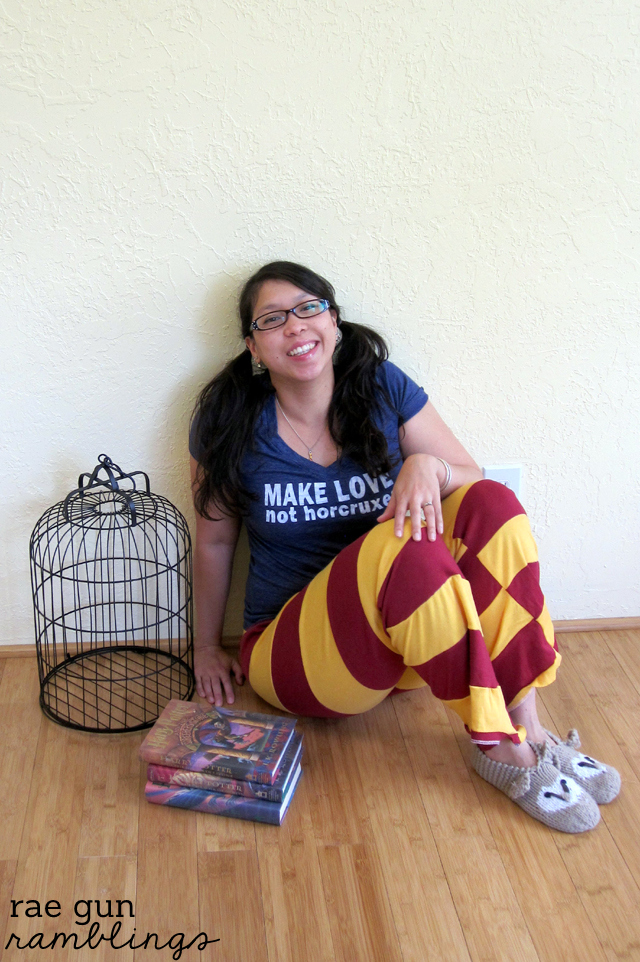 I started by taking the pattern off of my favorite pair of pajama pants. I did this by laying it out and tracing. I go through this technique in my mermaid pant tutorial but my friend Melissa at Melly Sews has an awesome step by step tutorial on how draft a pajama pant pattern this as well. But you can also just use a basic pajama pant tutorial.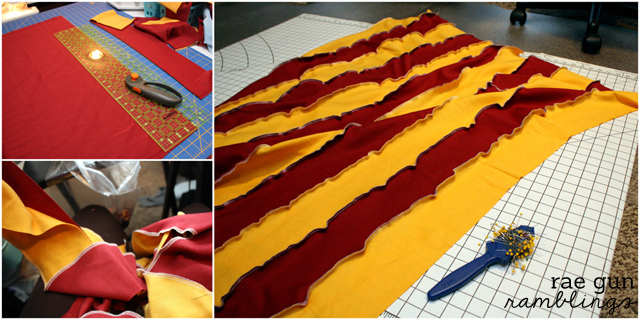 Once you have your pajama pant pattern set it aside and make your fabric. I used stretchy jersey that stretches in both directions. I started by cutting my fabric in 5 inch strips and then serged them edge to edge alternating colors until my fabric was long enough to fit the pattern pieces.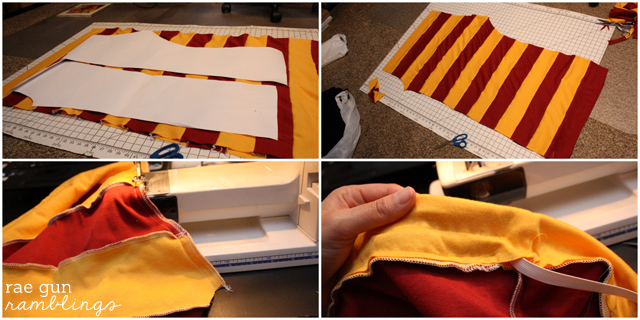 Lay the pattern on the fabric and cut. Then sew it together following the directions of your pattern or my or Melissa's tutorial. If you follow my method start by sewing the curved edges of the fabric right sides together. Then open up the legs pin at the crotch and sew the inseam (I like to start at the crotch point and sew out and then repeat the other direction.) Next make the casing by folding down the top of the waist and sewing around leaving an opening for the elastic. Cut your elastic about 4 inches smaller than your waist and thread into the casing and then close. If you want hem the bottom of your pants ( I didn't) and you're good to go.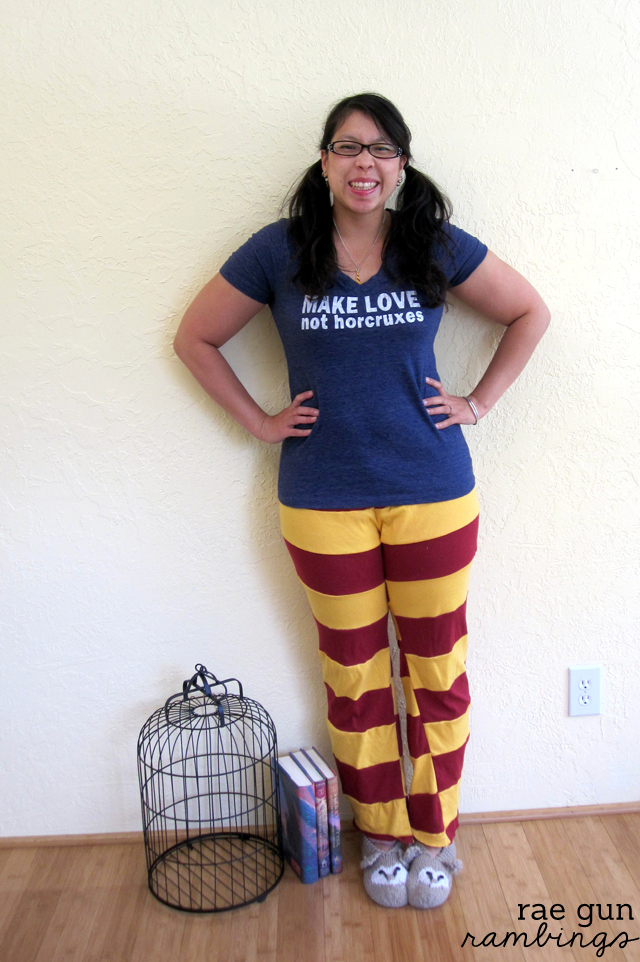 Smile like a ninny because you have taken your fandom to a whole new level! Also don't make the mistake I did and try to force line up the stripes they shouldn't line up perfectly if you force it you'll get a cute twist like mine and you can just all it a design feature like I do ;)