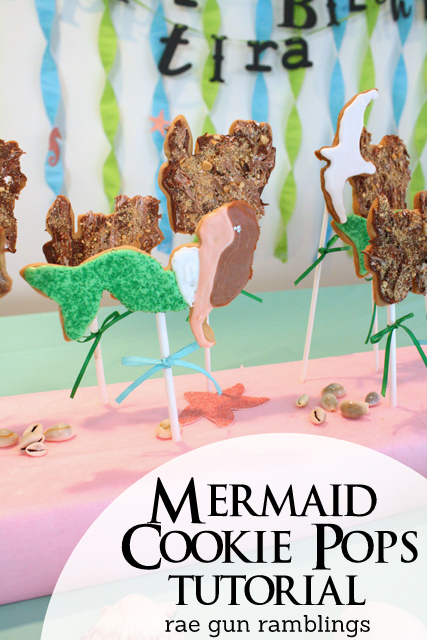 As part of the Sink or Swin giveaway all of us girls are blogging about our favorite Sink or Swim related party ideas, recipes, and crafts. I thought that was the perfect time to share how I make those mermaid cookie pops for T's Mermaid birthday party a few months ago.
I'm no cookie pro like my cute friends Elizabeth and Jen but I thought these turned out pretty cute and they weren't too tricky. I used my favorite sugar cookie recipe. I've posted about it before but here it is below and royal icing for the decorating and as the "glue" to hold on the lollipop sticks.

The Best Sugar Cookie Recipe Ever
 1 1/2 cups powdered shugar
1 cup butter
1 egg
1 tsp vanilla
1/2 tsp almond extract
2 1/2 cups flour
1 tsp baking soda
1 tsp cream of tartar
Mix flour, baking soda and cream of tartar in a small mixing bow. Cream sugar, butter, egg, vanilla, almond extract together. Add dry ingredients and mix well. Divide dough into two balls; refigerate at least 2-3 hours. Roll out dough and cut in desired shapes. Bake at 375 F for 7-8 minutes.
Royal Icing Recipe
1 lbs powdered sugar
5 TBS meringue powder or 2 egg whites
water
Mix on low speed with 1/2 C water. For thicker mix well to thin it out add more water. I like mine so that it will hold a shape but spread and not show firm lines. You can practice with the consistency on some wax paper. After you "get it" the first time you'll be able to recognize it next time you want to use the Icing
Mermaid Cookie Pop Tutorial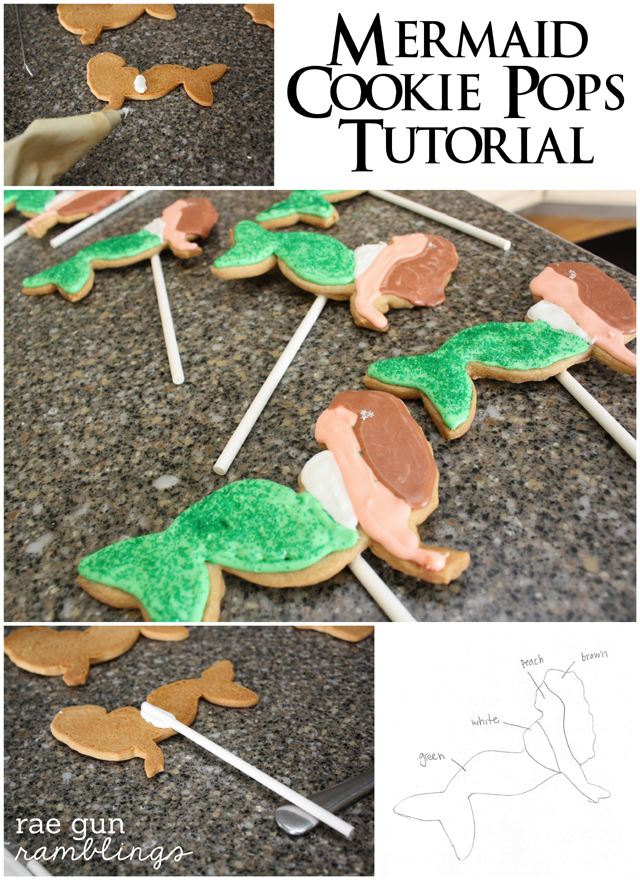 To make the mermaid pops start by adding the lollipop sticks to the cookies. To do this take some royal icing and pipe it onto the back of the cookie and press the stick in. I like to use a knife under the free end of the stick so it lays flat against the cookie. Allow to dry completely.
 I like to break the design up by section and do all of one color at a time. I like to start with white when using it. I have used both liquid food coloring and gel food coloring without issue. Start by separating a small bit of icing and adding a small amount of coloring and tweak until you get your desired color.
I put it in a pastry bag with a small decorating tip and start by outlining the area for that color and then I fill in the outline.
If you want to add sprinkles like I did wait for the other colors to dry and then add the sprinkles while the icing is still wet.
I used edible glitter stars as hair accents to do that just place them carefully on the icing while it's still wet. Allow to dry completely before moving or storing.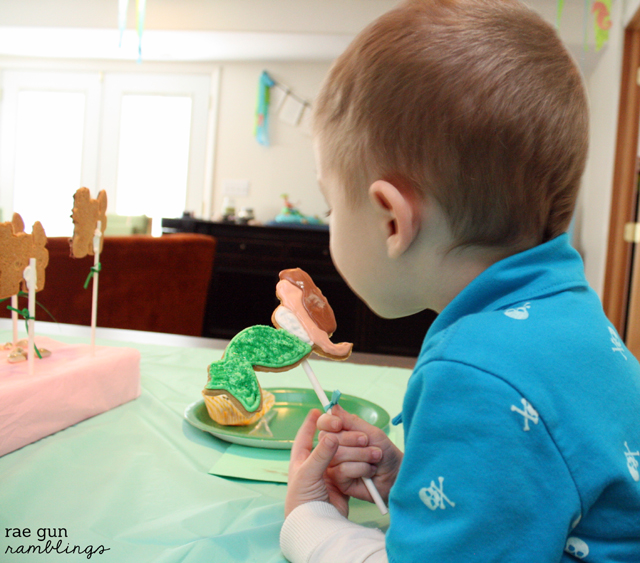 All the guests really liked our mermaid, sea gull, and sand castle cookie pops. They were a fun dessert and I'll definitely see more cookie pops in my future. And just since you're curious I totally did these at like midnight the night before the party cause that's how I roll ;) Yeah I'm crazy.
If you haven't already entered the Sink or Swim giveaway you can read all about it here. And if you missed the Mermaid birthday party and the Mermaid Pants tutorial the first time around be sure to check them out!
Also make sure to see everyone else's Sink  or Swim projects!