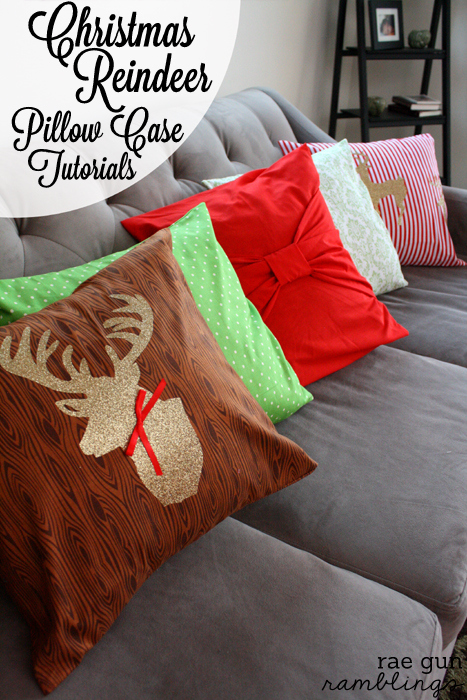 When the new Cricut Tools Basic Set and a shinny roll of gold glitter iron on vinyl arrived in the mail from Cricut I knew I wanted to make something Christmasy. I have been loving the wood grain and deer trends going on right now. So after a quick search on Cricut Craft Room to make sure I could find some good deer images I settled on two different Christmas deer pillow case tutorials to share.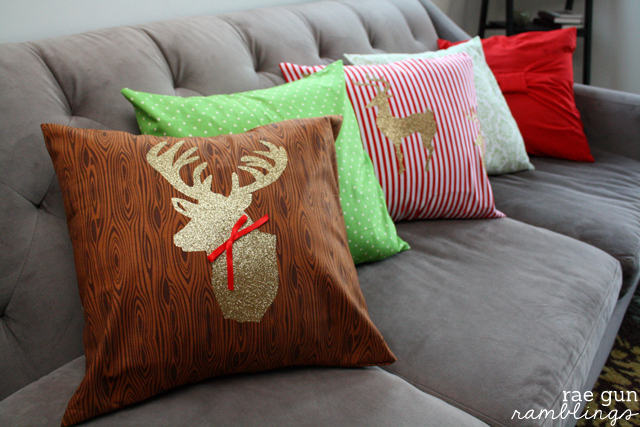 I'm slowly but surely accumulating more and more pillow cases. I used my simple envelope pillow case tutorial to make a few basic cases since I only had 2 Christmas appropriate ones in my stash. One from the original batch which is a green damask and then my red big bow pillow case. I kind of love the variety of them all together. The other thing is that these are so simple to make that even if I'm not feeling the wood grain or deer thing in a couple years I can retire them without feeling like I invested too much time and energy.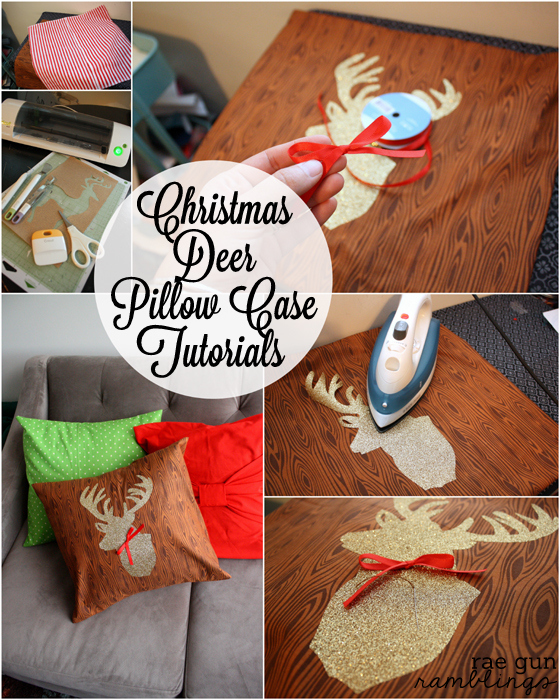 To make the deer head pillow case you'll need:
Fabric for the pillow case. This tutorial explains how much fabric you'll need. For my 17″ pillows I used a piece of fabric 17″ by 38″
Scrap of red ribbon
If you've never made a pillow case before it's a GREAT project for those who are just starting to sew. This literally has 3 seams. Yup you just sew 3 straight lines and you're done. Check out my step by step tutorial here.
Now that you have your pillow case. Cut out your deer head. I used the "deer" image from the Teresa Collins Holiday Silhouettes Cricut collection. I did not bother to invert the image since I didn't care what direction it faced. Then I placed the vinyl plastic side down and scrape with the square flat Cricut tool (my all time favorite tool, not sure how I survived without one) and cut my image. If you've never used vinyl before I wrote up a super detailed picture-full how to use iron-on vinyl tutorial that will help you get started.
Use the tools in the Cricut tool kit to help remove the image. I love the little spatula for this job. And you want to be extra careful with the glitter vinyl since it's easy to tear it. That's why I highly recommend using the tools and not just trying to pull it off. If you do tear it you can easily piece it together and the glitter nature of the vinyl should hide the seam as long as you line it up.
Position the vinyl glitter side up on your pillow case and iron down until affixed.
Tie a bow out of your ribbon scrap. Flame the ends to keep it from unraveling and then stitch onto your deer's neck.
Stuff a pillow form in and you're good to go!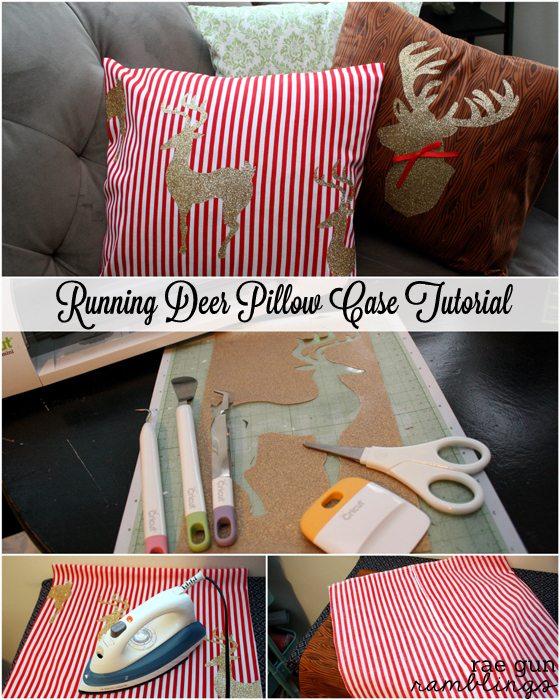 I'm just going to be honest, this design come about from a mistake. I had only planned to have one reindeer in the center but in my attempt to save on vinyl I used a scrap and then loaded it into my Cricut wrong so it only cut part of the reindeer (there piece of vinyl ended by his butt). But he was so cute I didn't want to waist him so I cute another piece and another partial piece. If you want to do it intentionally I have an easier way for you to arrive at the same outcome though.
To make the running reindeer pillow case you'll need:
Fabric for the pillow case
Iron on gold glitter vinyl
Make up your pillow case (more directions here).
Cut out TWO deer images. I used the Buck from the 'Tis the Season Cricut Cartridge but there were a few other deer images I was trying to decide between.
Then cut one of the deer images of them in half.
Position the front half at the bottom right of your pillow case. The full bodied deer at the middle and then the tush left over in the upper left hand corner. Iron down and you're ready to stuff your pillow form in!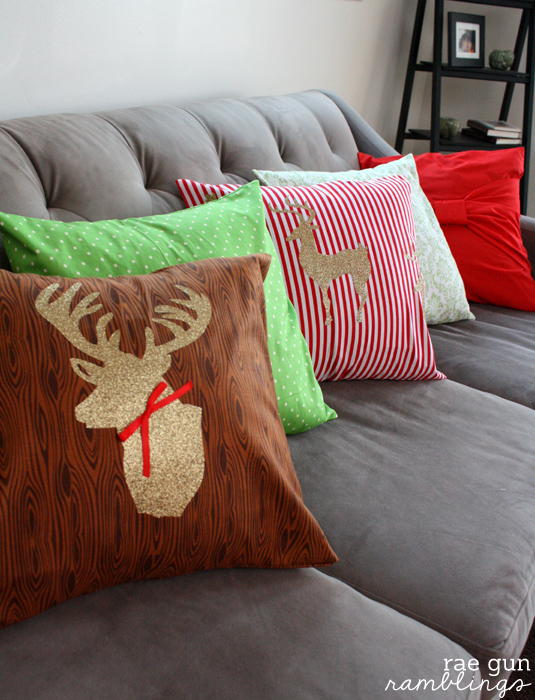 And if you're interested in the Tool Set or the Vinyl it looks like everything is on sale over at
Cricut
and it's a really good deal. I use this stuff a lot so I know I'll be stocking up.