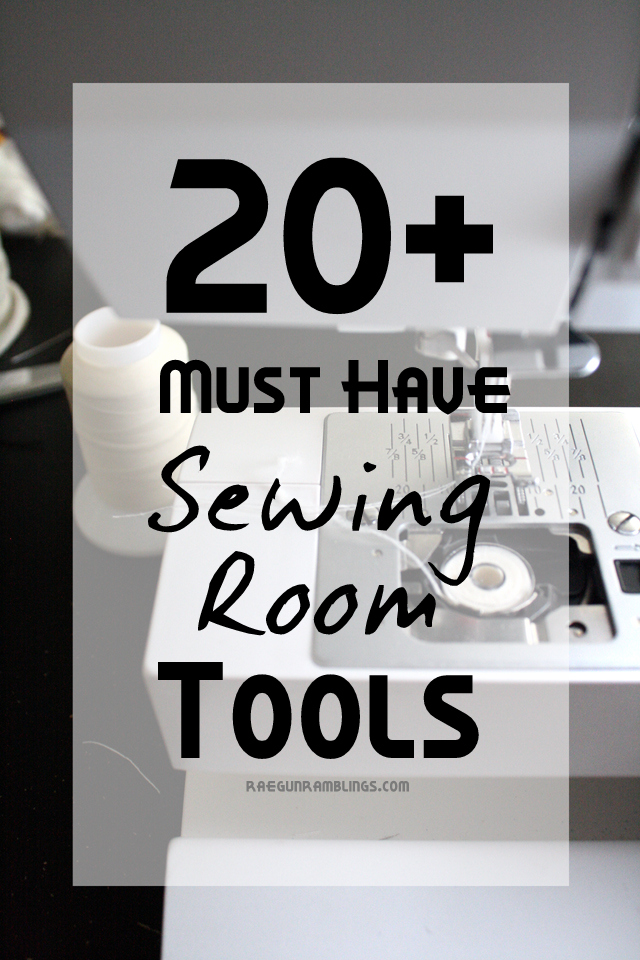 There are SO many craft tools gadgets these days it's hard not to want everything. But you can really have a super well stocked sewing room with just a handful of items. Today I'm sharing MY new room necessities.
sewing machine – You don't need any thing super fancy. I've had both fancy and basic and for what I do basic totally does the job. The only reason I like the "fancier" ones is that they have more powerful motors and can handle ALL the sewing I do. This is hands down my favorite sewing machine for beginners and even those who sew a lot like me!
serger – I have a whole long post about how much I love my sergers and how to buy a serger you will love and actually use too. But if you've never used one they are kinda like a microwave, unnecessary but once you try it you'll wonder how you lived without one. They just make things faster and easier. If you sew a lot it might be worth looking into.
magnetic pin holder – I don't do pin cushions that requires too much attention I've got this awesome magnetic wand (you find it right on the notions wall) and I just lob the pins at it while I'm zipping along. It's also great for grabbing pins that may have fallen onto the floor!
cone thread holder – Serger cone thread is so much cheaper than those tiny spools all you need to use it is an inexpensive holder. You can find one on the notions isle and that way you can save on your thread costs! I like this one.
iron– Sewing is the only time I iron. But some times you need to press things into place.
ironing board and/or pad – I have both a traditional ironing board that I use every once in a while and a big flat style one that I made that I use All.The.Time. Check out my Ironing Pad tutorial to make your own.
pattern weights – I stole my moms pattern weights when I went to college. One of the best decisions of my life. I'm all about pinning as little as possible and with these babies you don't even need to pin when you're cutting out a pattern. Guys they are life changing!
Ginger scissors – Ginger scissors might be expensive but wait until they go on sale or use a 50% off coupon because they are Worth.Every.Penny! But don't forget to instill the fear of your wrath in your family so no one tries to use them on paper. My favorite are the dressmaker shears.
paper scissors – I'm always finding stuff that I don't want to use my good scissors on whether it's downloaded printed patters or something else.
loop turner – Oh my friends I did not know about this magical tool until I was married. But once I was introduced I fell in love. You can turn very small straps or larger ones without all the smooshing, scooching slowness of a safety pin or chopstick. Want to learn more, I wrote a whole post about why the loop turner is the best kept sewing secret.
embroidery scissors – I use these for everything. Snipping threads, cutting button holes, you name it. I am an adamant seam ripper hater. Really I'd rather spend more money and start a project over, well almost. But I use my embroidery scissors to carefully pull out mistakes (in fact I have a technique I've been planning on sharing schedule for the blog next week so make sure you check back in it's like magic). Plus I'm a little addicted to buying these cute tiny cutters.
quilting ruler – I love the small clear 2X18 inch lightweight ones (often with blue or red grid lines). I use them for so many tasks from pattern drafting to just measuring out elastic. Once again another notion wall must have.
rotary cutter – Most everything I cut out I use a rotary cutter, they are fast and quick
large rotary mat – I love my giant rotary mat. I recommend getting the biggest one that can fit your space you won't regret it!
large rotary cutter ruler – You know those hard plastic ones? These will help make straight line cutting a breeze. I am not a quilter but I use mine all the time.
fold out paper mat – Some times I like to work on the floor when I'm making adult sized things and I have a great card board folding cutting board that is fabulous. I can't use the rotary cutter on it but it makes laying out patterns so much easier.
kid art paper – I know they have special pattern drafting paper but I've been using rolls of kids craft paper and it does the job. There's a roll leaning on my cutting table as we speak.
disappearing fabric markers – These are like magic. If you need to transfer pattern markings or if you're making multiple items and need to keep the pieces straight (like sizes for example) these are great.
chalk pencils – As much as I like the fabric markers they don't show up on dark blue and black. For that purpose I love a good white chalk pencil.
quilting pins – Pins are one of those things that are totally personal preference but I like those long quilting pins with the big heads, easy to use and find. Unless I'm using really delicate fabric they're my fav.
elastic thread – Have you ever sewn with elastic thread? It's surprisingly easy and that's how you can get that cool stretchy gathered (fake smocked) look. Check out my tutorial to learn how to sew with elastic thread if you don't know how!
fabric – And last but not least fabric. You gotta have it!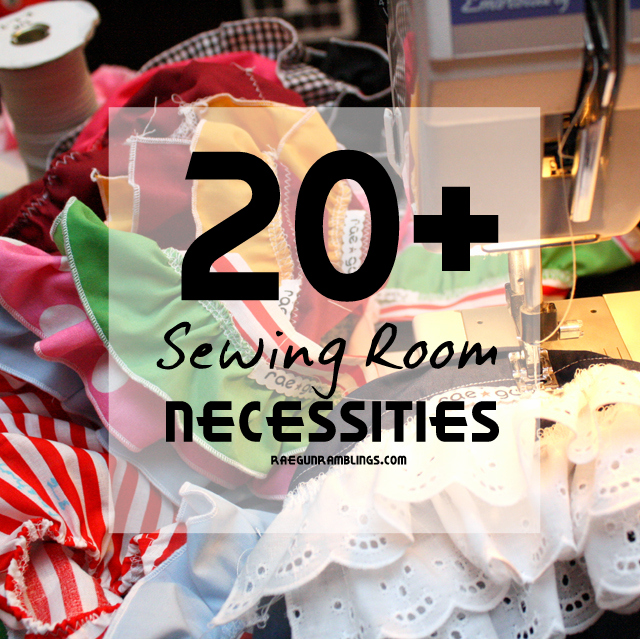 Did I miss anything? If I did let me know in the comments I'm sure my baby brain is leaving something important out but as I'm scanning my studio that's all I'm seeing! I've mentioned the Facebook page The Daily Sew before but in case you need a refresher it's a wonderful site where TONS of great bloggers contribute to bring the best sewing tips, tutorials, and sewing bonding. I have found some of my favorite tutorials, hilarious sewing jokes, as well as in genius time saving tips there.
Want more?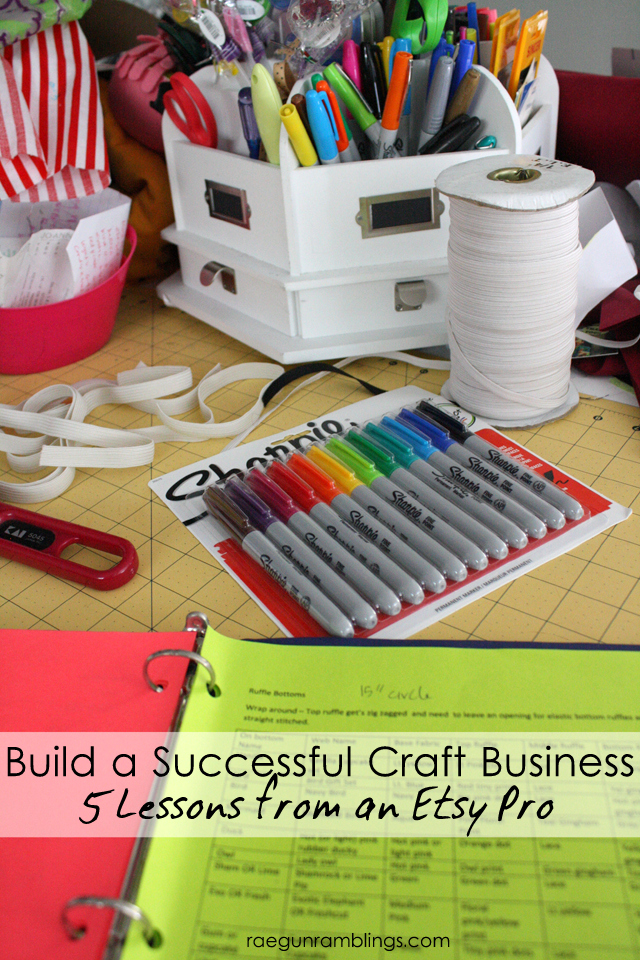 Take your hobby to the next level with these tips and tricks for building a successful craft business.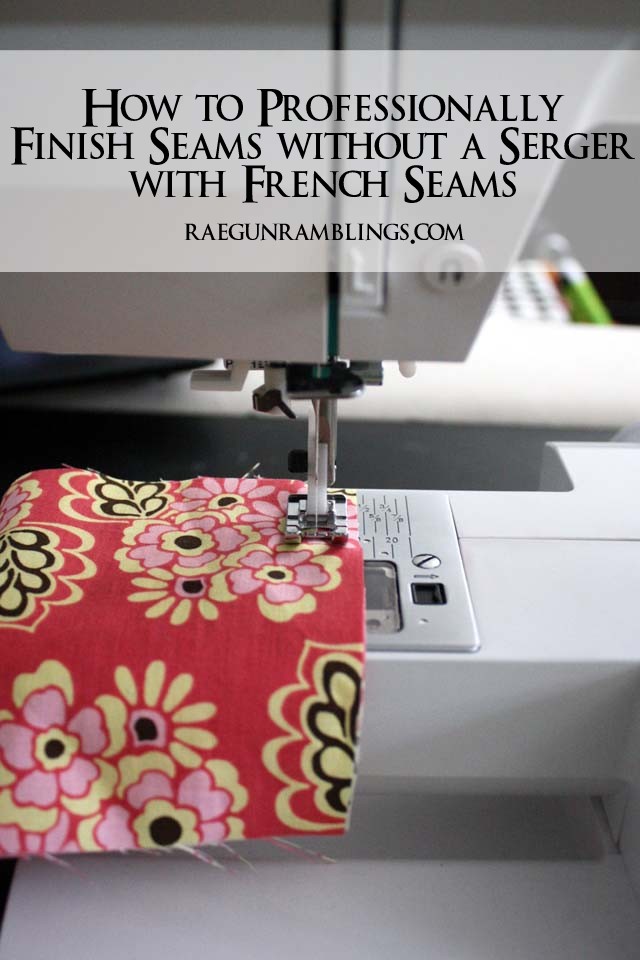 Learn how to professionally finish seams even without a serger.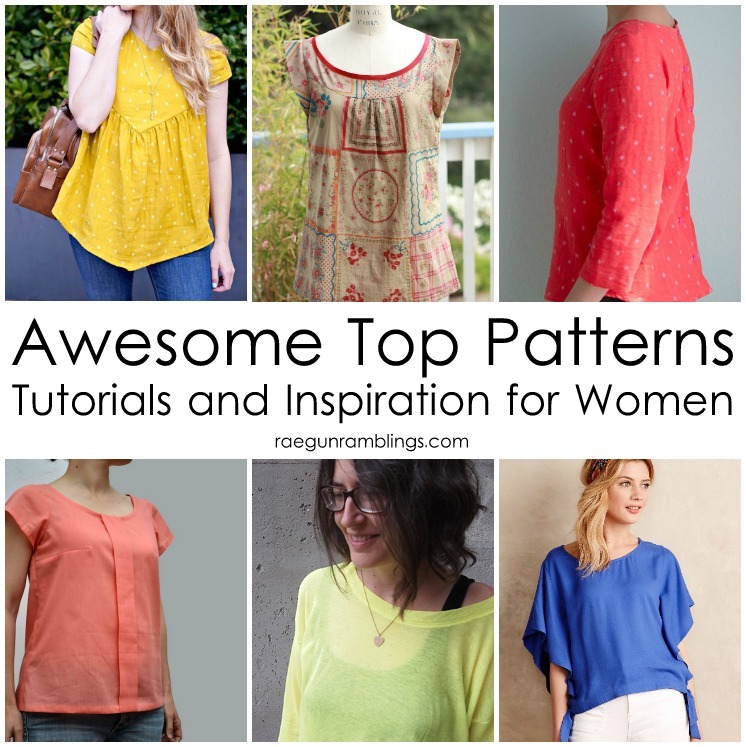 Great collection of top patterns and tutorials to sew!
Let's connect! You can also find me hanging out here.