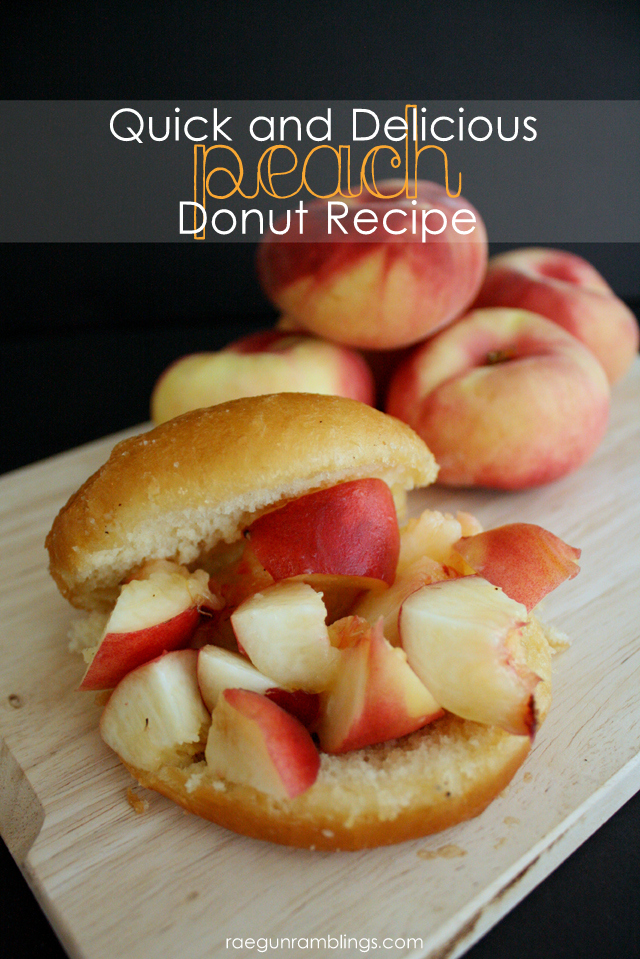 One of the first places I was taken as a college freshman in Southern California was to the 24 hour donut shop The Donut Man. Throughout my college years and every time we're back in the area I make a point of enjoying their tasty donuts. One of my favorites is their peach filled donut. I decided to no longer fight the craving and make my own Peach Donut Recipe inspired by The Donut Man.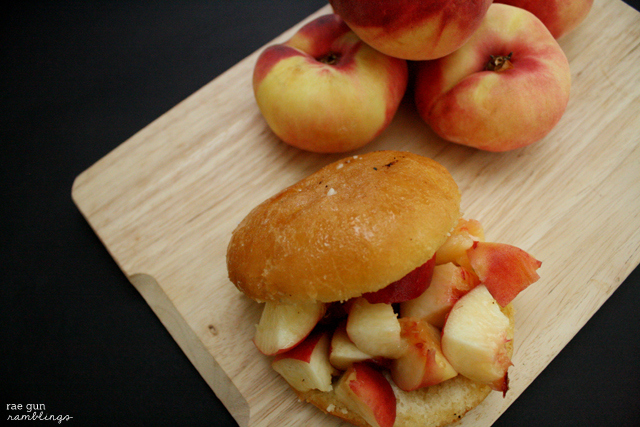 If you missed my basic donut recipe donuts are surprisingly easy to make. Just find some ripe peaches and you're good to go. You can tweak this recipe to be dairy free or even vegan just use egg and dairy substitutes (I've done it before and it works well).
I used these tasty donut peaches just because it's what they had at my market and now I get the perk of double donuts in this recipe. But really any peaches will work great. I wanted to lighten the recipe so I decided not to glaze the fruit but you can easily glaze the fruit (which makes them more like The Donut Man ones). To do that just toss the peaches in the same glaze that's used on the donut part.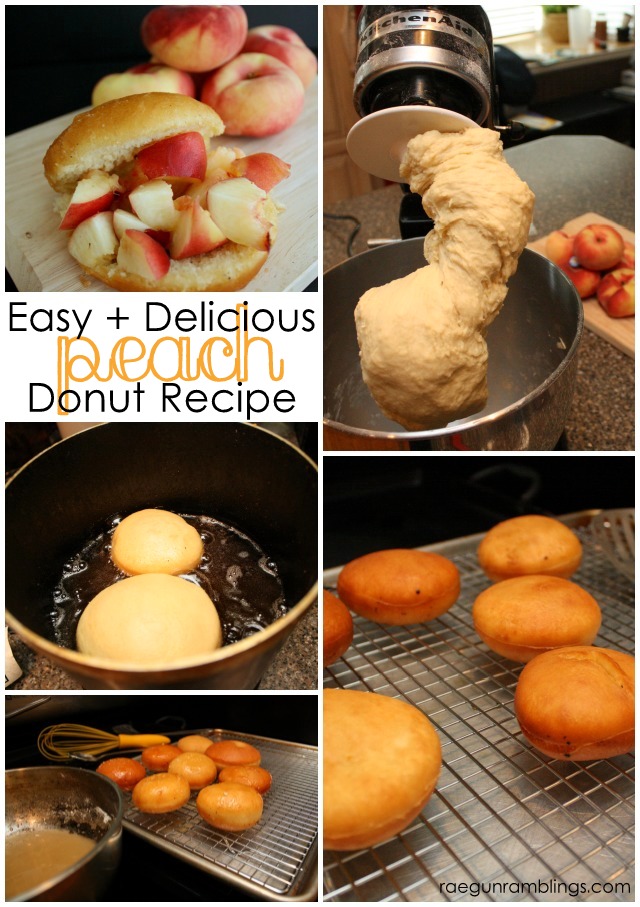 Peach Donut Recipe
Donut Dough Recipe
2 1/4 tsp yeast (or 1 packet)
2 TBS warm water
3/4 C lukewarm rice milk
1/4 C sugar
1/2 tsp salt
1 egg
3 tsp shortening
2 1/2 C AP flour
Oil for frying
Proof the yeast in a large bowl by sprinkling over warm water and letting sit for 5 minutes or more.  If it's not foamy your yeast might be too old or your water might have been too hot and killed them.
Add milk, sugar, salt, egg, shortening, and 1.5 C flour. Mix on low. Slowly add in flour 1/2 a cup at a time until your dough starts to pull away from the sides of the mixing bowl. Knead for a few more minutes.
Turn dough out spray the bowl with spray oil and put the dough back in the bowl covered to rise. Set in a warm place until it doubles in size. I put it on my front porch and it took about 30 minutes in 90F weather.
Turn the dough out onto a floured surface. Roll the dough to about 1/2 inch thickness. You can use either a circle cookie cutter or glass cup.
Heat oil to 300 F and fry donuts flipping to get both sides golden. Pay attention they brown very fast!
While they are still warm glaze the donuts
Glaze Recipe
2 TBS butter
1 C powdered sugar
3/4 tsp vanilla
Melt earth balance over low heat.
Stir in powdered sugar and vanilla.
While the donuts are still warm dip in the glaze. I like to dip both sides. The donut dough is not very sweet you need the glaze to get a good flavor.
Top with sprinkles or other decorations.
Note: if you plan on glazing the peaches then you'll want to double the glaze recipe.
Once glaze is dry cut in half with a serrated knife and fill with peaches. You'll need about 6 peaches.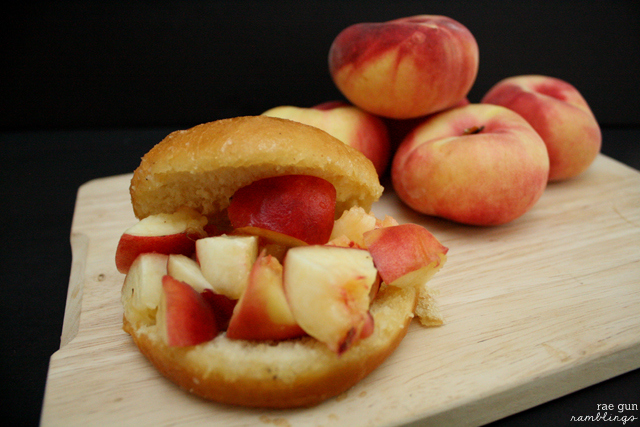 I'm excited to be sharing this recipe in part with the Foodie Extravaganza ! The Foodie Extravaganza is a monthly party hosted by bloggers who love food! Each month we incorporate one main ingredient into recipes to share with you and this month that ingredient is one of my favorite summertime treats…PEACHES!
Be sure to check out the rest of these perfect peach recipes!
Peach & Blue Cheese Prosciutto Bruschetta by Keep it Simple, Sweetie
Old-Fashioned Peach Cobbler by From Gate to Plate
Peach Mousse by Love in the Kitchen
Peach Orange Banana Smoothie by We Like to Learn as We Go
Peach Almond Cake by My Creative Days
Raspberry Peach Smoothie by Sew You Think You Can Cook
Peach Donuts by Rae Gun Ramblings
Peaches & Cream Dessert Bars by The Freshman Cook
Fresh Peach Salsa by Rhubarb and Honey
Skinny Vegan Peach Coffee Cake by Baking in Pyjamas
Like these? Be sure to stop by next month to catch the next fun ingredient! If you would like to join our group and blog along with us, come join our Facebook page Foodie Extravaganza. We would love to have you!

Let's connect! You can also find me hanging out here.