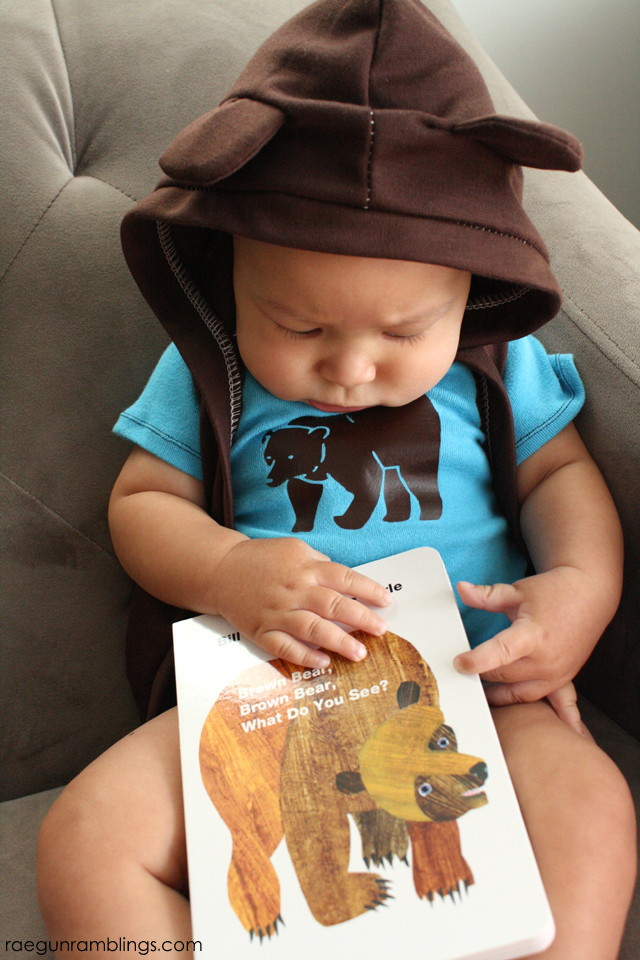 Have you heard of the Sew Many Books Series from NapTime Creations? It's all about making kid clothing inspired by our favorite kid books. When Emily asked me I hadn't started reading much to Teddy and as much as I'm a Young Adult reading fiend I am a total newbie when it comes to baby and little guy books. If you have any favorite baby books I'd love you to leave the titles in the comments! But we do have a copy of Brown Bear, Brown Bear, What Do You See? and really how could I resist making my Teddy a bear outfit?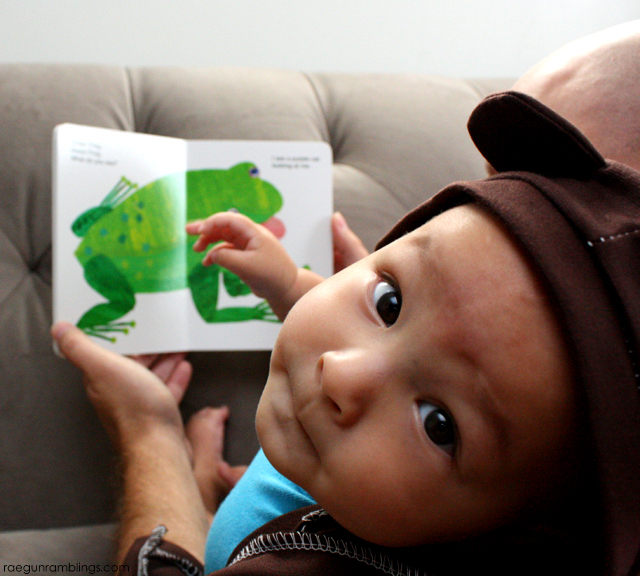 I love all of Eric Carle's books. We have a few and the art and color and lessons are top notch. If you haven't read Brown Bear it's all about animals and colors? Each page asks a different colored animal what they see so it's great for teaching about both animals and colors.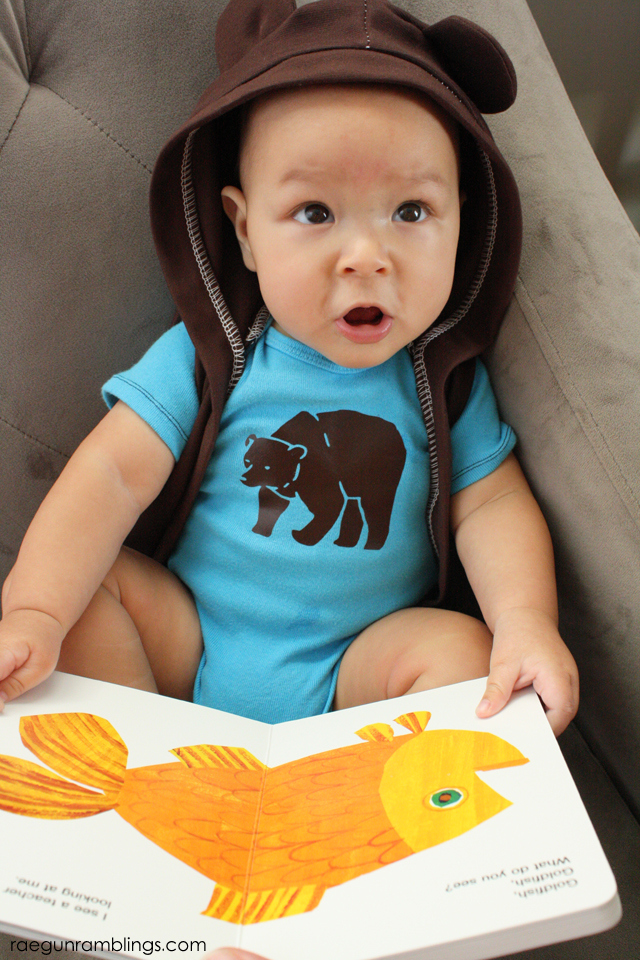 The vest was so easy I made myself a pattern by using one of Teddy's onesies as a basic block. You can do this too and that way you can make whatever size you want from baby all the way to adult. I used this same technique to make my husband's Quidditch Player Jersey last year for Halloween.
How to Make a Hooded Bear Vest Pattern

Take a shirt that fits and fold it in half. Trace the trunk portion. This will be your main pattern piece. Cut one on the fold to make your back piece.
Draw a straight line to make a V to form the front pieces. Cut out two (one left one right).
Cut out ears I just free handed it. You want 4 out of the fabric and 2 out of interfacing.
Cut 2 hood pieces. You can trace it off of an existing hood or free hand it, just hold a paper test up to the head it's supposed to cover to make sure it's big enough before cutting it out of the fabric.
Cut 2 2 inch strips the length of the fabric.
How to Add Bear Ears to Any Hood

You can put bear ears on any pre-existing hood or if you are making the hooded vest start by sewing your hood pieces right sides together.
Make the ears by putting the 2 ear pieces right sides together then 1 interfacing piece on the back.
Sew around the curve leaving the straight edge.
Trim the seam allowance down to 1/8 inch.
Turn right side out and iron.
Make a small pleat in each ear and sew across the fold.
Put your hood on your head and mark where you want the ears to go.
Make slits where the ears should go. Slide the ears in and pin.
Sew across the slit making sure to close up the hole while sewing the ears.
Trim any excess that is hanging through the inside.
How to Sew a Hooded Bear Vest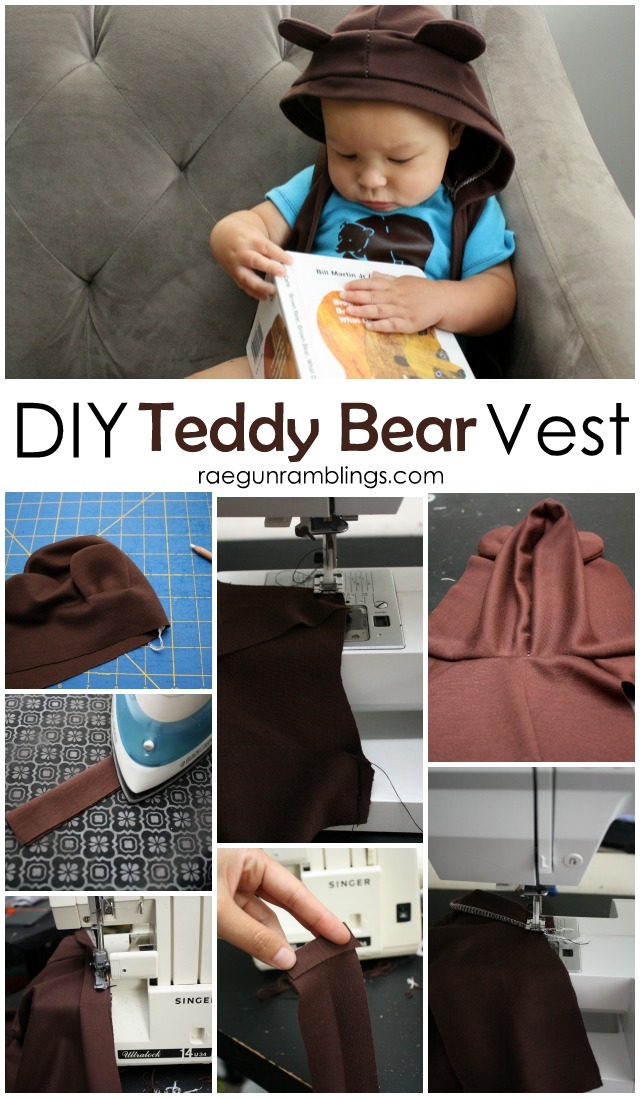 For Teddy's vest 1/2 yard of knit fabric was more than enough.
Start by making your bear ears and hood as described above and set aside.
Sew the front pieces to the back pieces at the shoulder.
Line up the center back of the hood to the center back of the bodice, pin and sew the hood to the neck line of the bodice.
Iron the long strips in half lengthwise.
Sew the raw edges of the strip along the front/hood edge.
Do the same along the armhole.
Sew down the side seams.
Fold the edge in of the remaining long strip and sew along the bottom edge of the vest to finish.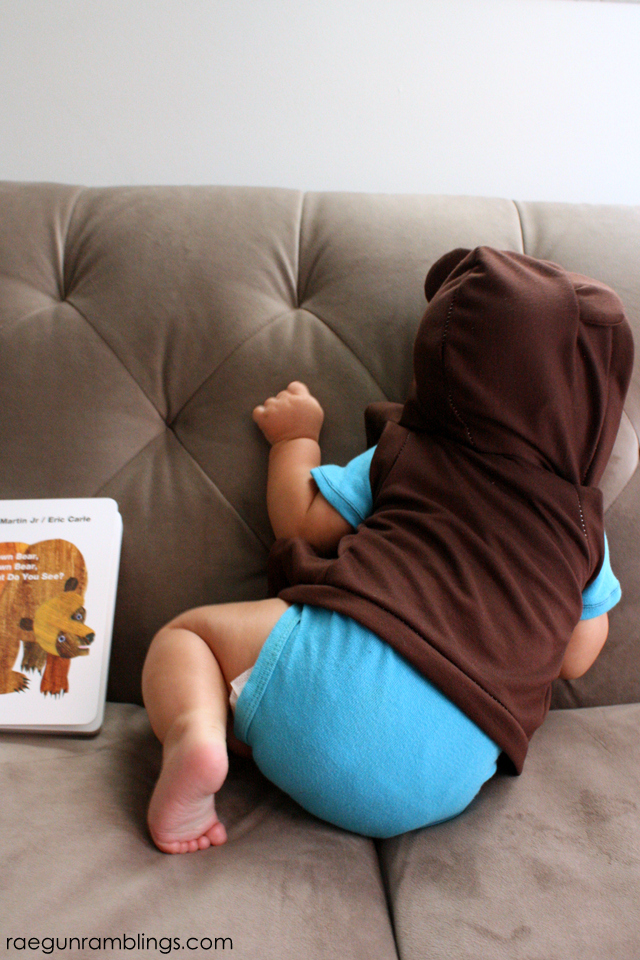 Put on the cutest baby you can find named Teddy, or whoever you think would be adorable in a Bear Hooded Vest! Easy right!?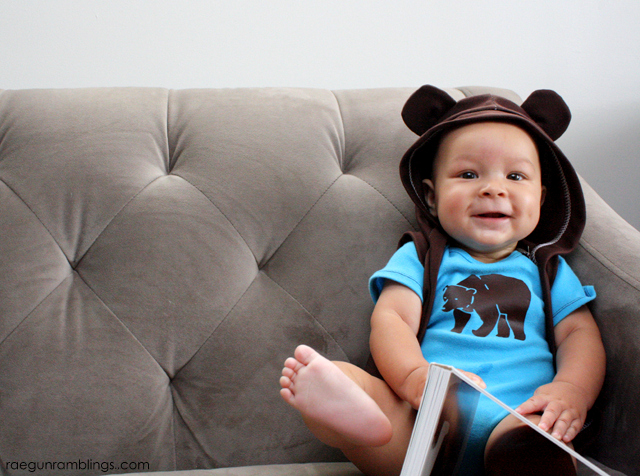 And for the onesie I just did a simple vinyl iron-on (yeah yeah you guys know I"m obsessed!). If you've never used iron-on vinyl check out this tutorial for how to use heat transfer vinyl.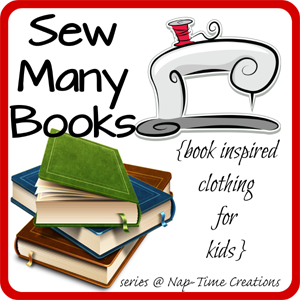 Make sure to check out all the other fun projects in the Sew Many Books series as well as the cool giveaway and sew a long. I had so much fun sewing this book inspired outfit, if you want to do your own make sure you link it up over at Nap Time Creations.

 Let's connect! You can also find me hanging out here.