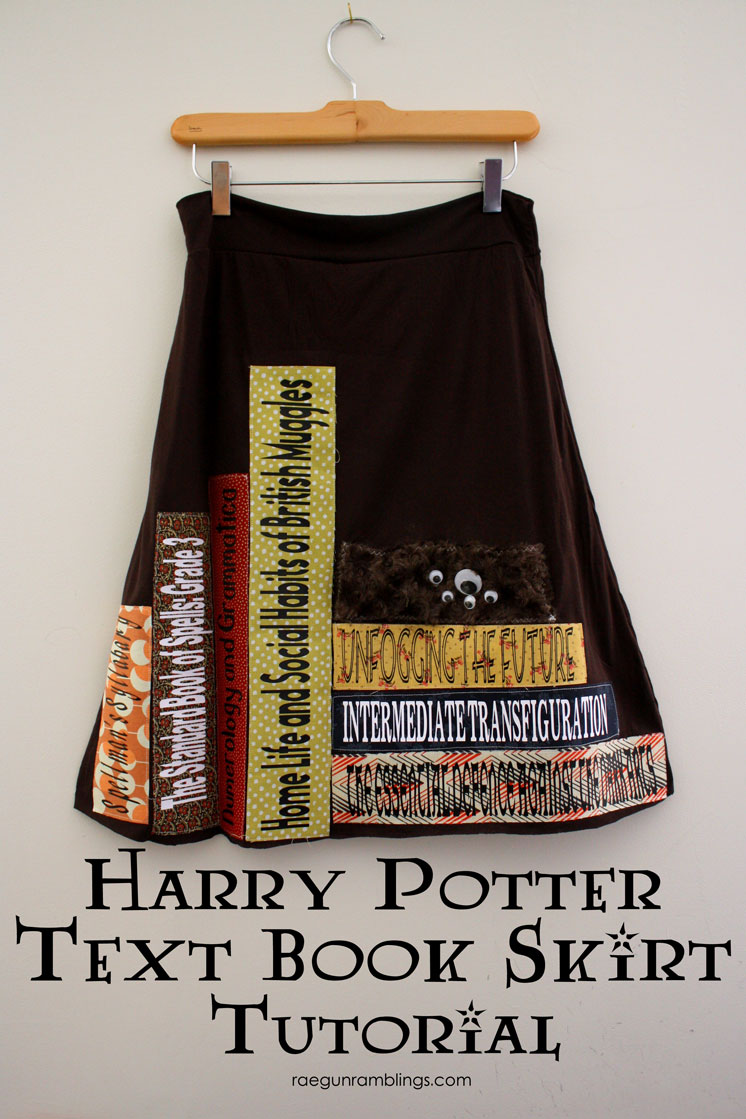 Can you believe it's almost time to polish off our trunks and send the little ones back to Hogwarts? Well it is. Back to school time is right around the corner but for many girls in foster care clothing can be a huge source of stress. My friends over at Simple Simon and Co do an awesome series every July called Skirting the Issue where bloggers share tons of skirt tutorials and encourage people to sew up skirts and donate them to girls in foster care. It's pretty awesome considering skirts are one of the EASIEST thing to make.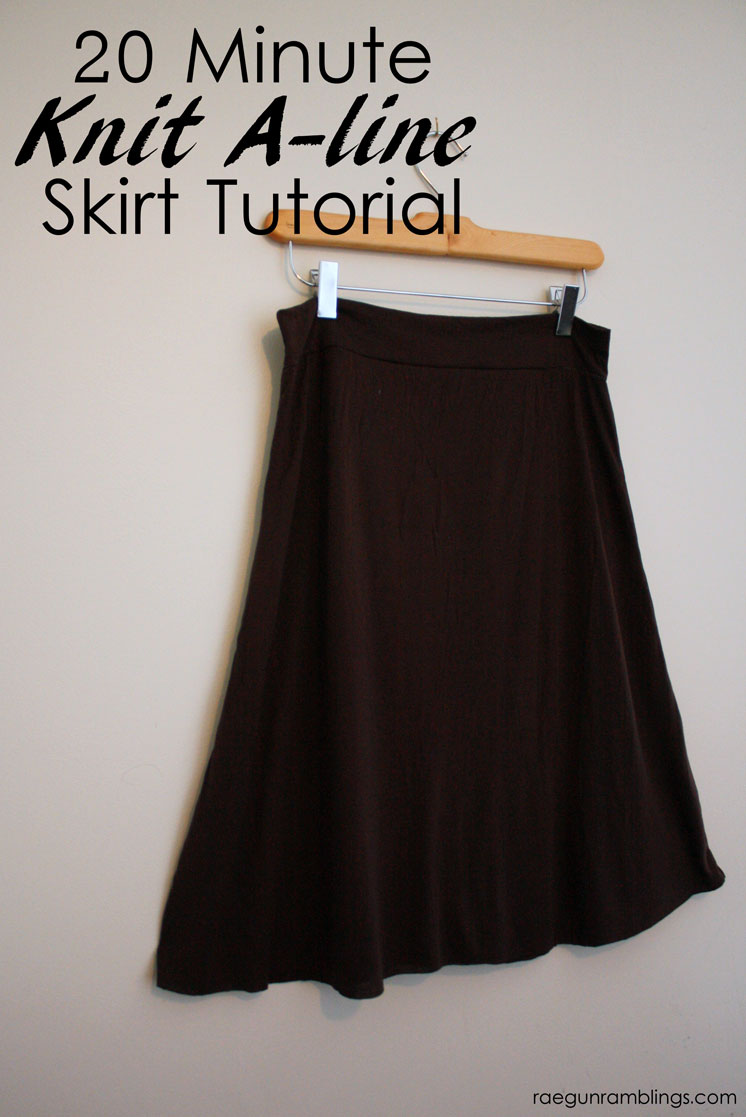 Since it always corresponds with my Happy Harry Potter series I tend to make Potter related skirts. Last year I shared a super easy Striped House Pride Skirt Tutorial and this year I'm crazy excited to share my Hogwarts Textbook Skirt and 20 minute knit skirt tutorial.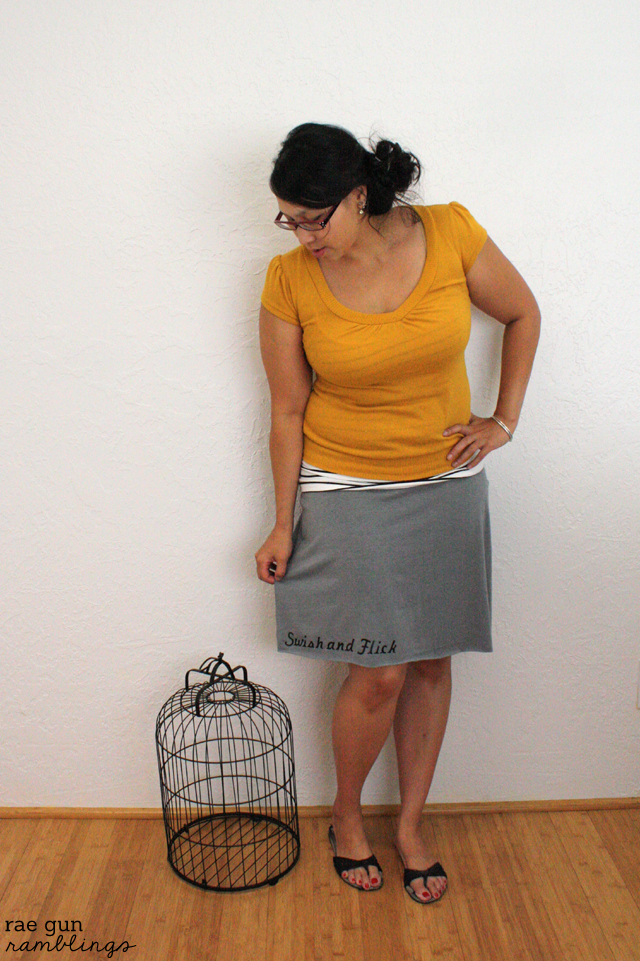 I have made myself a few of these knit skirts including this Swish and Flick skirt (goodness I really do have a lot of Potter wearables). It's so comfy, comes together super fast and can be worn to all more casual or dressed up. Let's start with the basic skirt and then I'll show you how to make put all the text books on it if that's your thing :)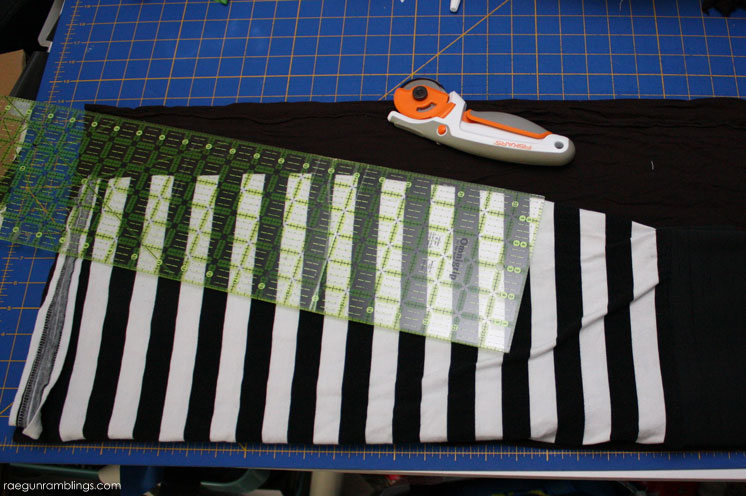 Start by Making Yourself a Pattern
Make sure you have a relatively stretchy fabric.
Start by folding your fabric in half then in half again making sure the stretch goes across the width of the fabric.
Take a skirt you like the way it fits (can be stretchy or not, pencil skirt or a-line) flatten it out and then fold it in half. Lay it on top of your fabric folded edge to folded edges of the fabric. If it is a pencil skirt I take my ruler and angle out from about where the widest part of my hip its all the way down to the edge of the fabric. Trace (or cut if your brave) around about 1/2 inch from the edge of your garment. Leave extra space at the bottom if you plan on hemming your skirt (sometimes I leave the edges raw).
Next measure across the top part of the skirt when it's flat (so from one side to the other). And make yourself a band. You want the band to be 5 inches wide by whatever the measurement across the top of the skirt is minus 4 inches. You need two of these pieces.
Measure from the top of your skirt to the bottom edge and make sure that distance is the same all around. You'll probaby have to trim a tiny bit off of that outer corner.
If you don't have a skirt you love I recommend that you check out liZ's super easy tutorial on how to make your own knit pencil skirt pattern off of your own body (it only takes 20 minutes to do that AND make a skirt). I used my skirt I made from their pattern as my base and to make it an A-line I just angled it out and trimmed the bottom corners up.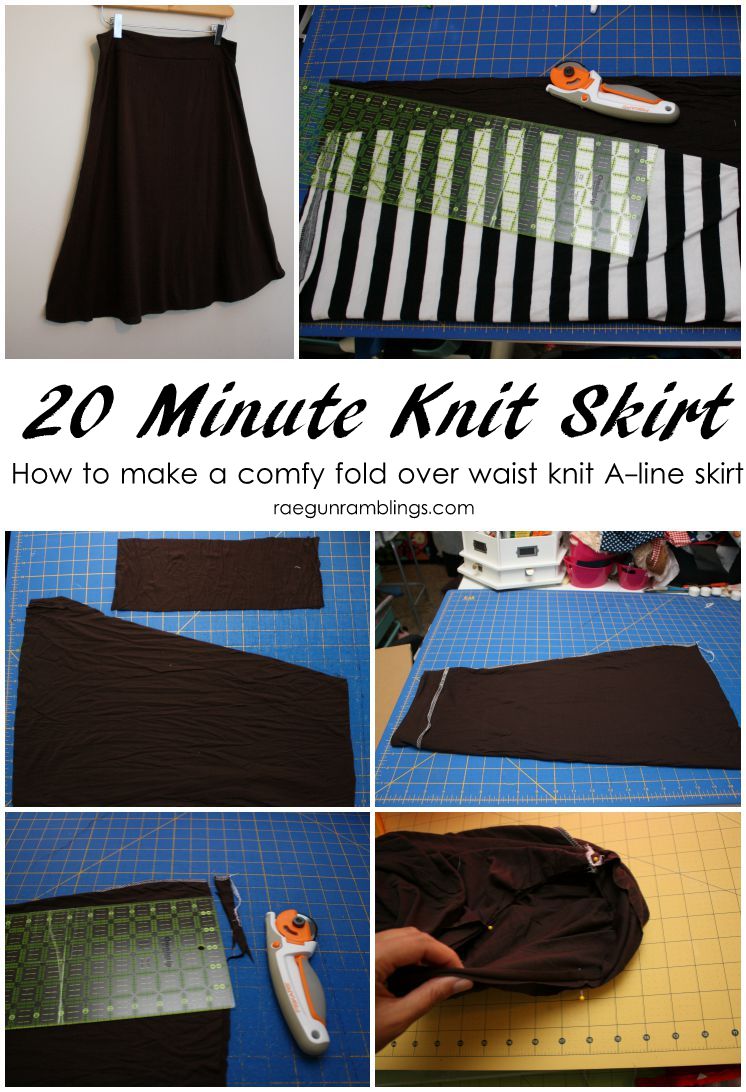 Sew the Skirt Together
With right sides together sew the short ends of the band pieces together. You should now have a tube.
Then fold it in half wrong sides together.
Take your two skirt pieces and with right sides together sew each side seam.
Pin your band matching the side seams to the right side of the skirt matching the raw edges of the band to the raw top edge of the skirt.
Sew around. Fold the band up and you have a skirt.
From here you can hem the skirt using my super easy hemming knits trick, finish it with a rolled edge, or just leave it raw (since it's a knit it won't unravel).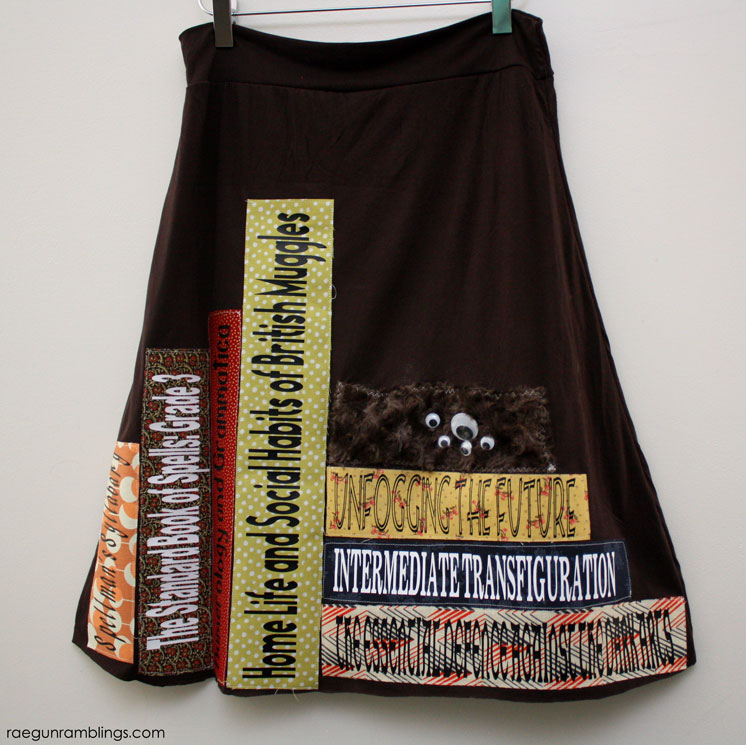 That's all there is to making a simple A-line knit skirt. Now if you want to add text books to your skirt what you need to do is get a bunch of scraps of fabric and cut them into strips.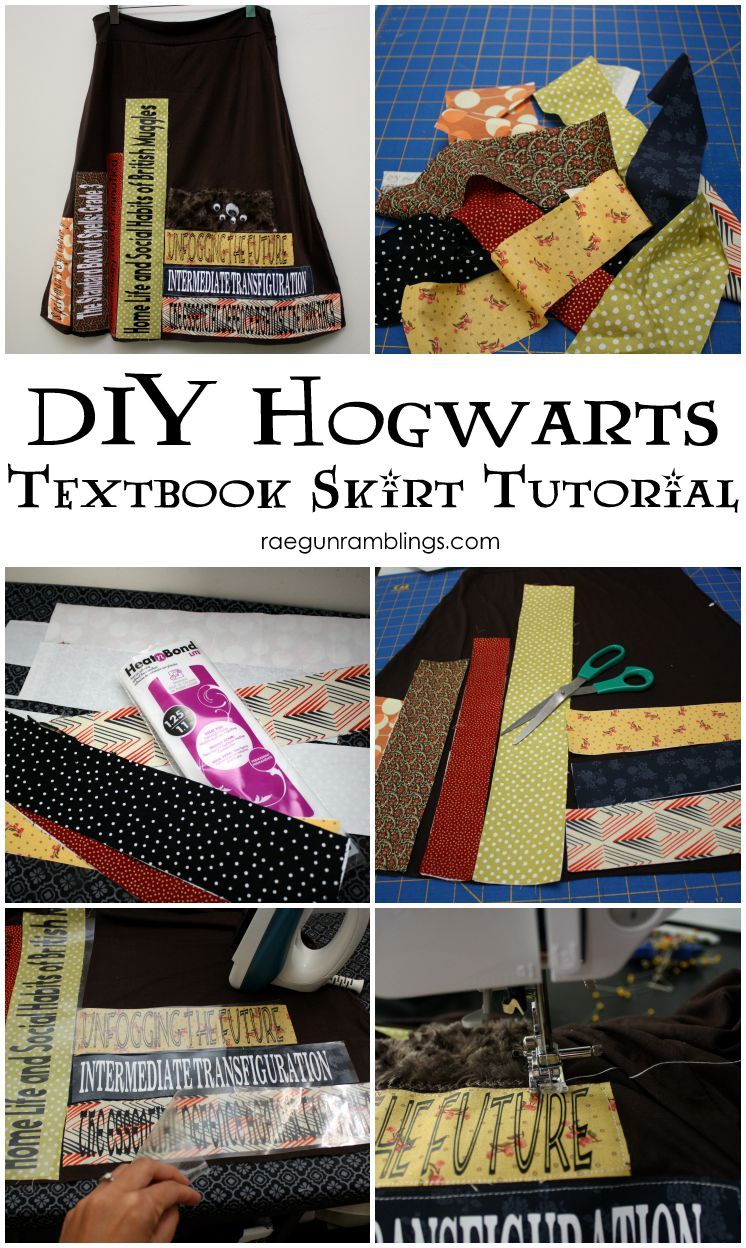 How a to Make Hogwarts Text Book Skirt
Once you have your skirt made (or you can start with a ready to wear skirt) position your fabric strips on your skirt to know how wide and long you want them. Write down how much space you have on each piece for lettering this will help you get your text ready.
Next back each fabric strip with light Heat n Bond. You do this by ironing the WRONG side of the fabric to the heat n bond paper. Once it cools you pull the paper backing off and you'll be able to iron it right onto your skirt.
Position all your fabric "books" onto your skirt and iron.
Next add your text. I cut the text out of Iron On Vinyl. If you have never used heat transfer vinyl before its one of my all time favorite craft supplies. Here is a whole post about how to use heat transfer vinyl complete with LOTS of pictures. If you have an Cricut Explore you can use my file (for personal use only although it might ask you to pay for the fonts BUT you can always just edit it to fonts that are free for you). What you will do now is in Cricut Design Space edit the text to make sure that the text sizes match up to your fabric strip sizes. If you have some other cutting machine you can easily just make the text by typing it out yourself. Iron the letters onto your "books" If you don't have a cutting machine you can add your letters by embroidering or even with fabric markers or paint!
Add the best book The Monster Book of Monsters by using a scrap of fur fabric and sew on eyes. I just used  a three step zig zag to put that piece on (skipped the heat n bond) and sew on eye buttons.
Finally top stitch around each of the other fabric strips.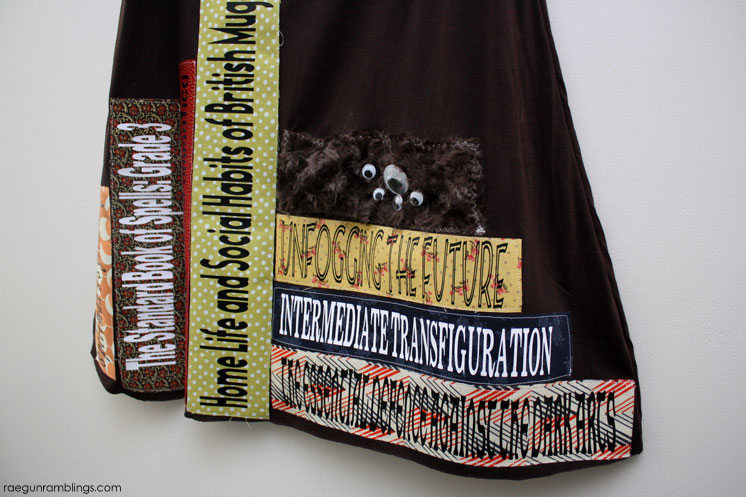 Super cute right? While the actual skirt making is fast the cutting and weeding and placing of the letters do take time but I absolutely love my skirt and am so excited for how it turned out.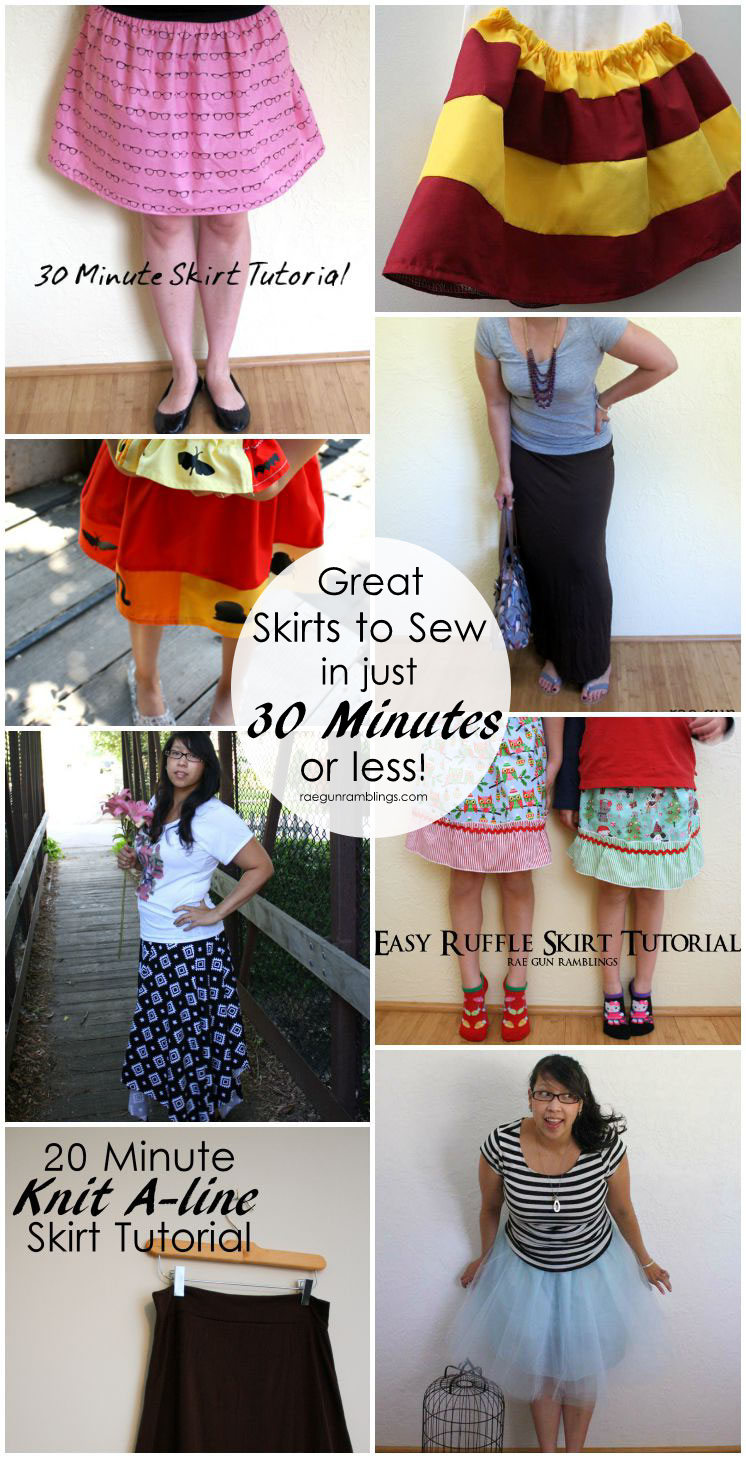 30 Minute 1 yard Fabric Skirt | House Pride Skirt | Easy Panel Bug Skirt (for kid and creature) | Fast Maxi Skirt | 15 Minute Square Maxi Skirt | Easy Ruffle Skirt | Fold Over Waist Knit Aline Skirt | Quick Tulle Skirt
And don't forget while you're making yourself skirts this July think about make a few extras for girls in foster care. To help get you motivated here are some more very easy and very fast skirt sewing tutorials! For more details about how to get involved and donate skirts see here.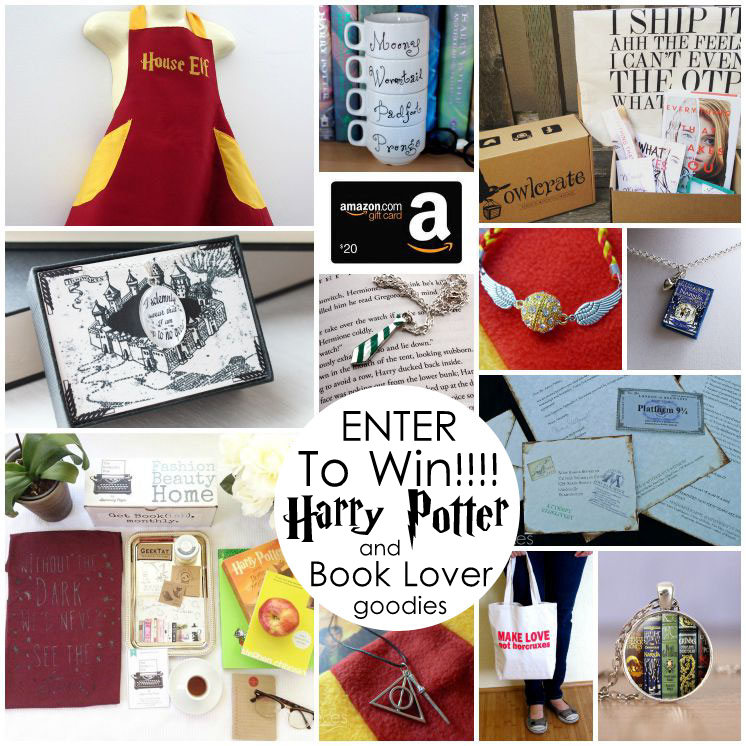 Make sure to check back in later today when I round up what everyone else has shared for Day 6 of this year's Happy Harry Potter series. And be sure to enter the giveaway!
The winner will receive the following awesome Harry Potter and bookish prizes!
Enter the giveaway with the rafflecopter widget below. Just reload if you don't see it or click here.
a Rafflecopter giveaway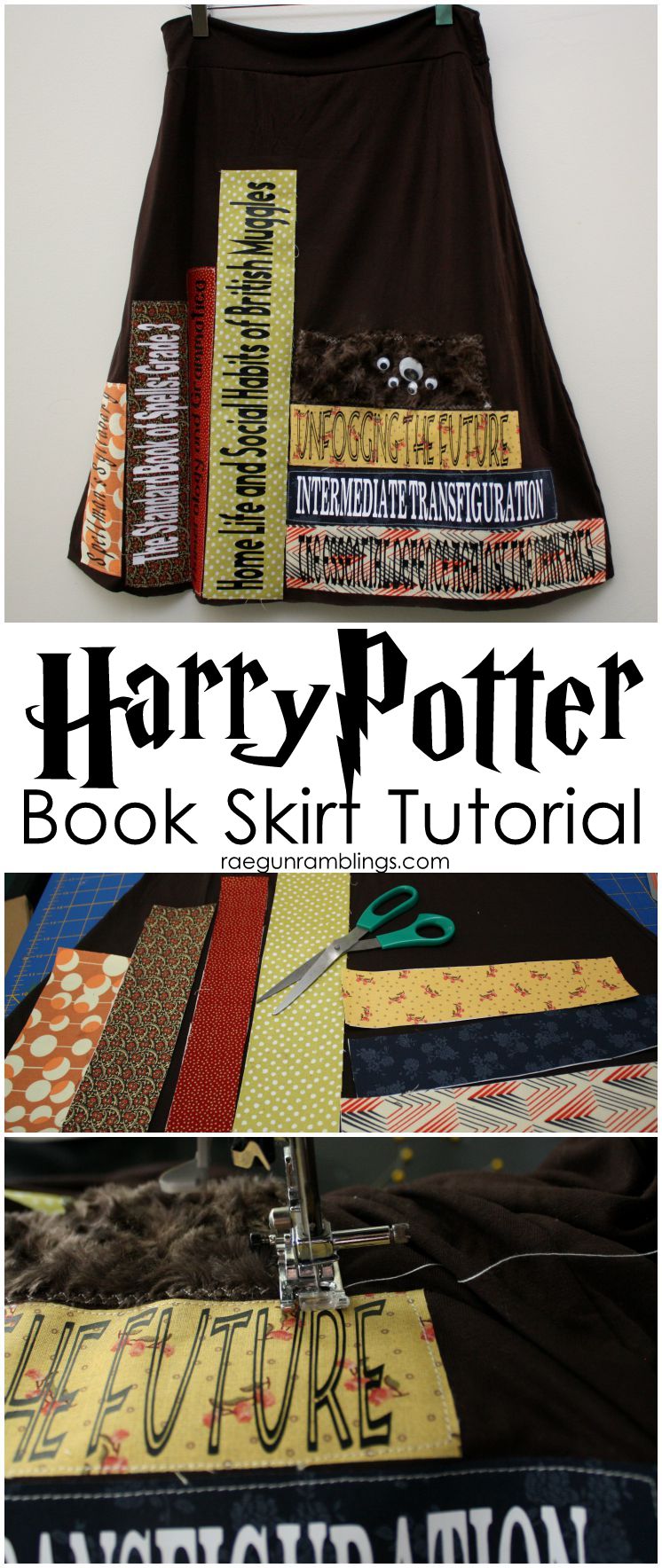 Let's connect! You can also find me hanging out here.