There's just something awesome about a foil dinner whether it's out camping, cooked on the grill, or prepared in the oven.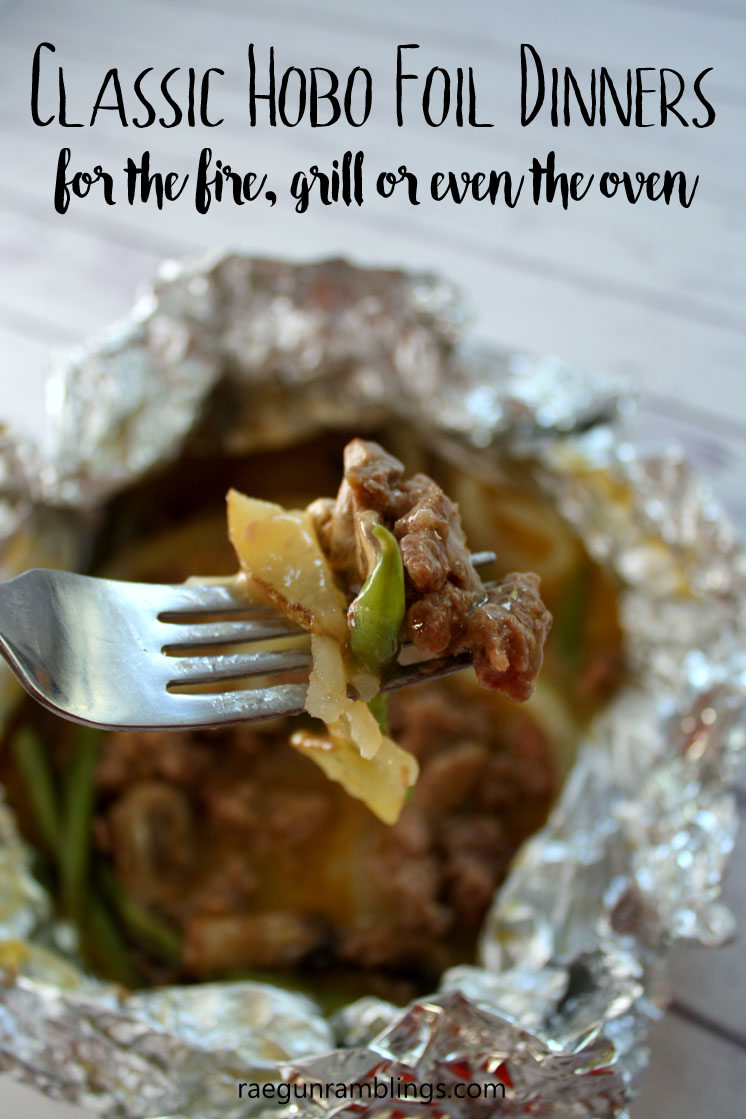 I'm so excited to be sharing a recipe for a Classic Hobo Foil Dinner from my friend's awesome new book Foiled! It's full of meals and treats that are cooked in foil. Dinners, breakfasts and even desserts.
It was so hard for me to decide which one to share but I thought I'd go with the classic.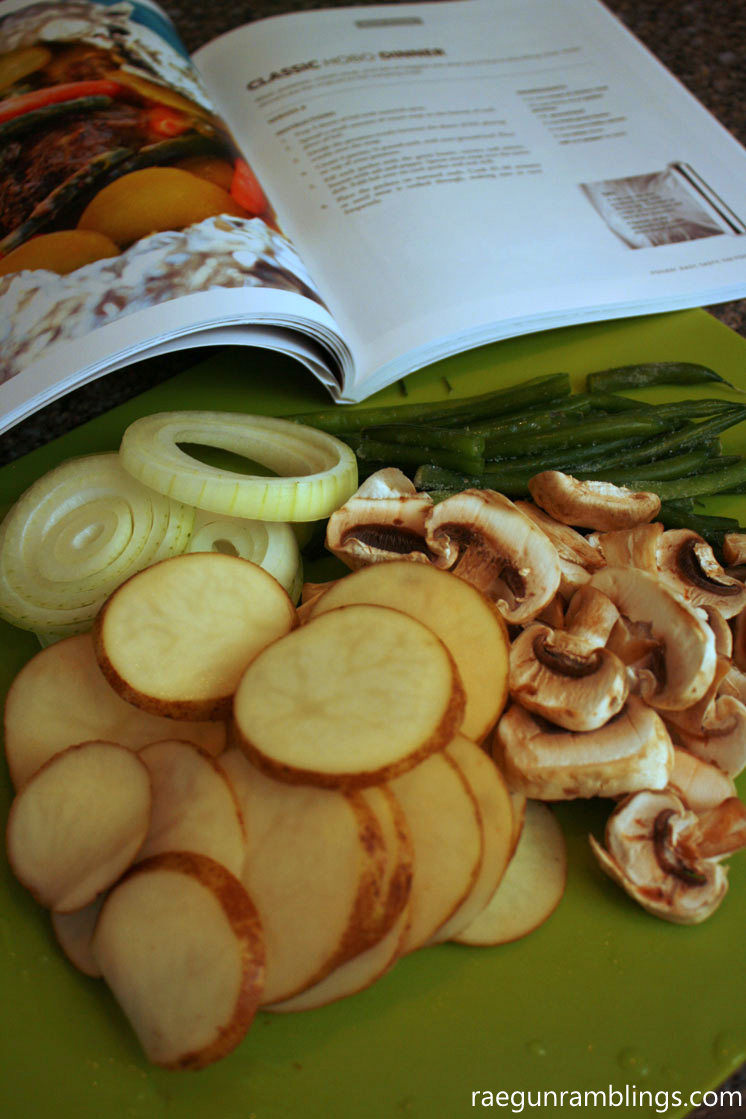 Ingredients
Foil Paper
Spray Oil
1 lbs. Ground Beef
Onion, sliced
1/2 lbs. Mushrooms, quarted (the original recipe calls for carrots but I had mushrooms on hand)
1/2 C Green Beens
1 C Potato (about 1 medium potato), sliced
1 can Cream of Chicken Soup

Directions
Preheat oven to 350 F or heat up stove or campfire.
Prepare 4 pieces of foil about 18 inches long and spray with oil.
Place a spoonful of soup onto the center of each piece of foil.
Layer 1/8 of the potatoes on each piece of foil.
Divide the beef between each packet.
Top with mushrooms, green beans and remaining potatoes.
Sprinkle with salt and pepper to taste.
Top with the remaining soup.
Bring the long edges of foil together and fold down twice to seal.
Then fold over the short ends twice on each side.
Cook 30-60 minutes check at the 30 minute point. For me using the oven this was the perfect amount of time.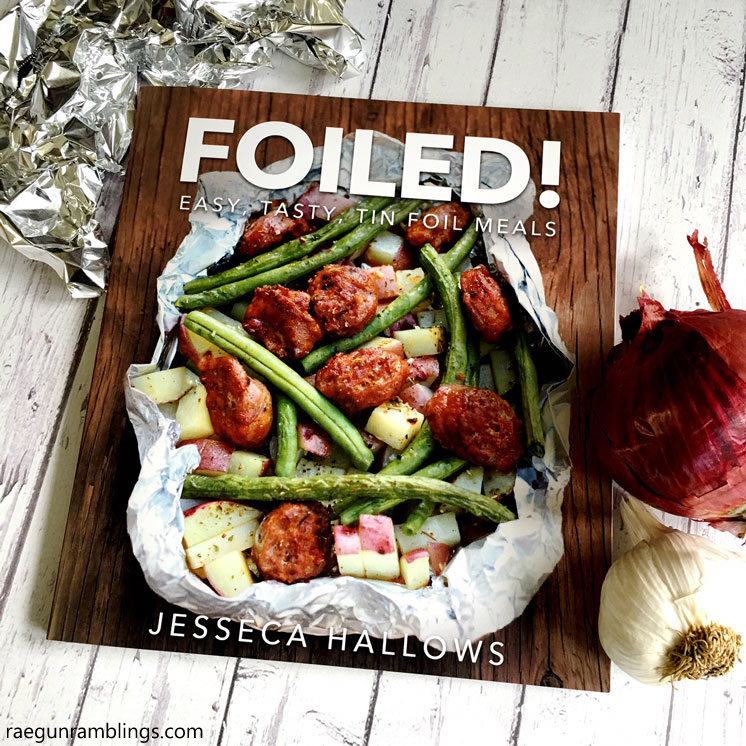 This is such a fun meal to do at home or out camping. It would be great for entertaining and just let guest make their own packets up. The kids will have a blast eating out of the foil and save yourself extra clean up. And really you need to check out Foiled! it's such a great book full of all kinds of creative foods like Coconut Lime Halibut, S'mores Quesadillas and more.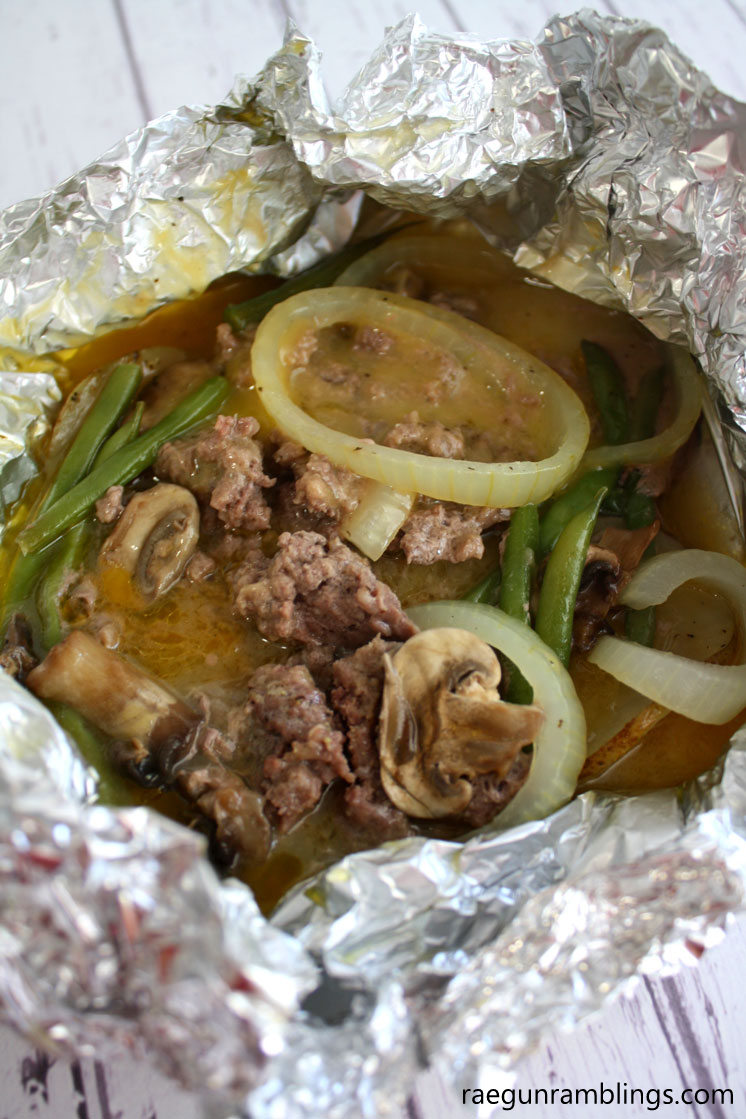 Check out the other bloggers on the book tour! One Sweet Appetite // Housewife Eclectic // The Baking Fairy // Like Mother Like Daughter // Life's Ambrosia // Color Me Meg // Cupcake Diaries // Dessert Now Dinner Later // Among The Young // The Adventure Bite // Just Between Friends // My Fabuless Life // Rae Gun Ramblings // Tried and Tasty // Bombshell Bling // Creations by Kara // Clark's Condensed // Our Thrifty Ideas // Cooking With Ruthie // The Creative Mom // A Bountiful Kitchen // A Dash Of Sanity // The Happy Scraps
You also might like: