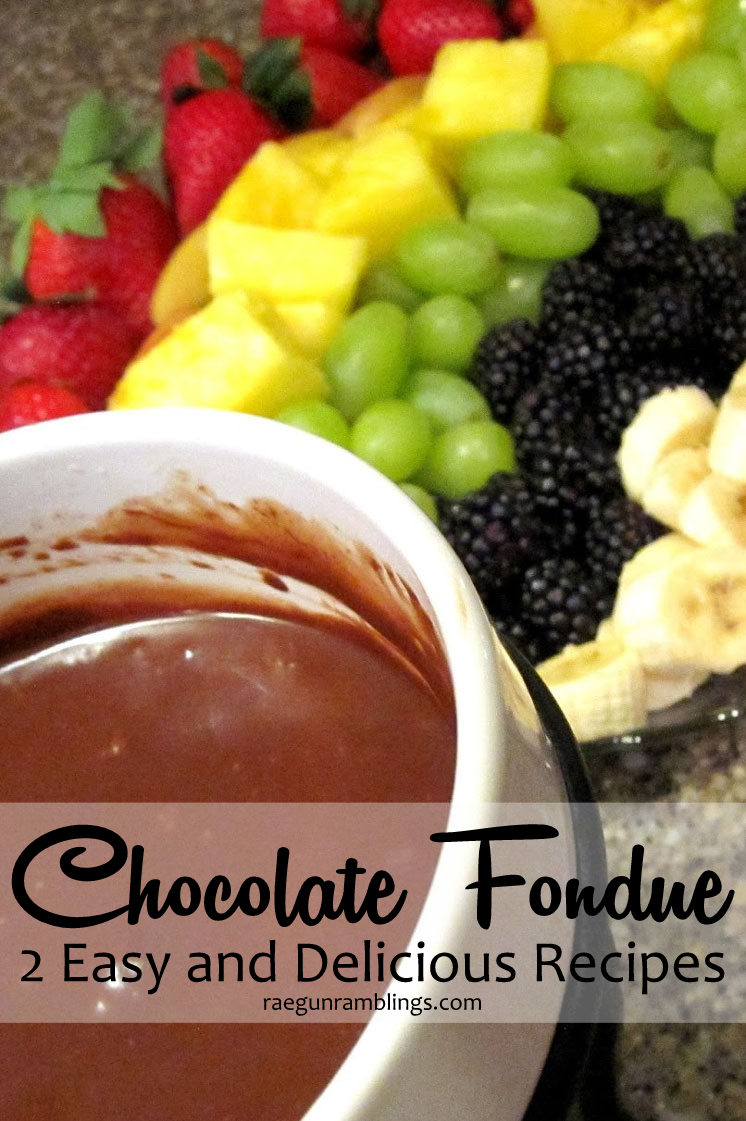 I cannot believe it's already March! I feel like February just flew by. I finally traded out my weird combination of Chinese New Year and Valentine's Day decorations for a bunch of green shamrocks.
I LOVE St. Patrick's Day. Like really love it. I grew up fully believing that I was "A Wee Bit Irish" and I'm not going to pretend, I still believe it. We have a delicious feast of corned beef and green lemonade ever year since I could remember. Last year for dessert we had this fun Rainbow Chocolate Fondue. It was the perfect end to our St. Patti's Day celebration.
Because I'm the most indecisive person you'll run into I'm sharing two of my favorite chocolate fondue recipes. I've tried both and they are each really tasty in their own ways. Enjoy!
My Favorite Chocolate Fondue
32 ounces milk chocolate, grated
1 1/4 cups heavy cream 
1 tablespoon instant coffee powder 
1 teaspoon vanilla extract 
1 teaspoon white sugar 
1/3 cup hot water 
Melt the chocolate with the heavy cream in a sauce pan over medium heat. Mix in the instant coffee, vanilla extract, sugar, and hot water. Continue to heat, stirring frequently, until the mixture is smooth. Serve (makes 6 cups)
Super Creamy Chocolate Fondue
1 cup semi-sweet chocolate chips 
2 tablespoons butter or margarine 
1 (14 ounce) can Sweetened Condensed Milk
2 tablespoons water 
1 teaspoon vanilla extract 
Melt chocolate chips and butter with sweetened condensed milk and water. Cook and stir constantly until thickened, about 5 minutes. Remove from heat. Add vanilla. Serve (makes 3 cups)
And if you need some ideas of what to dip in your fondue (you know besides every single edible thing in your cupboards) here are some of my favorites. I'd love you to share your own too! Fruit -berries, apples, bananas, pineapple, grapes, etc. , marshmallows, oreos, nutter butters, shortbread cookies, homemade cookies, pound cake, cookies straws.
Oh and if you don't have a fondue set this is the dessert fondue set that I have :) I really like it