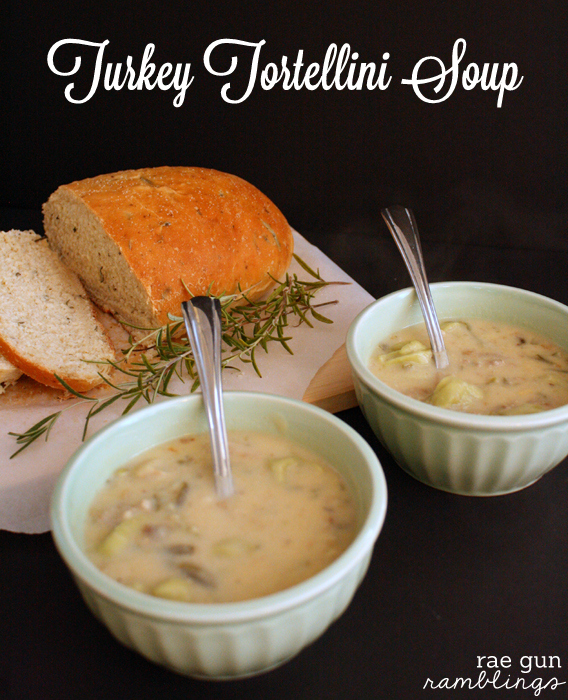 I may have made the yummiest soup ever this week and it was day 4 of eating Thanksgiving leftovers. If you don't already know, we don't eat leftovers. Like really, I cook two servings and if there are any leftovers they die a slow solitary death in my fridge, except for Thanksgiving and St. Patrick's Day leftovers. Even still we were burn on open face sandwiches after the first round so when the last of the precious meal was still left to be consumed I made it into a yummy Turkey Tortellini Soup and served it with my knock-off Macaroni Grill Rosemary Bread. And frankly I like it enough that I may make up all the ingredients just to make this soup in the future!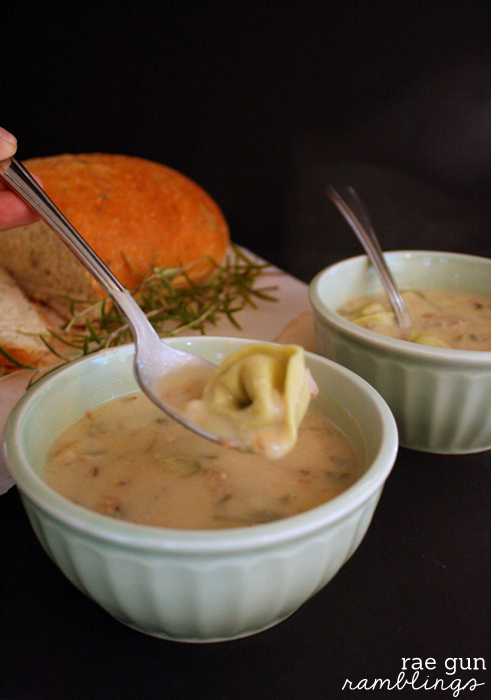 Ingredients
2 TBS butter
2TBS flour
1 C milk
3-4 C Chicken (or turkey) broth (I just used bouillon and water)
1 C leftover green bean casserole (cut into small pieces, I use kitchen shears)
1/2-1 C leftover mashed potaoes
1/2 to 1 C turkey coarsely chopped
9 oz refrigerated tortellini (I used Buitoni's Three Cheese Tortellini)
salt and pepper to taste
Make a roux from by melting the butter and then cooking the flour. Gradually add milk to make a cream sauce. Add in 3 cups of chicken broth, green beans, mashed potatoes, and turkey. Boil water in a separate pan and cook tortellini al dente. Once everything in the soup mixture is warm and well incorporated season to taste. Add in tortellini. If you want it thinner add some more broth. It's so so yummy! I wish I had done it sooner so we had more.
As far as food goes this week, my mom randomly called an announced that it was cheese fondue weather. And really who am I to complain. So I'm off to go have a mini Swiss feast. I've been doing "cooking class" with the nieces and this week I taught them how to turn on the burner on the stove. T was so stressed that she shed a few tears but she made me and herself a tasty quesadilla on the stove. L turned it on just for practice and then claimed she didn't like crispy quesadillas so went bake to the microwave, peasant. Tomorrow we're gonna make some Cranberry Double Chocolate Cookies because I've been craving them like a beast but kept forgetting I was out of eggs. But this will be fixed!
What's for dinner this week…
Day
Main Meal
Goals (Veggies and Fish)
Saturday
Cheese Fondue
Veggies: Peas
Fish: Tilapia
Sunday
Shepard's Pie
Monday
Potato Sausage Soup
Tuesday
Roasted Chicken and Mushroom Risotto
Wednesday
Creamy Chicken Enchiladas
Thursday
Eat Out
Friday
Lemon Fish and Fettuccine Alfredo
Let's connect! You can also find me hanging out here.