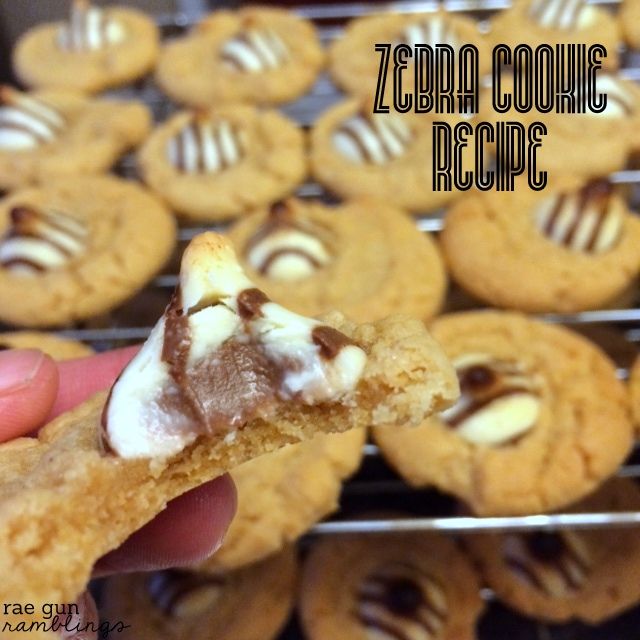 Umm so Christmas is almost here. How on earth did that happen? I mean seriously. No really, wasn't it just Halloween? Ahhh. Thankfully we've been on a marathon of Christmas shopping the last couple days have checked off almost everyone. I have a few things to make still but I think we're mostly good to go. Now to wrap. The one think I'm nervous about though is I still need to go to the grocery story. I'm thinking tomorrow late at night.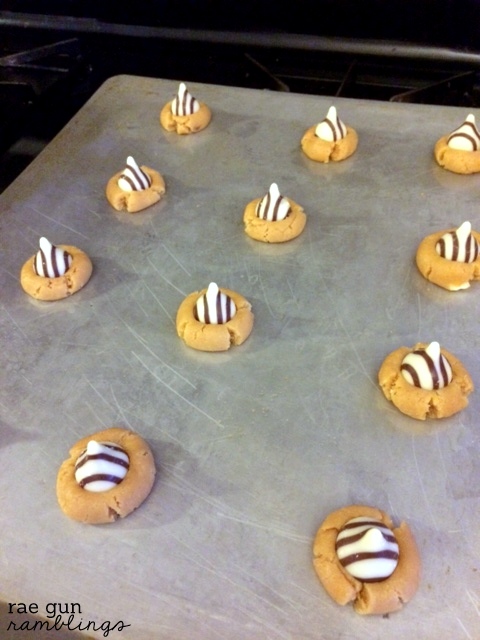 I finally got around to making my favorite Christmas cookies, these Zebra Cookies. I always loved Peanut butter blossoms growing up but when I went off to college and first put hugs instead of regular old kisses I was sold. So here's my easy Zebra Cookies Recipe perfect for making with the little ones. They love unwrapping the foil rolling the balls and smushing the candy in.
Zebra Cookies Recipe
1 3/4 C All Purpose Flour
1/2 C Sugar
1/2 C Brown Sugar
1 tsp baking soda
1/2 C Shortening
1/2 C Peanut butter
2 TBS Milk
2 tsp Vanilla
1 Egg
1 Bag Hugs
Preheat oven to 375 F. Combine all ingredients except for hugs in mixer until dough is well incorporated and balls up. Shape into small balls and press candy into the center of each ball. Bake at 375 F for 10 to 12 minutes.
I like to make my balls relatively small so there is a high proportion of candy to cookie.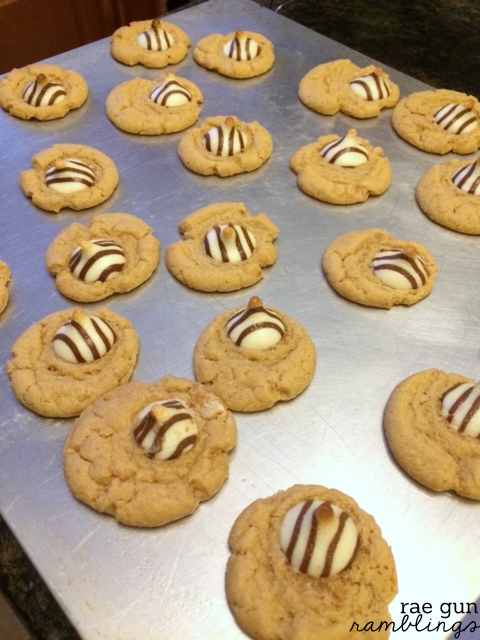 What's for dinner this week…
Day
Main Meal
Goals (Veggies and Fish)
Saturday
Grilled Bacon, Cheese and Apples and White Chili
Veggies: Carrots, Spinach
Fish: Shrimp
Sunday
Some Kind of Quiche
Monday
Sausage Hash with Poached Eggs
Tuesday
Italian Feast
Wednesday
Prime Rib Yumminess
Thursday
Teriyaki Meatballs and Mac and Cheese
Friday
 Eat Out

You also might like:
Let's connect! You can also find me hanging out here.