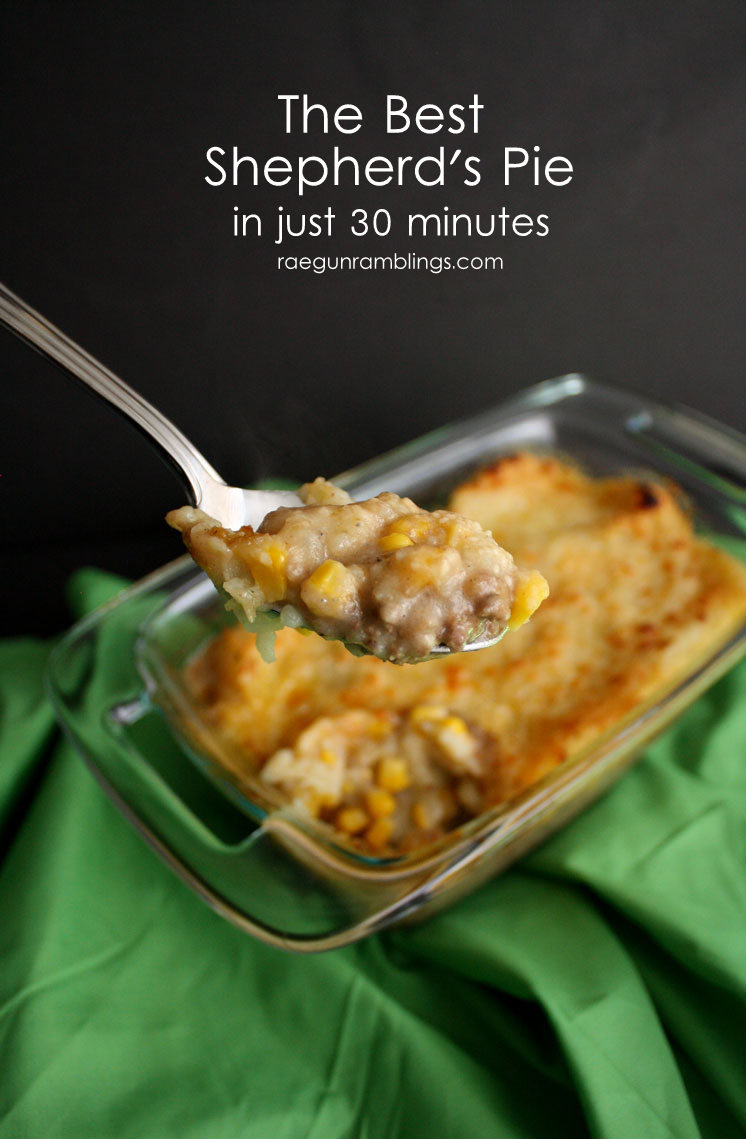 Shepherd's Pie has always been one of my favorite meals. It's one of those dishes that everyone in the family loves. In fact today when the nieces came over (after they had already eaten their own dinner) they begged for some of my Shepherd's Pie claiming it was their favorite. I'm happy to report that Teddy and the hubby also gobbled down their servings. The recipe I've got for you today is even better than the standard recipes though since it uses a few shortcuts making this a great weeknight meal.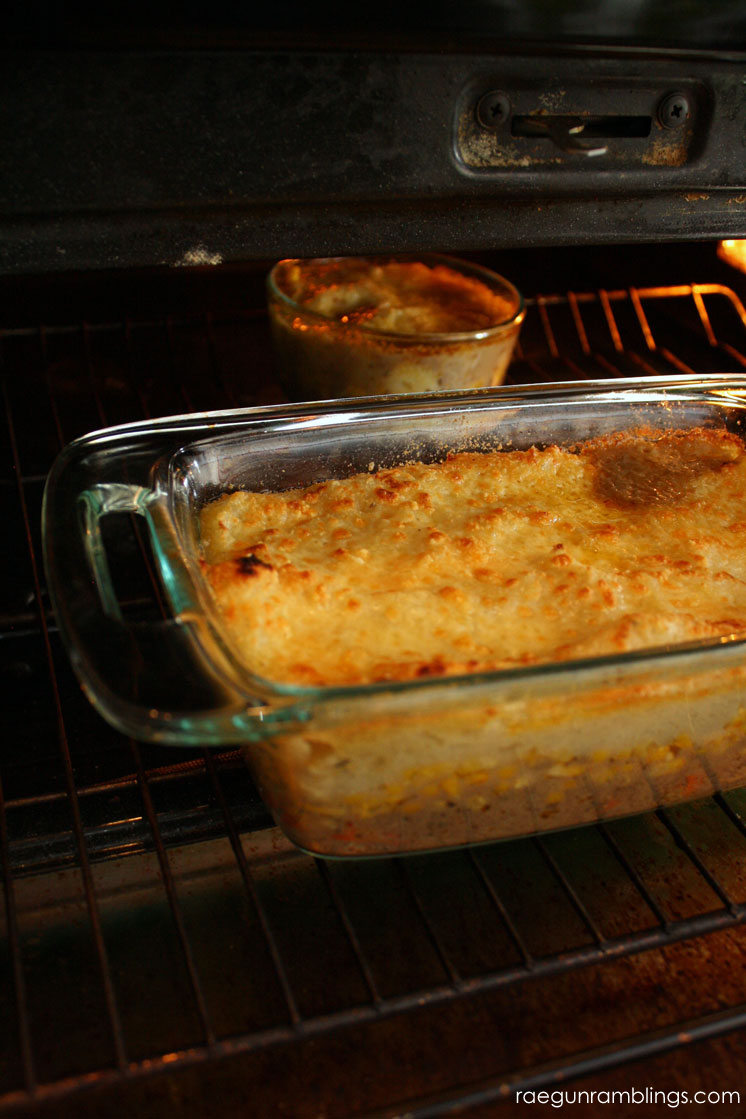 And as a bonus with tomorrow being Pi Day and St. Patrick's Day just next week this easy 30 minute Shepherd's Pie recipe will help you be totally festive without any of the stress of some of those more involved recipes.
30 Minute Shepherd's Pie Recipe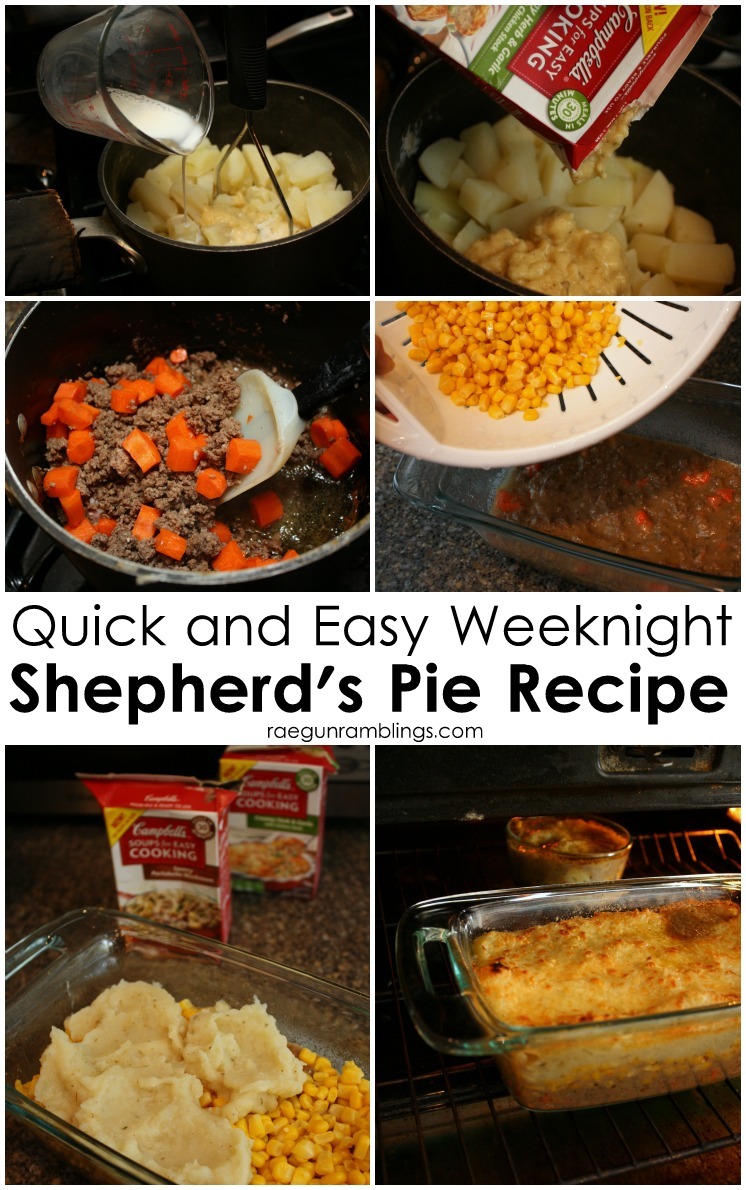 1 lbs. ground beef
Campbell's Soups for Easy Cooking Savory Portobello Mushroom
2-3 medium carrots
4 medium potatoes
Campbell's Soups for Easy Cooking Creamy Herb & Garlic with Chicken Stock
1 can corn, drained
1/2 C milk, warmed
1/4 C grated Parmesan cheese
Salt and pepper to taste
Cut the potatoes into cubes and boil until tender to a fork.
In a separate skillet while the potatoes are cooking chop the carrots into bite sized pieces and cook with the ground beef until beef is browned.
Add in Savory Portobello Mushroom soup and simmer until carrots are tender to a fork. Taste and add any salt and pepper if you want. Set aside.
Once the potatoes are cooked drain the water and then add the potatoes back to the pot. Add 1/2 a carton of Creamy Herb and Garlic with Chicken Stock to your potatoes as well as the milk. Mash together. Taste and add in more milk, soup, or salt and pepper to your desired texture and flavor.
Pour your beef mixture into an oven proof dish (I like to use a 8×8 glass casserole dish or a bread pan).
Next pour your corn on top of the beef layer.
Spoon your potatoes on top of the corn.
Finally sprinkle generously with Parmesan cheese.
Broil until the cheese layer is golden brown. Serve with pride.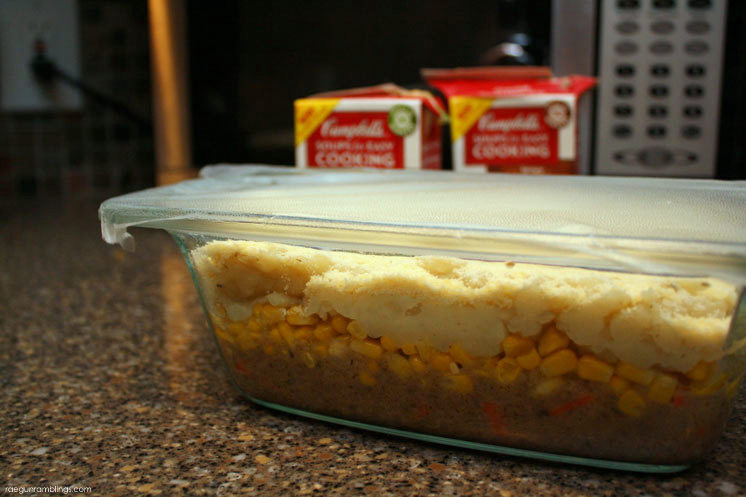 Alternatively you can cover the Shepherd's Pie with plastic wrap and keep in the refrigerator until you're ready to eat it. I made mine last night and then today baked it at 400F for about 20 minutes just until everything was hot inside and then I broiled it to get the cheese delicious and browned. You don't need to preheat the over just stick it in there.
You can also freeze this before cooking. It's a perfect dish to keep in the freezer for those nights you just don't feel like doing anything or the next time a friend is sick or has a new baby in the house.