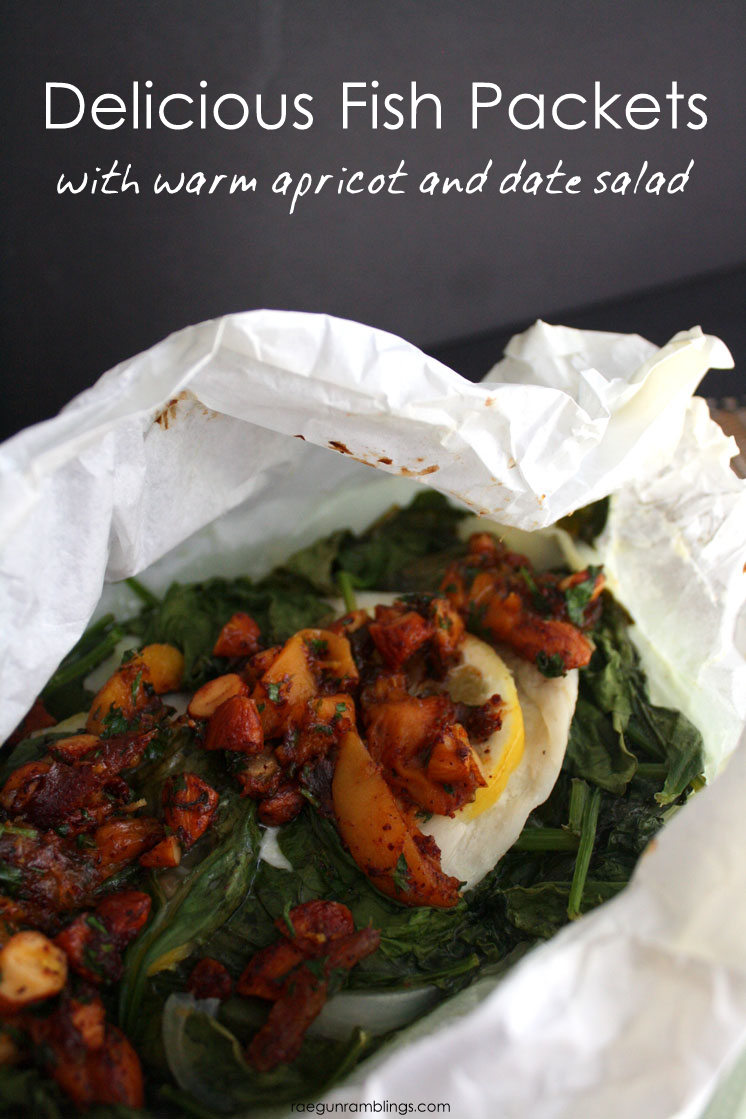 This is my favorite thing I ate last week. No seriously I can't stop thinking about this super yummy and easy Sole Topped with Apricots and Dates. This fish packet recipe was so easy and fast to throw together and since it cooks in parchment paper there is hardly any clean up.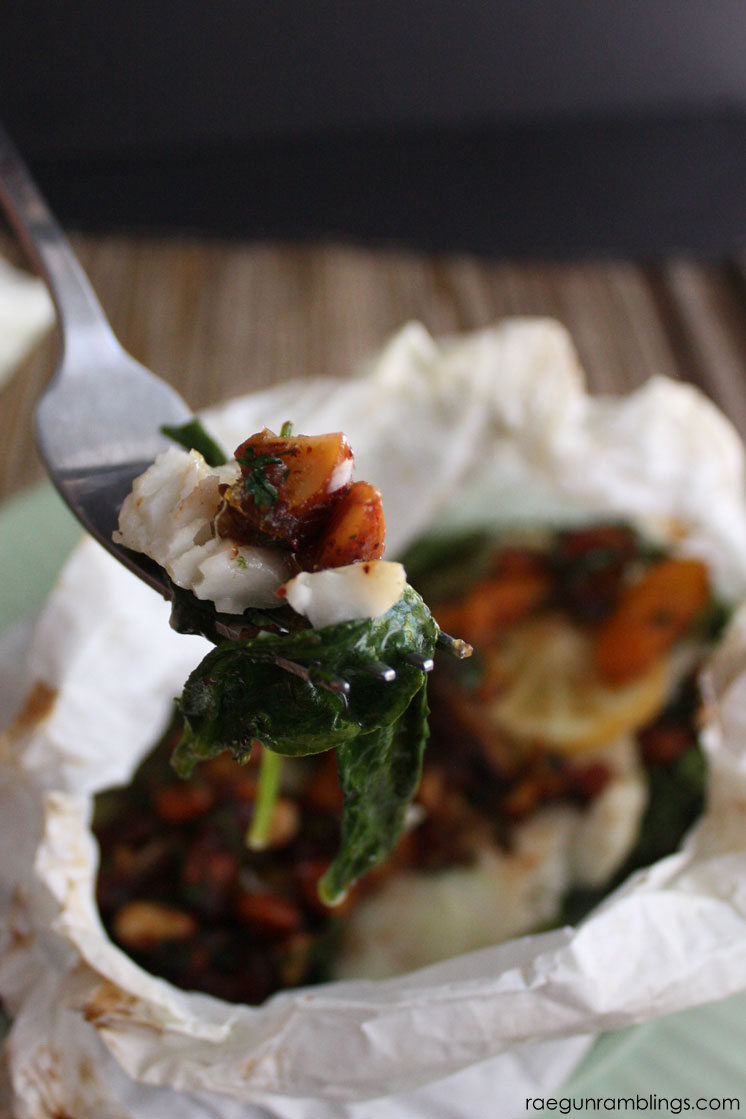 For a while now I've been curious about these different companies that mail you a box full of food and you cook it up. When I was given the opportunity to try Sunbasket out I couldn't turn it down. Now in all honesty I'd thought that it just couldn't be worth it. And I'm seriously having major second guesses. Because not only was the food SUPER yummy and convenient I think it was kind of worth it.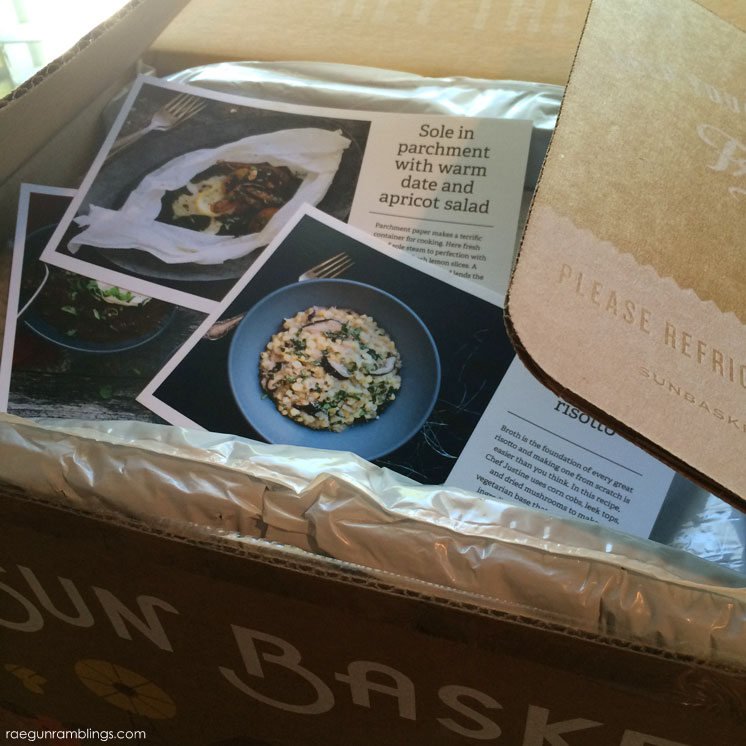 Yes I was given this box of food for free but really this is 100% my honest opinion. You can ask my sister, I've been raving about the meals we had. It's a little pricey if you're the type of family that goes grocery shopping and cooks all your meals BUT if you're like us and get busy or overwhelmed and tend to eat out a lot this can actually be a money saver. I'm serious I really loved my Sunbasket and I'm totally planning on buying them every once in a while and asking for them when things get crazy (like during my Halloween rush) and people ask if there's anything they can do!  More about my basket thoughts below, a chance to win a free try yourself, and a huge discount link too. But first let me give you this yummy recipe (with Sunbasket's permission of course).
Sole in parchment with warm date and apricot salad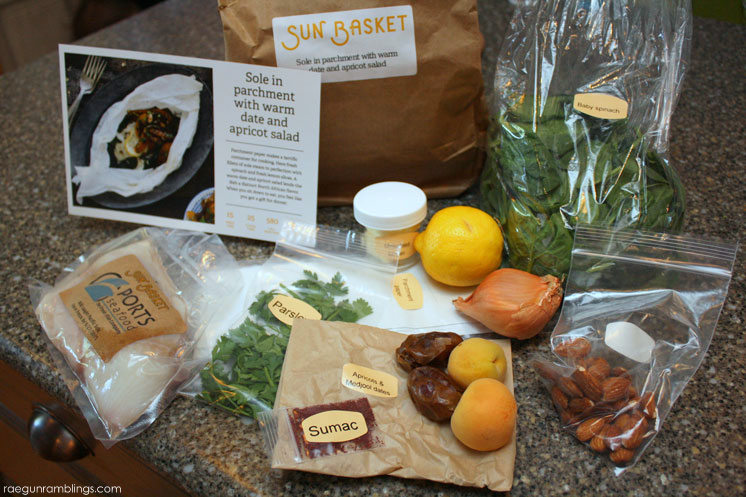 Ingredients
2 sole fillets (any type of white fish would be delicious)
2 shallots
6 ounces spinach
1 lemon
2 sheets parchment paper
2 tablespoons unsalted butter
2 apricots
2 Medjool dates
1.5 ounces toasted almonds
Small bunch parsley
1 teaspoon sumac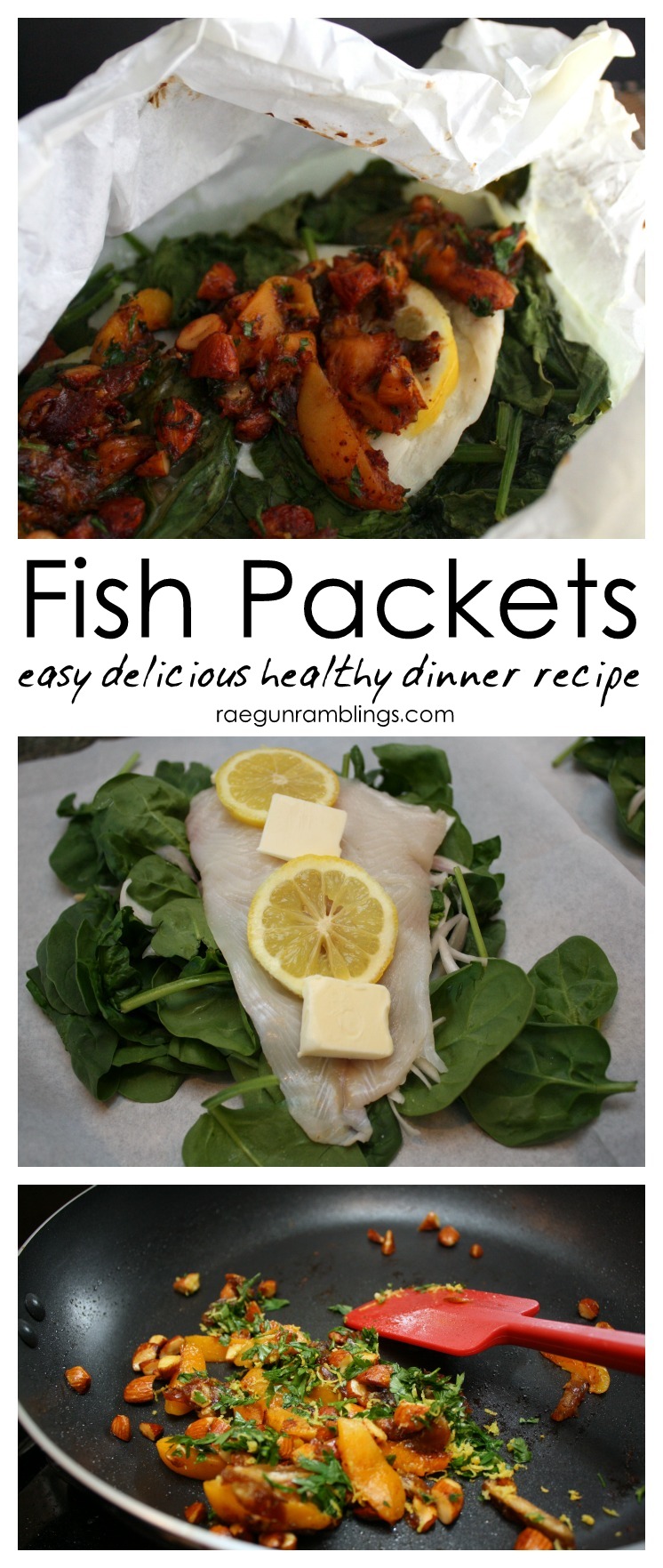 Directions
Heat the oven to 400°F. Peel and slice the shallots. Cut 4 thin slices from the lemon. Zest and juice the remaining lemon and reserve.
Lay the two sheets of parchment paper side by side. Pile half the spinach in the center of each sheet, add the shallots and season with salt.
Lay the fish piece on top of the shallots and sprinkle with more salt and top with the lemon slices and butter.
Bring opposites side of paper together and fold. Roll the ends into the center to make a tightly sealed packet. Place the packets on a baking sheet and  and bake until the fish is opaque and cooked through, about 20 minutes.
While the fish is cooking make the salad. Start by cutting each apricot into eight wedges. Slice the dates, discard the pits. Coarsely chop the almonds. Rinse, dry and chop the parsley.
Heat 1 tablespoon olive oil over medium heat and add the apricots, almonds, and dates, season lightly with salt, and cook just until warm, about 3 minutes. Add the parsley, sumac, lemon juice and zest and toss to combine.
When the fish is done open up the packets and divide the salad between the two packs and serve.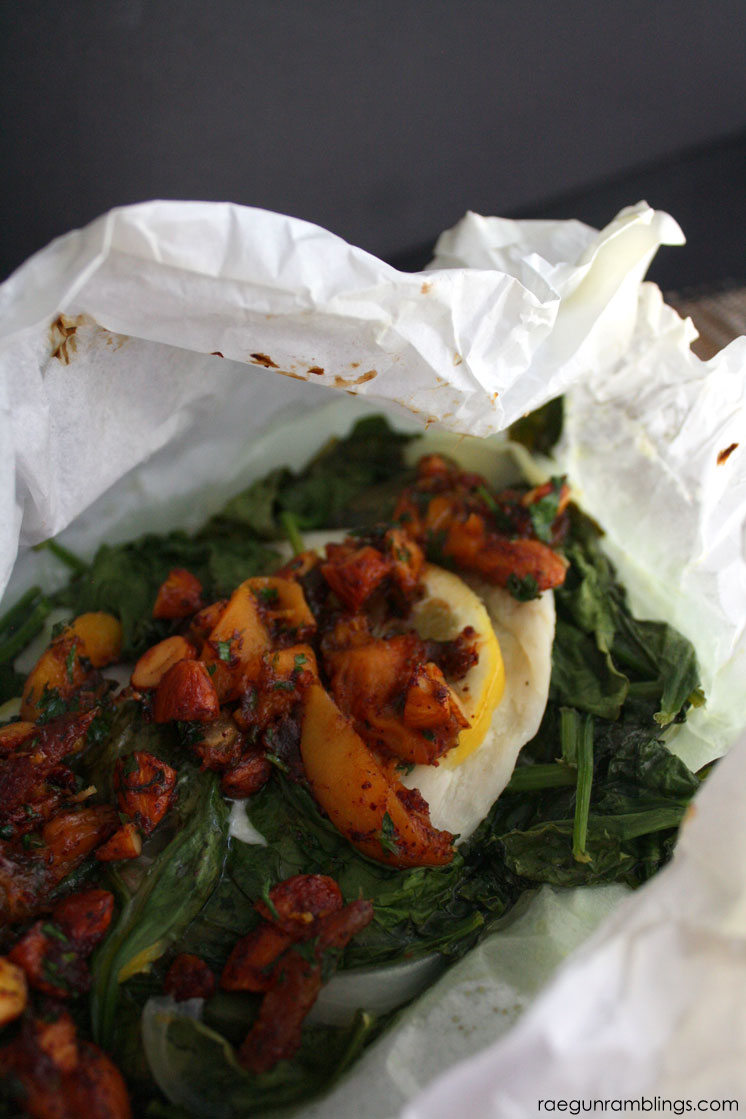 Oh man it's so good. I need to go buy the ingredients and make it again. Slurp. It was so nice to have them delivered to me in the Sunbasket last week. Ha. I think I might be a little spoiled. If you want to try the Sunbasket for half the price (only 5$ each meal)  click here. I honestly think you have nothing to lose at that price and if you're like us you'll really enjoy it! And since I'm sure some of you have questions about how the whole basket thing works I'll give you some of my thoughts. But don't forget to enter the giveaway below.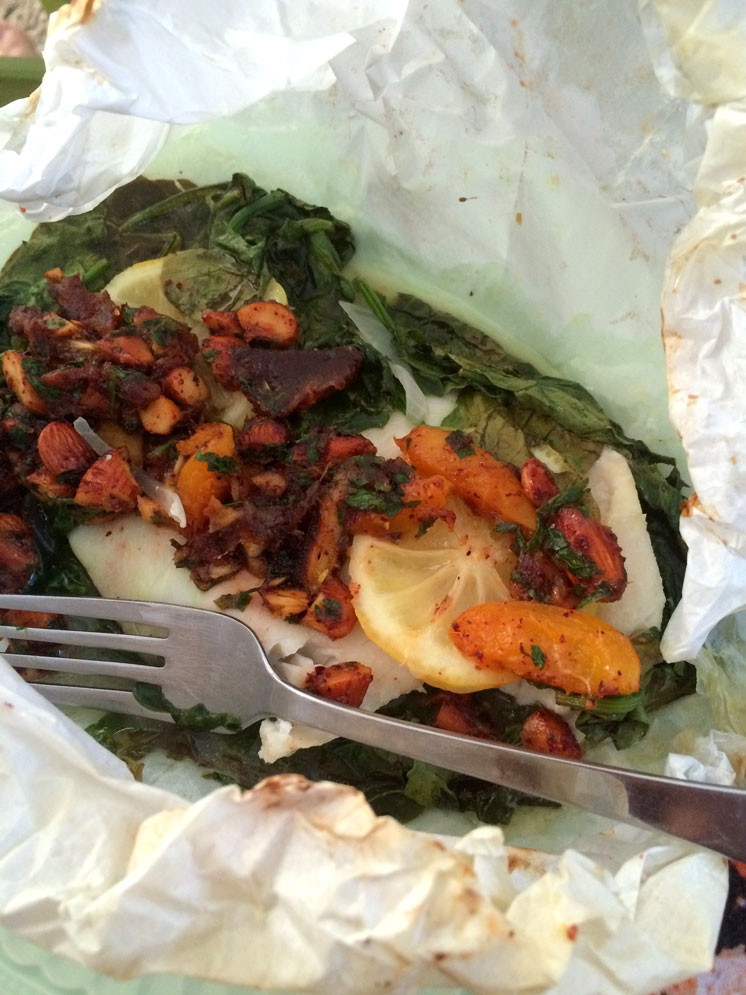 My personal opinion is that this would be really great for a single person or couple that works a lot or for a family that finds themselves eating out a lot or also if you want to give a really good gift to food appreciating busy people. I would love to receive a week as a gift hint hint. I'm sure it would be great for other people too and really if you're curious at all you should just give it a try! They gave me a special link that if you click through you can get 30$ off your first basket which is half off. That ends up being only 5$ a meal. So quite a bit cheaper than fast food for really yummy foodie level tasting, organic, very healthy food.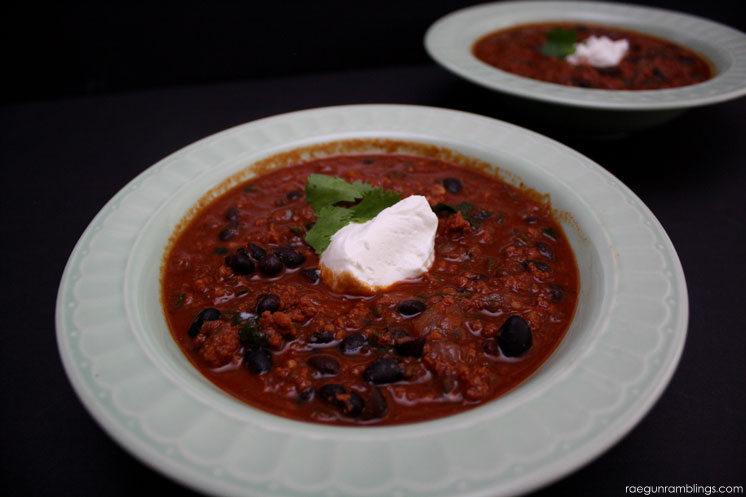 (spicy chorizo chili one of the best chili dishes I've had and I'm SUPER critical about chili)
If you follow my Instagram you know we like good food and we eat out a lot. This food was yummy. We absolutely adored 2 of the meals. And the other one we liked but it didn't blow us away like the other two did. When I first learned about this concept I though meh I don't want to cook my own food if I'm going to pay. But I have to eat my words because I actually liked that part a lot.

The box and recipes and pre-portioned everything you need to make the meal (we only used salt and oil from our pantry for all three meals we received). This made cooking really fun and easy. And it felt like I learned something new with each recipe. I don't know it might just be the nerd in me but I really liked that. And when I thought about it the time it took was much less than if we had gotten in the car and driven somewhere to eat and for taking their regular price it was way cheaper too than the restaurant route. That and the fact that since I had this food in the fridge I was less tempted to pile everyone in the car so we ate more healthfully and we saved money.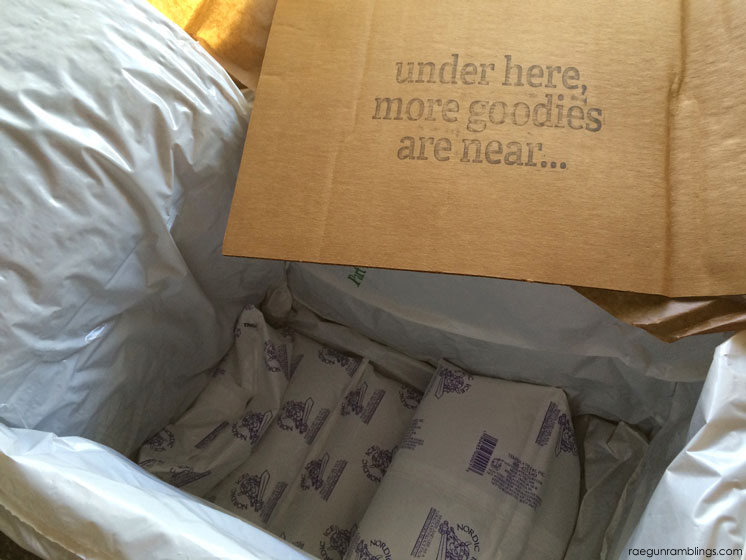 I know this is a long post but really I'm super excited about this company and product. Okay here are a few last random thoughts if you have any questions let me know in the comments since I'm sure I'm missing something. All the packaging can be recycled. They send the box with tons of ice packs layered so it can be out for 8 hours. There is also a return shipping label so you can send it all back so there is very little trash ( I loved this about it). The recipes are all take about 30 minutes to prepare and are 500-800 calories each. They are relatively new so right now they only deliver to CA, OR, WA, NV, CO, ID, AZ and UT. There's way more info on there website (just scroll to the bottom and click learn more). The portions are pretty generous. Daniel and I are BIG eaters and we were very satisfied after all the meals. And we shared with piggy Teddy who eats more than his elementary aged cousins. #sunbasket
You might also like: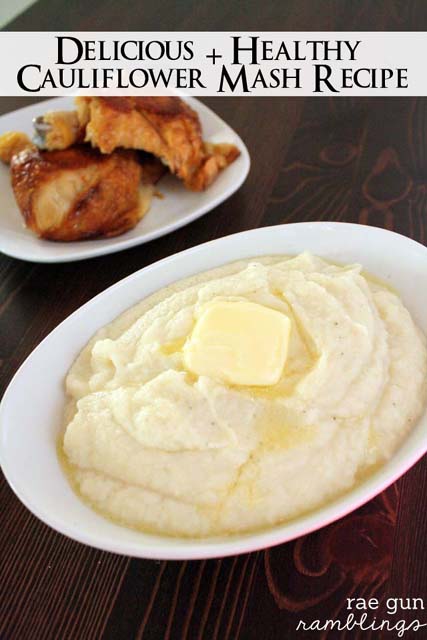 Cauliflower Mash a great healthy and light alternative to mashed potatoes.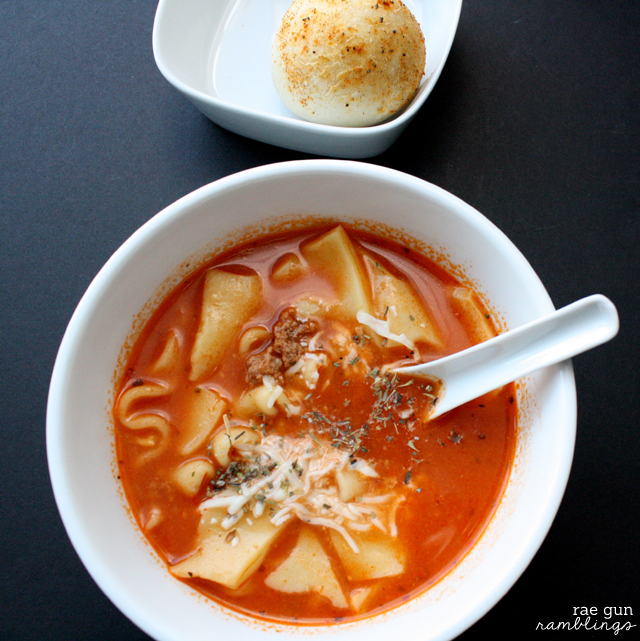 This Lasagna soup is made in the crock pot and SO easy.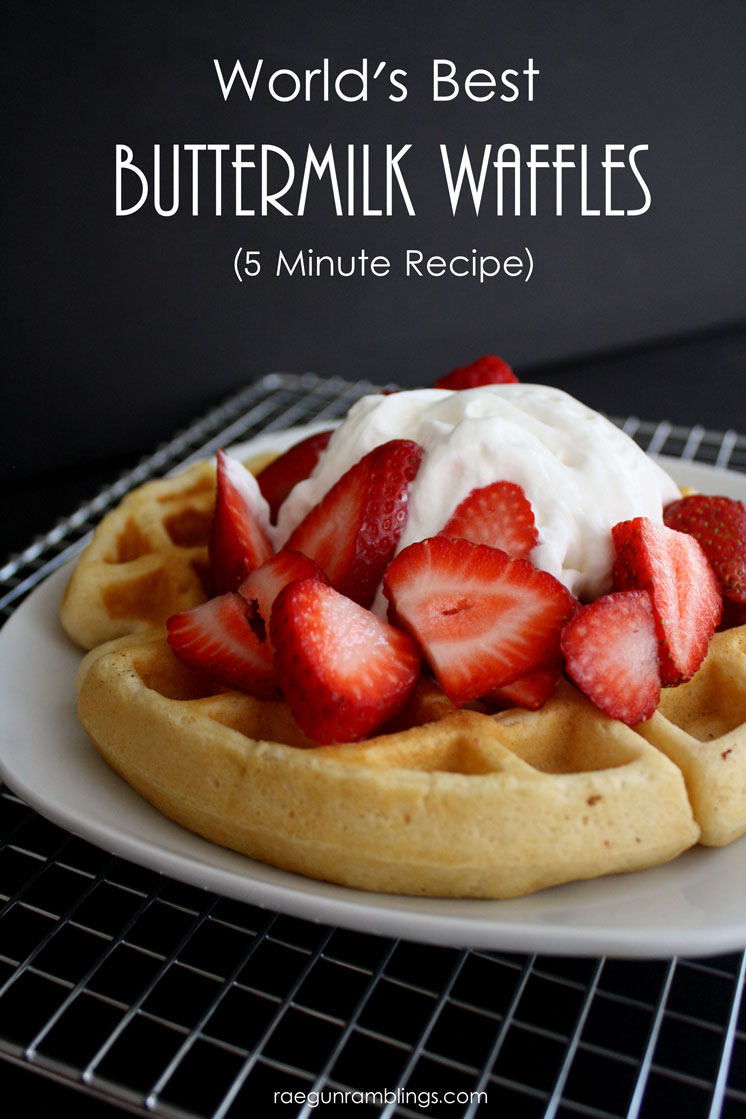 Don't bother with waffle mix this buttermilk waffle recipe is so fast and delicious.
Let's connect! You can also find me hanging out here.