Whatever your favorite cafeteria line style Mexican joint is you may have been sucked into their delicious slightly sweet slight spicy shredded pork.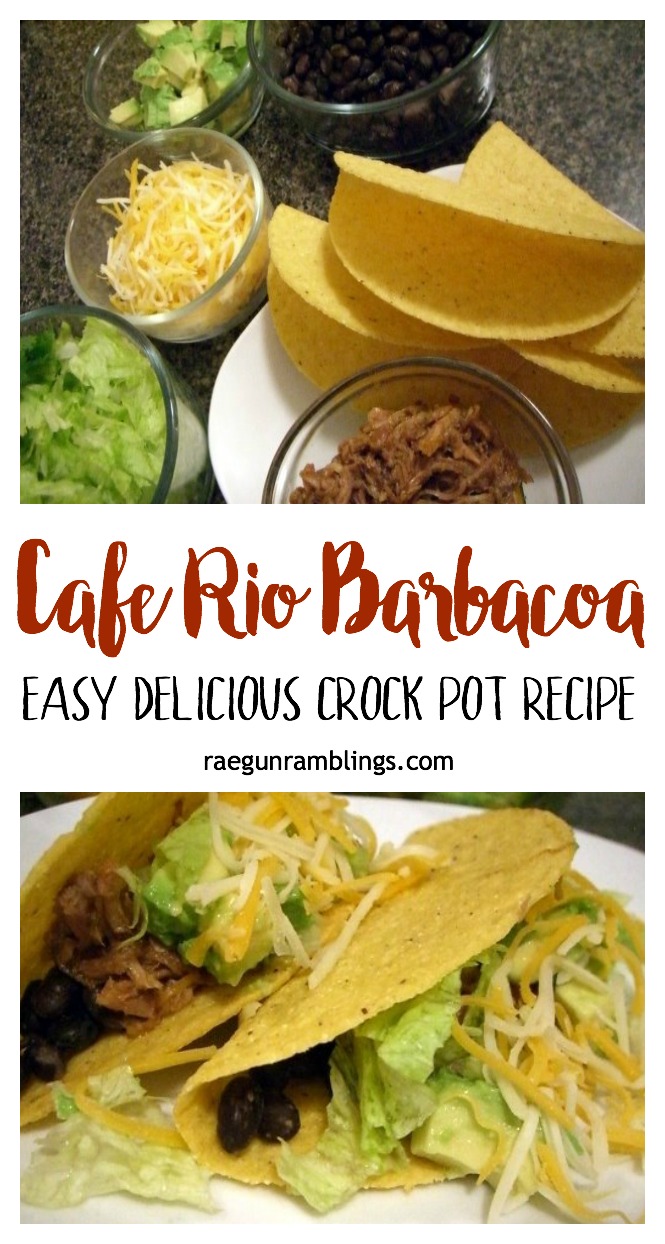 Well there's no need to spend so much money on fast food and consume those gigantor portions. This is one of my go to dinners because one batch makes TONS of pork which I just throw into the freezer and thaw in parts.
We like em in tacos. The fat girl in me of course loves the fried shells and the music maker does the soft shell thing. But really, it's a nice meal (that can be made into a salad if you prefer) which is super easy after the first time. The meat is so flavorful a little goes a long way.
Cafe Rio Barbacoa Recipe for the Crock Pot
4 lb pork roast

1 20 oz. coke (don't do diet, this is the personal bottle size)
1 cup sugar
1 (7 oz) can chipotle peppers in adobo sauce
1/2-1 tsp ground dry mustard
1 tsp garlic minced
Remove the peppers from the can of adobo sauce. Rinse peppers over the blender/food processor, with the coke, to get all yummy the sauce. Add 2 peppers if you want it spicy otherwise throw away the peppers (the sauce itself will still have kick). Rinse the can, over the blender/food processor, with the coke to get all the remaining sauce. Pour the rest of the coke in the blender/food processor. Put all ingredients in a blender and blend (make sure you have enough room, I had to do it in batches, it will bubble). Pour over roast in crock pot. After cooking 7-9 hours on low, remove and shred pork. Return to crock pot to simmer in sauce for one more hour.