To celebrate National Sewing Month and Waverly's 90th Anniversary Jo-Ann Fabric and Crafts and Waverly have teamed of for a cool Waverize It! Challenge. The Waverize It! Facebook contest us open to all consumers. From September 1– 22 enter a creation of your own for a chance to win $1000 in Waverly fabric and a $250 JoAnn gift Card. Awesome right? To learn more and to enter click here.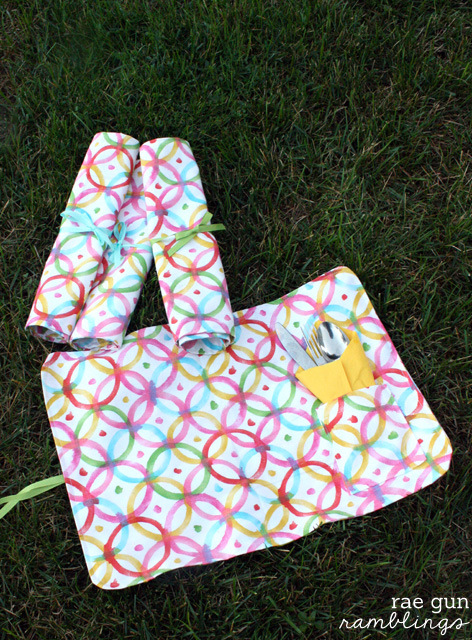 To kick things off and help get the creative juices flowing a bunch of us bloggers were sent some gorgeous Waverly fabric from their Jo-Ann line and challenged to come up with something fun and Waverize It! So today I'm sharing my picnic placemat tutorial. I thought the fabric was just so happy and Summery a project to do the fabric justice. Since I don't think there are many things more Summerific than a picnic with your favorite people and some delicious food I decided to make some Picnic Placemats.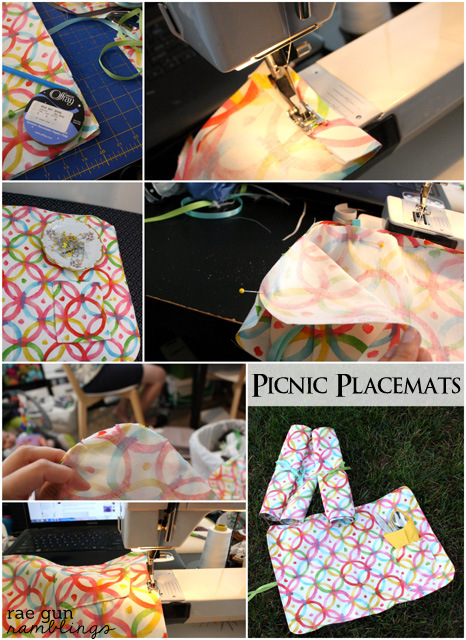 What You Need
Fabric each placemat uses 2 pieces of 15 x 18 inches for the main piece and 5 x 7 piece for the pocket
22 inches of ribbon for each placemat
Start by rounding the corners of the placemat. I do this by tracing something circle shaped (like a cup or ribbon package) with a fabric marker.
Iron one short edge of the pocket down 1 inch and the other edges about 1/4 inch
Sew across the 1 inch side.
Pin each pocket in place on the front side of the placemats.
Fold the ribbon in half and place the folded edge on the opposite side of the pocket having the tails face inward and a small bit of the folded edge sticking over the edge.
Put a back piece of the pocket right side down so the two pieces should be right sides together and the ribbon is sandwiched between the two pieces of fabric.
Sew around the edges leaving a 5/8 inch seam allowance and a small opening to flip the placemats.
Flip the placemat right side out. I like to use a loop turner for this task.
Iron tucking the hole in and then top stitch around closing up the opening as you go.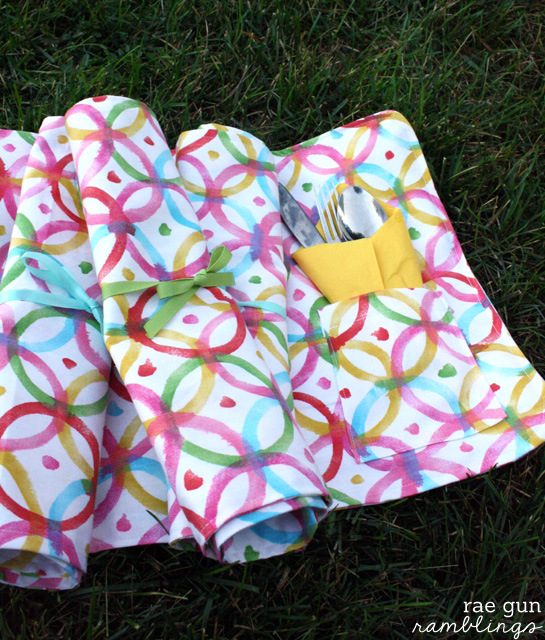 I'd love to know if you give my tutorial and try. And don't forget to swing by J0-Ann and check out the beautiful Waverly line and enter the fun Waverize It! contest.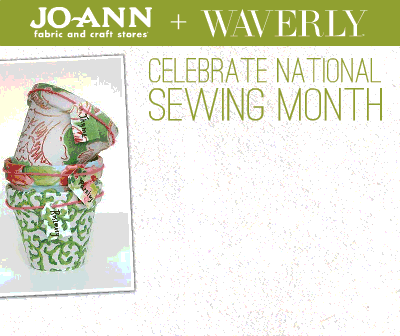 Let's connect! You can also find me hanging out here.