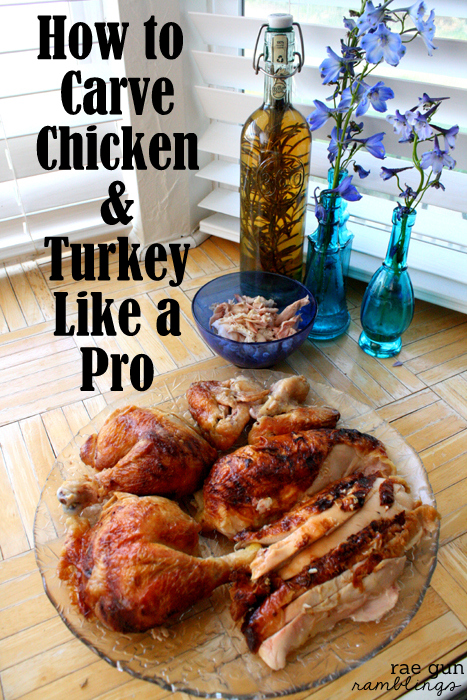 It happens a couple times a year. We're at some family function and I see out of the corner of my eye someone hacking away at a turkey or chicken. I know it's silly but it drives me nuts when some one carves up a bird haphazardly. Well I guess it's not totally silly, there are some reasons it makes me crazy. First off they usually end up taking forever because there is no rhyme or reason. Then there is the matter of so much wasted meat left on the bone to be either tossed or painstakingly pulled off by hand. And finally it looks like garbage. Someone took the time to lovingly roast a fine turkey all day (or pick up a juicy rotisserie chicken form costco ;) ) and it's been butchered to smitherines. So today I want to share my quick and easy way to beautifully carve chicken and turkey.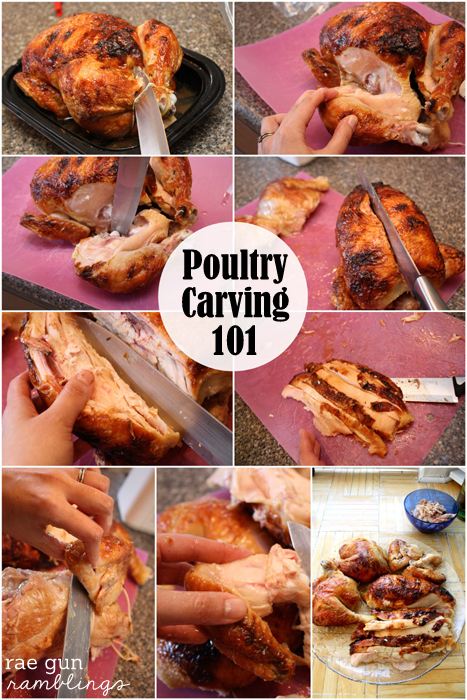 Quick and Easy Guide to Chicken and Turkey Carving
If your bird's legs are tied or attached start by severing that attachment so the drumsticks are free.
Next slice on the inside edge of the thigh when you get to the bone join slide the tip of the knife in to pop the joint to detach the leg quarter (thigh and drumstick) in one pretty piece.
Next slide your knife on one side of the bone between the breast trying to keep it as close to the bone as possible. Slide it under the breast to detach in one solid piece.
If you want the breast sliced place it cut side down (skin up) and hold in place while slicing. Then slide your knife under all the sliced pieces to place so the pieces remain lined up.
Next pull the chicken wings away from the body and slide your knife to cut the attaching skin and pop the joint.
Use your finger to pull off any remaining meat if desired.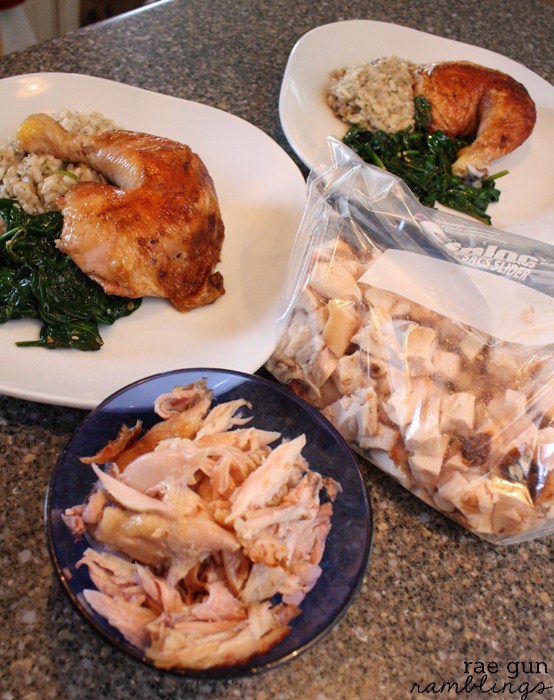 You can serve up the chicken or turkey on a platter if your feeding enough people or eat in in portions. I love buying the rotisserie chickens from Costco they are such a great deal for tons of meat. Usually the first day I serve up the leg quarters and serve it with cous cous or Cauliflower mash and Lemon Wilted Spinach. Then I use one breast for each another two meals for example in my Artichoke Chicken Alfredo or my Coconut Curry Chicken Lentil Soup and then the pulled little pieces for another one for another meal like in a Quiche, Buffalo Mac and Cheese or a basic quesadilla. But really you can use prepped chicken in so many different recipes I'm sure you have your own favorites.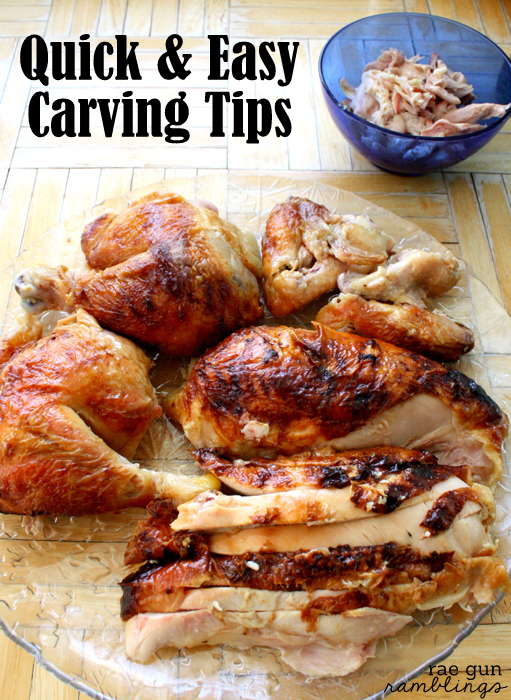 Let's connect! You can also find me hanging out here.